Pumpkin French Toast Casserole
This Pumpkin French Toast Casserole is one of my favorite pumpkin recipes for fall! Subtly sweet and perfectly spiced, each bite is a delicious balance of creamy and pillowy textures. Plus, pecans on top and throughout add a tasty, nutty crunch.
A quick pumpkin French toast bake with classic autumn flavors makes this the perfect Sunday brunch or breakfast recipe for guests during the Thanksgiving and Christmas holidays.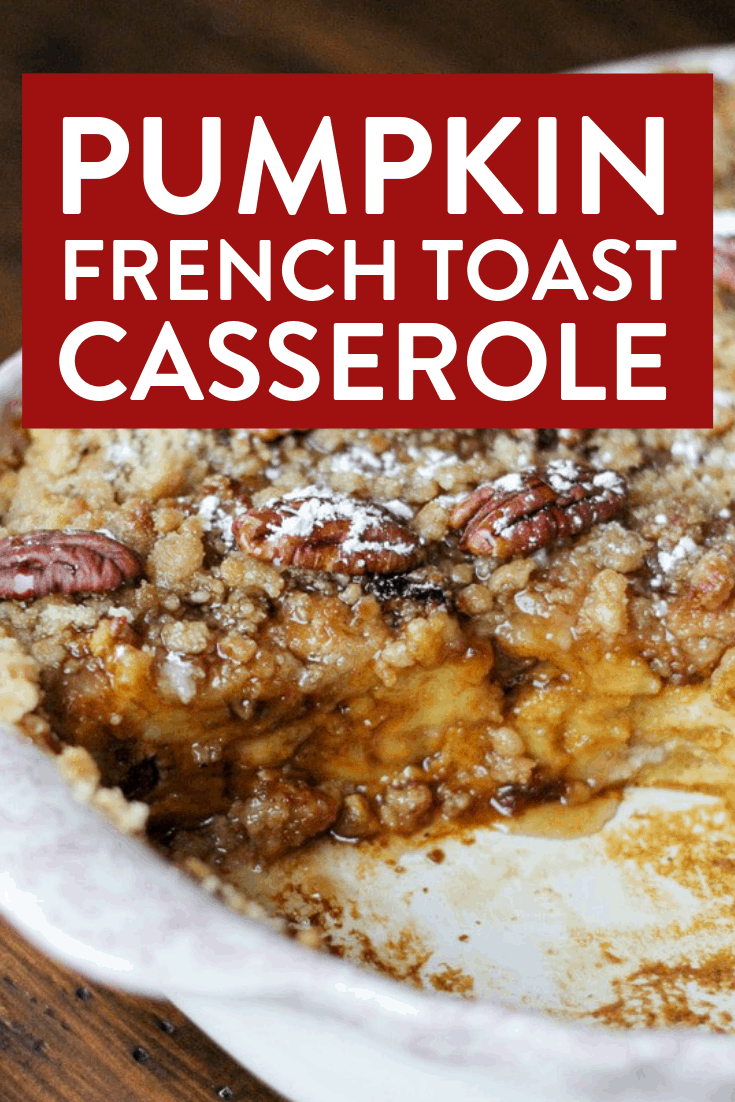 Easy Pumpkin French Toast Casserole
The release of Pumpkin Spice Lattes at Starbucks is like the official signal that autumn has begun. And while pumpkin lattes are great (like this iced pumpkin spice latte), but real pumpkin-based desserts are even better.
This strata-like pumpkin French toast bake is a delicious breakfast recipe that's easy to put together. If you're a fan of cream cheese, pecans, maple syrup, pumpkin, and bread…then this is the breakfast of your dreams.
Why You Will Love This Pumpkin French Toast Bake
Very little prep – just 15 minutes of slicing and mixing
Incredible flavor – tastes like your favorite pumpkin spice drink
Perfect for holidays – easy breakfast for yourself or overnight guests
Make-ahead option – assemble the night before, then bake the next morning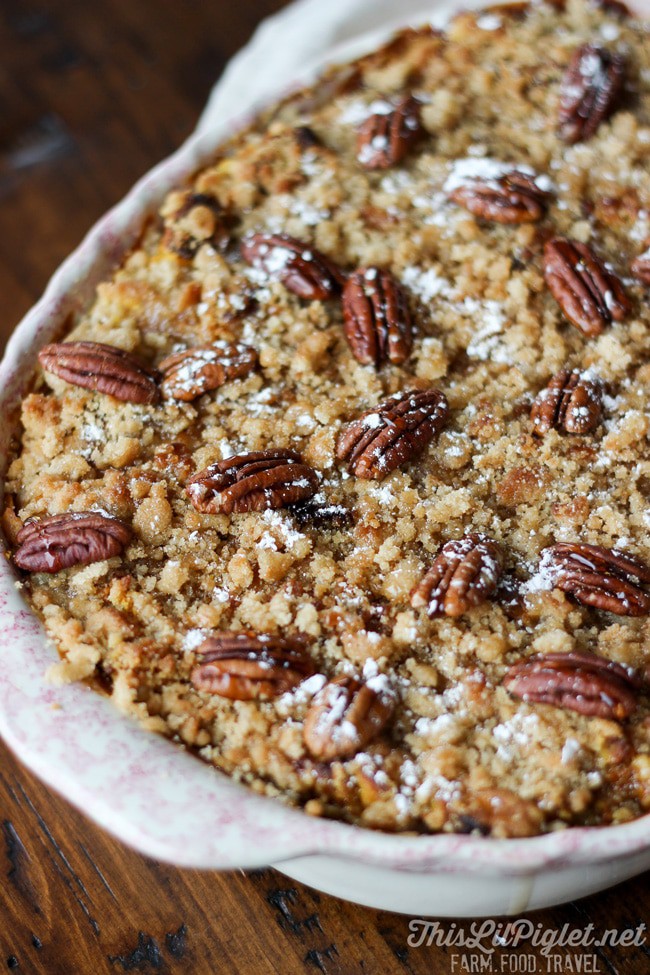 How To Make Baked Pumpkin French Toast
I know this recipe is categorized as breakfast, but I'm pretty sure pumpkin spice French toast would make one awesome dessert. Or lunch…or dinner…
Use Real Ingredients
You want to make sure that your pumpkin puree is 100% pure pumpkin, not pumpkin pie filling. The latter has extra sugar and spices that will overwhelm the flavor of your pumpkin French toast.
Also, stick with pure maple syrup and not the fake stuff. Trust me, you'll be able to taste the difference.
Soften the Cream Cheese
Everything will go a lot smoother (literally) and faster with softened cream cheese. Unwrap the block and let it sit on the counter for 30-60 minutes before starting the recipe.
Can't wait that long? Place the fully unwrapped block on a plate and microwave on high for 15 seconds. The wrapper is made with foil — so be sure to remove it completely first!
Make it Ahead of Time
You can easily turn this into an overnight pumpkin French toast casserole recipe!
You want to use thick slices of bread for your cubes so they soak up everything without being soggy. Let the cubes sit out for an hour or two so they get extra crusty.
Then, assemble in a casserole dish as directed and cover tightly with plastic wrap. Refrigerate overnight and pop it in the oven the next morning — just don't forget to remove the plastic first!
When baked straight from the fridge, you may need to add a few extra minutes to the cooking time. Otherwise, let your pumpkin spice French toast rest on the counter for 30 minutes (to come to room temperature) before placing it in the oven.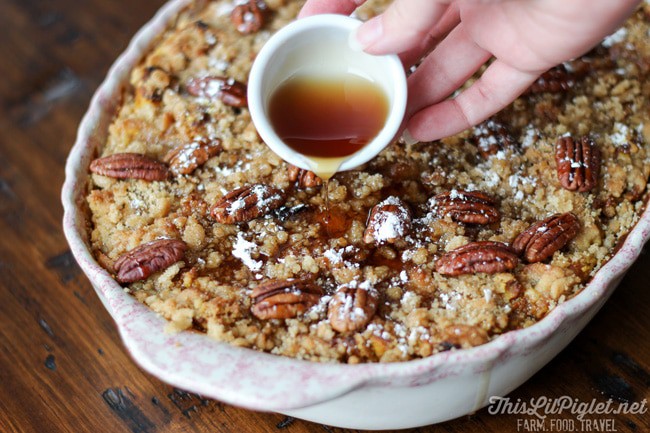 Frequently Asked Questions about Pumpkin French Toast
How to Reheat French Toast Casserole
If you have any leftovers (and that's a big if) you can reheat this baked pumpkin French toast by either:
Zapping your portion in the microwave
Preheating an oven to 350 degrees F and putting the whole casserole dish in. It should take 8-10 minutes to heat through.
Does French toast casserole need to be refrigerated?
Short answer: yes.
The USDA does not recommend letting food sit out for more than two hours. Simply wrap up your pumpkin French toast casserole (or transfer to an airtight container) and put it in the fridge once breakfast or brunch is over.
Enjoy leftover baked pumpkin French toast within 3 days for best results. If you want to freeze it for later, do so before baking using the make-ahead tips listed above.
Can I use stale bread for French toast?
Absolutely! It's actually something I recommend, especially for any overnight French toast recipe.
When the bread gets dry and a little crusty, it soaks up the egg mixture and retains the moisture without getting soggy.
If your loaf is fresh from the bakery, you can dry out the slices in the oven. Arrange the bread in a single layer on a baking sheet, then pop it in the oven for 10-15 minutes at 275 degrees F.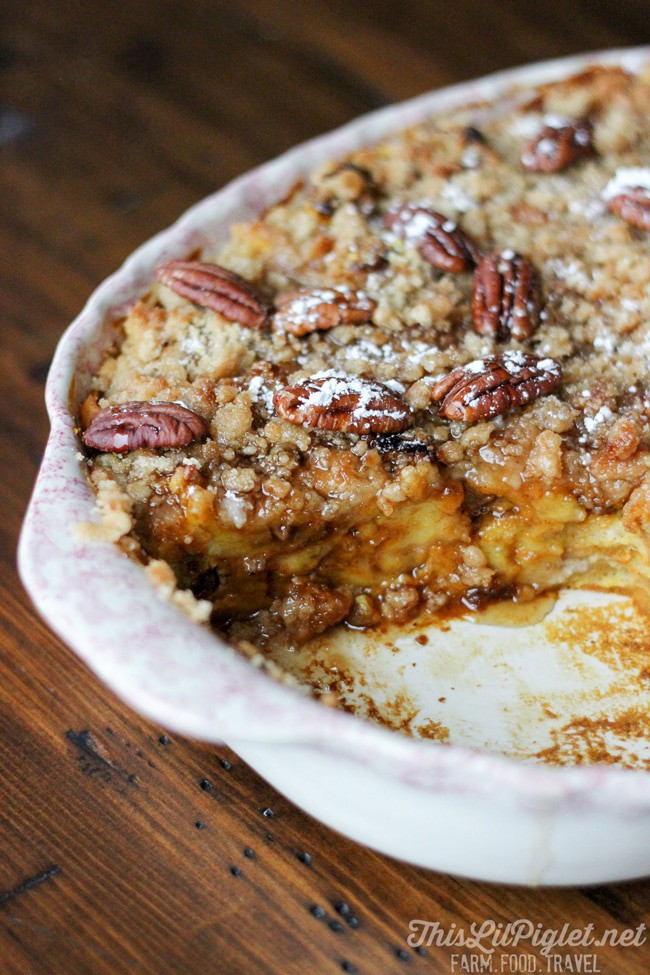 More fall breakfast recipes:
Caramel Apple Blender Pancakes
Healthy Pumpkin Breakfast Bars
(Apparently, I really like caramel apple recipes!)
Pumpkin French Toast Casserole
Pumpkin French Toast Casserole combines pillowy bread, creamy custard, and crunchy pecans for a subtly sweet and perfectly spiced fall breakfast.
Servings 8
Calories 403kcal
Ingredients
12 slices of bread
1 cup pumpkin puree not pumpkin pie filling
1 8 oz cream cheese softened
.5 cups milk
4 eggs
2 tsp cinnamon
1 ½ tsp nutmeg
⅓ cup sugar
2 tsp vanilla extract
½ cup chopped pecans
Topping
¾ cup sugar
½ cup flour
¼ cup butter cut into small cubes
Whole pecans optional
Garnish with syrup and confectioner's icing sugar
Instructions
Preheat oven to 350 degrees F.

Cut bread into bite-sized cubes and place into a greased 9X13 baking dish.

In a medium bowl, whisk pumpkin, cream cheese, milk, eggs, cinnamon, nutmeg and vanilla, mixing thoroughly.

Pour ½ of the mix evenly over bread cubes, toss with a spoon to coat; pour the remaining pumpkin mix over the top.

Sprinkle chopped pecans evenly over the top.

In a small bowl, mix topping ingredients by hand into a crumbly texture. Sprinkle over the top of the bread cubes. Place whole pecans over the top and bake in the oven for 1 hour or until baked through.

Let sit for 10 minutes before serving.
Nutrition
Serving: 8g | Calories: 403kcal | Carbohydrates: 58g | Protein: 10g | Fat: 16g | Saturated Fat: 6g | Polyunsaturated Fat: 3g | Monounsaturated Fat: 5g | Trans Fat: 0.3g | Cholesterol: 99mg | Sodium: 284mg | Potassium: 219mg | Fiber: 4g | Sugar: 32g | Vitamin A: 5095IU | Vitamin C: 1mg | Calcium: 105mg | Iron: 3mg
Follow On Pinterest
Follow @bewitchinkitchen On Pinterest for more delicious recipes!