Pumpkin French Toast Casserole
This pumpkin french toast casserole is one of my favorite pumpkin recipes for fall.
A quick pumpkin french toast bake with classic autumn flavors makes this the perfect Sunday brunch recipe or breakfast recipe for guests during the Thanksgiving and Christmas holidays.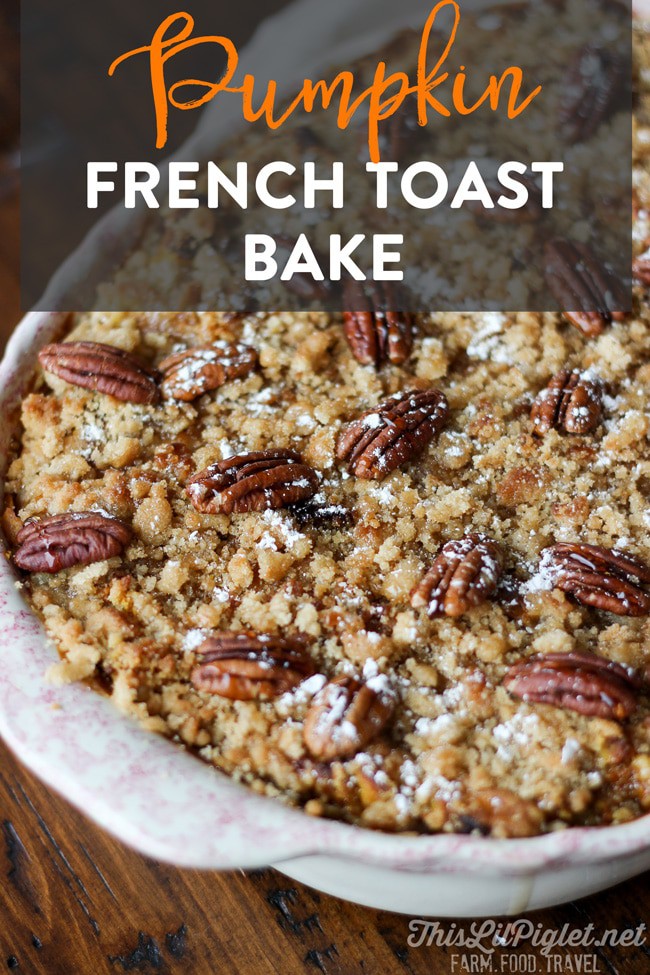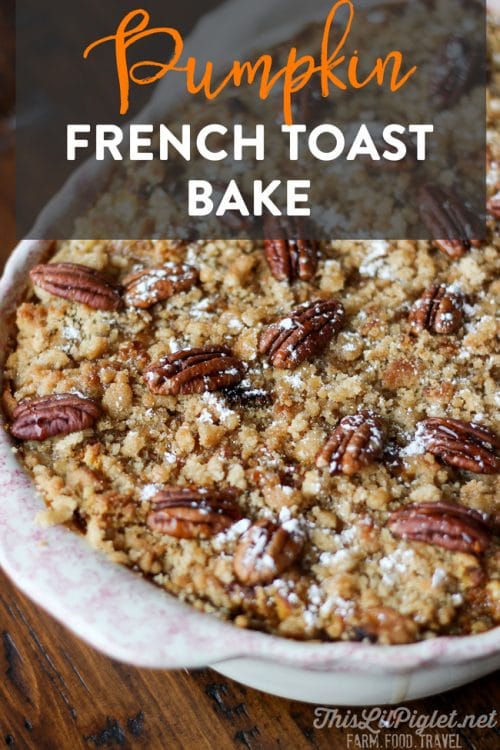 Pumpkin French Toast Casserole
Disclosure: This post contains affiliate links for your convenience. As an Amazon Associate, I earn from qualifying purchases. This post originally appeared on The Bewitchin' Kitchen in October 2016.
This Pumpkin French Toast Casserole is a guest post from my friend Stacey from This Lil Piglet. For more fall french toast recipes or if you're looking for pumpkin brunch recipes you will have to check her out. She's amazing.
I love pumpkin, a lot. My new favorite thing to do is to head to Starbucks on Fridays, while my son as at school, to work in peace and treat myself to a PSL.
Those Pumpkin Spice Latte's get me every time.
Pumpkin lattes are great (like this iced pumpkin spice latte), but real pumpkin-based desserts are even better. Stacey uses many of my favorite ingredients in this pumpkin french toast inspired recipe:
bread x12 (I love me some bread. I'm a carb queen! What can I say, bread makes me happy).
pumpkin puree (you want to make sure it's 100% pure pumpkin, not pumpkin pie filling).
maple syrup (pure maple syrup guys, not the fake stuff).
pecans
cream cheese
cinnamon, nutmeg, vanilla
Basically, this is the breakfast of my dreams.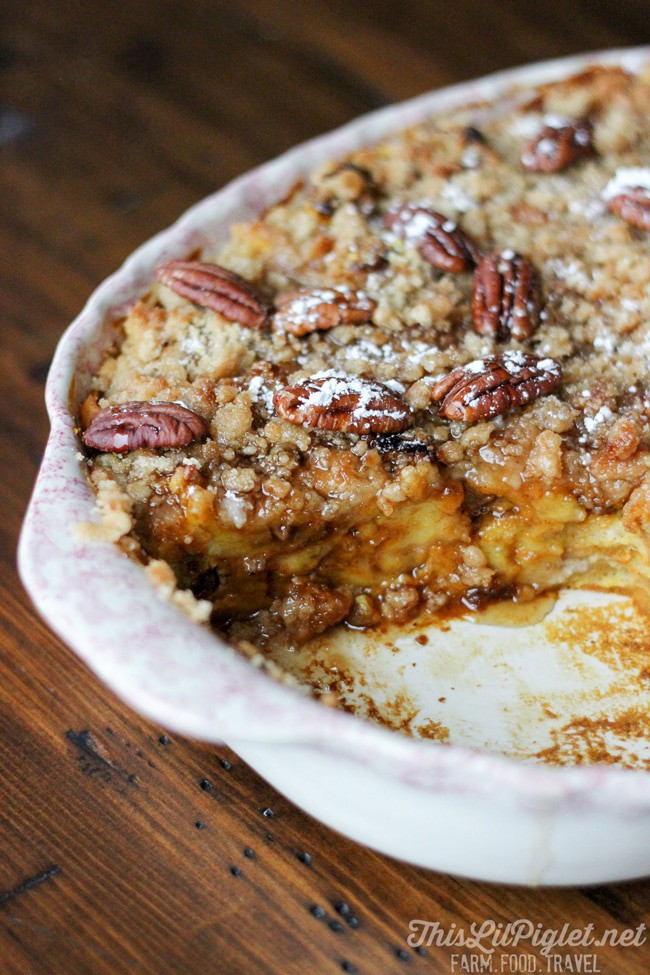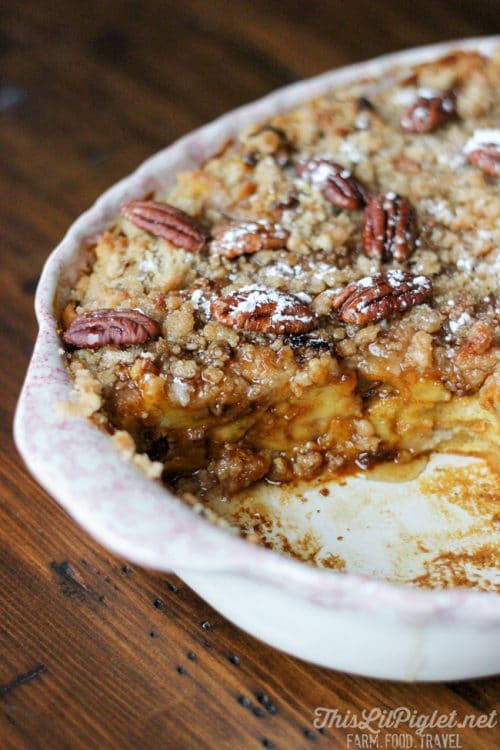 I know this recipe is categorized as breakfast, but I'm pretty sure this would make one awesome dessert. Or lunch…or dinner…
More fall breakfast recipes:
Apparently, I really like caramel apple recipes.
PS: Did you know that I have a blog dedicated to nutrition and healthy recipes? I also created a free nutrition library membership that you're going to LOVE. Click the image below to join – for FREE!
Make it Ahead of Time
If you want to turn this into an overnight pumpkin french toast casserole, here are some tips.
You want to use a thick bread so it soaks up everything without being soggy. When you slice up the bread, let it sit out for an hour or two so it gets extra crusty (again, perfect for if you're making overnight french toast).
How to Reheat French Toast Casserole
If you have any leftovers (and that's a big if) you can reheat this breakfast casserole by either:
Zapping your portion in the microwave
Preheating an oven to 350 and putting the casserole dish in. It should take 8-10 minutes to heat up.
Does French toast casserole need to be refrigerated?
Short answer: yes.
The USDA does not recommend food to be sitting out for more than two hours. Simply wrap it up and put it in the fridge once breakfast or brunch is over.
Can I use stale bread for French toast?
Absolutely! It's actually something I recommend for overnight french toast.
When the bread gets dry and a little crusty, it soaks up the egg mixture and retains the moisture without getting soggy.
Pumpkin French Toast Bake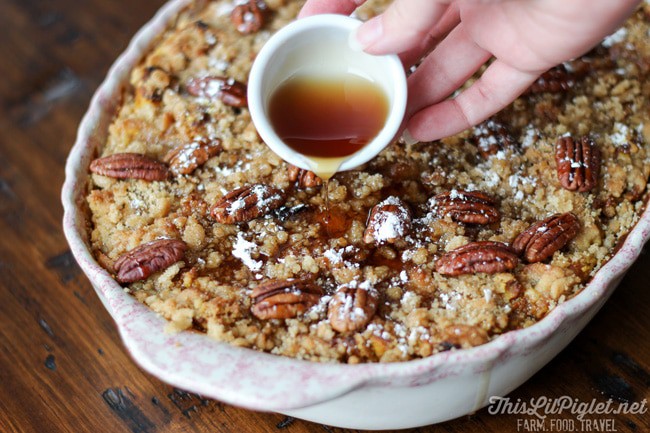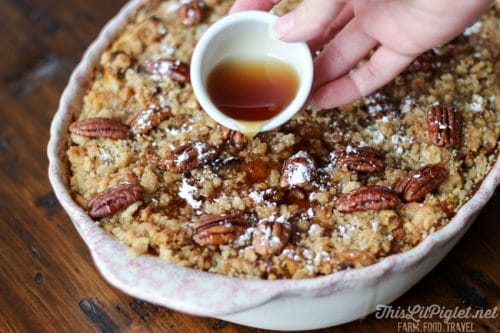 This pumpkin french toast casserole bake is a delicious breakfast recipe that's easy to put together.
This strata-like bake is a new fall breakfast recipe favorite! If you're a fan of cream cheese, pecans, maple syrup, pumpkin, and bread…then you'll love this recipe.
Want more? Check out these overnight breakfast casseroles.
PS: If you need a new casserole dish, these Corningware dishes are some of my favorite.
Pumpkin French Toast Casserole
This pumpkin french toast casserole is one of my favorite pumpkin recipes for fall. A simple french toast bake with classic autumn flavours this is the perfect Sunday brunch recipe or breakfast recipe for guests during the Thanksgiving and Christmas holidays1
Servings 8
Calories 402kcal
Ingredients
12 slices of bread
1 cup pumpkin puree not pumpkin pie filling
1 8 oz cream cheese softened
.5 cups milk
4 eggs
2 tsp cinnamon
1 ½ tsp nutmeg
⅓ cup sugar
2 tsp vanilla extract
½ cup chopped pecans
Topping
¾ cup sugar
½ cup flour
¼ cup butter cut into small cubes
Whole pecans optional
Garnish with syrup and confectioner's icing sugar
Instructions
Preheat oven to 350 degrees F.

Cut bread into bite-sized cubes and place into a greased 9X13 baking dish.

In a medium bowl, whisk pumpkin, cream cheese, milk, eggs, cinnamon, nutmeg and vanilla, mixing thoroughly.

Pour ½ of the mix evenly over bread cubes, toss with a spoon to coat; pour the remaining pumpkin mix over the top.

Sprinkle chopped pecans evenly over the top.

In a small bowl, mix topping ingredients by hand into a crumbly texture. Sprinkle over the top of the bread cubes. Place whole pecans over the top and bake in the oven for 1 hour or until baked through.

Let sit for 10 minutes before serving.
Nutrition
Serving: 1g | Calories: 402kcal | Carbohydrates: 58g | Protein: 9g | Fat: 15g | Saturated Fat: 5g | Cholesterol: 98mg | Sodium: 309mg | Potassium: 226mg | Fiber: 3g | Sugar: 32g | Vitamin A: 5085IU | Vitamin C: 1.3mg | Calcium: 108mg | Iron: 2.9mg
Follow On Pinterest
Follow @bewitchinkitchen On Pinterest for more delicious recipes!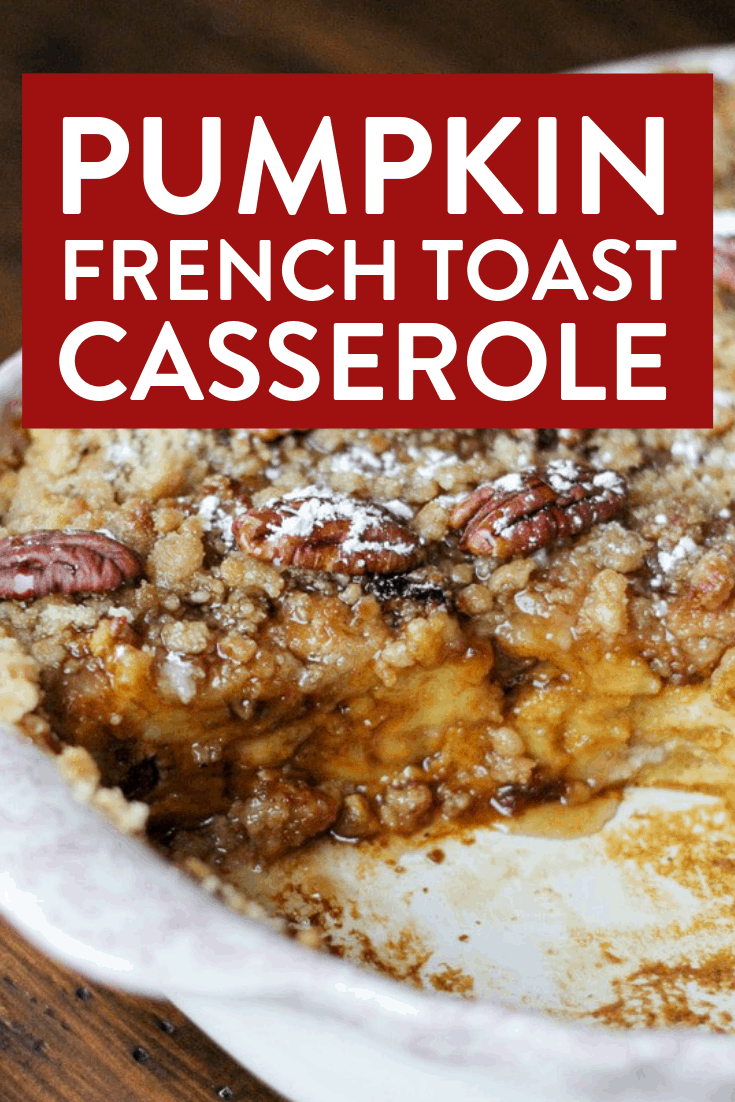 Thank you, Stacey, for this amazing recipe! Please visit This Lil Piglet for more recipes (like these Blueberry Perogies with Blueberry Sauce).
If you like this recipe, then please share it with your friends. If you hover over any image in this blog post you will also find a "Pin It" button, so you can easily share it to Pinterest, along with Facebook and Twitter.