Steak Nachos
Experience nacho nirvana with our savory Steak Nachos! Relax as grilled steak, crispy tortilla chips, melted cheese, and zesty toppings collide for a flavor-packed fiesta!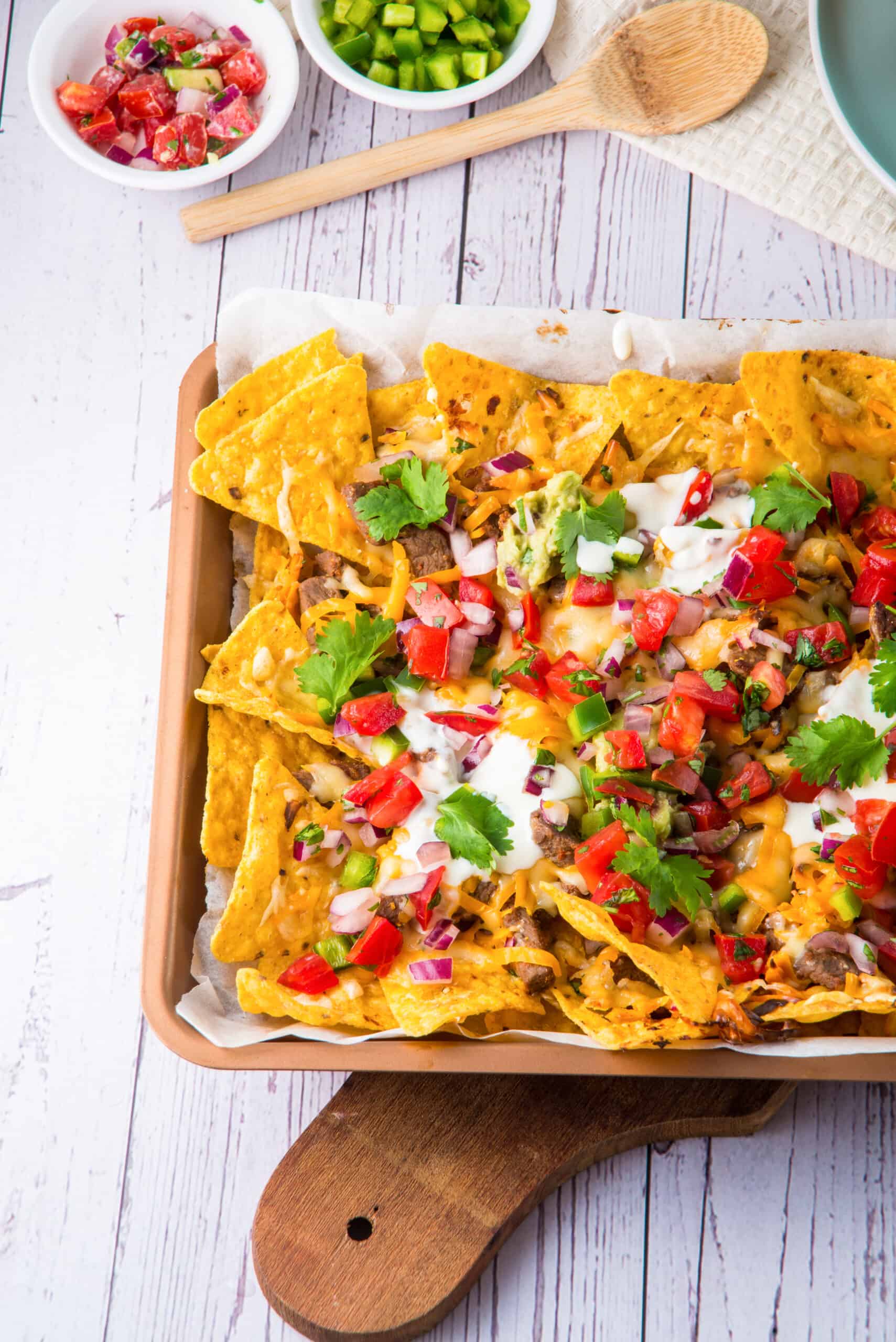 Steak Nacho Nirvana
This mouthwatering recipe takes classic nachos to a whole new level. Imagine tender, juicy strips of perfectly grilled steak on a bed of crispy tortilla chips covered with an irresistible blanket of melted cheese. Top it off with a vibrant medley of pico de gallo, sour cream, and creamy avocado for an irresistible combination of textures and tastes!
Not only is this recipe oh so simple, but every bite is a delightful fusion of flavors, making these steak nachos an absolute showstopper for any occasion! Pair steak nachos with Grilled Jalapenos or Authentic Guacamole for the ultimate meal combo!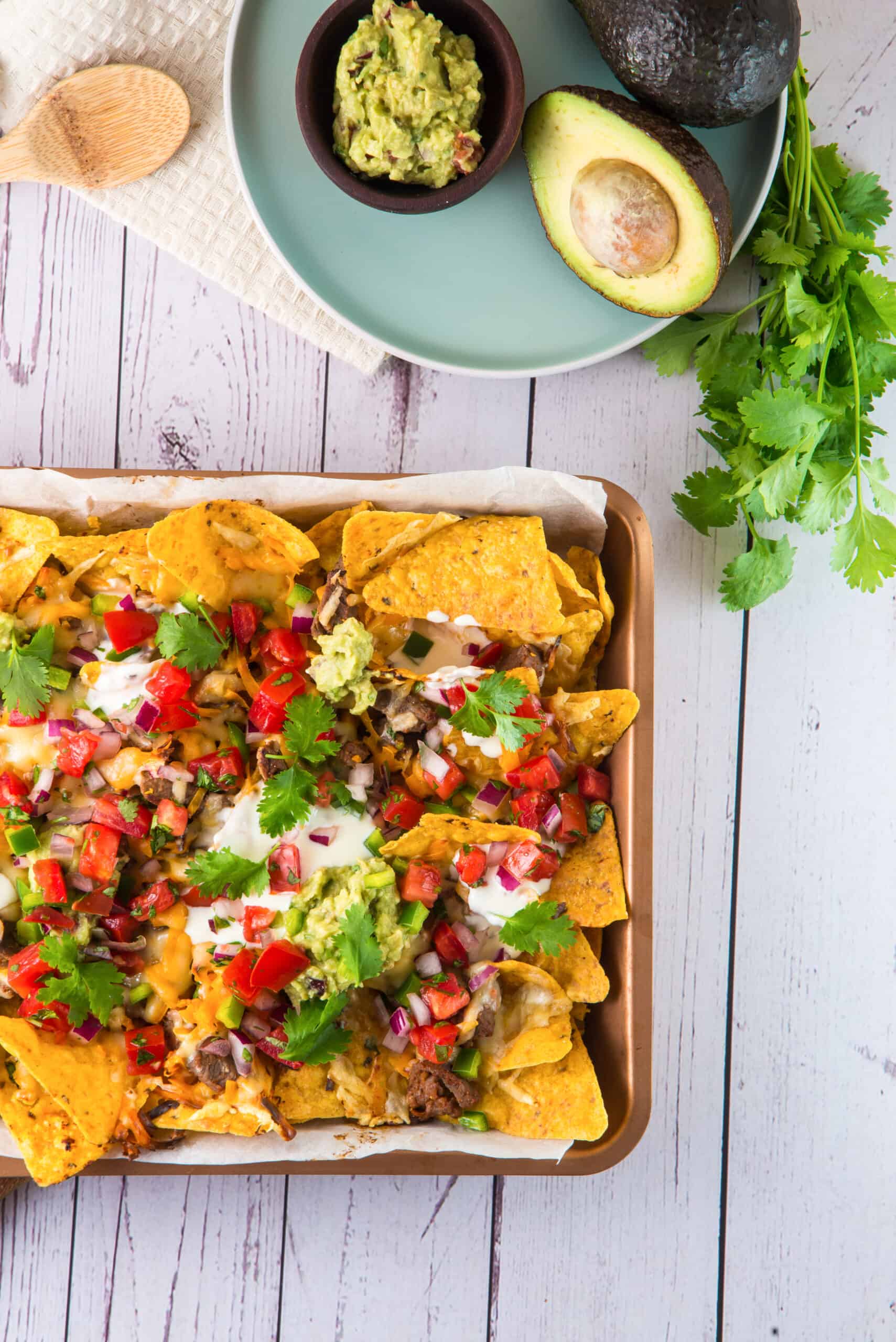 Why You Will Love This Steak Nachos Recipe
It's a fantastic option for game nights, movie marathons, or casual get-togethers.
You can customize the heat level with additional jalapeños or hot sauce!
The steak nachos offer a unique twist on traditional nachos, bringing them to a new level of deliciousness.
The recipe perfectly balances indulgence and freshness, making it a guilt-free treat.
This steak nachos recipe uses common ingredients, many of which you likely have on hand!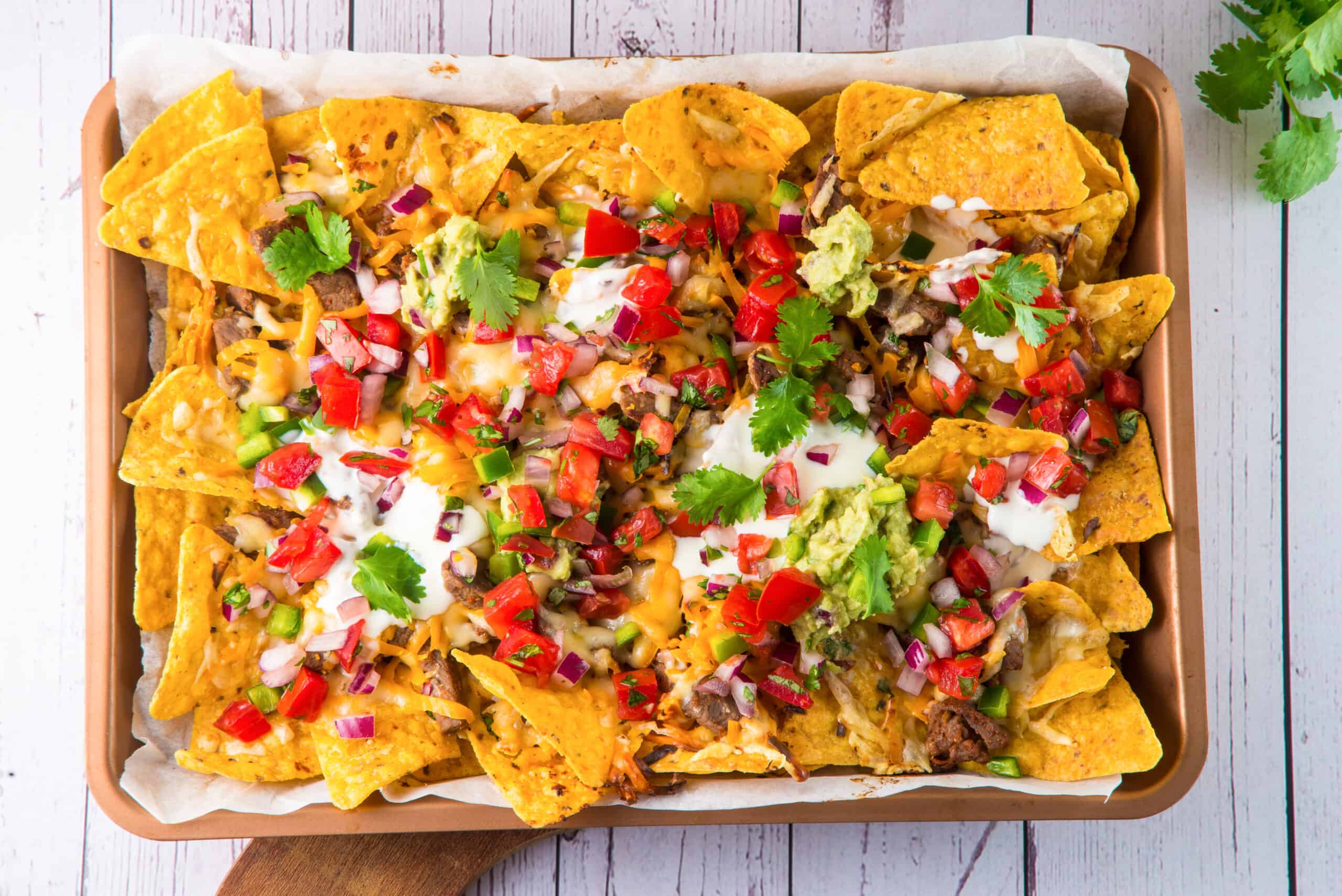 How To Make This Steak Nachos Recipe Perfectly
Marinating Magic: Marinate diced steak with garlic, lime juice, olive oil, salt, and taco seasoning to infuse it with irresistible flavor.
Quick Marinade Hack: If you're short on time, marinate for just 10 minutes, and you can still enjoy the burst of deliciousness!
Perfect Presentation: Prepare a baking tray with parchment paper for easy cleanup and a professional touch.
Nacho Assembly: Layer 4 cups of nachos on the tray, creating a solid foundation for your culinary creation.
Searing Success: Achieve the best-tasting steak by browning it in a hot skillet with olive oil for approximately 5-7 minutes.
Avoid Overcooking: Be mindful not to overcook the steak, as it can compromise its tenderness and juiciness.
Steak Nacho Symphony: Evenly arrange the cooked steak over the prepared nachos, creating a tantalizing combination of flavors.
Cheesy Perfection: Generously sprinkle shredded cheddar and Monterey Jack cheese over the steak and nachos for a gooey delight.
Oven Transformation: Bake the prepared steak nachos in a preheated oven at 350F for 10-15 minutes, allowing the cheese to melt to creamy perfection.
Tantalizing Toppings: Elevate your creation by adding toppings like pico de gallo, sour cream, guacamole, and green onions, enhancing the overall flavor profile.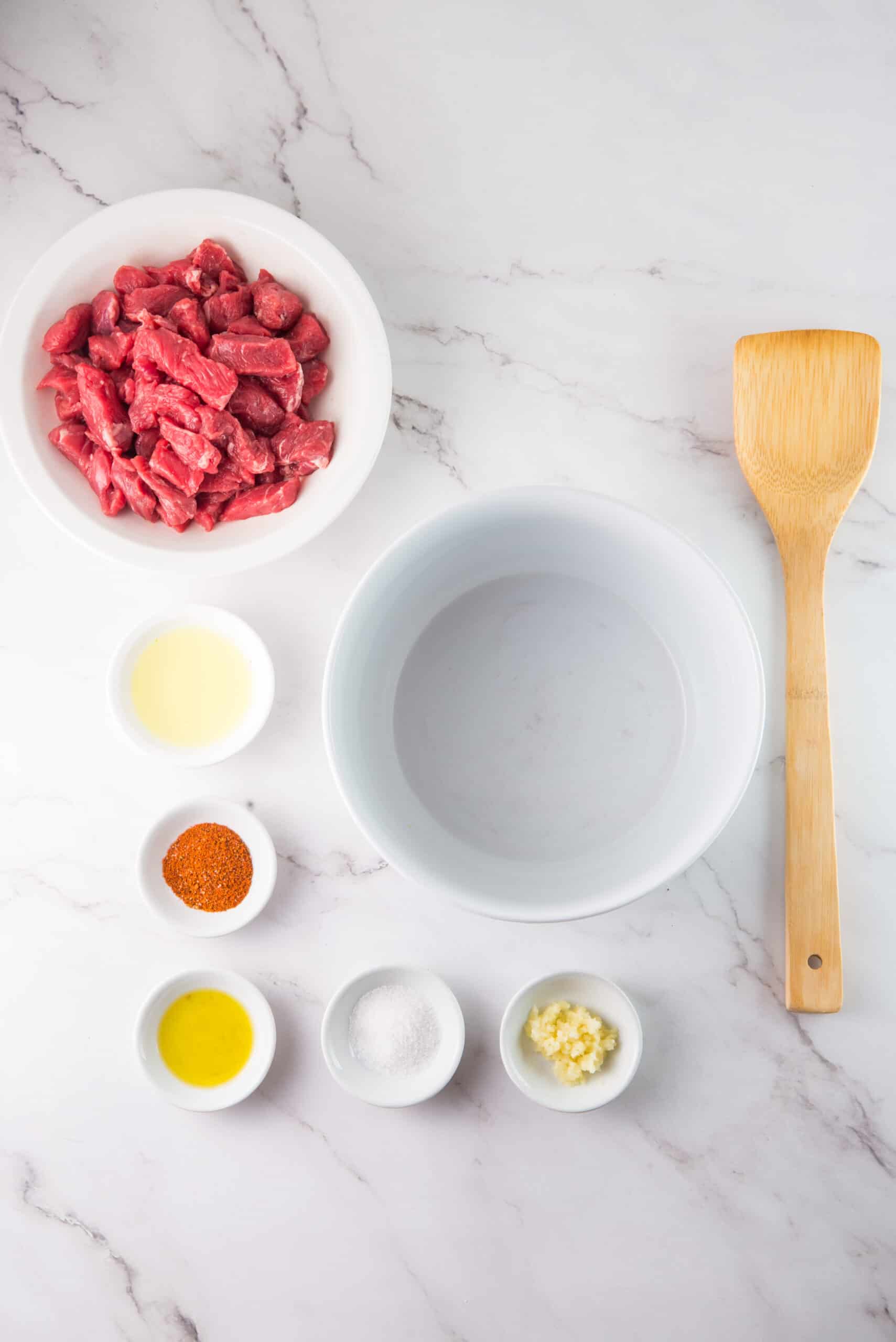 Key Ingredients For Steak Nachos And Their Substitutions
Sirloin Steak: Choosing a tender cut of steak will result in the most flavor! If you choose not to use sirloin, you can also use ribeye steak, skirt steak, or beef tenderloin instead- all sliced into 1-inch pieces.
Garlic: Instead of minced garlic cloves, you can substitute garlic powder or paste for a convenient alternative.
Olive Oil: Avocado or vegetable oil can be used as a substitute for olive oil.
Lime Juice: Lemon juice or apple cider vinegar can be used as tangy alternatives to lime juice.
Salt: Sea salt or kosher salt can be used interchangeably with regular salt in the recipe.
Taco Seasoning: You can make your taco seasoning blend using chili powder, cumin, paprika, garlic powder, onion powder, oregano, and a pinch of cayenne pepper.
Nachos: Any type of tortilla chip works great for this steak nachos recipe! You can also find gluten-free tortilla chips if you prefer.
Monterey Jack Cheese: Pepper Jack cheese or queso blanco can be substituted for Monterey Jack cheese.
Cheddar Cheese: Colby Jack cheese or mozzarella cheese can be used instead of cheddar cheese if you're looking for a different flavor profile.
Pico De Gallo: As a flavorful alternative, you can use any type of salsa, such as tomato salsa or verde salsa. Additionally, diced tomatoes can be used as a milder substitute.
Sour cream: If sour cream isn't your thing, you can swap it with Greek yogurt, which provides a similar creamy texture with added health benefits. Another option is using mayonnaise for a tangy flavor in place of sour cream.
Avocado: You can also incorporate guacamole for a creamy and flavorful addition!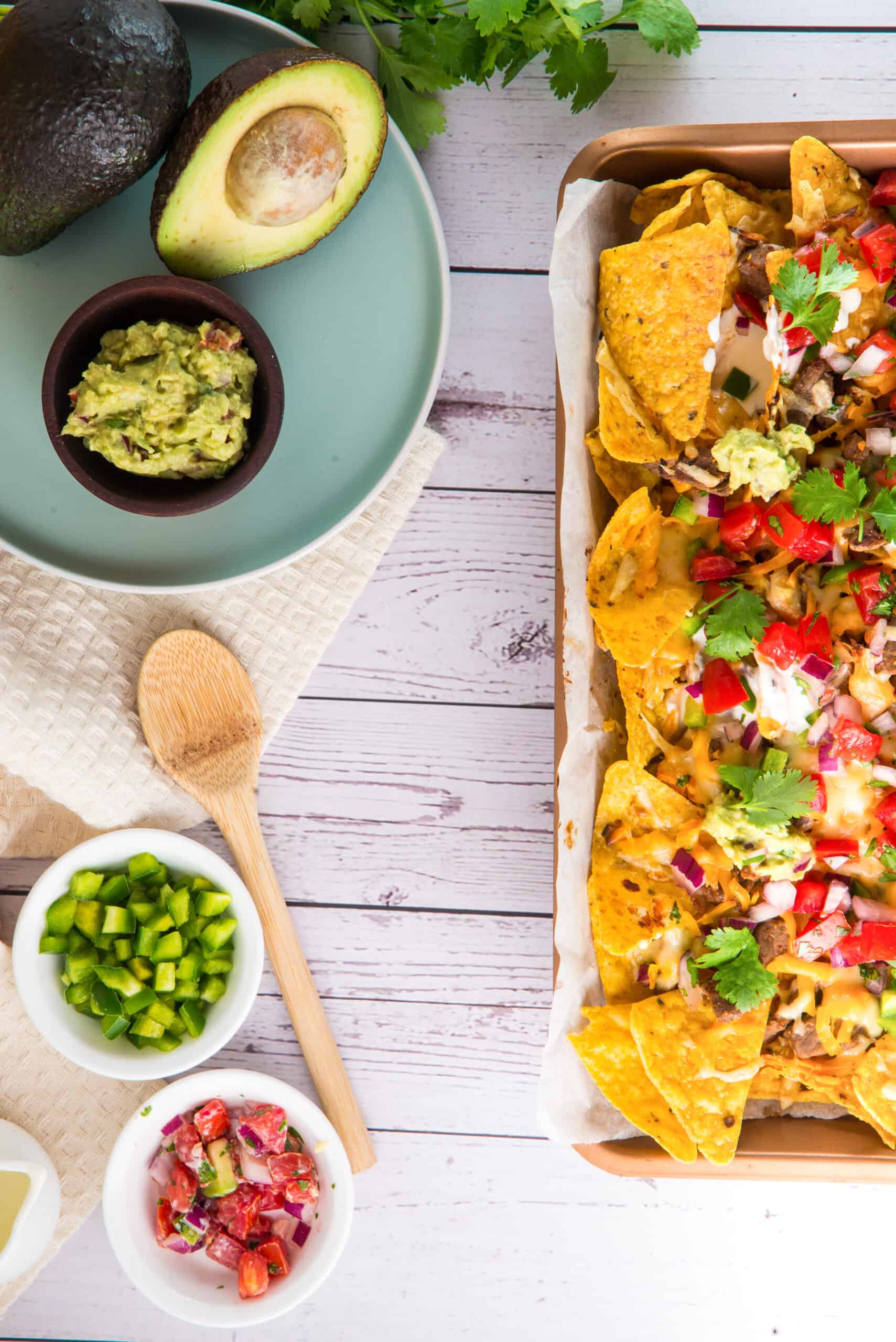 Frequently Asked Questions About Steak Nachos
Can I use a different type of meat instead of steak for the nachos?
Absolutely! While steak is commonly used, you can substitute it with other meats like chicken, ground beef, or shrimp for a different twist on the classic nachos.
Can I make the nachos gluten-free?
You can easily make gluten-free steak nachos. Use gluten-free tortilla chips and ensure that the toppings, seasonings, and sauces you use are also gluten-free.
Can I freeze leftovers?
It's not recommended to freeze fully assembled steak nachos, as the toppings and chips may lose their texture. However, you can freeze any leftover cooked steak separately for future use in other dishes.
What other toppings can I add?
The toppings for steak nachos are versatile! Consider adding sliced jalapeños, black beans, corn kernels, diced onions, or chopped cilantro for extra flavor and texture. Get creative and customize the toppings to suit your preferences.
Steak Nachos
Experience nacho nirvana with our savory Steak Nachos! Relax as grilled steak, crispy tortilla chips, melted cheese, and zesty toppings collide for a flavor-packed fiesta!
Servings 6 Servings
Calories 841kcal
Ingredients
2 lb sirloin steak sliced into 1-inch pieces
2 clove garlic cloves minced
1 tbsp olive oil
2 tbsp lime juice
1 tsp salt
1 tbsp Taco Seasoning
4 cup nachos
1 cup Monterrey jack cheese Shredded
1 cup shredded cheddar cheese
Toppings
1 cup Pice de gallo
1/2 cup sour cream
1 medium avocado
Optional Add ons
jalapeno, Roma tomatoes, red onions, fresh salsa, chopped cilantro, sliced green onion
Instructions
Marinate steak: mix diced steak with minced garlic, lime juice, olive oil, salt, and taco seasoning. Cover with film paper and refrigerate for 2 hours. Note: you can marinate for 10 minutes if you're in a hurry.

In the meantime, prepare a baking tray with parchment paper. Next, cover the bottom with 4 cups of nachos. Set it aside.

Heat a large skillet over medium heat, then add olive oil and the marinated meat. Stir until the meat is brownish, about 5-7 minutes. Avoid overcooking it to get a tender and juicy steak. Remove from heat and arrange steak over the prepared nachos. Spread shredded cheddar and Monterrey jack cheese on top.

Bake it in a preheated oven at 350F for 10-15 minutes or until the cheese is melted.

Add toppings of choice, such as pico de gallo, sour cream, guacamole, and green onion, and serve immediately.
Notes
Tips
Choose a tender cut of meat like ribeye or sirloin.
If using tomatoes, go for ripe Roma tomatoes to get the best in terms of flavor and texture.
Recipe Notes
These savory nachos are an explosion of flavors, combining succulent steak, sour cream, creamy guacamole, and ooey-gooey melted cheese. Prepare yourself for an unforgettable fiesta of taste and texture. This layered dish can easily work as a snack or entry for any Mexican special night.
Nutrition
Calories: 841kcal | Carbohydrates: 60g | Protein: 49g | Fat: 46g | Saturated Fat: 15g | Polyunsaturated Fat: 10g | Monounsaturated Fat: 16g | Trans Fat: 0.1g | Cholesterol: 139mg | Sodium: 1288mg | Potassium: 995mg | Fiber: 7g | Sugar: 3g | Vitamin A: 754IU | Vitamin C: 6mg | Calcium: 436mg | Iron: 4mg
Follow On Pinterest
Follow @bewitchinkitchen On Pinterest for more delicious recipes!