10 Reasons Why The Dyson V6 Absolute Rocks My Socks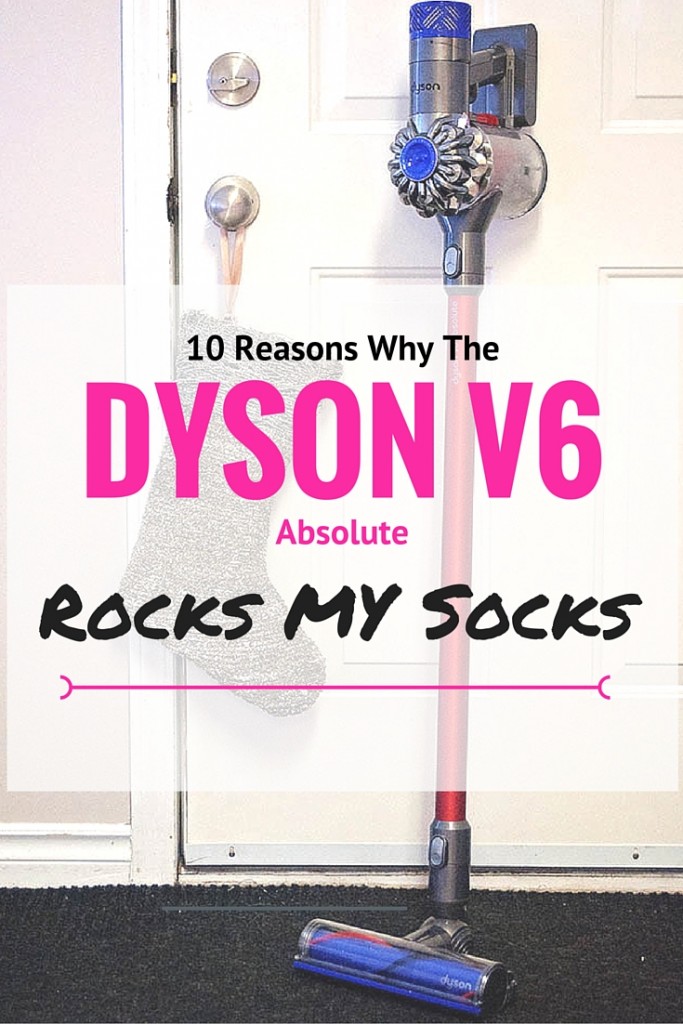 I'm going to start this out with a spoiler alert: I have never met a Dyson I didn't love. My Dyson DC61 is awesome, my Dyson DC78 Cinetic Turbinehead Animal is about as magical as vacuums can get and now I have the Dyson V6 Absolute. You guys, the Dyson V6 Absolute has been a lifesaver.
I have mentioned to you guys a few times now via blog posts and Facebook posts that I recently re-located. For about a I was back at the Terrace house while my husband was here in PG, and I had the super fun (insert sarcasm) task of packing up the house and cleaning everything on my own. Oh did I forget to mention that while doing this we were selling our house and I had to keep it pretty spotless?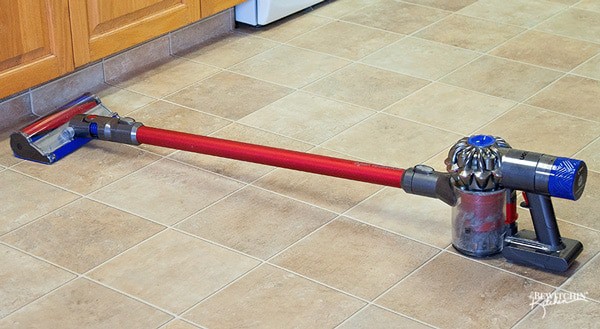 Small but mighty, this was after running the Dyson V6 Absolute for 2 minutes over the carpet in our rental. Do you see all that dirt? The canister was clear before.
When I say that the Dyson V6 Absolute has been a lifesaver, this is what I'm talking about. It saved my sanity during the packing, cleaning, selling and moving process.
[ctt title="Ditch dirt forever with the Dyson V6 Absolute " tweet="Ditch dirt forever with the #Dyson V6 Absolute http://ctt.ec/8EJ0f+" coverup="8EJ0f"]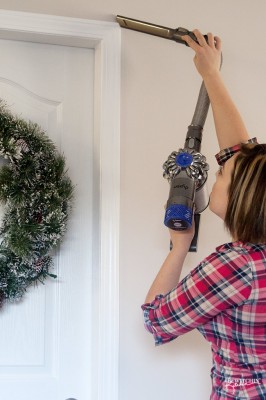 Dyson V6 Absolute: 10 Reasons Why It Rocks My Socks
It's cordless. There is no cord to trip over or unravel, it's simply just grab and go.
The Dyson dock. Storing and charging the machine is so easy with this dock station. Plus this way it doesn't take up room in your cleaning closet.
Hygienic bin emptying. To empty the dirt into the trash is easy, you just push a button. There is not getting your hands dirty.
Long run time. On a full charge, the Dyson V6 Absolute can run for 20 straight minutes.
Max mode. If you need an extra boost, just hit the max mode button and you have six minutes of increased suction.
It's easy to clean the ceiling. The Dyson V6 Absolute cleans from floor to ceiling all in one go, thanks to the easy click and go options.
It expels clean air. As a mom to a child with some breathing problems, I'm very thankful for this feature. The Dyson's post-motor filter expels air that's cleaner than the air you breathe. This is the first Dyson cordless with HEPA Filtration! It captures allergens removing 99.97% of particles as small as 0.3 microns. 
The brush bar. The Dyson brush bar has 75% more brush bar power than the Dyson V6 Slim thanks to the direct drive motor. What that means is that there is more power to push the bristles deep into carpets to get more dirt out.
The cleaner head. This is the attachment I always use. This cleaner head picks up large and small debris at once, nothing gets left behind. That's because of the soft roller head. Dyson engineers redesigned the traditional cleaner head so that captured both big and small debris. Instead of strips of hard bristles, the Dyson soft roller cleaner head has a full-width roller, covered with a soft nylon material and rows of carbon fibre filaments. Large debris are enveloped by the soft material and flung inside the cleaner head, while the antistatic qualities of the carbon fibre filaments gently remove fine dust, without damaging floors.
It's powerful, it's convenient, and it works.
Bonus: It only weighs 5 pounds! It's so easy to carry around and with the ball technology at the base of the vacuum, it turns on a dime.
At the end of the day, what matters is that the Dyson V6 Absolute works incredibly well. It cleans your floors, your walls and your stairs fast and efficiently. It moves from carpet to hard floors with ease and thanks to the attachments, it also easily cleans those pesky hard to reach areas.
I love the Dyson V6 Absolute so much that I just bought another as a Christmas gift for someone special on my gift list.
Like what you hear? Visit the Dyson website to learn more about the Dyson V6 Absolute.
Have you tried any of the wireless Dyson V6's yet?