Sundried Tomato Pesto Pasta with Spring Vegetables
Spring is finally in full bloom! My family and I will be heading outside more often to take advantage of patio season, while reuniting with good friends over incredible food, like this recipe for Sundried Tomato Pesto Pasta.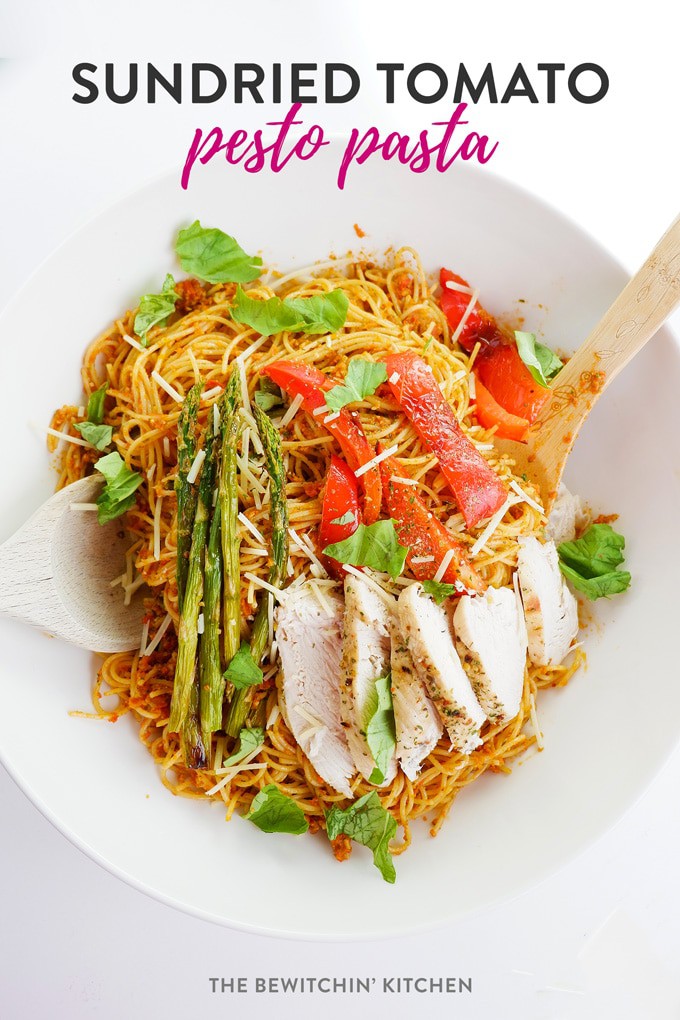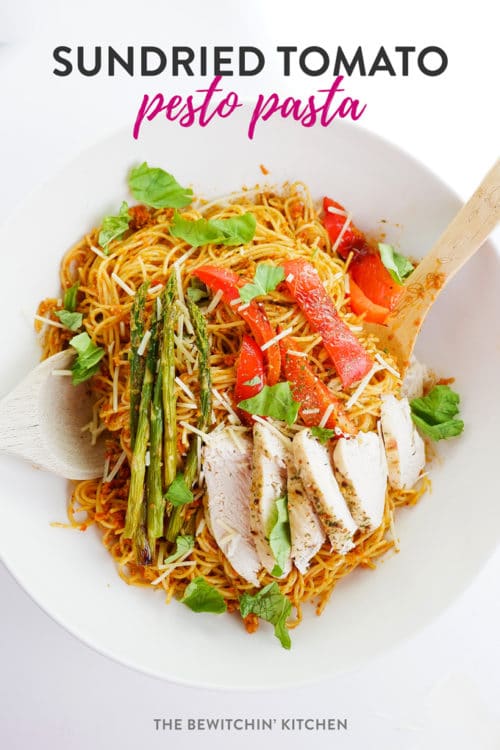 My biggest regret of last summer was that we didn't have patio furniture to dine outside and fully enjoy the season. Last week, our new set finally arrived and we celebrated by joining together to enjoy a spring inspired pasta dish and good conversation.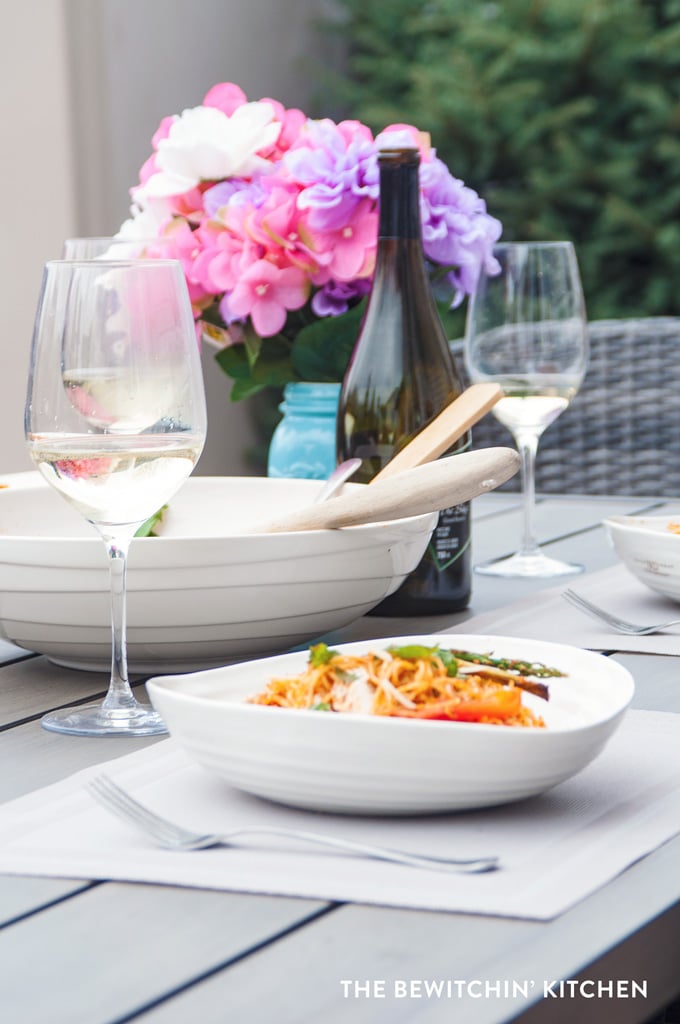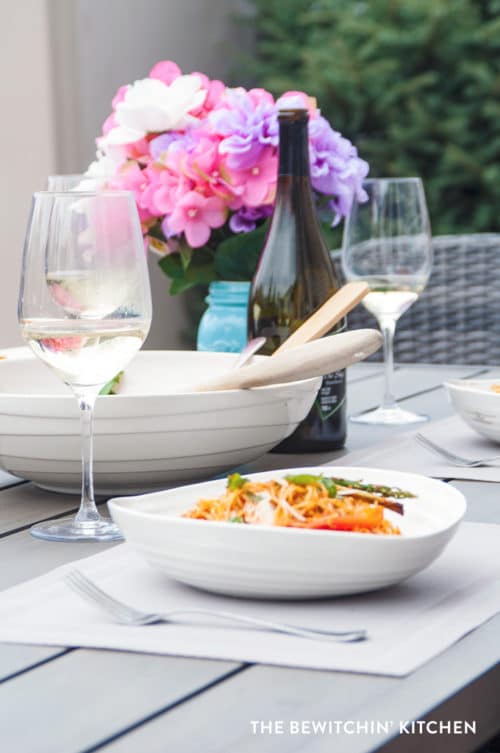 It's not every day I get to sit down with my friends over dinner. Most of my close friends live hours away and the ones who live in town either work out of town or live on the opposite side of the city. So, if I have the chance to reconnect and catch up over dinner, we go all out: delicious food that's complemented by wine from our favorite British Columbia winery.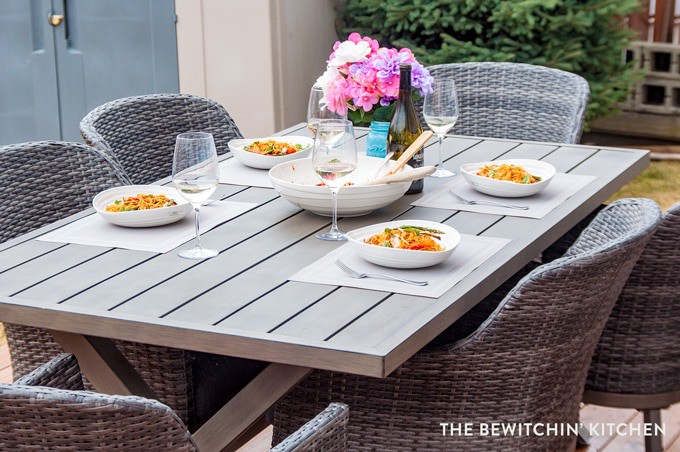 If you've been following me on social media, you'll see that I'm in Mexico as this post goes live. You'll also have noticed that I've been eating healthy meals to prepare for the beach.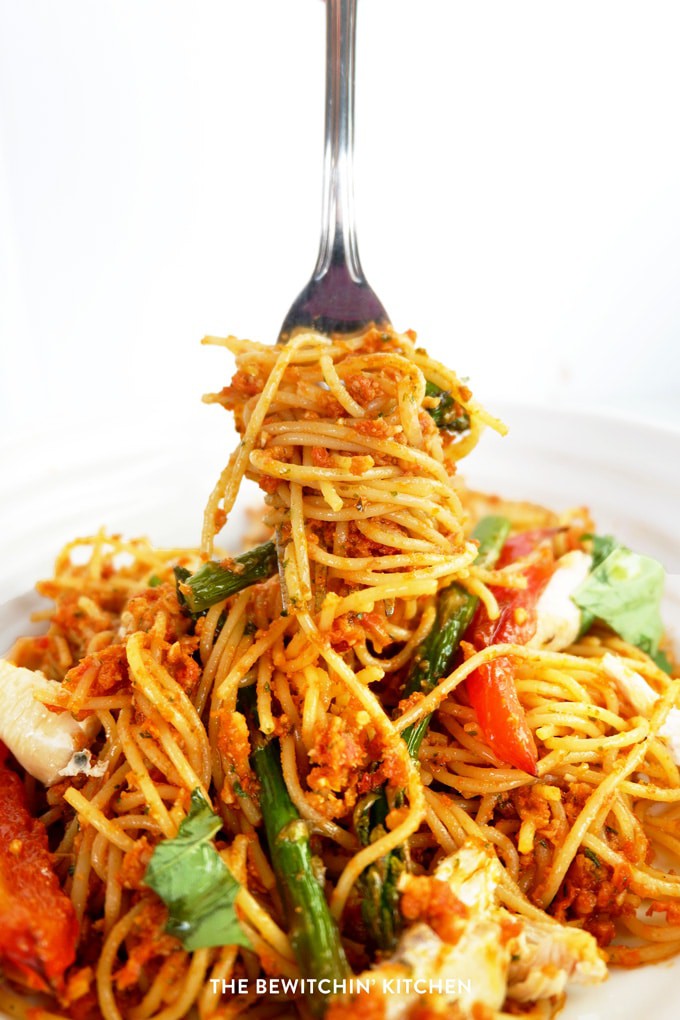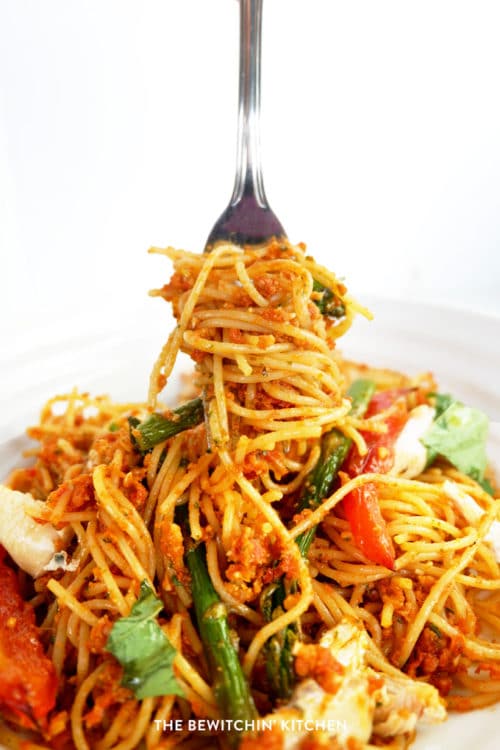 I'm always looking for ways that both me and my family can eat more vegetables. We're a family of three very picky eaters. I can count on one hand the vegetables I truly like, so I usually need a little help in this department.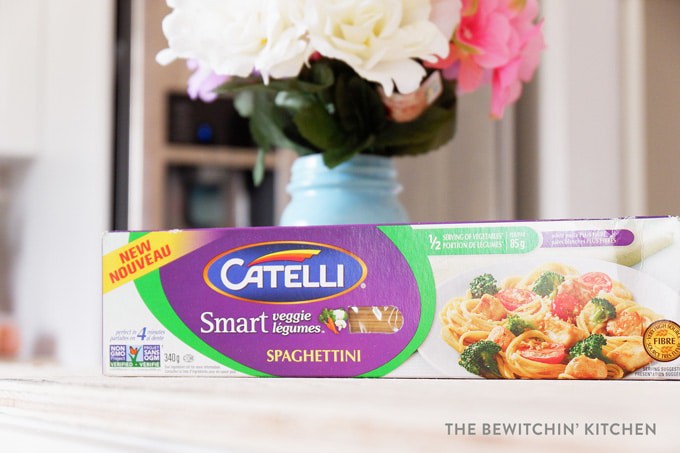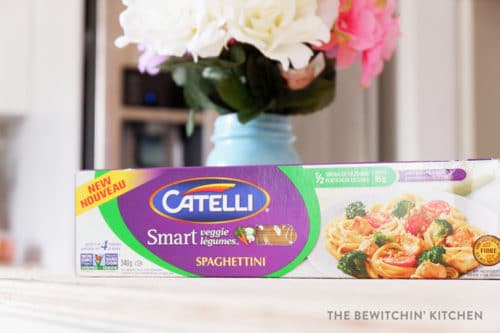 This is why I always have Catelli Smart Veggie pasta in my arsenal. Catelli Smart Veggie pasta has the classic pasta taste that you expect from Catelli, but has some hidden benefits. What benefits do you ask? Vegetables!
Yes, you heard me right. Smart Veggie pasta is made with dried carrots and cauliflower (is there seriously anything that cauliflower can't do?) as well as durum wheat semolina and oat hull fibre. Each 85 g serving of pasta packs half a serving of vegetables. Include that with your tomato based sauce and roasted veggies on top: you're in the book of health's good graces.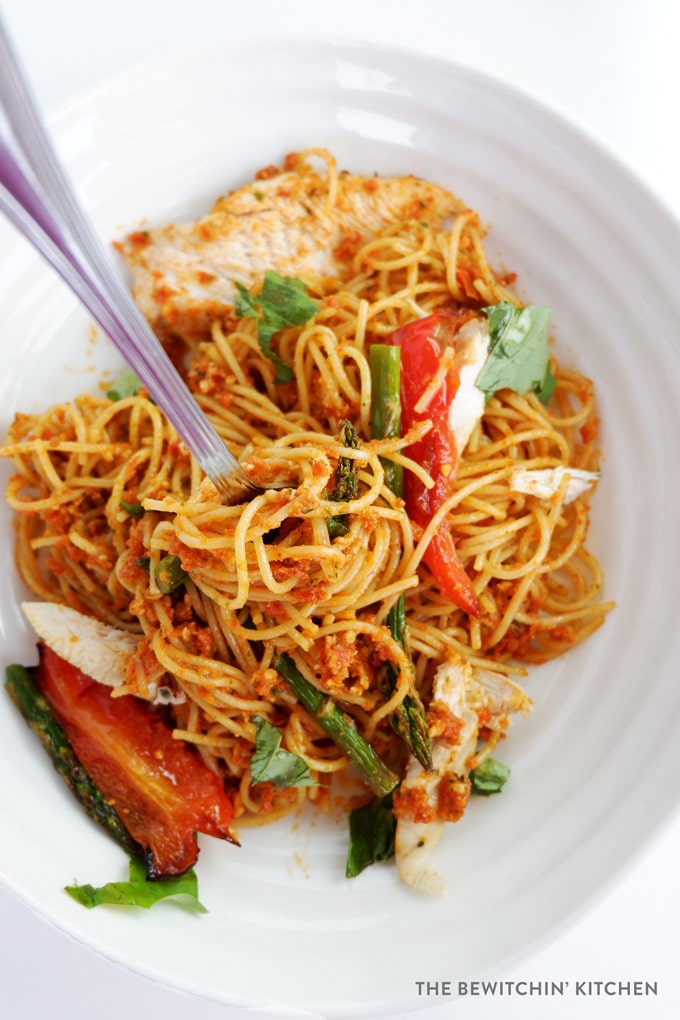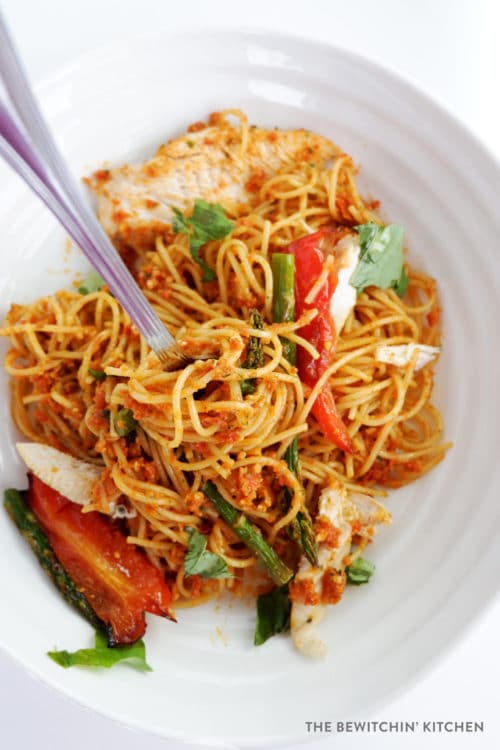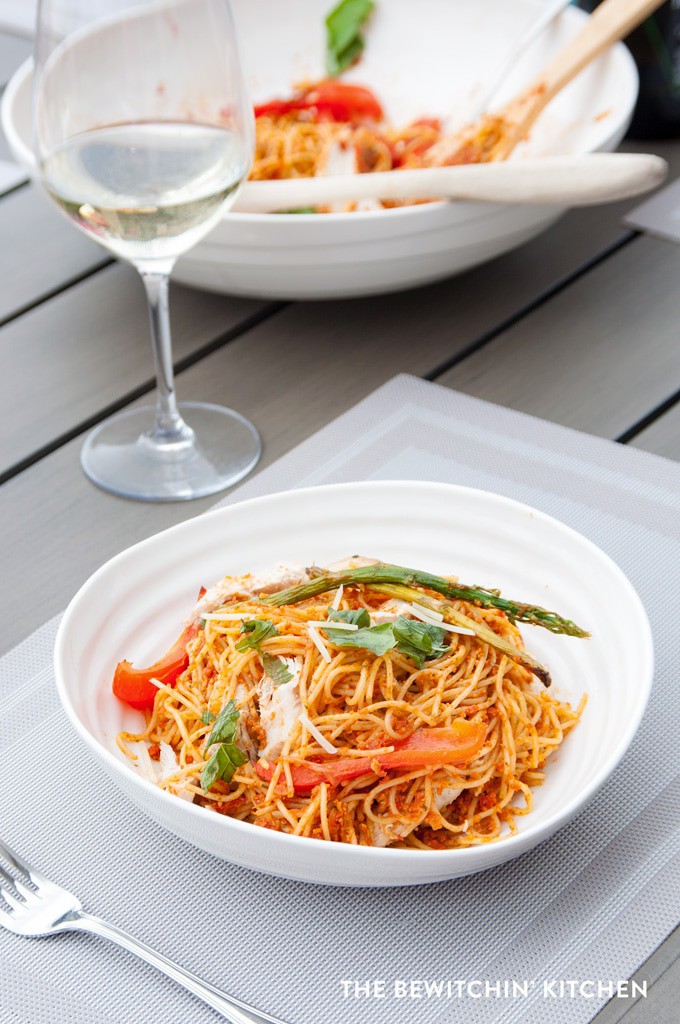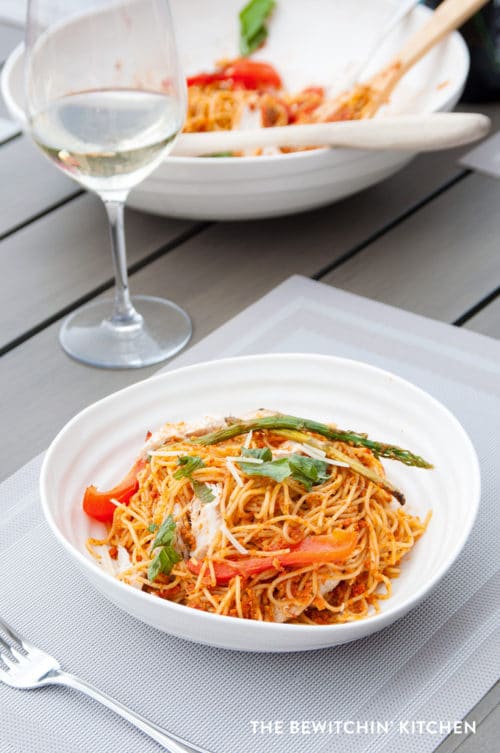 Sundried Tomato Pesto Pasta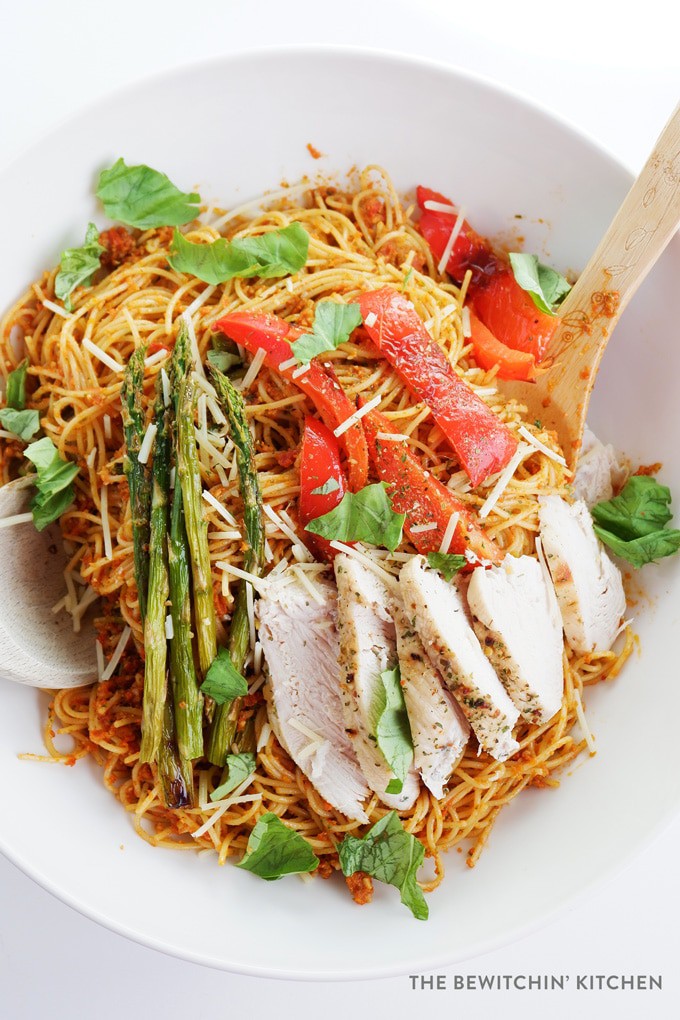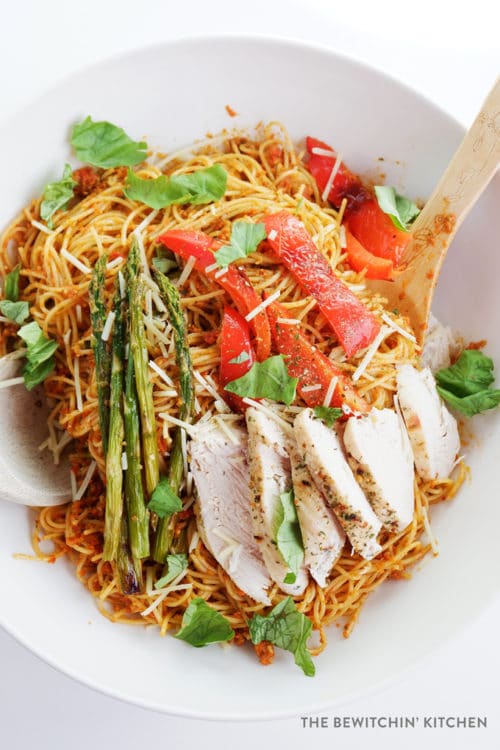 Whether it's spring or summer, this sundried tomato pesto pasta is a delicious way to reunite and excite family and friends during casual gatherings on the patio.
Want more delicious pasta to share with friends? Check out my favorite summer salad side dish, Pesto Pasta Salad or this Penne with Creamy Vodka Sauce.
Sundried Tomato Pesto Pasta with Spring Vegetables
This delicious summer dinner pasta dish features my favorite spring and summer vegetables and a homemade sundried tomato pesto.
Servings 6 servings
Calories 552kcal
Ingredients
1 package Catelli Smart Veggie Spaghettini
2 chicken breasts grilled
10 stalks asparagus roasted and cut
2 red bell peppers roasted and sliced
1/4 cup shredded parmesan cheese
Sundried Tomato Pesto
2 small jar sundried tomatoes in oil
1 cup fresh basil
1/2 cup parmesan cheese
1/4 cup pine nuts
1/4 cup extra virgin olive oil
2 tbsp red wine vinegar
2 cloves garlic
1/4 tsp each salt and pepper
 
Instructions
Cook Catelli Smart Veggie Spaghettini according to package directions.

While pasta is boiling, add all of the sundried tomato pesto ingredients into a high-powered food processor, blend and puree. Set aside.

Drain pasta and toss with sundried tomato pesto. You may need to add more oil, depending on how much olive oil is in the jar of sundried tomatoes.

Top with sliced grilled chicken and roasted vegetables.
Nutrition
Serving: 1g | Calories: 552kcal | Carbohydrates: 61g | Protein: 32g | Fat: 19g | Saturated Fat: 4g | Cholesterol: 56mg | Sodium: 393mg | Potassium: 636mg | Fiber: 4g | Sugar: 4g | Vitamin A: 1775IU | Vitamin C: 54.5mg | Calcium: 186mg | Iron: 2.6mg
Follow On Pinterest
Follow @bewitchinkitchen On Pinterest for more delicious recipes!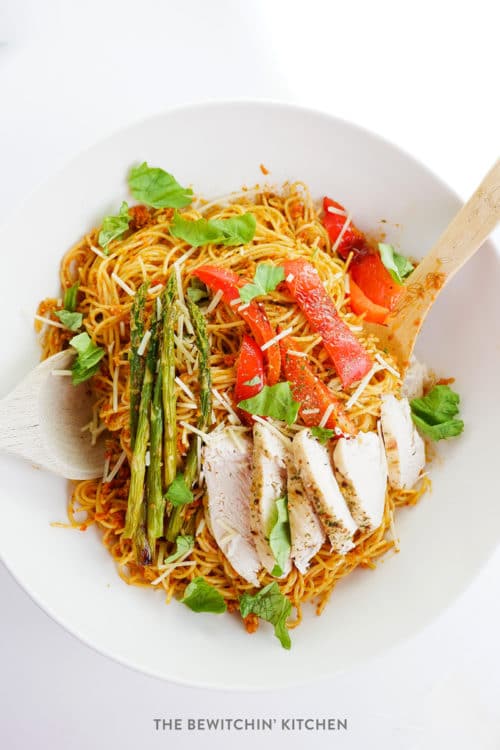 Disclosure: This recipe for Sundried Tomato Pesto Pasta has been sponsored by my partners at Catelli. All opinions are my own.