Crockpot French Onion Soup
This Crockpot French Onion Soup recipe very well could be the easiest recipe for this classic comfort food. Minimal ingredients and minimal effort make this mama happy! Gotta love feeling productive without having to do anything, am I right?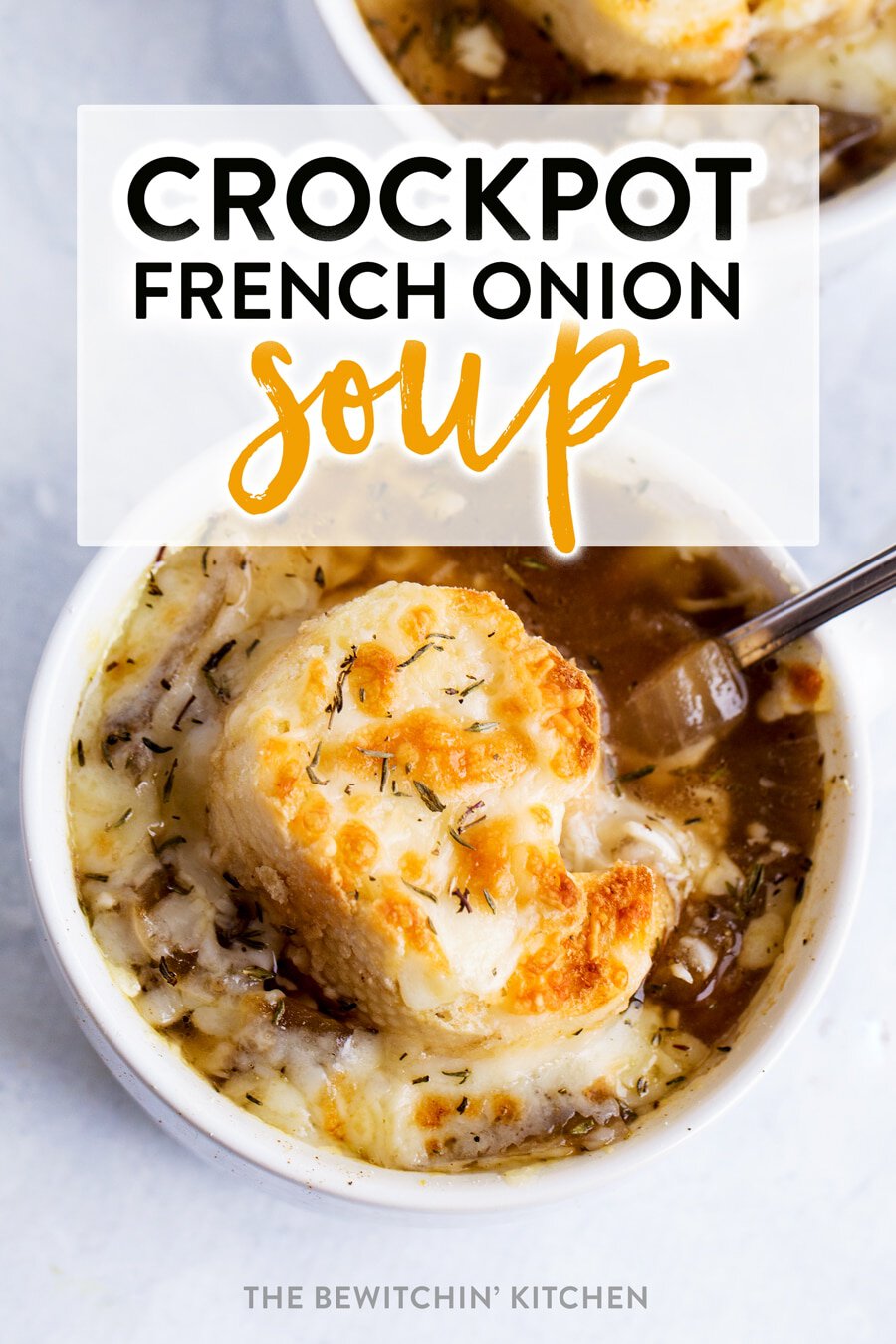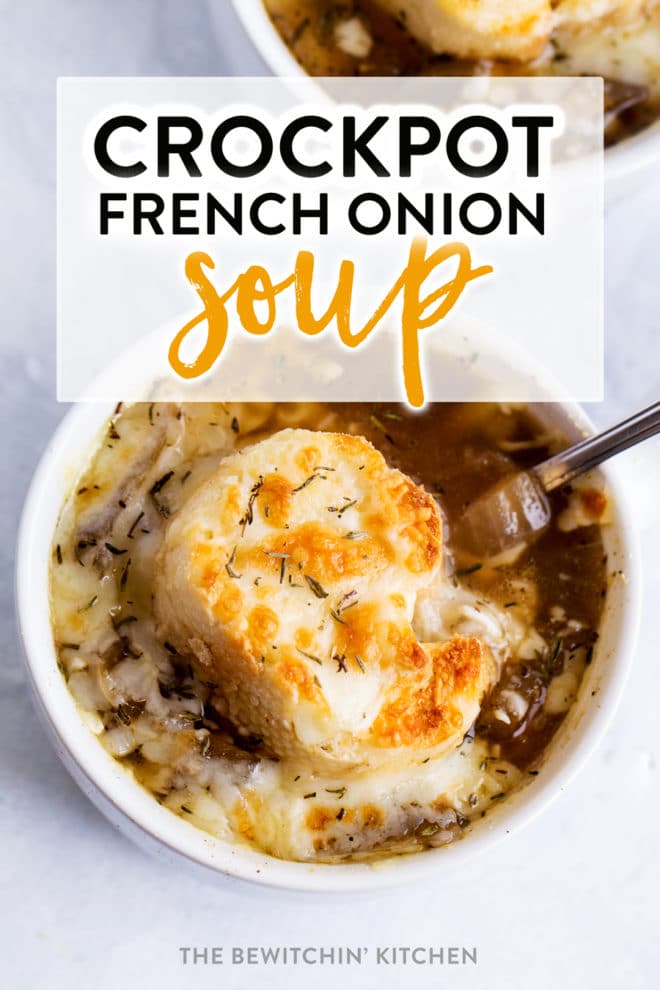 Crockpot French Onion Soup
Disclosure: This post contains affiliate links for your convenience. 
Update March 2018: I updated this recipe using three different kinds of onions. I was half tempted to call it three onion soup (my attempt at being fancy) but decided it was best to keep it simple and leave it at Crockpot french onion soup. If you're curious about the original, I used all white onions.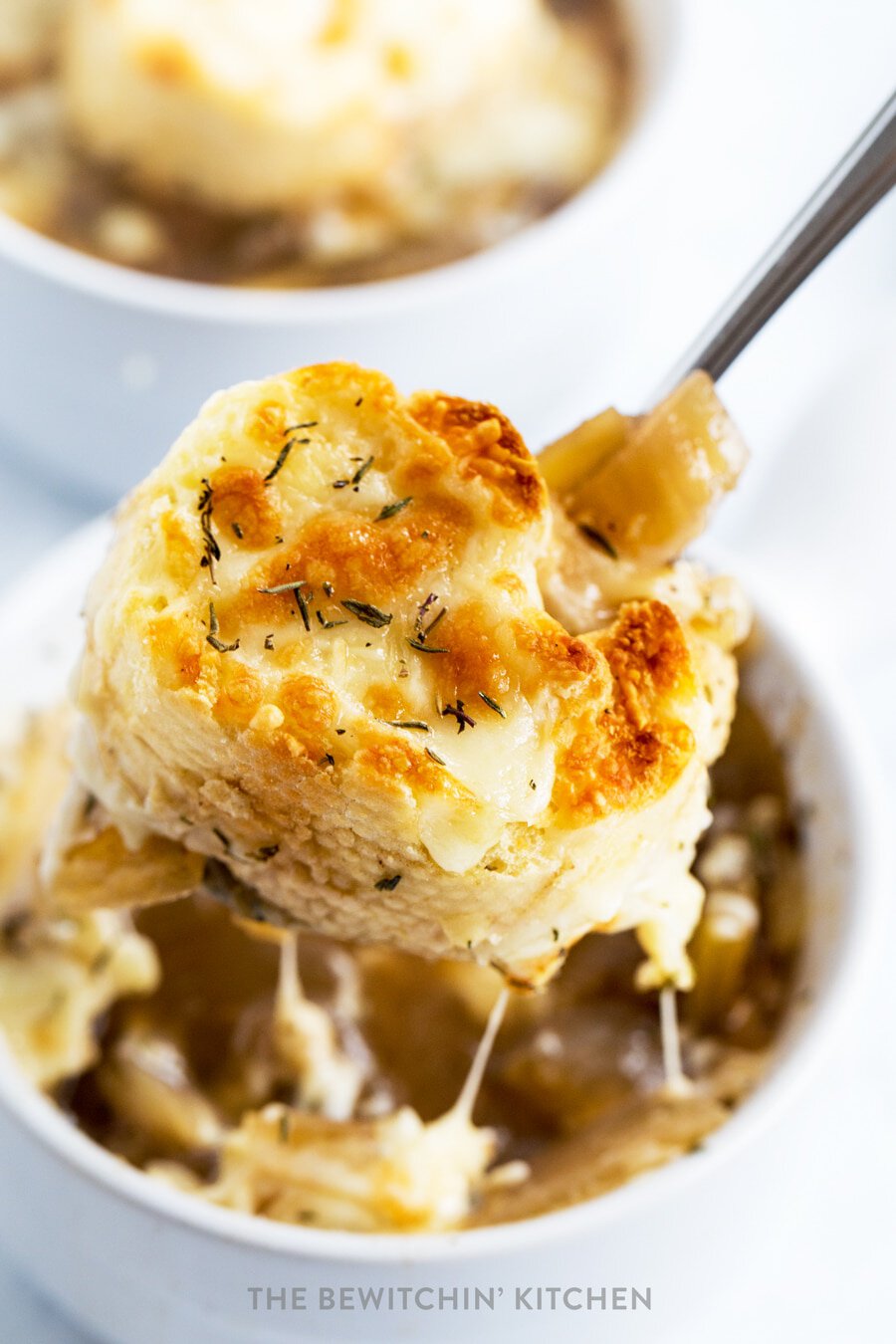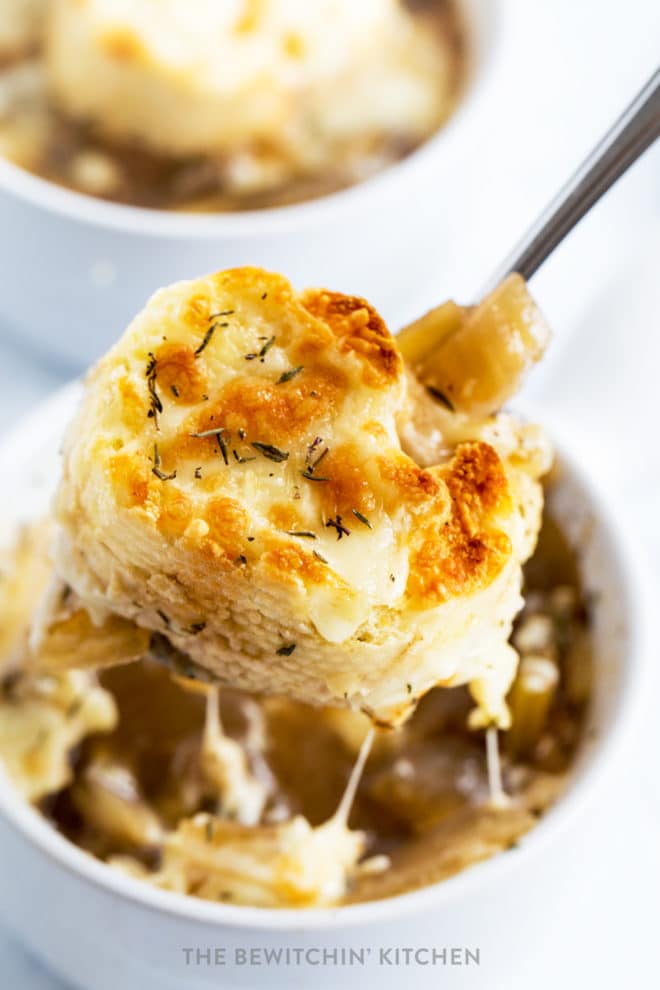 I never had french onion soup growing up. Something about onions just didn't appeal to me as a child (can you blame me?). My husband finally made me try it at a restaurant when I was in my late teens and I fell in love.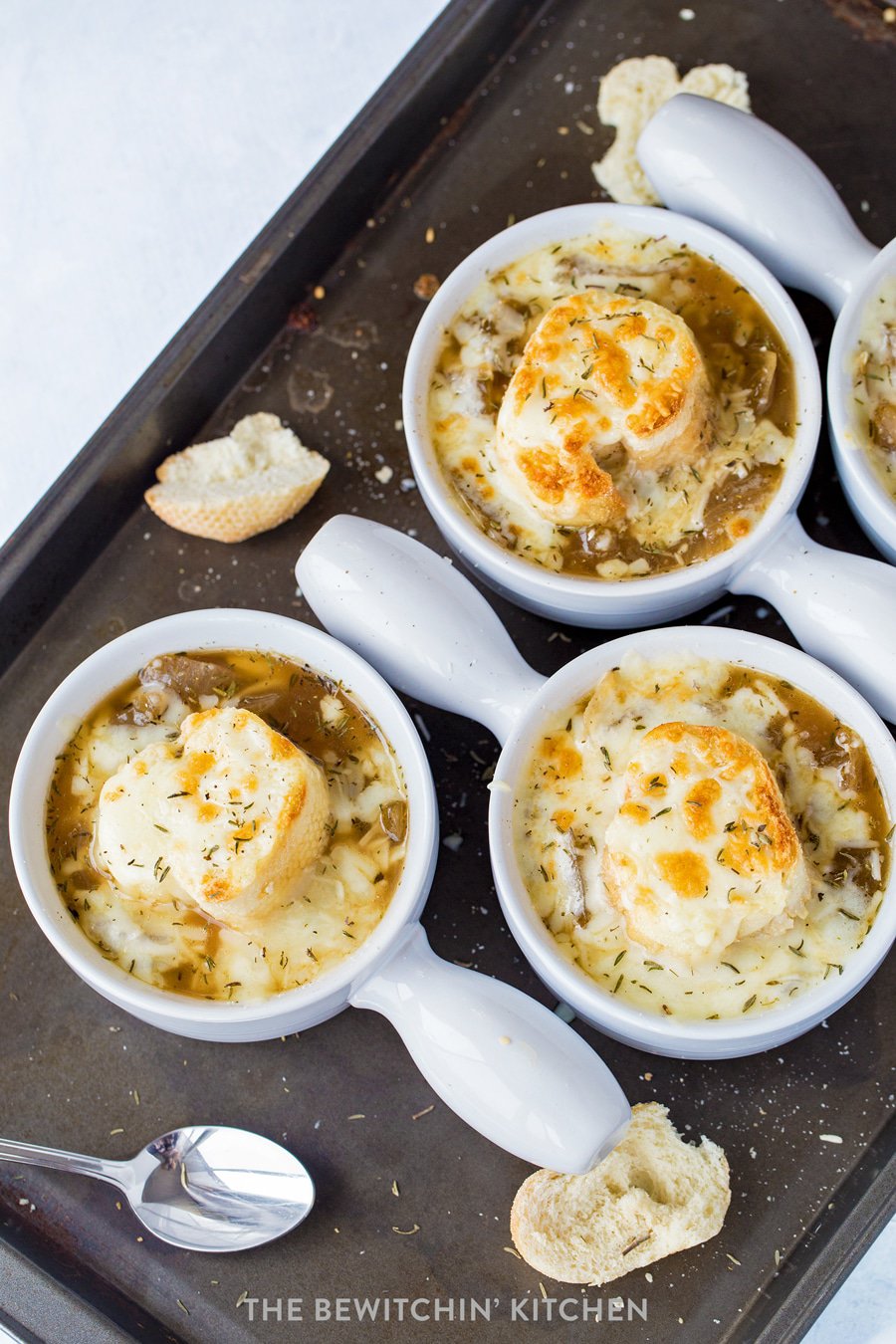 A few years passed and there have been multiple recipes tested and tried but this one balances the yummy and easy rating system. There is something about it, it's very filling and incredibly satisfying.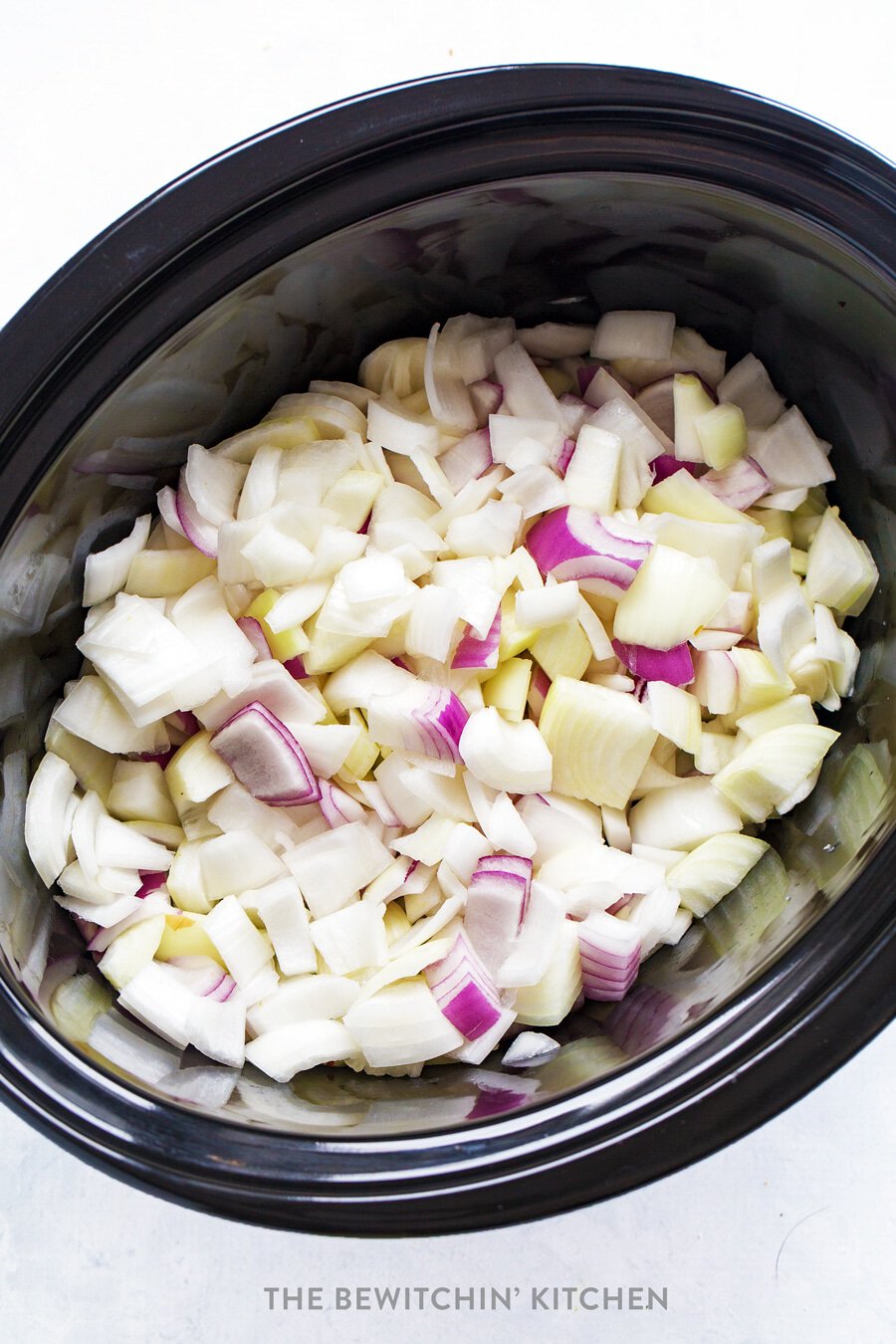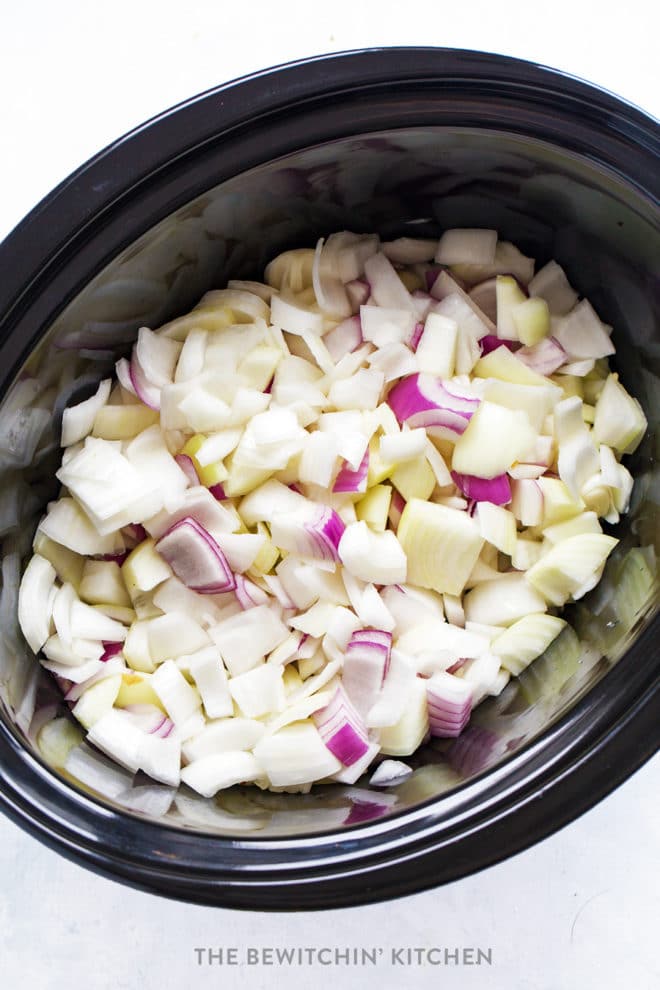 To caramelize the onions or not
Many of the french onion soup recipes around the interwebs call for caramelization of the onions.
What the heck does that mean?
To caramelize the onions means you slowly cook them down to bring out their natural sweetness.
I did this in the Irish Onion Soup recipe, and it's delicious – it truly is but I like my french onion soup to be on the saltier side rather than sweeter. Well, that and when it comes to cooking meals in my Crockpot or slow cooker, I don't want to have to cook something before I cook it (makes sense right?). The Crockpot (to me) is all about dump and go! That being said, I still found this to be sweet but it balances out with the cheese.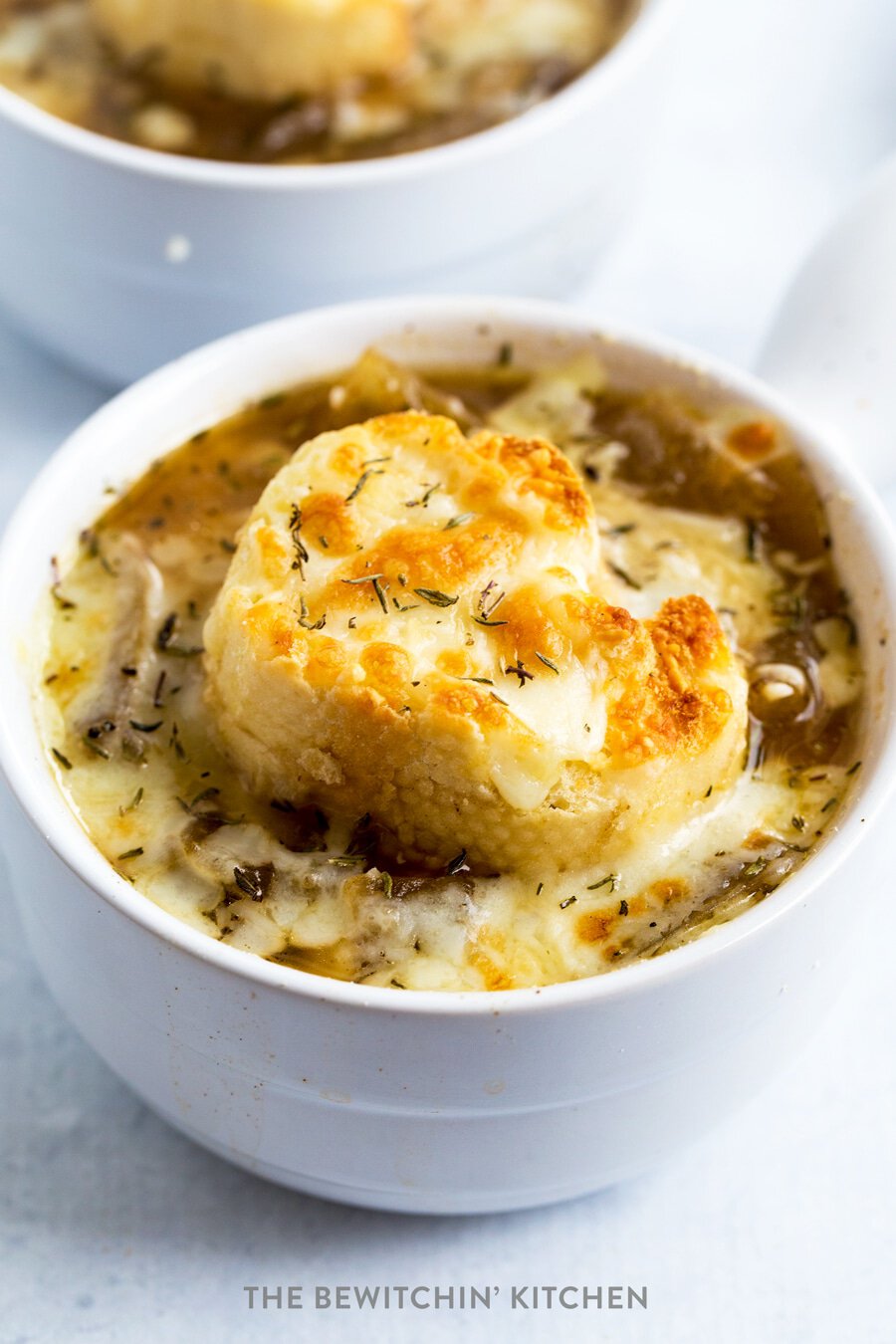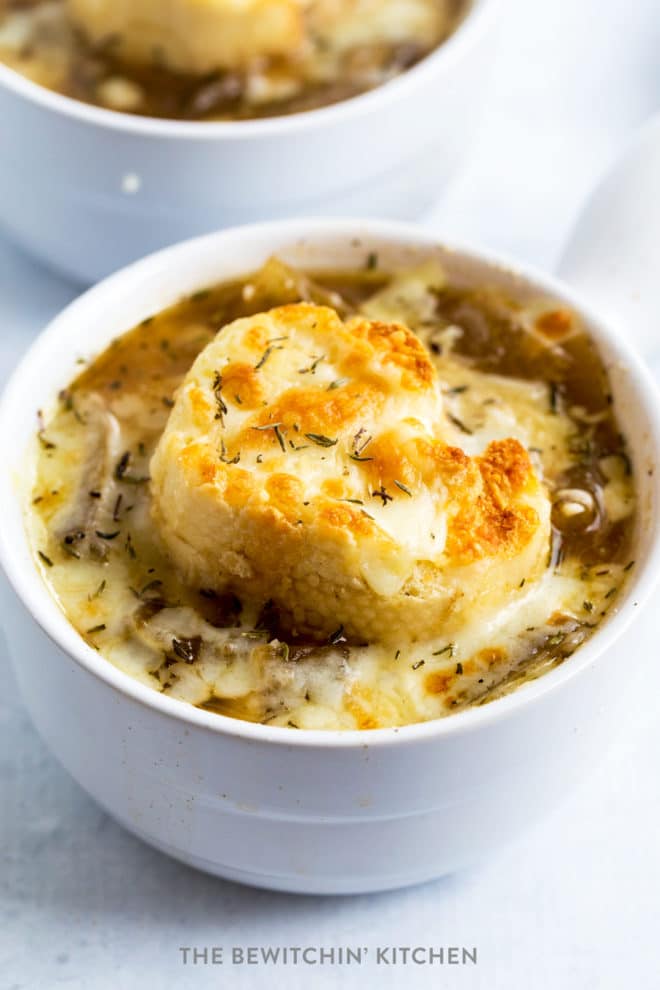 TBK's Pro Tip: The flavor also depends on the boullion used. Some are saltier, some are a little sweeter. Play around and find your favorite.
Slow Cooker French Onion Soup
More delicious soup recipes found here on The Bewitchin' Kitchen: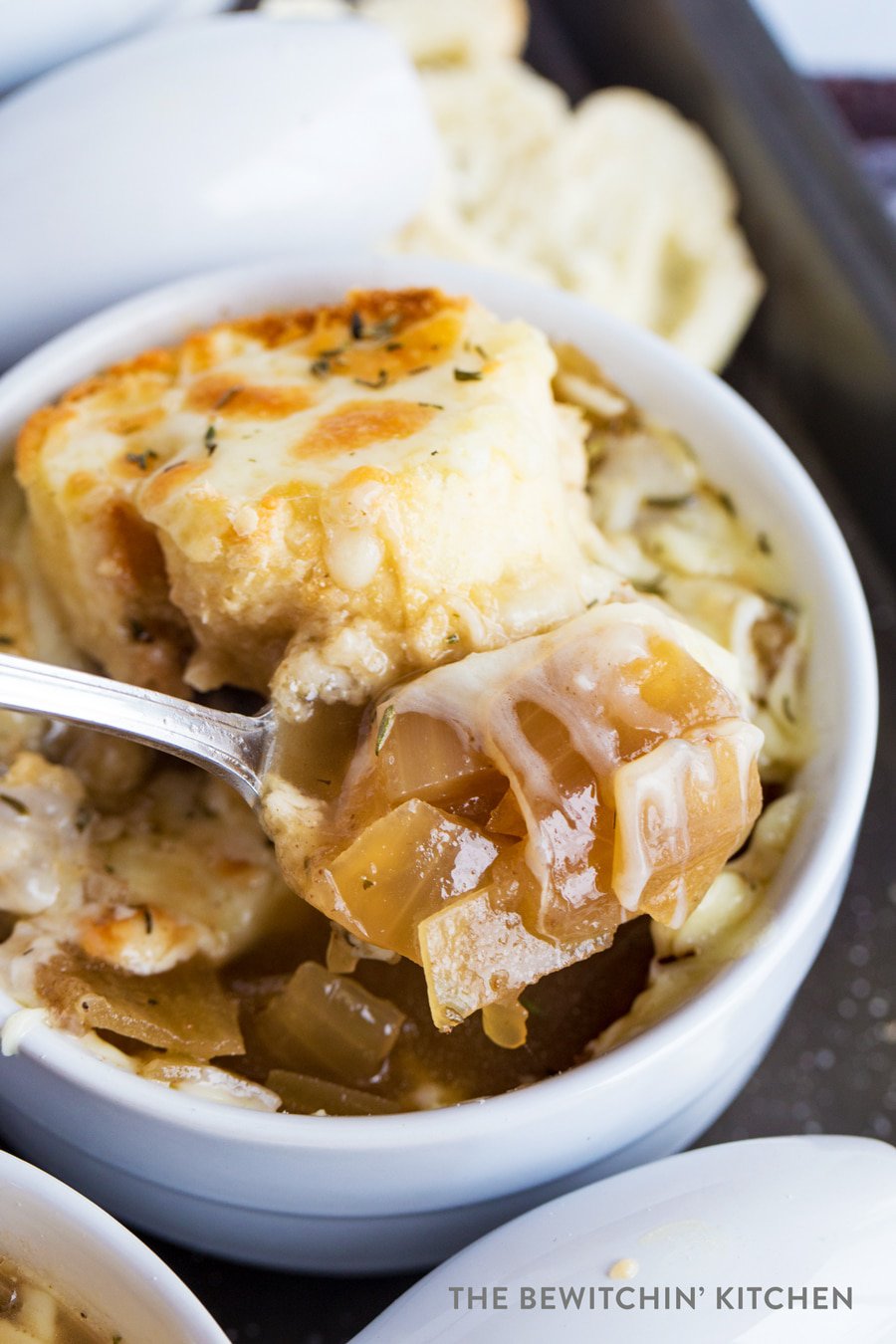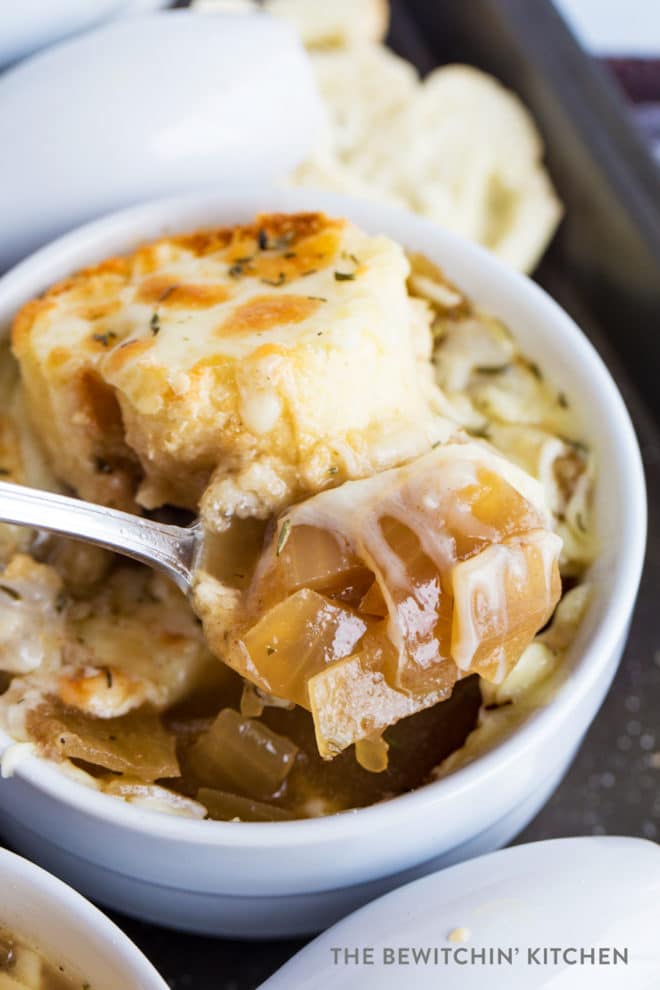 Supplies and ingredients I recommend:
Crockpot French Onion Soup
A simple and what could be the easiest recipe for a classic comfort food. Minimal ingredients and minimal effort make this mama happy!
Servings 10 cups
Calories 198kcal
Ingredients
2 yellow onions chopped
2 white onions chopped
1 red onion chopped
1 bay leaf
6 cups water
4 tbsps Better Than Boullion Beef Base I like lots, taste and adjust
2 tsps  thyme
12 Croutons or melba rounds or french bread
3 cups mozzarella cheese
Optional: parmesan cheese
Instructions
Add the 5 onions to the Crockpot, along with the water, bay leaf, boullion base and thyme. Cover and cook on high for 4-6 hours or low on 8-10 hours.

Preheat oven to broil.

Ladle the soup into french onion soup bowls and place on a baking sheet.

Top each bowl with a slice of a dried baguette (or croutons) and a handful of mozzarella cheese and optionional parmesan.

Broil until cheese is bubbly and brown.
Nutrition
Serving: 1g | Calories: 198kcal | Carbohydrates: 29g | Protein: 19.1g | Fat: 0.8g | Saturated Fat: 0.2g | Cholesterol: 6.1mg | Sodium: 886.4mg | Fiber: 2.6g | Sugar: 4.1g
Follow On Pinterest
Follow @bewitchinkitchen On Pinterest for more delicious recipes!
Leave me a comment telling me what your favorite soup is.