GlossyBox

I know I have mentioned before on The Bewitchin' Kitchen that I'm a beauty product junkie, I'm just to cheap to maintain my inventory of products. All the shopping at MAC and Sephora takes a lot of a girl and that girl's said bank account. Sure you walk into the store for ONE item but then you see the new product or something you have been meaning to try and one item turns into $100+. Then with all that shopping, you head home and that last minute purchase turns into something that sits on your dresser for a year because it turns out you didn't like it. There needs to be a company that sends you deluxe samples for a low fee, that way you can see if you like the product first before you go out and spend a quarter of your paycheck on beauty supplies. Oh wait, there is and it's called GlossyBox.
GlossyBox is a monthly beauty membership. Every month GlossyBox selects five deluxe beauty samples to send to their customers to test out the products and see what works best for them. To join is easy, choose either a monthly membership ($21/month plus free shipping), 3 month membership ($60 in advance),  a 6 month membership ($115, Free Shipping PLUS a 6 month subscription to LouLou Magazine), or a 12 month membership (BEST BUY – $220, Free Shipping, 1 Year subscription to LouLou Magazine). Then month after month you'll enjoy beauty samples galore.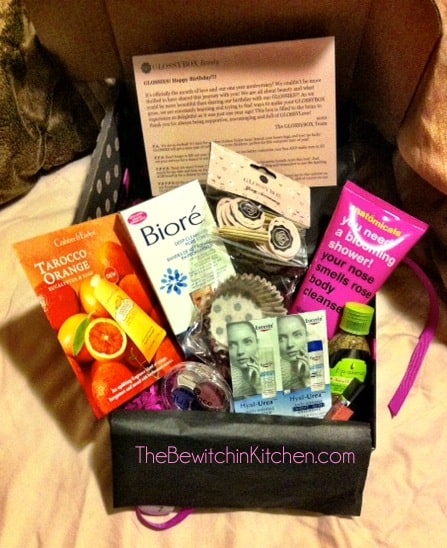 I was sent the February box and being that it is Glossy Box's anniversary I received the LOVE edition. In this box I received some awesome stuff such as:
Givenchy Gloss Interdit NO.3 Coral Frenzy
Essence Quattro Eyeshadow
Biore Deep Cleansing Pore Strips – Ultra
Macadamia Natural Oil Healing Oil Treatment
Anatomicals You Need a Blooming Shower!
Crabtree & Evelyn Tarocco Orange, Eucalyptus & Sage Ultra moisturising Hand Therapy
EUCERIN Hyal-Urea Anti-Wrinkle Day/ Night Cream duo
GLOSSYBOX Cupcake Kit
I was pretty excited when I first saw those Biore Pore Strips, I haven't used those since I was in middle school. I used those ASAP and had the same reaction as those girls used to in the commercials back when I was younger while looking at the results "gross". It was also a full box of the strips, so I was really impressed with that. The rest of the products are pretty good as well. All ones I have heard of, for the most part.
My favorite touch to this box was the GLOSSYBOX Cupcake Kit. They are adorable and add a unique factor to this kit.
I highly recommend GLOSSYBOX to all the beauty junkies out there. Save some cash and try something new every month. This would make a fantastic gift for the woman in your life.
FREE Recipe Binder
Are you constantly wondering what's for dinner?
When I don't meal plan I feel behind, and we usually end up ordering take out. This recipe binder will keep you organized and make life a little bit easier.