Healthy Crepes
Made with gluten free goodness and filled with creamy Greek yogurt, these healthy crepes will hit the spot every time. A few simple ingredients and a love for chocolate are all you need for this decadent breakfast.
Healthy Crepes
I've been looking for a breakfast recipe that would satisfy my sweet tooth, but without the gluten, the grains, or the guilt. I was inspired to create this healthy crepe recipe by stuffing chocolate crepes with a cream and Greek yogurt mixture. And the result was delicious!
The filling is made using my Berries n Cream Parfait recipe, which works perfectly for gluten free crepes. The protein in Greek yogurt helps keep you full through the morning, while the fruit gives it a delectable sweetness without going overboard with the sugar.
These chocolate crepes are made with cocoa, which is packed with antioxidants, polyphenols, and just a bit of caffeine to give you a healthy boost in the morning.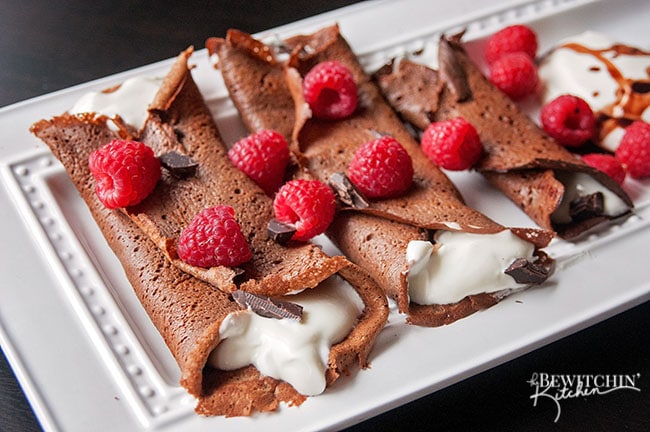 Why You'll Love This Gluten Free Crepes Recipe
These beauties only take a few minutes to make, and they taste like whipped cream and chocolate clouds. Seriously, healthy crepes are super simple even though they seem sophisticated!
This healthy crepes recipe reminds me of the yummy street vendors in France who make them for you right on the spot. But thankfully, these chocolate crepes don't have all that gluten and sugar.
Chocolate Crepes For Brunch
Because they look so lovely, gluten free crepes are a great idea for brunch parties. Chocolate crepes are a fun way to get fancy with friends!
These are such a hit at brunch because they satisfy both my health conscious buddies, and my pals who love rich breakfast foods.
How To Make Gluten Free Crepes
This deceptively easy gluten free crepes recipe only requires a few ingredients. You probably have most of them on hand already.
The crepes themselves only involve bananas, eggs, and cocoa. That's it! The ingredients are so versatile that you can use them for pancake and muffin recipes as well.
If you're not a raspberry fan, you can substitute any other berry to make this healthy crepe recipe your own. I think these would be super tasty with blueberries or strawberries.
Healthy Crepe Recipe FAQ's
Does it matter what kind of yogurt I use?
While you can use any kind of yogurt, I find that plain, unsweetened Greek yogurt is best for this healthy crepes recipe because of its thick consistency and healthier qualities.
Many yogurts are runnier, which may affect how well your gluten free crepes keep their shape. They can also have a lot of added sugars.
How is the taste affected if I don't use the optional stevia?
Since stevia is pretty potent, your filling simply won't be sweet if you don't use it. It doesn't affect the healthy crepes' nutritional content though, so it all depends on your preference.
If you want a sweeter chocolate crepe filling but don't like the taste of stevia, you can use any other sweetener. Regular sugar will work, but you can use xylitol or monkfruit to keep the 'healthy' in your healthy crepes.
What other versions of healthy crepes can I make?
There are so many ways to make this gluten free crepes recipe! You can remove the cocoa and add some vanilla for banana split crepes, or flavor the filling with your favorite fruit. The sky's the limit!
In fact, the ingredients in this healthy crepes recipe are so versatile, you could change things up completely.
With only slight variations, you can make a banana pancake version with cocoa whipped cream, or try some chocolate banana muffins with raspberry yogurt.
Looking for more healthy breakfast recipes? Here are a few of my favorites:
Healthy Crepes
These gluten free crepes are stuffed with a greek yogurt cream and topped with raspberries and chocolate.
Servings 1
Calories 397kcal
Ingredients
For the crepes:
2 eggs
1 banana
1 tbsp cocoa
For the filling:
1/4 cup whipped cream no added sugar
6 oz greek yogurt
Optional: 1 tsp stevia
Toppings:
Raspberries
Shaved chocolate
Instructions
For the crepes:
Add all of the ingredients into a blender of food processor and blend until smooth.

Pour on a hot pan (over medium heat) and cook up until you can flip it and it's not too runny. Cook on the other side for another minute. Keep warm in the oven until all the crepes are made.
For the filling:
The cream should already be whipped. If you haven't' done that, do it now.

Fold in Greek yogurt into the whipped cream, and add stevia if desired.
Putting it together:
Spoon a few tbsps into the crepe and wrap up. Top with raspberries and shaved chocolate.
Nutrition
Serving: 1g | Calories: 397kcal | Carbohydrates: 37.2g | Protein: 16.3g | Fat: 21.4g | Saturated Fat: 11.8g | Cholesterol: 383.4mg | Sodium: 189.4mg | Fiber: 5.9g | Sugar: 13.4g
Follow On Pinterest
Follow @bewitchinkitchen On Pinterest for more delicious recipes!
Are you a breakfast eater? Let me know your favorite healthy breakfast idea!