How To Create a Candy Bouquet
This candy bouquet tutorial has been compensated by Collective Bias, Inc. and its advertiser. All opinions are mine alone.
Have you ever wondered how to make a candy bouquet? I have an easy guide and how to below! Have fun and happy crafting!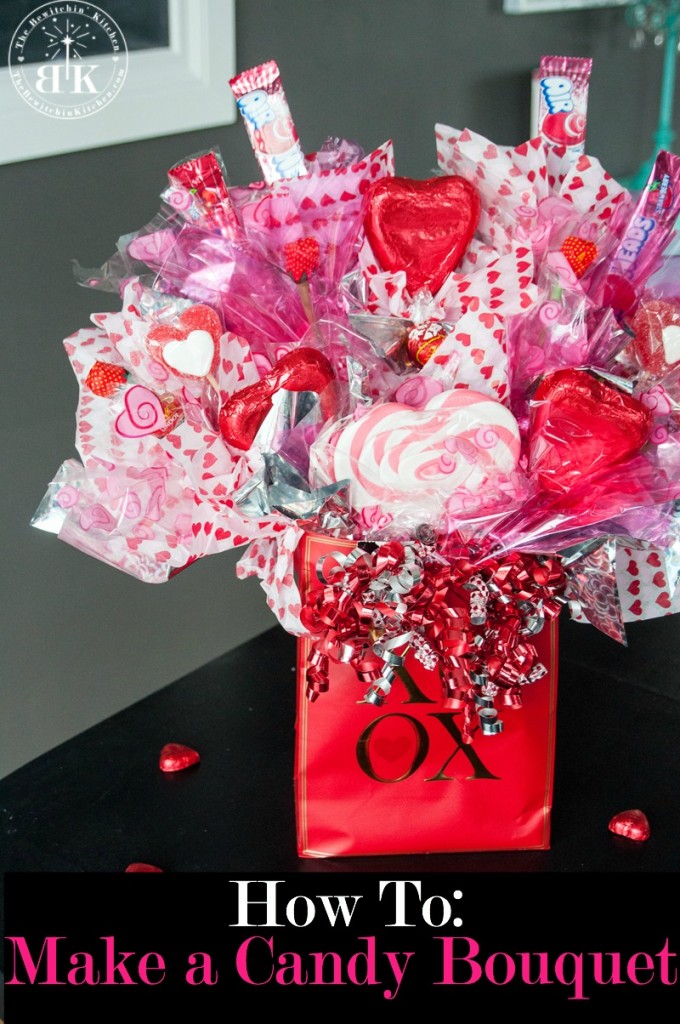 This post contains affiliate links.
Are you looking for an easy craft that looks impressive? I have the perfect task for you. This candy bouquet DIY is the perfect gift for any occasion (Teacher's Gift, Valentine's Day, Mother's Day, Father's Day, Graduation, Birthday gift, etc). Best of all, it's cheap and makes a great dollar store craft.
Where to Buy Candy Bouquet Supplies?
Floral tape is the most important factor in this craft, but don't worry it's not hard to find. You can find floral tape where the fake flowers are in stores like The Dollar Store and Walmart. If you can't find it, it is available on Amazon.com and Amazon.ca.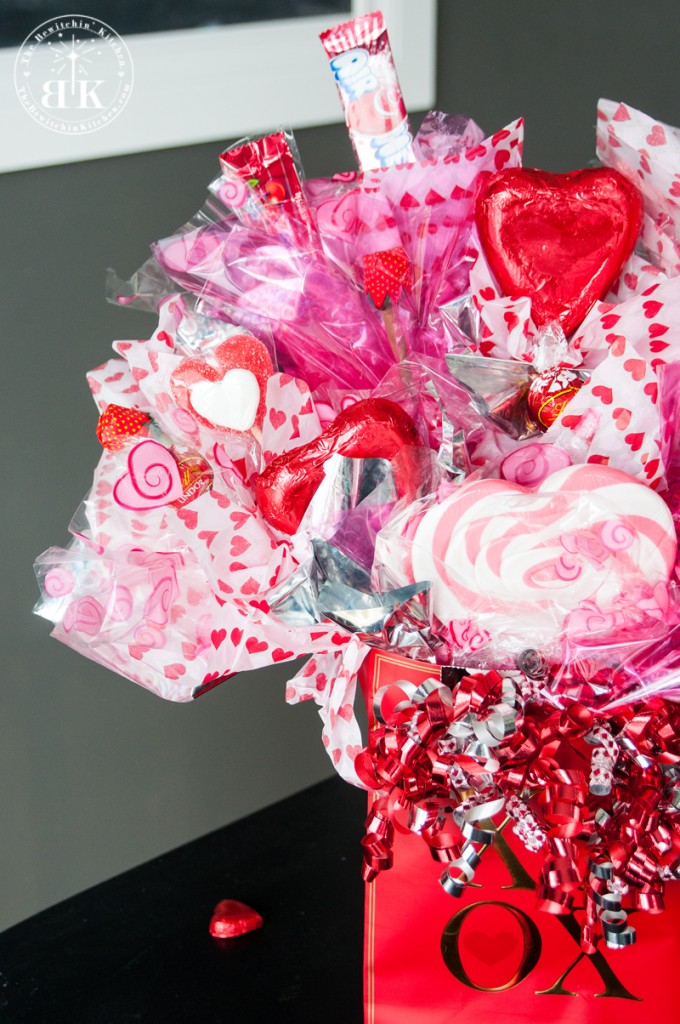 Candy Bouquet | Supplies Needed:
Gift bag or box (feel free to wrap it with seasonal wrapping paper to make it playful, or hot glue candy to it).
Dry floral foam block or Styrofoam.
Floral tape
Package of wooden skewers.
An assortment of candy and chocolate.
Wrapping paper, tissue paper, cellophane of color choice.
A giant bow.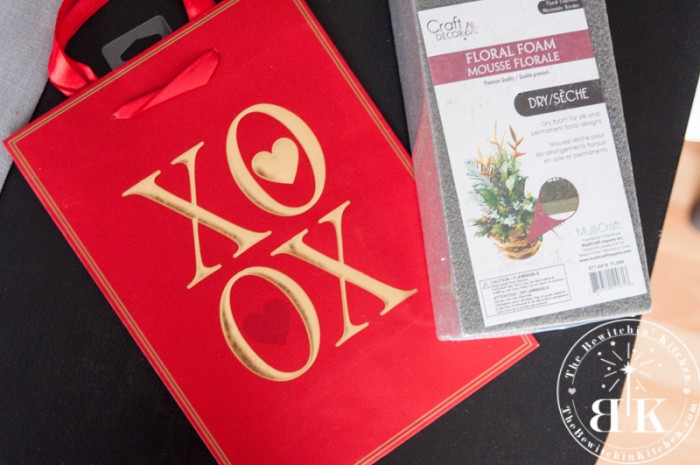 How to Make a Candy Bouquet
TBK's Pro Tip: When you're finished reading this blog post, you'll see at the bottom I have a video sharing how to put all of this into practice.
First things first you need to stuff the gift bag, box or whatever you are using as a base with a floral block. In this particular gift bag, I needed to use two floral blocks.
Wrapping sticks is a technique you need to get down, as you're going to be doing a lot of it. You will want to keep the floral tape tight as you wrap it (the tape has a little bit of stretch to it). I made a little video to give you another view on doing this in case the photos are not clear enough:
Now that you have that part down, go ahead and do a few sticks. For this diy candy bouquet, I made a total of 17, but it may be different for you as the size of your candy bouquet will change with the size of the base you use.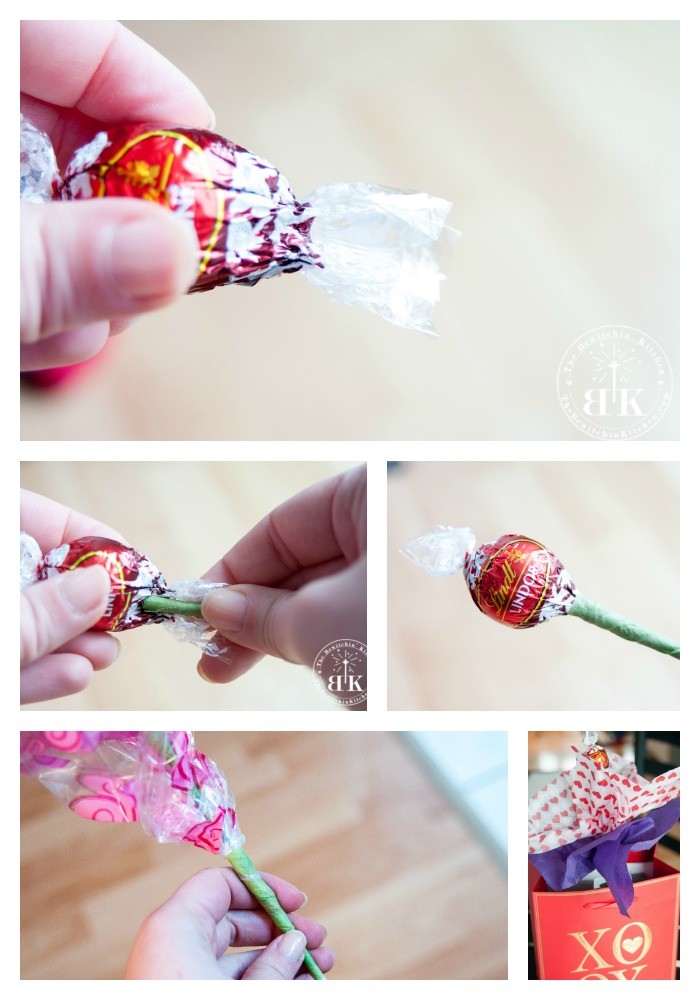 So the first step is wrapping your candy/chocolate. I use a similar technique as I did with wrapping the sticks. I know a picture is worth 1000 words, but a video is a lot more helpful in cases like this.
Trust me, it's really easy once you get the hang of it.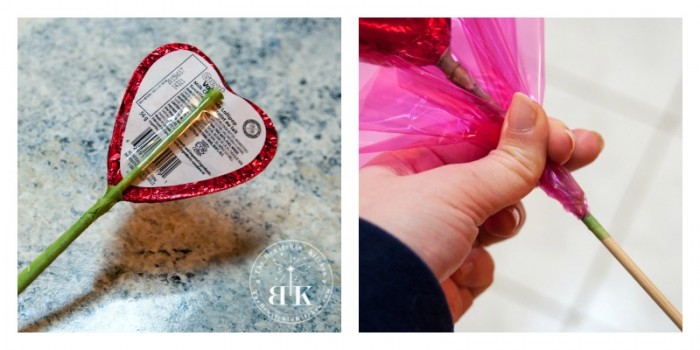 TBK's Pro Tip: Some items needed a little more support, or can't be wrapped at all (like Airheads), so I like to secure it with strong tape (packing tape works great here).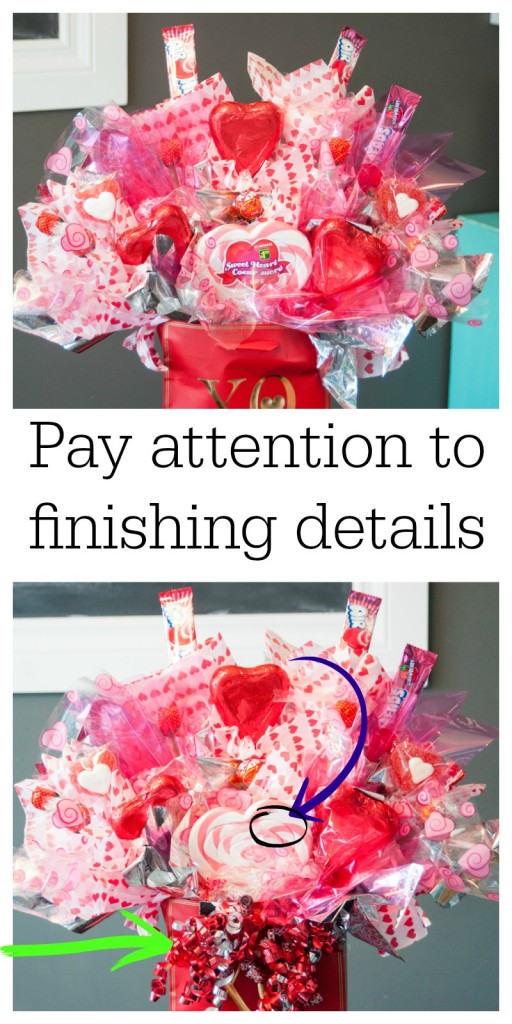 Be sure to remove all price tags, stickers and add some finishing touches. I added two bows to cover up the straps from the gift bag and it worked beautifully.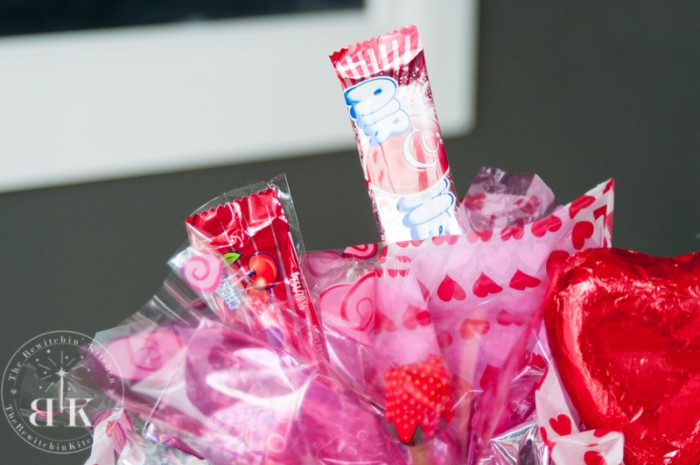 Another tip I want to add is to make sure you have an assortment of candy. I had chocolate hearts, those strawberry candies that no one buys (except for me clearly) but everyone loves, Air Heads, a giant heart lollipop, Lindtt chocolates, and a few other fun and cheap candies from Dollarama.
If you like this Valentine's Day Candy Bouquet check out these other ideas:
I think a candy bouquet would make an incredible teachers gift, or anyone that you would like to share your appreciation to.
So what do you think? If you like it, don't forget to Pin it!
Are you making anything special for Valentine's Day this year?
Looking for more great ideas? Click here to follow me on Pinterest!
Visit Randa | The Bewitchin' Kitchen's profile on Pinterest.