Insanity Max 30 Review Week 1 #IMaxedOut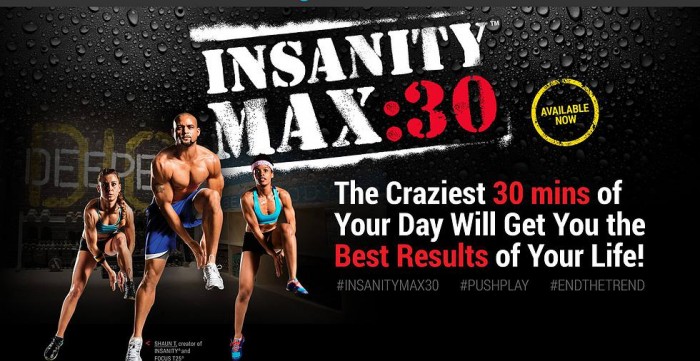 I just started Insanity Max 30 and I'm excited to share my experience and results with all of you. These posts are more for accountability for me then anything, so if you don't see me posting regularly – call me out.
Insanity Max 30: What is it?
I'll keep it simple for you:
30 minutes work outs, 5 days a week.
No equipment needed: just your body.
60 days to transform your habits, your mind and your body.
Included:
12 workouts (on 10 DVDs) – split into Month 1 and Month 2
Nutrition to the Max Guide No complicated diets or strict meal plans here. This simple portion-based plan shows you how to eat what you love and still reach your fitness goals.
Max Out Guide The secret to great results with INSANITY MAX:30? Pushing to your Max every day. See how to do it, and why it'll help you get insanely fit.
Max Out Wall Calendar
No Time to Cook Guide From fine dining to fast food, you'll know the best options to fuel your body and stay on track every time.
Pulse Shaun's version of a recovery workout, this is a low-impact combo of stretching and small "pulsing" movements that'll definitely make you feel the burn.
Ab Attack This 10-minute routine will feel like an attack on your abs, but you'll love the rock-hard results.
Plus order through me and get a bonus DVD (Sweat Fest) worth $19.95!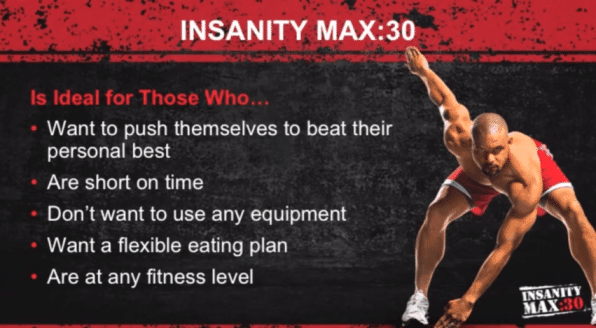 Insanity Max 30: Week 1
I bought Insanity Max 30 because I knew I needed it. I hate cardio, and I know I need to up it in my regimen – not just for fat loss but for my health as well (the heart is a muscle that needs to be worked). Some fellow coaches I know where in the test group and had great results, so I was inspired and ordered it when my husband showed an interest. Plus it's 30 minutes a day, 5 days a week (optional Saturday recovery workout) – I can do that.
Cardio Challenge:
I probably shouldn't dread a workout before I even begin, but the word cardio does that to me. I prefer strength training, so I wasn't too excited for it. It was tough, but I held strong! This workout also doubles as your weekly "fit test". I originally stopped at 7:07 but that was because I am in the midst of potty training and it was time "to go", and I know better then to wait.
I maxed out: 11:21
Calories burned: 321 (before 2 minute stretch) 339 (after stretch)
Tabata Power:
Oh the Plyo Push ups, I maxed out on those! I really enjoyed this workout. It is still a challenge (hello burpees into lunges, I'm talking about you) but I like how it focuses on different body parts in each round. Lower, upper, lower, abs, triceps all in 5 minute sections. 20 seconds doing an exercise, 10 seconds of rest.
I maxed out: 10:34
Calories burned: 258 (before stretch) 278 (after stretch)
Sweat Intervals:
Originally I thought it said strength intervals on the calendar, so I was looking forward to this one. Then I saw sweat. Yes there is cardio but there is also a lot of strength as well (different forms of squats). I followed the modifier quite a bit as my brain couldn't comprehend some of the moves. I saw what I was supposed to do, but my body did something completely different.
I maxed out: 9:24
Calories burned: 316 (before stretch) 333 (after stretch)
Tabata Power:
Tabata Power is 2x a week, and I'm happy about that. I need work on my arms and I like how there is a lot of upper body work. I improved by 1:22 on my time – which is awesome! I'm really happy I made it through. I did follow the modifier a lot (as I do with each workout). I do my pushups from my knees and when I can't keep up I follow Danielle as she slows things down and keeps it low impact.
I maxed out: 11:52
Calories burned: 254 (before stretch) 274 (after stretch)
Friday Fight | Round One:
I kept reading that Friday Fight is the hardest workout, it's definitely up there. I'm still thinking Cardio Challenge is a bit tougher (for me anyway). I like how there are no rounds in this workout. You do a workout – it's done, there is no repeating. That being said, there is only one water break (I had to take a few more then just the one). I had to follow the modifier a lot in this one, and even had to modify the modifier (I was done with the plank punches and had to just go into plank every so often).
I maxed out: 8:32
Calories burned: 313 (before stretch) 328 (after stretch)
Pulse:
Okay I LOVE this one. At first I was thinking that a "bonus" workout was unattainable for the weekend (I'm really not motivated much on Saturday and Sunday), but after doing this one just now – yes it is. It's a recovery workout. It's only 20 minutes long, and it's to recover your muscles. You do low impact workouts for 30 -45 seconds (you pulse the move) and then stretch it out for a break, and alternative that for 20 minutes. Trust me, you feel amazing afterwards!
I maxed out: 13:11 – yes today is easier but there are still challenges (I have a weak upper body that needs improving).
Calories burned: 132
Insanity Max 30 Overview:
So how did my first week go? Pretty good! I broke through some mental barriers, and I'm pretty proud of myself for sticking with it. Friday night we went out for dinner, and I didn't make good choices (half a Thai Chicken Wrap – which I shouldn't have ordered due to a food intolerance with wheat, yam fries complete with dip, and half my son's ice cream, OH and pizza bread and dip – almost forgot). Other then that I have been pretty good. I'm not following the meal guide precisely, but I am watching what I eat and keeping my macros in check (carbs, proteins, fats).
Since the schedule switches up every two weeks, I will check back in then instead of posting weekly.
Week 1 Stats:

Weight: I'm down a healthy 2 pounds (in 5 days, as I'm writing this on Saturday). *Updated* Monday – Monday I am down 3 pounds even.
Overall inches: -2.25 inches.
I am happy with week 1's results. I am now at a weight where I have been stuck at for the second half of 2014, so I'm hoping to break through (it is 7 pounds higher then last year's weight, and although I'm more concerned on clothes fitting and feeling better it would be nice to see the number go down another 3-4).
Order the Base Kit (what I ordered as I already have the food containers).
Order the Deluxe Kit (Base Kit + Ab Maximizer Package).
Ab Maximizer DVDs only (does not include Base Kit – this is for if you want the additional workouts).
Sweat Fest (this comes free with all orders if ordered through me).
Disclosure: I am in Independent Beachbody Coach and I do make a commission. All opinions are my own.