Instant Pot Tuscan Chicken and Rice
Ready in just 15 minutes, this Instant Pot Tuscan Chicken and Rice will fill up your bellies without filling up your time.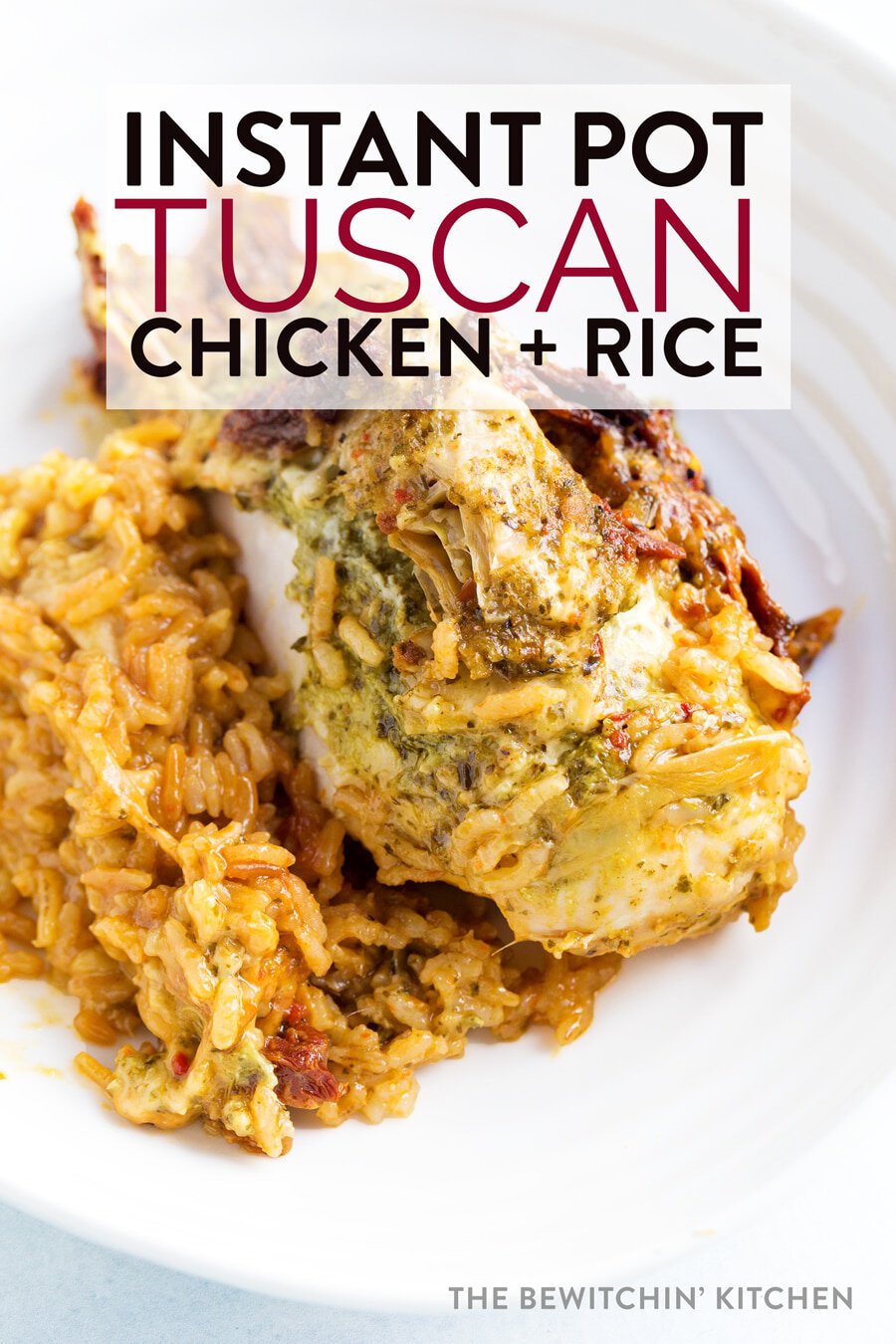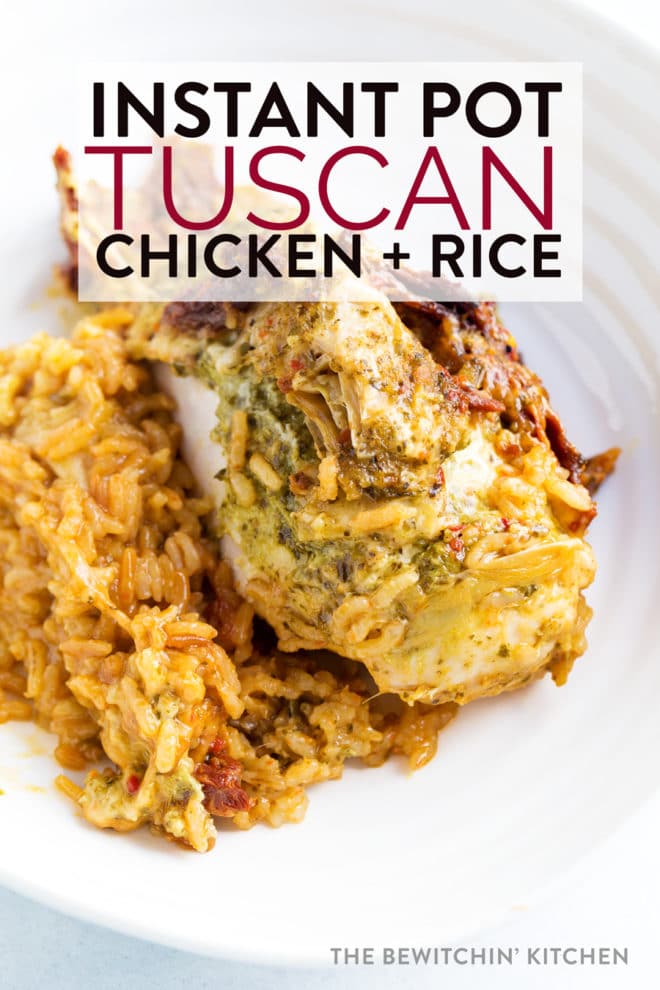 Instant Pot Tuscan Chicken Bake
Disclosure: This recipe for Instant Pot Tuscan Chicken contains affiliate links.
This recipe makes me feel like I'm cheating.
It's just that easy.
It's just that quick.
I wish I could say this was a well thought out recipe, but truth be told – I panicked and ran around the kitchen looking for what I had on hand and what would work for my cravings.
I was half expecting this recipe to be a bust (last minute recipes tend to do so) but you guys, it was so good!
…and it only took 15 minutes to cook.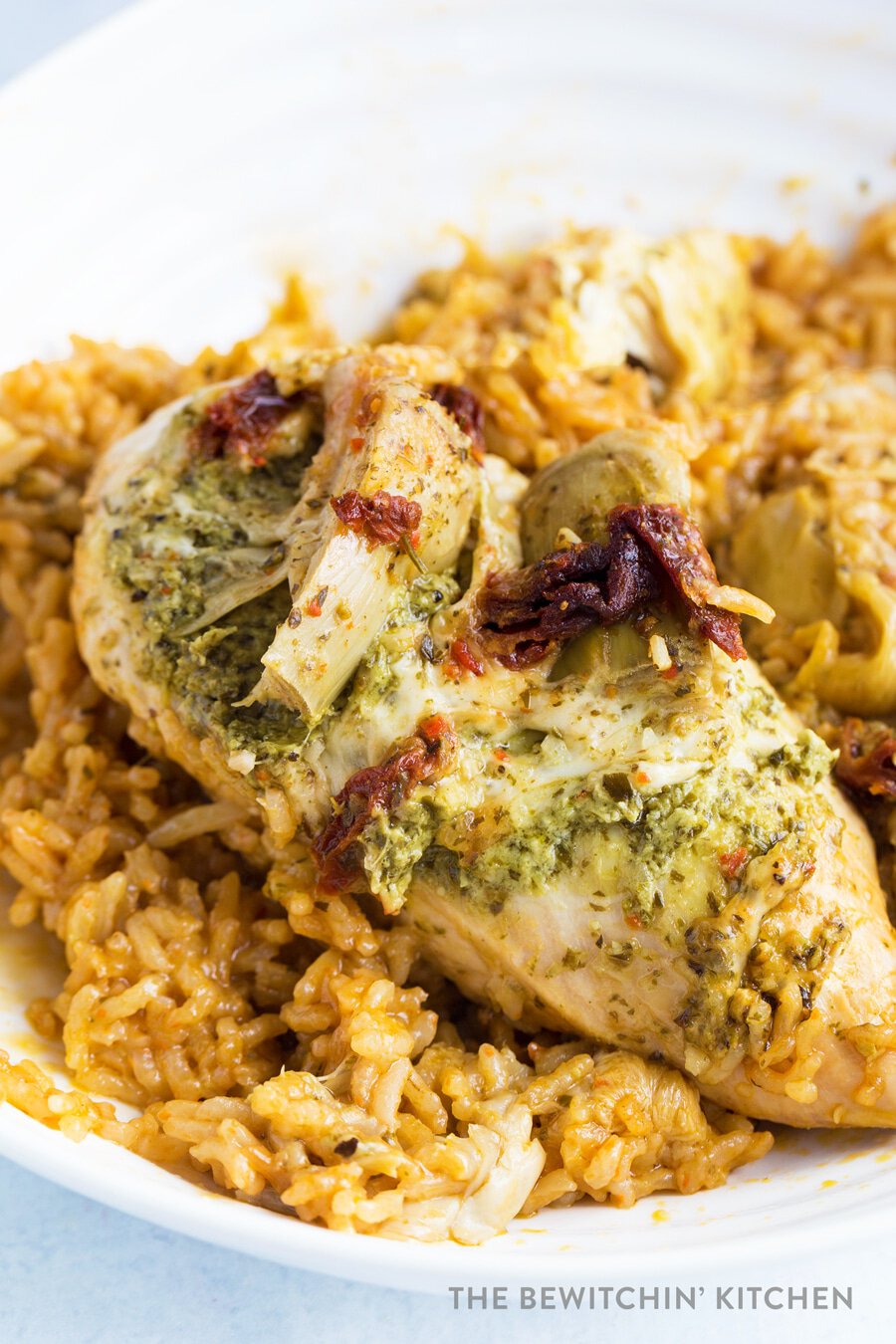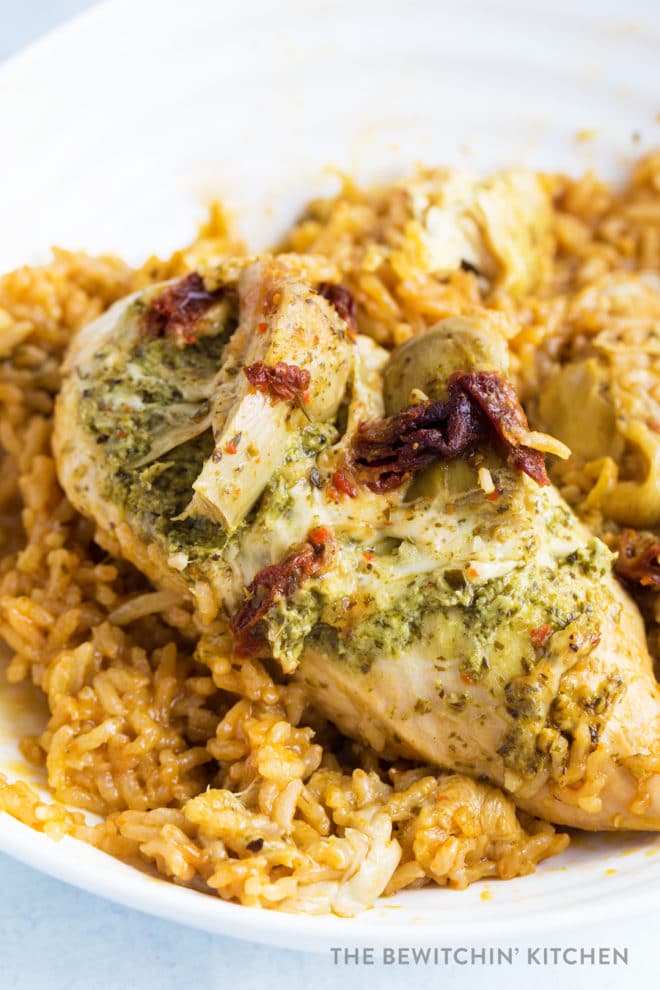 Minimal ingredients and it's on the table fast – sold.
The only thing is is it's not super pretty. You have no idea how difficult it was to shoot this recipe (ha). Sometimes the best tasting dinners are not the prettiest.
What makes this a Tuscan recipe?
The ingredients. Okay, I know – that's obvious.
Listen, I'm not a world traveler (although, I intend to be) but my fingers travel the world by Google. A quick Google search lead me to a few ingredients that I happened to have in my pantry:
basil (in the form of pesto)
artichokes
tomatoes
I hate tomatoes, and I have a food allergy to raw tomatoes too (fun fact), but I love sundried tomatoes. So I made that work for me with this recipe.
Is it authentic? Probably not. Does it taste good? Yes.
That's all that matters.
Instant Pot Italian Chicken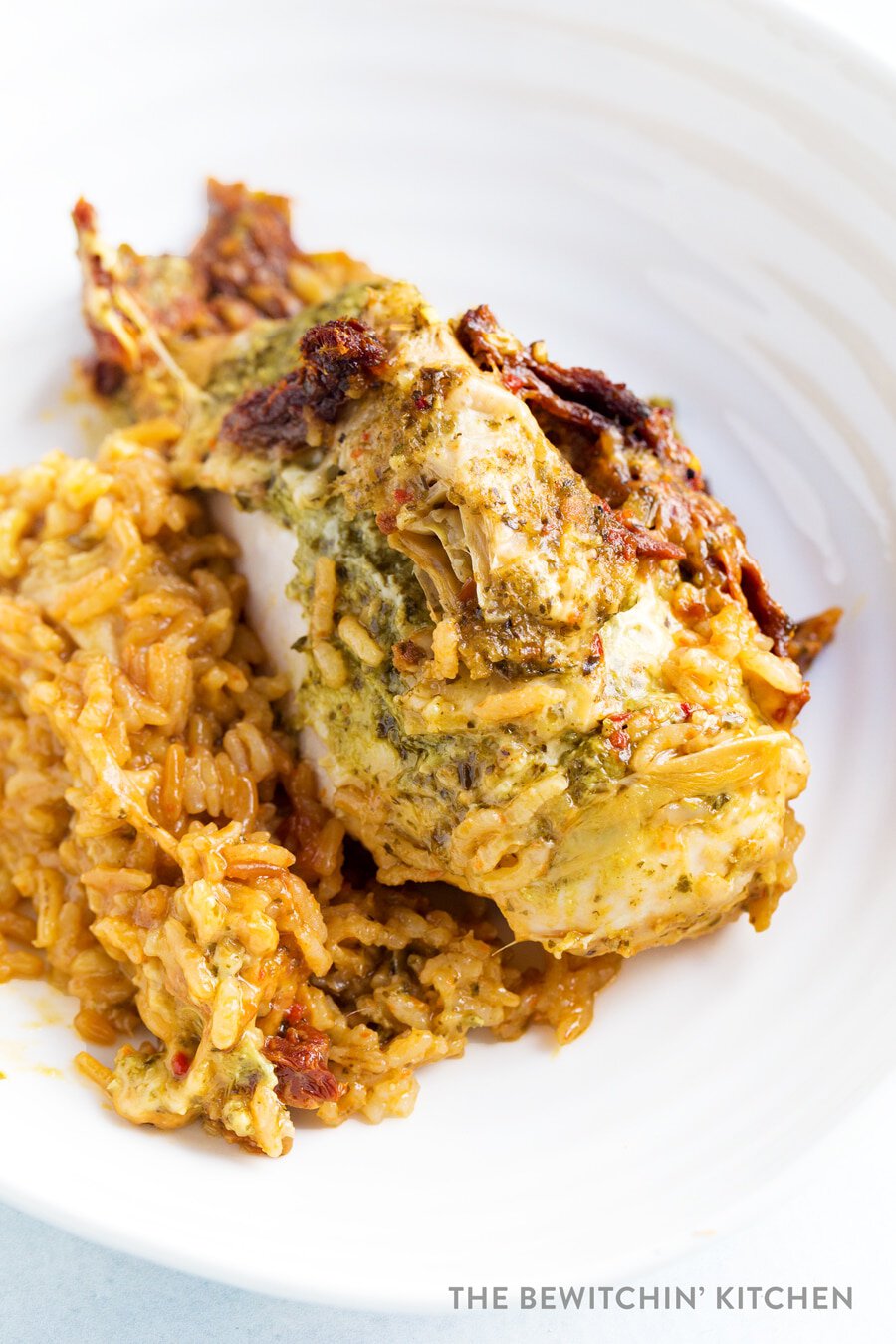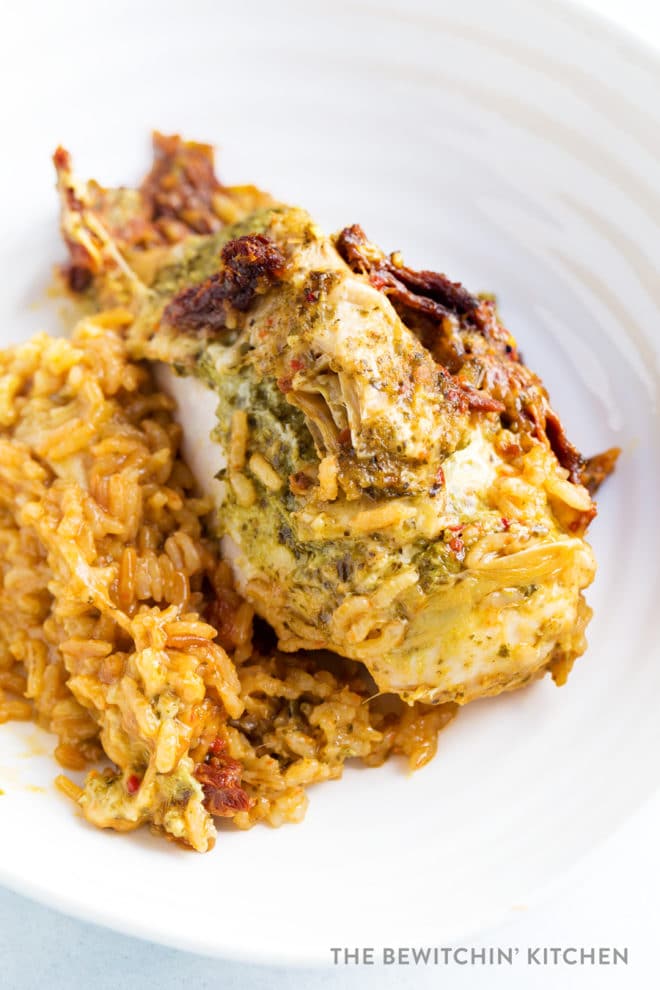 More Instant Pot Chicken Recipes:
TBK's Pro Tip: For a low carb meal, skip the rice and cut the chicken broth in half.
Supplies and Ingredients I used in this recipe:
TBK's Pro Tip: No Instant Pot? That's totally fine. Layer it in a greased casserole dish, bake at 375 for roughly 45-50 minutes.
I wish I made more so I had leftovers.
Instant Pot Tuscan Chicken
Ready in just 15 minutes, this Instant Pot Tuscan Chicken and Rice will fill up your bellies without filling up your time. Make this low carb and keto by skipping the rice.
Servings 3
Calories 479kcal
Ingredients
1 cup rice
1 1/2 cups chicken broth
3 boneless skinless chicken breast
1/3 cup basil pesto
1/2 cup chopped marinated artichoke hearts in oil strain the oil
1/2 cup sundried tomatoes in oil
1 cup mozzarella cheese
1 tbsp Italian seasoning
Instructions
In the Instant Pot, add the rice and chicken broth. Lay the raw chicken breasts on top.

Spread the pesto evenly between the three breasts and layer with the artichoke hearts, 1/4 cup of the sundried tomatoes, cheese, and the rest of the sundried tomatoes.

Top with the Italian seasoning.

Put on the lid and seal the Instant Pot and pressure cook for 15 minutes.
Nutrition
Serving: 1chicken breast and 1/3 of rice | Calories: 479kcal | Carbohydrates: 27g | Protein: 47.5g | Fat: 19.8g | Saturated Fat: 3.3g | Cholesterol: 105.4mg | Sodium: 1114.7mg | Fiber: 3.2g | Sugar: 1.4g
Follow On Pinterest
Follow @bewitchinkitchen On Pinterest for more delicious recipes!
FREE Recipe Binder
Are you constantly wondering what's for dinner?
When I don't meal plan I feel behind, and we usually end up ordering take out. This recipe binder will keep you organized and make life a little bit easier.
products I used to make this happen Shop This Post
(may include affiliate links)