Pineapple Mango Smoothie
Blended with chunks of golden mango, pineapple, banana, and Greek yogurt, Pineapple Mango Smoothie is filled with natural vitamins, minerals, and probiotics to help you start your day!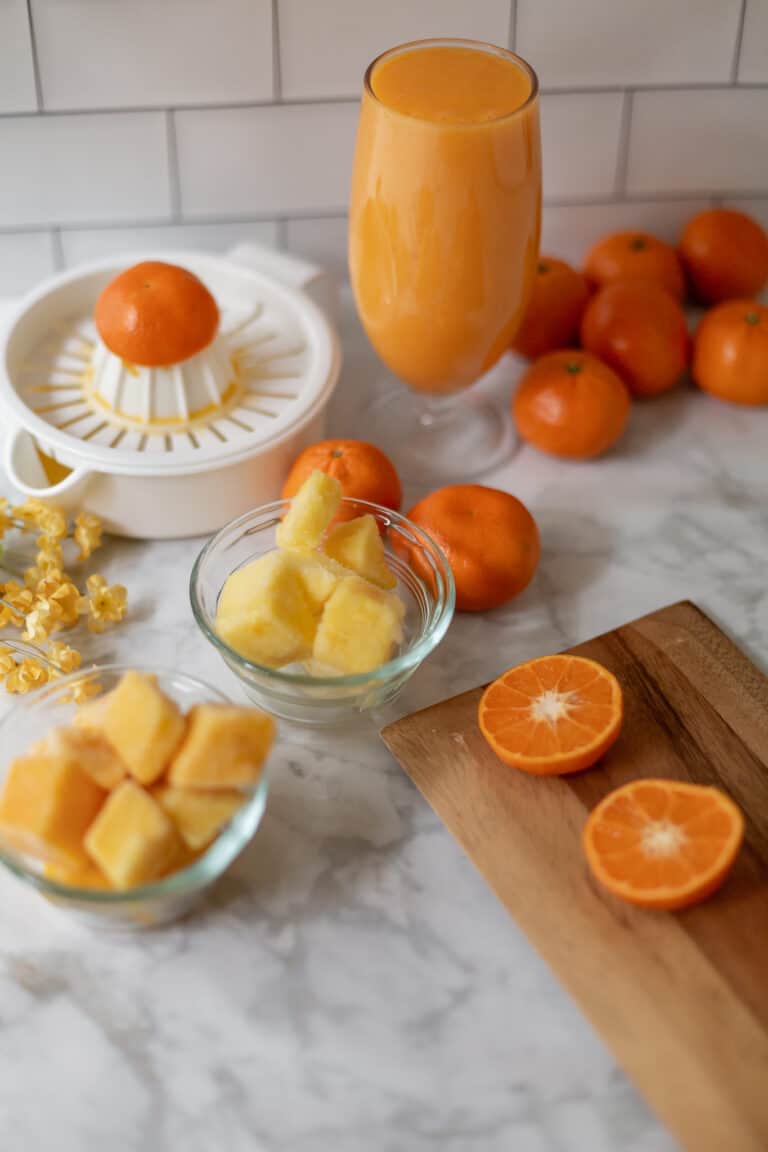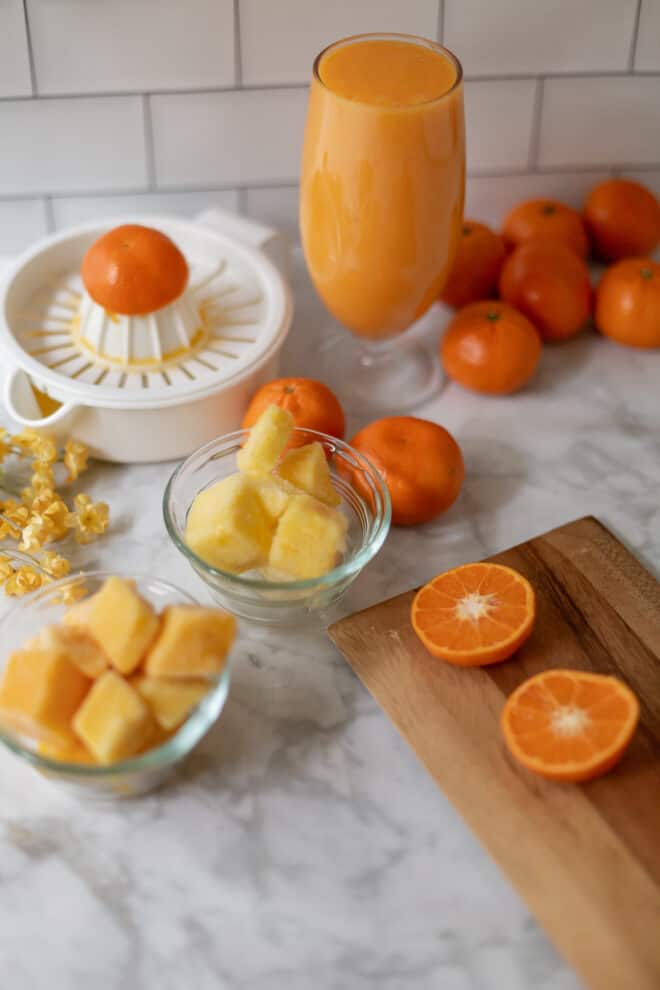 Mango and Pineapple Smoothie with Banana and Yogurt
This Mango Pineapple Smoothie recipe is an easy way to pack flavor and health into your day. Figuring out how to get naturally occurring vitamins into my body is a daily task. Yes, I take vitamins, but sometimes those over the counter pills don't always agree with my system. So an easy way to get your daily dose of immune boosting vitamin C is to turn to citrusy fruits like pineapple and mango.
Not only does this smoothie contain over 100% of your daily vitamin C intake, it also packs a punch with it's potassium content. Potassium is a mineral that's great for all things related to tissues in the body including hair and skin. Add in banana and the probiotic help of Greek yogurt, and you have a gut-health boost as well!
This little boost of fruit is all around helpful and packed with guilt-free, sweet and tropical flavors.
For a simplified version of this recipe, check out: this Mango Smoothie recipe from My Nourished Home. For more great TBK smoothie recipes, check out: Tropical Power Smoothie.
Why you will love this smoothie
Quick and Easy Prep
Super Food and Health Inspired
Freezer storage options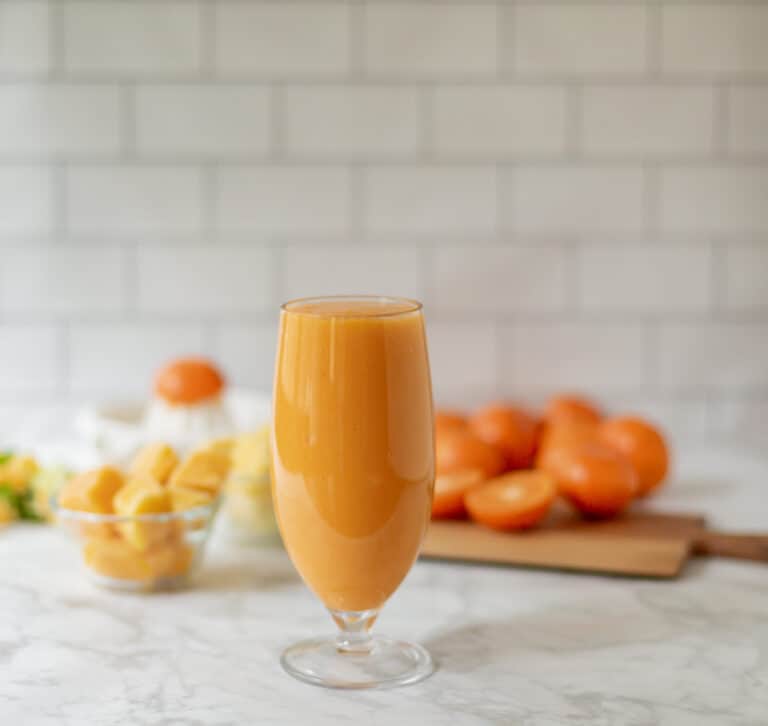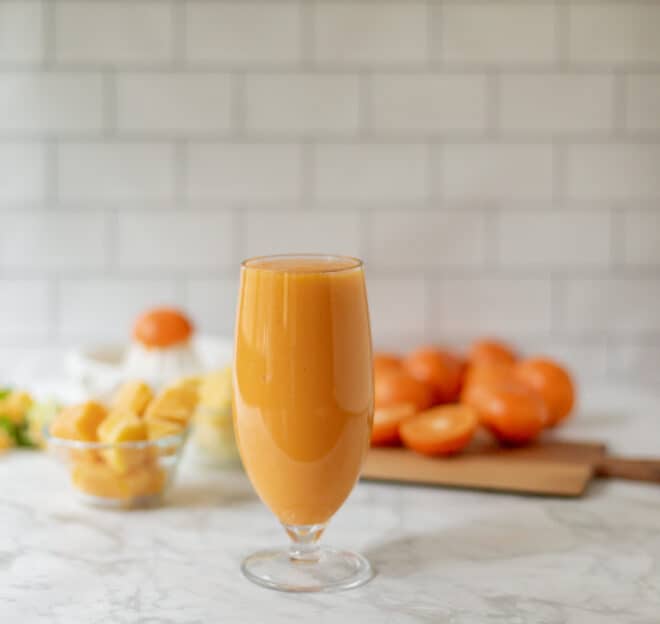 How to Make Perfect Pineapple Mango Smoothie
Step One: Use one cup each of cut up, dethawed, or pre-cut chunks of pineapple and mango.
Step Two: Use one cup of either orange juice or tangerine juice
Step Three: Add half a banana and half a cup of Greek Vanilla Yogurt
Step Four: Blend for a minute or until desired consistency is reached.
Pro Tips for the Best Smoothies
Pro Tip 1: You can drink this smoothie as is, but I prefer ice. Add a cup of ice for a frozen option to start your day.
Pro Tip 2: Mango and Pineapple are both thick and chunky fruits. To thin the drink, add water to taste and blend longer.    
Are Mango Pineapple Smoothies healthy? 
Vitamin C, A, B6, and other benefits such as folate, copper, protein, antioxidants and more come from the main ingredients of mango and pineapple in Mango Pineapple Smoothies. The extra boost of vitamin C contributes to immune health and healthy bones, skin, hair, and gut health. For healthy and natural vitamins, you should eat these types of fruits every day.
Pineapple Mango Smoothie
With vitamins C, B6, A, and a healthy does of potassium, this superfood Mango Pineapple Smoothie is a great way to start the day!
Servings 2
Calories 203kcal
Ingredients
1 cup pineapple chunks
1 cup mango chunks
1 cup orange juice or tangerine juice
1 cup ice optional
1/2 cup Greek Yogurt Vanilla
1/2 banana
Instructions
Combine all ingredients in a blender and blend on high for sixty seconds or until desired consistency is reached.

Add water to thin the mixture.

Add ice for a frozen mango pineapple smoothie.
Nutrition
Calories: 203kcal | Carbohydrates: 45g | Protein: 7g | Fat: 1g | Saturated Fat: 0.2g | Polyunsaturated Fat: 0.2g | Monounsaturated Fat: 0.2g | Trans Fat: 0.01g | Cholesterol: 3mg | Sodium: 27mg | Potassium: 653mg | Fiber: 3g | Sugar: 35g | Vitamin A: 1209IU | Vitamin C: 134mg | Calcium: 94mg | Iron: 1mg
Follow On Pinterest
Follow @bewitchinkitchen On Pinterest for more delicious recipes!