Homemade Stuffing Recipe
This is my family's homemade stuffing recipe. It's a super easy recipe, that takes very little time to prepare so you can get to the more important things over the holiday (like visiting with your loved ones).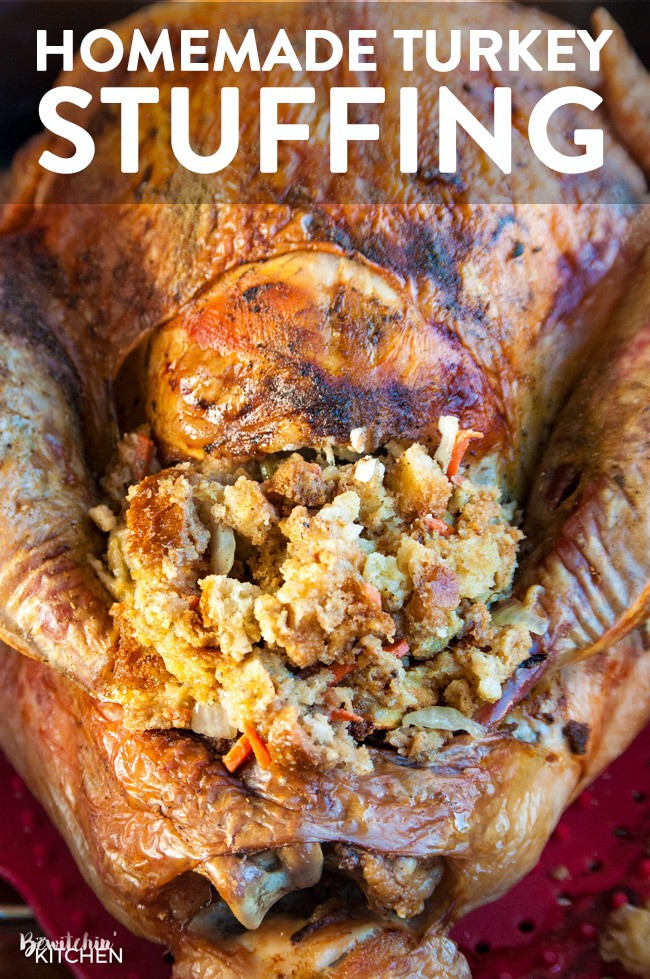 Homemade Stuffing
Disclosure: This post contains affiliate links for your convenience. As an Amazon Associate, I earn from qualifying purchases.
Growing up my mom and my grandma made the same recipe for homemade stuffing. So you know what? I have only ever had turkey stuffing recipe. If it wasn't the homemade stuffing, it was Stove Top. I have never tried anything else (I think I should start exploring, don't you?).
How to Make Homemade Stuffing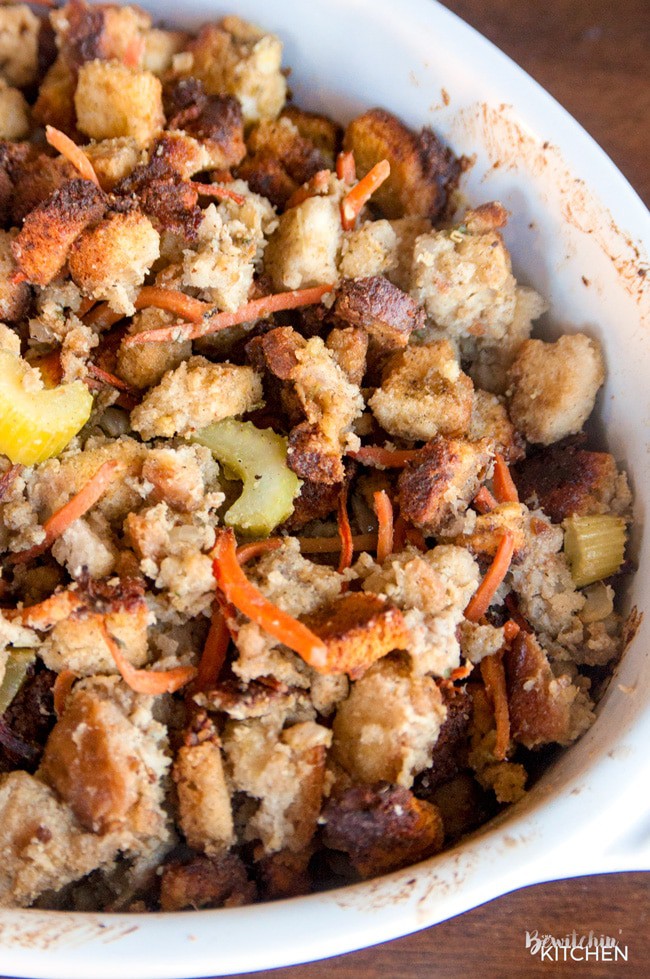 Make it Ahead of Time
Want a good holiday feast tip?
I find it best to prepare the stuffing recipe the day ahead, that way you just need to stuff and go.
There is nothing worse than having to prepare a bunch of food on the day of turkey dinner. It helps to be prepared, and makes it easier on you as the host!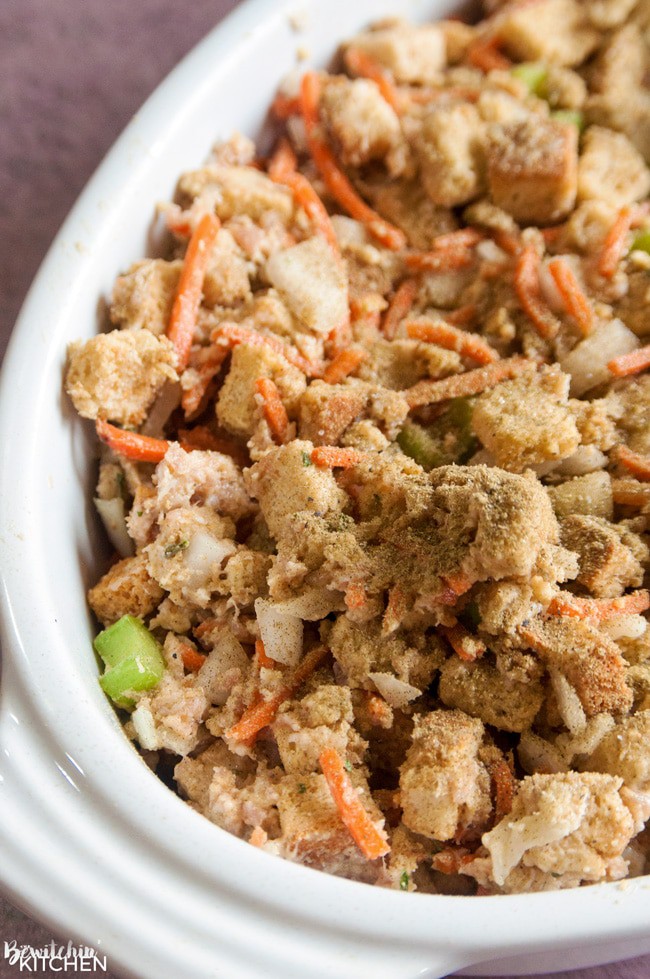 This recipe makes a lot. There is enough to stuff the turkey and cook in a separate pan at 350 for (about) an hour.
Grandma's Stuffing Ingredients
As I stated earlier, this is my grandma's turkey stuffing recipe. I'm excited to share with you how she made it.
Here are the ingredient's you'll need:
1 bag of cubed bread crumbs (I buy a large bag. If you buy the one listed, you may need two.)
1 tube frozen pork sausage, thawed
1 box of Stove Top **
Cream of celery soup
Onion
Celery
Carroits
Poultry seasoning
Salt
** I am aware that the point of homemade stuffing is so you don't need to purchase boxed stuffing. My grandma always added it in, so I did too. Feel free to leave it out if need be.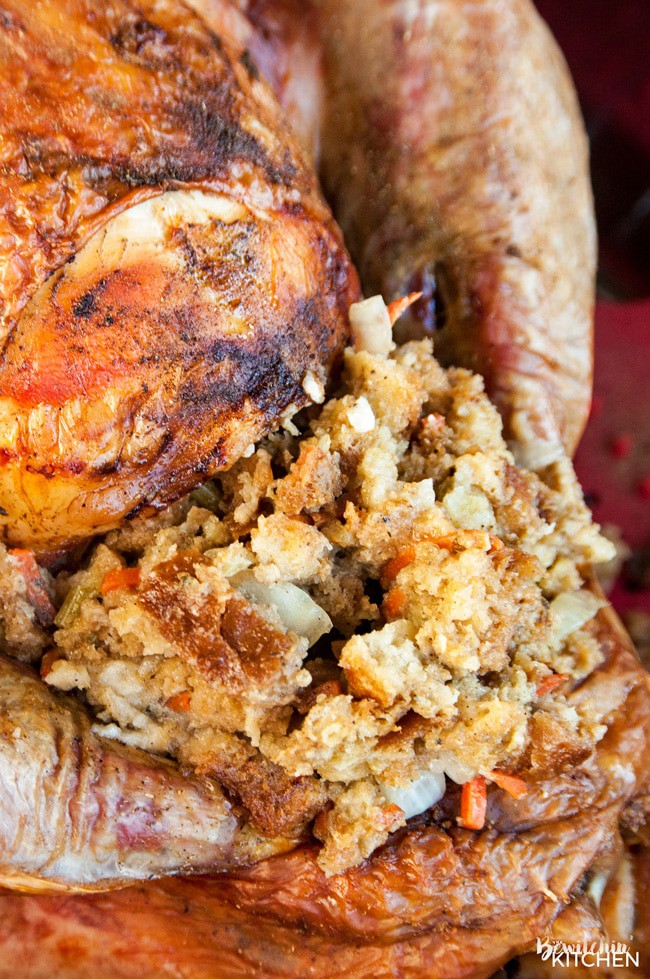 If you don't know how to roast a turkey, please check out how to cook a turkey, you'll be a pro by the end of the tutorial.
How to Make Homemade Turkey Stuffing
If you're like me and learn best by visual cues: I made the above video for you. Join me in my kitchen as I share my family's classic stuffing recipe in real time.
How to make gluten free stuffing
If you're looking for a healthier option with fewer add-ins that I have in the recipe below try this gluten free stuffing recipe.
It's a simple recipe that uses gluten-free bread, apples, pork sausage, and vegetables.
Homemade Stuffing Recipe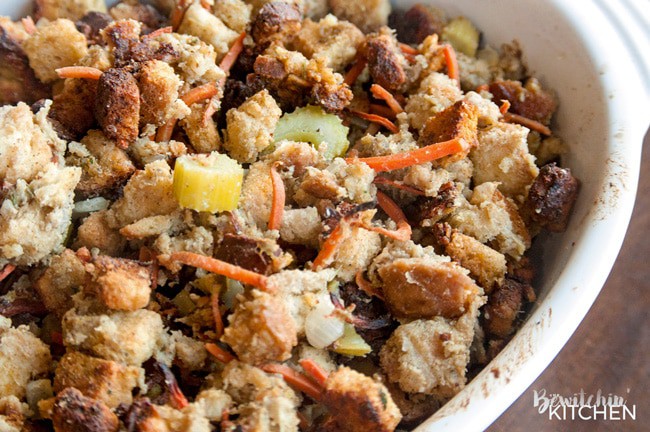 Complete your turkey dinner with these turkey dinner recipes:
My friend Tara from Noshing with The Nolands also has these amazing Thanksgiving side dishes for you too.
Leave me a comment letting me you what your favorite side dish was growing up.
Don't forget to share with me your family traditions in the comments. What do you do on Christmas? Turkey? Ham? Something totally different?
Homemade Stuffing Recipe
My family's classic homemade stuffing recipe. Looking on how to make homemade turkey stuffing? It's a classic at Thanksgiving dinner, Christmas dinner, and Easter dinner.
Servings 10 servings
Ingredients
1 bag of cubed bread crumbs
1 tube frozen pork sausage thawed
1 box of stove top
1 can of cream of celery soup
1 onion diced
1-2 stalks of celery diced
2-3 carrots grated
1 tbsp Poultry seasoning I eyeball this. I usually add it until it smells just right.
Salt and pepper to taste
Instructions
You'll need either one big bowl, or two medium bowls to mix this together.

Add all of the ingredients together and mix well (I find it's best to get in with your hands, it helps mix the pork up).

Reserve the amount of stuffing that you will use to stuff the turkey.
For the rest:
Put in a baking dish and bake at 350F for one hour. At the half hour mark, take out and give a stir.
Nutrition
Serving: 1serving
Follow On Pinterest
Follow @bewitchinkitchen On Pinterest for more delicious recipes!
If you like this recipe, then please share it with your friends. I even made this image that's perfect for Pinterest.