Homemade Stuffing Recipe
Homemade stuffing is just as easy to make as the boxed stuff, but the results are so much better! Extra savory from pork sausage and veggies, my grandma's easy stuffing recipe is sure to be a hit. And, it makes enough to stuff the bird and cook some on the side, so everyone will be pleased.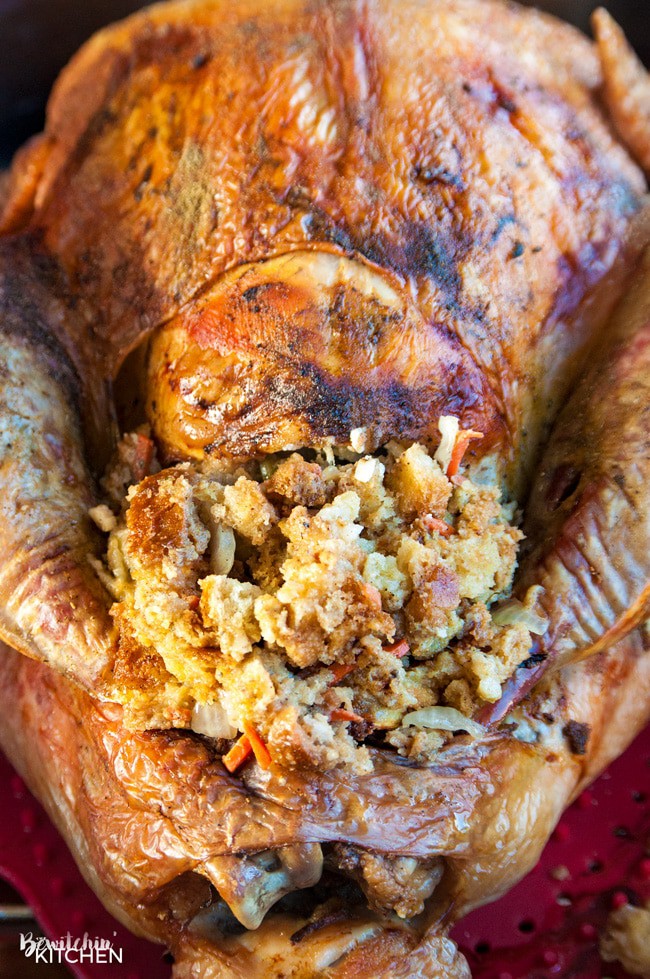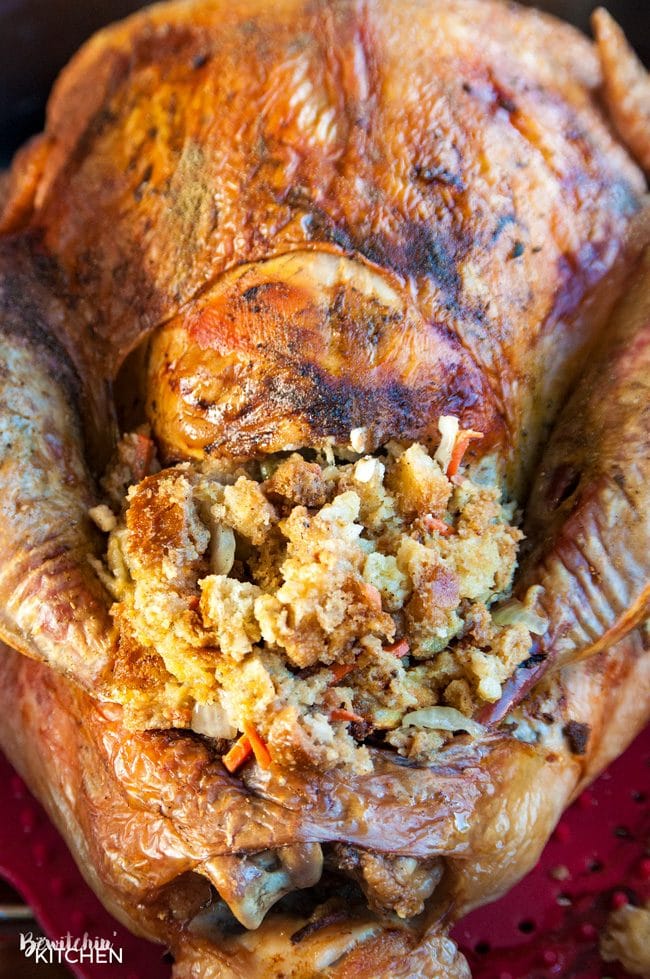 Savory Homemade Stuffing
Disclosure: This post contains affiliate links for your convenience. As an Amazon Associate, I earn from qualifying purchases.
Growing up, my mom and my grandma made the same recipe for homemade stuffing. It takes very little time to prepare, and it always tastes like home and the holidays.
Seasoned bread cubes, pork sausage, and veggies are combined with cream of celery soup and poultry seasoning for a classic flavor combination that can't be beat!
If it's your first year hosting the holiday meal, please check out my post on how to cook a turkey for all the best tips and tricks. I promise you'll be a pro by the end of the tutorial.
Why You Will Love Oven Baked Stuffing
Classic flavors – a savory complement to roasted turkey
Easy prep – just mix everything together and bake
Serves 10 – plenty for guests or leftovers
Make ahead – chill until it's time to cook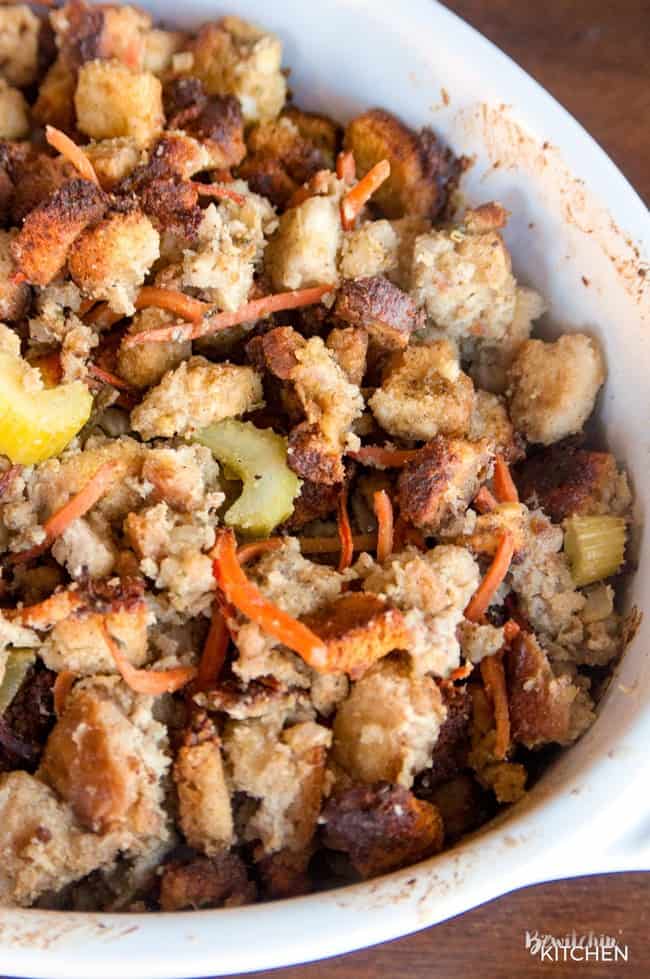 How To Make Old Fashioned Sausage Stuffing
This sausage stuffing recipe makes A LOT. There is enough to stuff the turkey and cook a whole separate pan at 350 for (about) an hour.
If you would rather prepare your homemade stuffing entirely outside of the bird, you will need to divide the mixture between two large baking pans.
Mix the Old with the New
I am aware that the point of making homemade stuffing is so you don't need to purchase boxed stuffing. My grandma always added a box of Stove Top to her sausage stuffing recipe, so I did too.
Feel free to leave it out if need be. Just be sure to replace it with extra bread cubes and seasonings.
I typically use Stove Top for Chicken, which would mean more of the poultry seasoning. Dried rosemary and sage is another great combo that's often used in turkey stuffing.
Make Your Own Bread Cubes
Sometimes, it happens — you can't make it to the store until the last minute, and all of the bread cubes are sold out!
Don't stress. It's easy to make cubed bread for stuffing, and it takes less than an hour.
Grab your favorite loaf (French, sourdough, or even white sandwich slices!) and cut it into small, evenly sized cubes.
Spread in a single layer on a baking sheet, then toss with some olive oil and dried herbs.
Bake at 225 degrees F for about 40 minutes, or until dry and golden brown.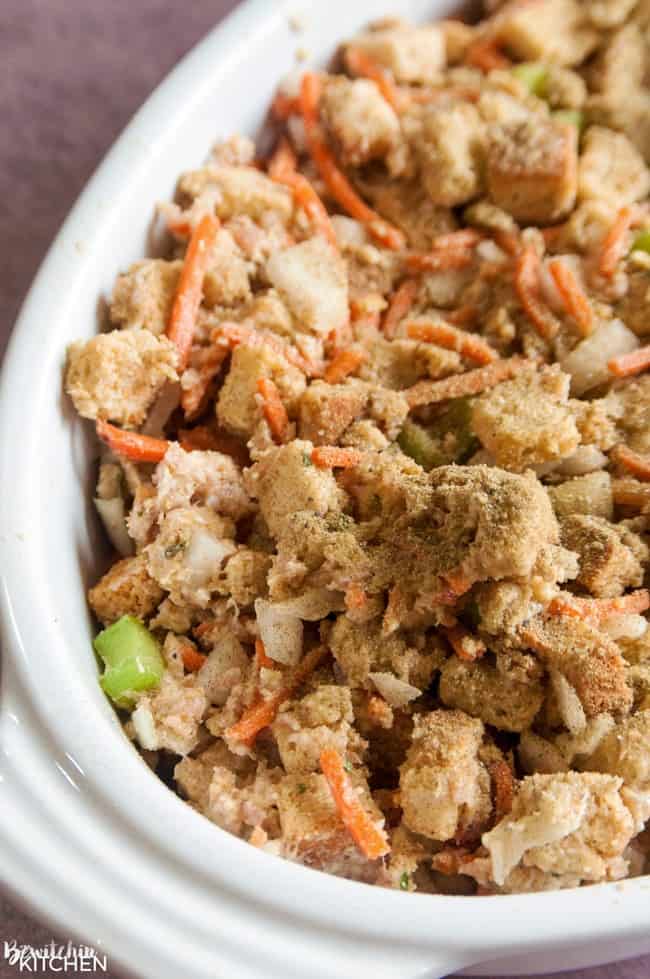 Prep Ahead Tip
I find it best to prepare this easy stuffing recipe a day ahead, that way you just need to stuff it in the bird and go!
There is nothing worse than scrambling around the kitchen and trying to prepare a bunch of different dishes on turkey day. Get as many things prepared in advance as you can, including this old fashioned sausage stuffing, so you have more time to spend with your loved ones.
Frequently Asked Questions about Sausage Stuffing Recipe
Is stuffing better with or without eggs?
It really comes down to preference. Eggs can help give homemade stuffing extra structure and a fluffy texture.
I prefer to make my old fashioned sausage stuffing without eggs — the cream of celery soup holds everything together just as well, and the results are plenty fluffy.
Can I make gluten free oven baked stuffing?
If you're looking for a healthier option with fewer processed ingredients, try my gluten free stuffing recipe! It's just as simple to make with homemade gluten-free bread cubes, pork sausage, apples, and vegetables.
Keep in mind that my gluten free sausage stuffing recipe is baked entirely outside of the bird, so you'll need plenty of chicken or turkey stock for moisture.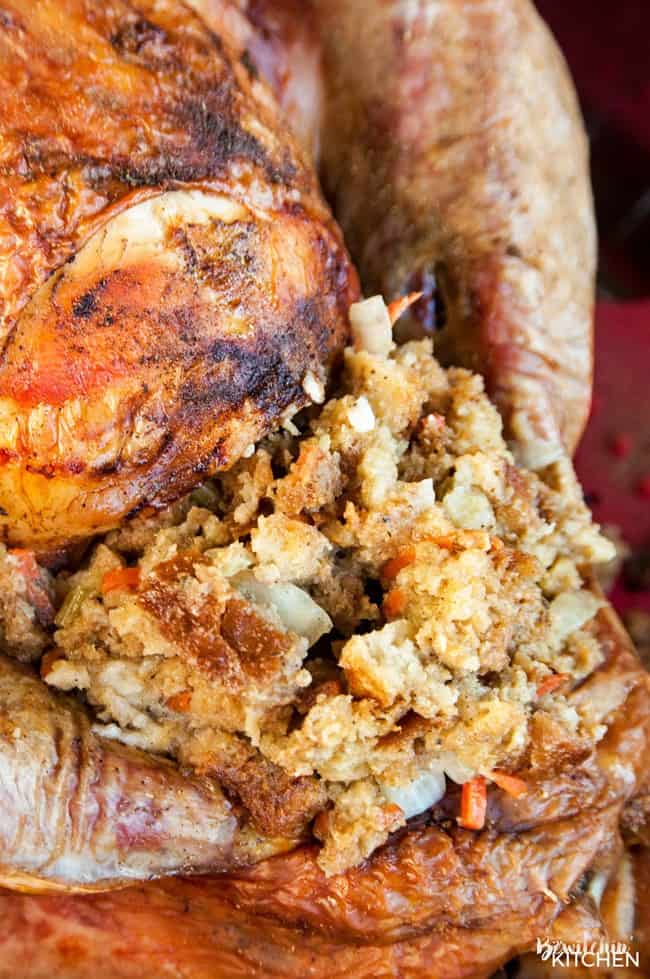 Storage and reheating
Allow leftovers to cool before transferring them to a covered container. Refrigerate for 3 to 4 days and warm individual portions in the microwave or on the stove.
If the stuffing seems a bit dry, you can add a splash of water or broth for moisture.
Can you freeze leftover stuffing?
Yes! Oven baked stuffing will keep in the freezer for up to 3 months. Store in an airtight container, then reheat at 350 degrees F until warmed through. No need to thaw it first!
Prepare this easy stuffing recipe as directed, then cover and freeze instead of baking. I recommend storing it in an aluminum baking dish so it can go straight in the oven.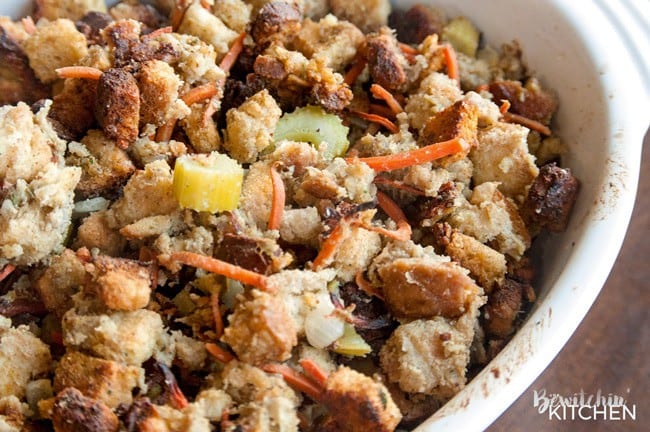 More Turkey Dinner Side Recipes:
Curried Cauliflower (my mom always has this as a side dish)
Balsamic Bacon Brussel Sprouts
Homemade Stuffing Recipe
Homemade stuffing with pork sausage and veggies is moist, savory, and simple to make! My grandma's easy stuffing recipe is a holiday favorite.
Servings 10 servings
Calories 315kcal
Ingredients
1 bag of cubed bread crumbs
1 tube frozen pork sausage thawed
1 box of stove top
1 can of cream of celery soup
1 onion diced
1-2 stalks of celery diced
2-3 carrots grated
1 tbsp Poultry seasoning I eyeball this. I usually add it until it smells just right.
Salt and pepper to taste
Instructions
You'll need either one big bowl, or two medium bowls to mix this together.

Add all of the ingredients together and mix well (I find it's best to get in with your hands, it helps mix the pork up).

Reserve the amount of stuffing that you will use to stuff the turkey.
For the rest:
Put in a baking dish and bake at 350F for one hour. At the half hour mark, take out and give a stir.
Nutrition
Serving: 1serving | Calories: 315kcal | Carbohydrates: 33g | Protein: 12g | Fat: 15g | Saturated Fat: 5g | Polyunsaturated Fat: 3g | Monounsaturated Fat: 6g | Trans Fat: 0.1g | Cholesterol: 34mg | Sodium: 1187mg | Potassium: 406mg | Fiber: 3g | Sugar: 4g | Vitamin A: 2153IU | Vitamin C: 2mg | Calcium: 76mg | Iron: 2mg
Follow On Pinterest
Follow @bewitchinkitchen On Pinterest for more delicious recipes!