Gluten Free Stuffing
If you're looking for a flavorful Gluten Free Stuffing to serve with your holiday meal, then this is the recipe for you! It's simple enough that even a beginner cook can throw it together, plus it makes your home smell amazing. Learn how to make moist, delicious herb stuffing with gluten free bread, as well as the difference between stuffing vs dressing!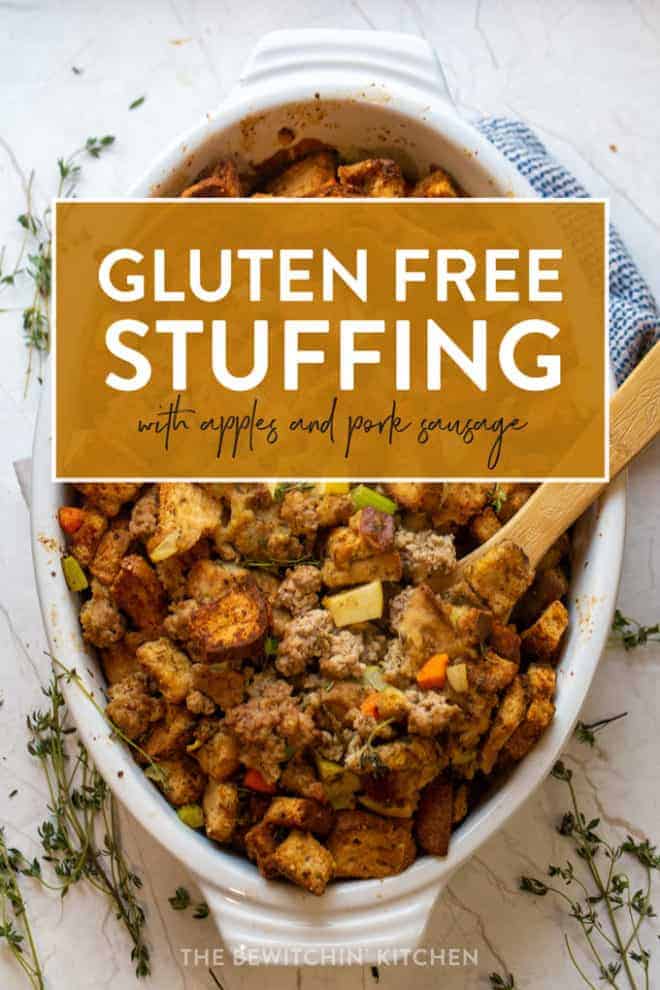 Incredible Gluten Free Stuffing
Disclosure: This post contains affiliate links for your convenience. As an Amazon Associate, I earn from qualifying purchases.
It was well past time that I came up with a gluten free stuffing recipe, and dare I say, this one is perfect! I went on a healthier route than my traditional homemade stuffing recipe by using chicken broth (instead of soup mix) and plenty of fresh ingredients.
First, we start with the best bread for stuffing that's both gluten free and delicious. Carrots, celery, and onions create a traditional base of flavor, and ground pork ups the savory factor. Everything is tied together with an incredible blend of herbs and spices, plus you'll find pops of sweetness from the diced apple.
This flavors in this easy herb stuffing will complement roast turkey or chicken as well as many of the traditional Thanksgiving side dishes. Be sure to check out this tutorial on how to cook a turkey so the star of the show turns out perfect every time.
Why You Will Love This Herb Stuffing
Easy to make – for beginners and experts alike
Simple, fresh ingredients – no boxed mixes or canned soups here
Plenty for guests – this recipe makes about 10 servings
Make ahead – save time by prepping the night before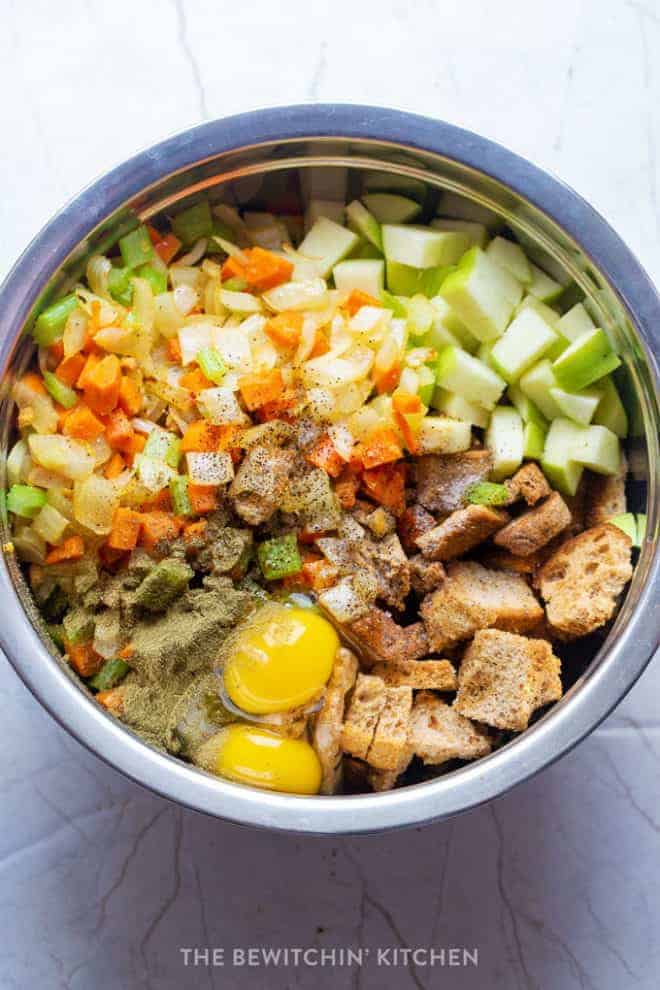 By the way, you're going to need an extra large mixing bowl. If you don't have one, you'll have to either split this recipe into two large bowls or buy this extra-large mixing bowl.
How To Make Gluten Free Herb Stuffing
Once your ingredients are prepped, it takes just a few minutes to toss it all together and throw it in the oven!
Since this gluten free stuffing recipe makes quite a bit, you may need to divide it between two pans. Otherwise, it should all fit in a large, deep casserole dish.
Stuffing vs Dressing
First, we need to address the age-old question: stuffing vs dressing, what's the difference?
While some may argue that it's a regional difference, it really comes down to preparation!
Stuffing is made by (you guessed it) stuffing the bread mixture into the turkey cavity so it cooks with the bird. Dressing is often made with the same list of ingredients, but it is baked in a separate pan or cooked on the stove.
Since it is no longer recommended to stuff the turkey for food safety, this tasty side dish is prepared separately and the terms are used interchangeably. The downside is that your gluten free stuffing won't be quite as moist, but you can easily add more chicken broth to counteract the crispness that the oven brings.
Homemade bread cubes for stuffing
I usually cheat and buy pre-cubed dried bread for my homemade stuffing/dressing, but since gluten free options aren't typically available in stores, I decided to make my own.
Luckily, making bread cubes from scratch is super easy! Just cube a loaf of your favorite gluten free bread, arrange the cubes on a baking pan, and toss with a little olive oil, garlic powder, salt, and pepper. You could also include sage, thyme, or whatever other flavors you want to add.
Bake for about 30 minutes until the bread is dried out and the cubes start to resemble croutons. Don't dry them out out completely, though! You want to keep a little bit of fluff in the texture.
Prep ahead of time
Holidays are a busy time in the kitchen, so I'm all for finding ways to consolidate prep time and get back to my guests!
Homemade bread cubes can be made a day or two ahead of time and kept in a sealed storage bag on the counter. You can also dice up all of your veggies at once, then keep them in labeled containers. When you're ready to start working on a dish, just grab the ones you need!
To really save some time, cook the veggies and pork the night before and refrigerate the mixture. Then, combine with the bread cubes and continue the recipe as directed.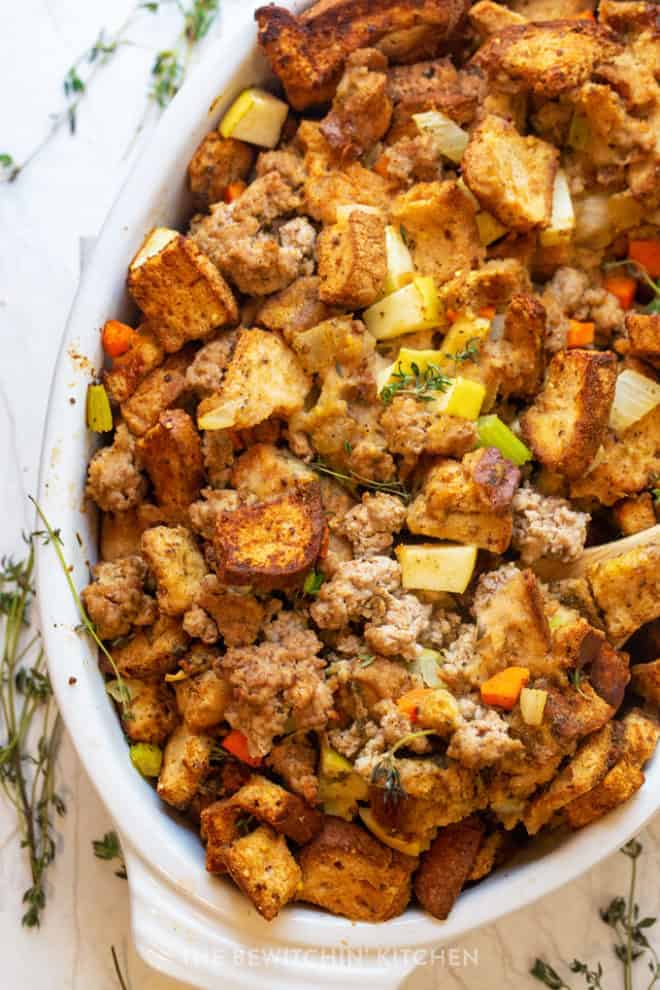 Frequently Asked Questions about Gluten Free Stuffing Recipe
Can I make stuffing ahead of time?
Yes, you totally can! My mom always made stuffing the night before to make life easier.
Simply throw all the ingredients together, cover with foil, and refrigerate.
Bake your gluten free stuffing at 375 for 30-40 minutes — that extra time accounts for the chill from the fridge. You may also need to add more chicken broth in case it all gets soaked up from sitting overnight.
What is the best bread for stuffing?
Honestly, the best bread for stuffing is the kind you like best! Most people recommend a white bread with a tight crumb, but there are plenty of recipes that use cornbread. Brioche or challah are popular for their slight sweetness, while others prefer the neutral flavor of a French loaf or sourdough.
For this gluten free stuffing recipe, I used an Original loaf from Little Northern Bakehouse. Any gluten free white sandwich bread will do the trick, but feel free to experiment with an artisan loaf instead. You'll need about 8 cups of bread cups total.
How long is leftover stuffing good for?
If you manage to have any leftovers, transfer your gluten free stuffing to an airtight container and refrigerate for 3-4 days.
You can warm individual portions in the microwave, but you'll lose that crisp texture that makes this dish so delicious! Instead, reheat stuffing on a pan on the stove with a splash or two of broth for moisture.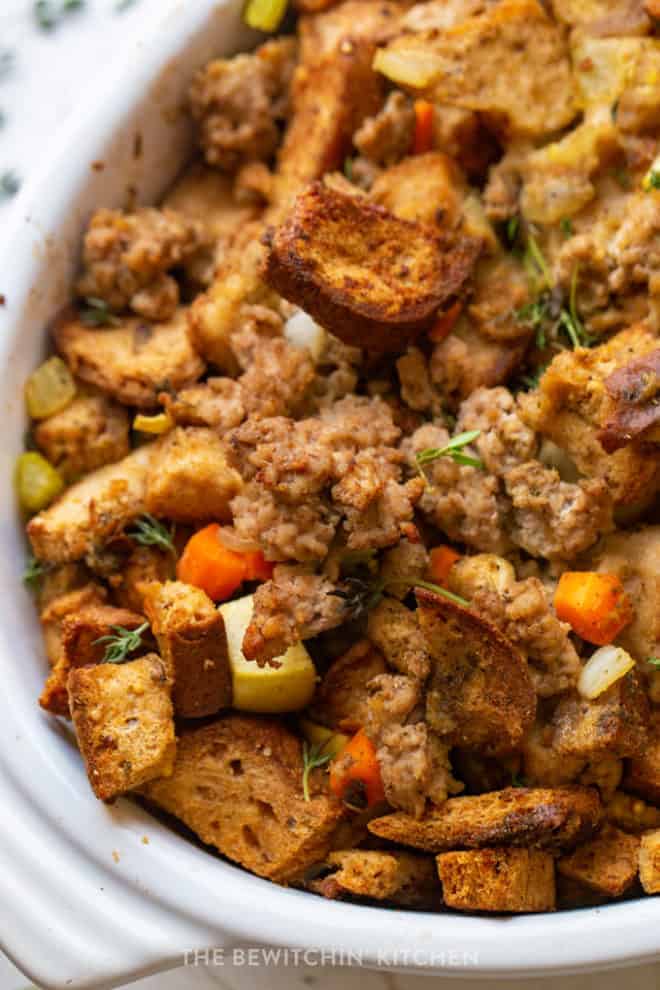 More Gluten Free Thanksgiving Recipes
Balsamic Bacon Brussel Sprouts
Turkey Gravy without Drippings (just substitute GF flour!)
Gluten Free Stuffing with Apples and Pork Sausage
Serve Gluten Free Stuffing with your turkey dinner this year! Pork sausage, apples, veggies, and herbs make it a delicious holiday side dish.
Equipment
Baking pan

9×13 Casserole dish
Servings 10 servingss
Calories 423kcal
Ingredients
1 loaf gluten free bread I used Little Northern Bakehouse
1 tbsp olive oil
1 tsp salt
1 tsp garlic powder
1/4 tsp pepper
1 tbsp coconut oil
1 onion diced
2 carrots diced
2 celery diced
3 cloves garlic minced
1 lb ground pork
1 tbsp poultry seasoning it's a mix of sage, thyme, rosemary, pepper, and more
1 tsp thyme
1 apple diced
2 eggs
2 cups chicken stock
salt pepper to taste
Instructions
For the gluten free bread
Preheat over to 325F

Sliced the bread into cubes and arrange on a baking pan.

Drizzle olive oil over the bread, add the garlic, salt, and pepper and toast for 30 minutes. Checking often to stir. It should come out a little "croutonish".
For the stuffing
Preheat oven to 375F

Add the toasted bread to a large bowl.

In a pan add the olive oil and soften the onions, celery, and carrots over medium heat. Add the garlic and stir until fragrant. Add to the bowl with the gluten free bread.

In the same pan, take the ground pork and cook until no longer pink (or very little pink left). Add that to the bread bowl.

Add the rest of the ingredients and mix together well. If your bowl is not large enough, divide it between two.

Spray a large casserole dish (or two) with coconut oil or avocado oil spray and transfer the stuffing to the dish. If the stuffing is a little too toasty still, add a bit more chicken broth.

Cover with foil and bake for 30 minutes.

Remove foil, give the stuffing a stir and cook uncovered for another 15 minutes.
Nutrition
Serving: 1serving | Calories: 423kcal | Carbohydrates: 44g | Protein: 14g | Fat: 19g | Saturated Fat: 5g | Cholesterol: 82mg | Sodium: 636mg | Potassium: 295mg | Fiber: 3g | Sugar: 9g | Vitamin A: 2327IU | Vitamin C: 3mg | Calcium: 120mg | Iron: 1mg
Follow On Pinterest
Follow @bewitchinkitchen On Pinterest for more delicious recipes!