Gluten Free Stuffing
If you're looking for a gluten free stuffing recipe for your upcoming turkey or chicken dinner, I got you girl!
It's a simple recipe that even the beginner cook can throw together, plus it makes your home smell amazing.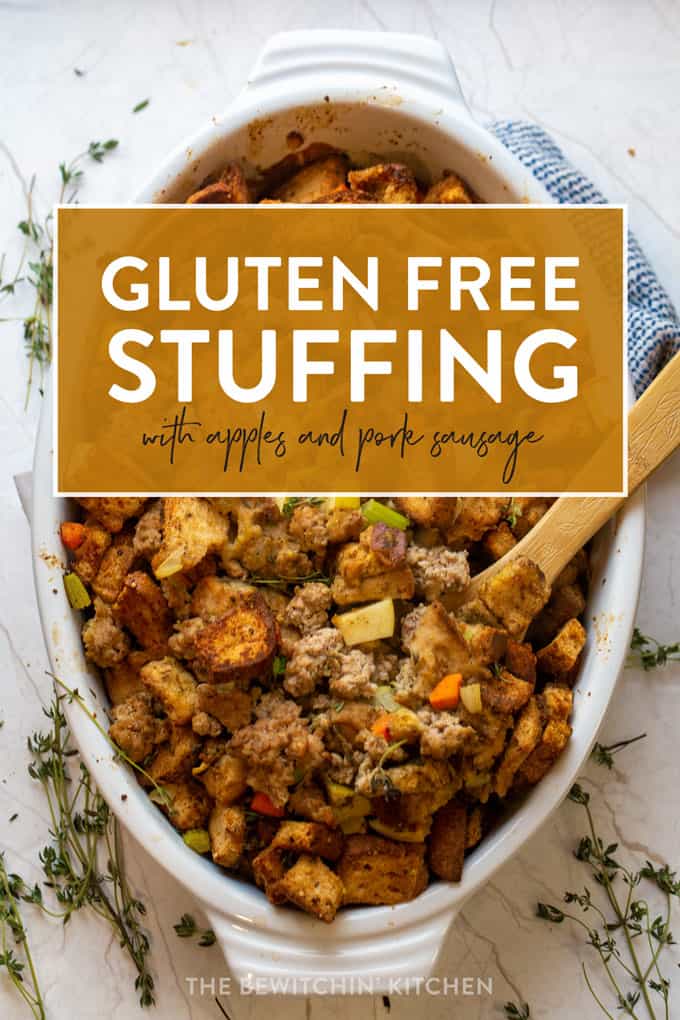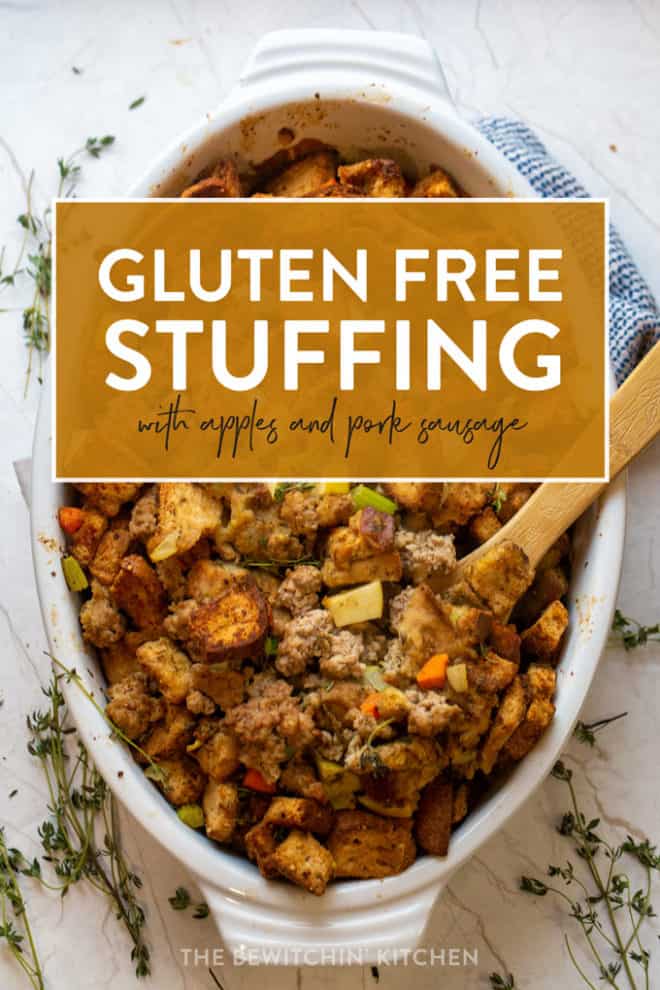 Gluten Free Stuffing
Disclosure: This post contains affiliate links for your convenience. As an Amazon Associate, I earn from qualifying purchases.
I've been asked for a few years to make a gluten free stuffing recipe for The Bewitchin' Kitchen and I finally did it!
I went on a healthier route than my traditional homemade stuffing that I have on the blog by using chicken broth instead of soup mix and the whole pantry that the other recipe has.
This gluten free turkey dressing is simple, easy, and uses your everyday ingredients.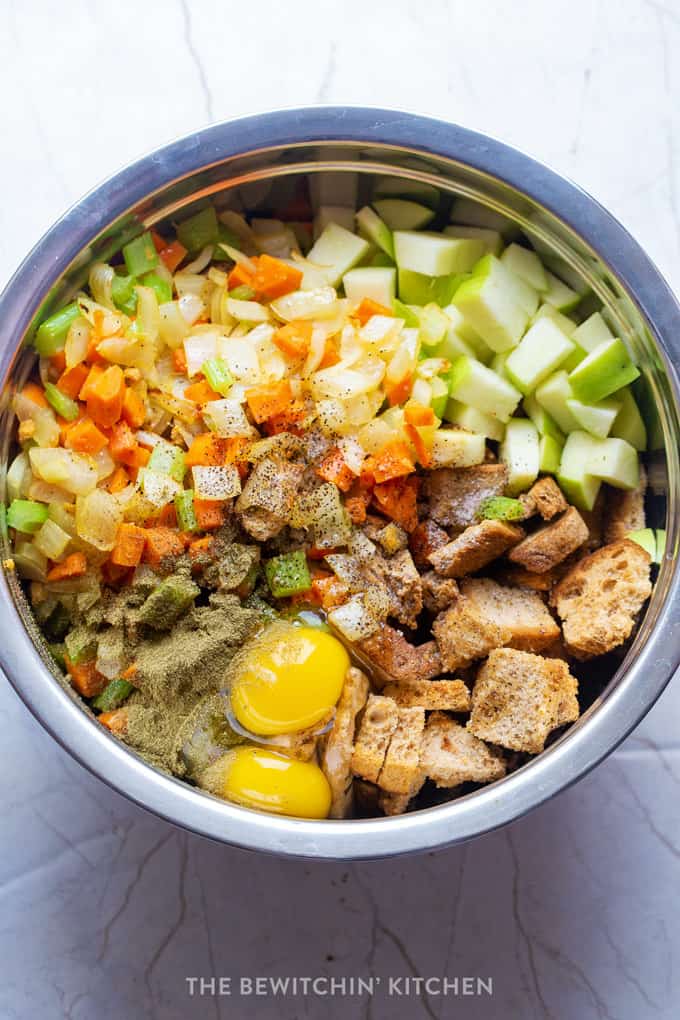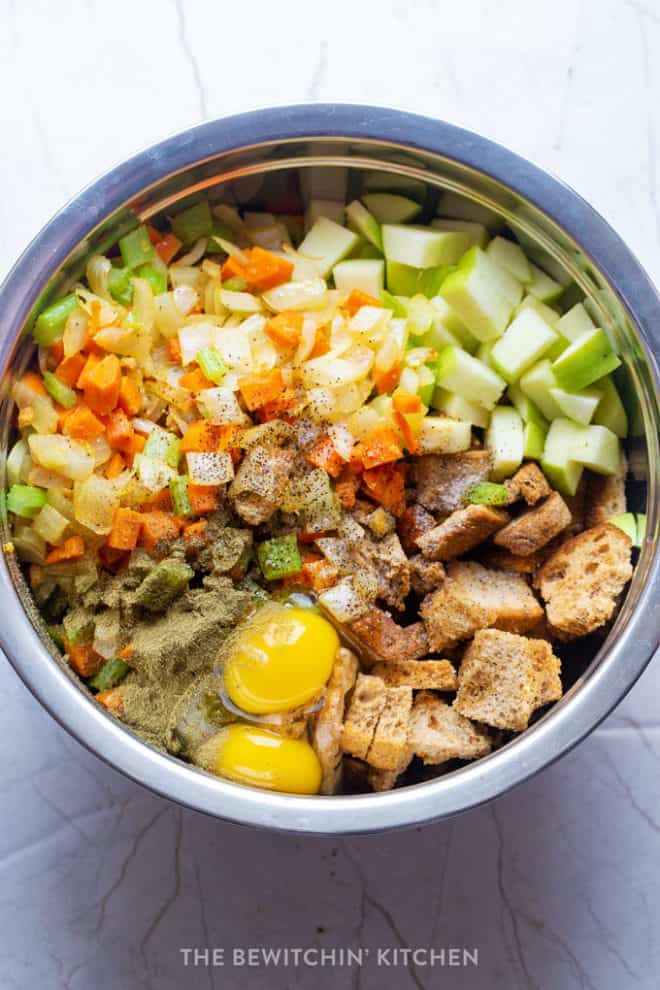 By the way, you're going to need an extra large mixing bowl. If you don't have one, you'll have to either split this recipe in two large bowls or buy this extra-large mixing bowl.
To Stuff the Bird VS In Pan
It is no longer recommended to stuff the turkey with stuffing for food safety.
I like to cook it in a casserole pan (or in this case, a few). You can use a 9×13 or and a smaller casserole pan to bake it all (this makes quite a bit).
The downside is that it's not as moist (I'm sorry for those of you who hate the word) but you can add more and more chicken broth if you want to conteract the crisp that the oven brings.
Homemade gluten free bread cubes for stuffing
I usually cheat and buy pre-cubed dried bread for my homemade stuffing/dressing but since that's not available at my local grocery stores, I decided to make my own.
To make bread cubes (or gluten free croutons) was super easy.
All I did was cube a loaf of gluten free bread, arranged them on a baking pan and added olive oil, garlic powder, salt, and pepper.
You could also add sage, thyme, or whatever other flavors you want to add.
How to make gluten-free stuffing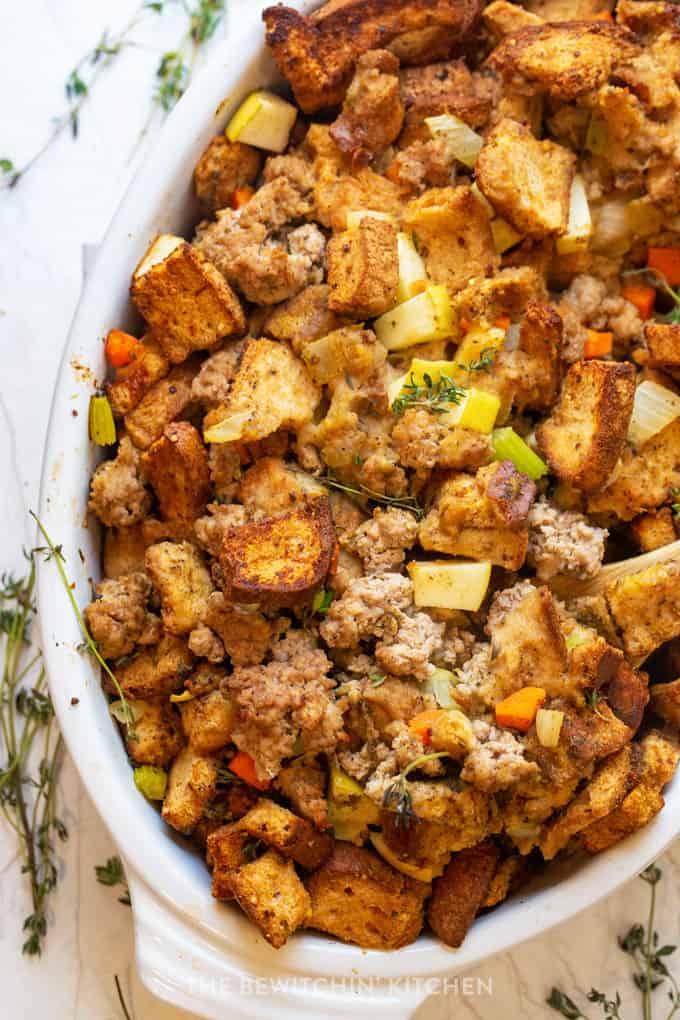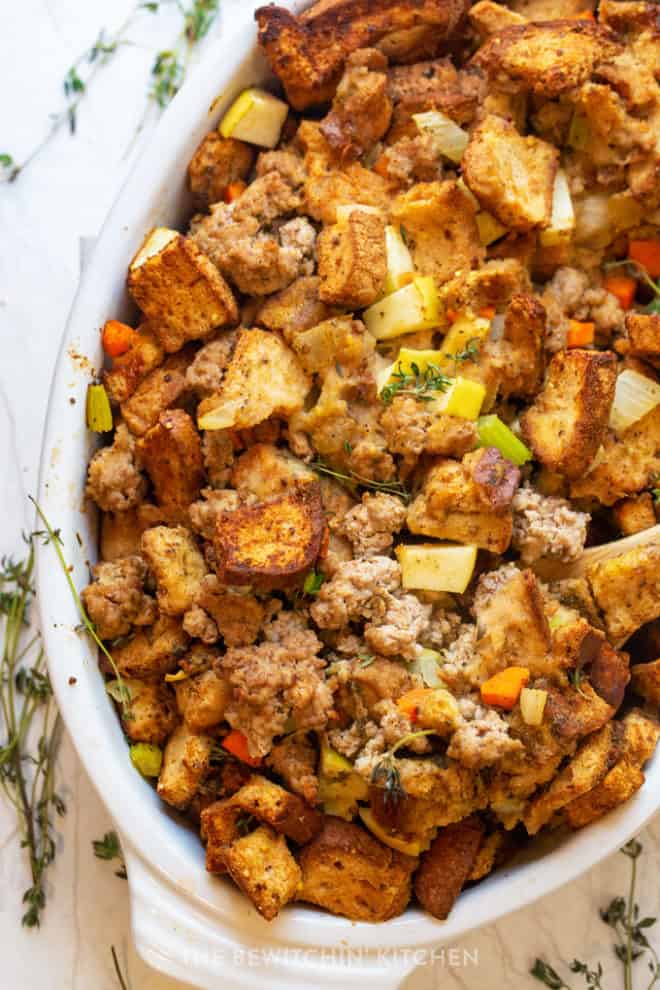 This was my first time making a gluten free stuffing recipe and it was simple.
It took an extra step than my Grandma's stuffing recipe by toasting gluten free bread, but that wasn't a big deal.
Can I make stuffing ahead of time?
Yes, you totally can! My mom always made stuffing the night before to make life easier.
Simply throw all the ingredients together, cover with foil and refrigerate.
Bake at 375 and bake for 30-40 minutes. You may have to add more chicken broth in case it all gets soaked from sitting overnight.
Turkey Dinner Recipes
First, I'm going to suggest you use this tutorial on how to cook a turkey to make sure the star of the show turns out perfect every time.
Then I'm going to suggest you try this recipe for gluten free stuffing (because you're here for a reason, right?).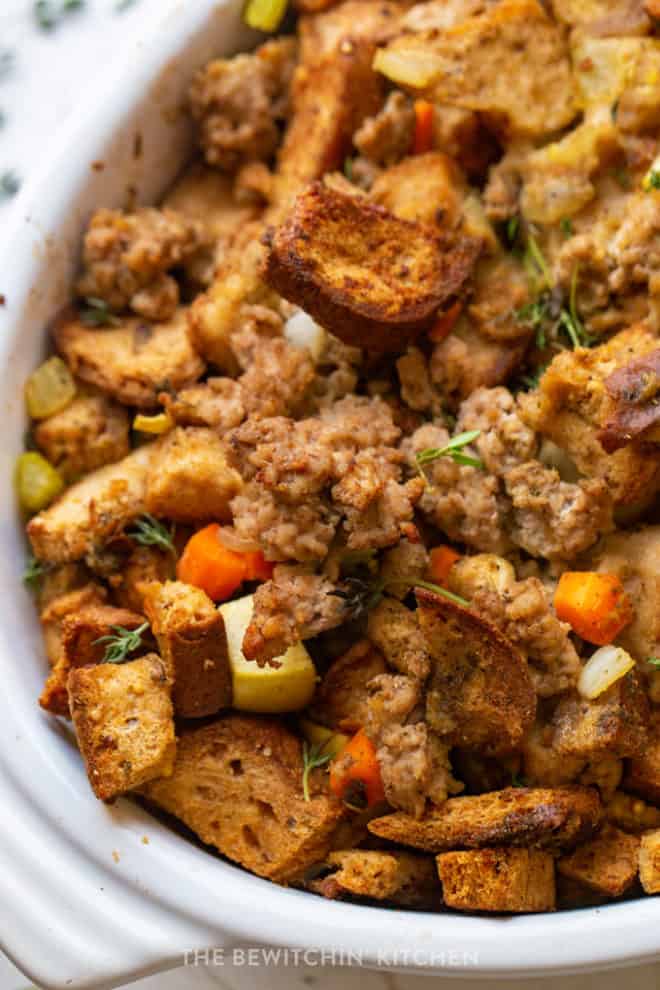 Once you have that ready to go here are a few of my favorite turkey dinner side dishes (many are gluten free thanksgiving recipes):
Gluten Free Stuffing with Apples and Pork Sausage
Serve this gluten free stuffing recipe with your turkey dinner. Accompanied with apples and pork sausage, this delicious holiday side dish is a favorite.
Equipment
Baking pan

9×13 Casserole dish
Servings 10 servingss
Calories 423kcal
Ingredients
1 loaf gluten free bread I used Little Northern Bakehouse
1 tbsp olive oil
1 tsp salt
1 tsp garlic powder
1/4 tsp pepper
1 tbsp coconut oil
1 onion diced
2 carrots diced
2 celery diced
3 cloves garlic minced
1 lb ground pork
1 tbsp poultry seasoning it's a mix of sage, thyme, rosemary, pepper, and more
1 tsp thyme
1 apple diced
2 eggs
2 cups chicken stock
salt pepper to taste
Instructions
For the gluten free bread
Preheat over to 325F

Sliced the bread into cubes and arrange on a baking pan.

Drizzle olive oil over the bread, add the garlic, salt, and pepper and toast for 30 minutes. Checking often to stir. It should come out a little "croutonish".
For the stuffing
Preheat oven to 375F

Add the toasted bread to a large bowl.

In a pan add the olive oil and soften the onions, celery, and carrots over medium heat. Add the garlic and stir until fragrant. Add to the bowl with the gluten free bread.

In the same pan, take the ground pork and cook until no longer pink (or very little pink left). Add that to the bread bowl.

Add the rest of the ingredients and mix together well. If your bowl is not large enough, divide it between two.

Spray a large casserole dish (or two) with coconut oil or avocado oil spray and transfer the stuffing to the dish. If the stuffing is a little too toasty still, add a bit more chicken broth.

Cover with foil and bake for 30 minutes.

Remove foil, give the stuffing a stir and cook uncovered for another 15 minutes.
Nutrition
Serving: 1serving | Calories: 423kcal | Carbohydrates: 44g | Protein: 14g | Fat: 19g | Saturated Fat: 5g | Cholesterol: 82mg | Sodium: 636mg | Potassium: 295mg | Fiber: 3g | Sugar: 9g | Vitamin A: 2327IU | Vitamin C: 3mg | Calcium: 120mg | Iron: 1mg
Follow On Pinterest
Follow @bewitchinkitchen On Pinterest for more delicious recipes!