Mickey's Christmas Carol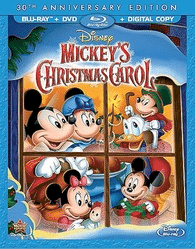 Disney's Mickey's Christmas Carol is a classic Disney movie, that doesn't get all the recognition it deserves. This movie has been a favorite of mine since I was a little girl and since re-discovering it a few years ago, I have watched it every year.
Every year on Christmas Eve we receive p.j's from Grandma. It's a tradition that has been going on forever, but last year I added to it. In addition to the pajamas's there will be a family present that contains "fancy" hot chocolate and a Christmas movie for us all to enjoy. Last year it was The Santa Clause, this year it will be Mickey's Christmas Carol.
Make the season merry as Mickey, Goofy, Donald and all their pals star in a heartwarming retelling of Dickens' unforgettable holiday tale. Ebenezer Scrooge (Scrooge McDuck) is far too greedy to understand that Christmas is a time for kindness and generosity. But with the guidance of some wise ghosts (Goofy and Jiminy Cricket) and a bunch of newfound friends, Scrooge learns to embrace the spirit of the season. Share this wonderful holiday treat with the whole family!
What' makes Mickey's Christmas carol so exciting this year is that it's the 30th anniversary edition! For the time time it will be released on Blu-ray (you will receive a DVD as well). Included within the blu-ray are fully restored classic holiday shorts and all new bonus features including: Disney Intermission – Mickey invites you and your family to sing Christmas carols with him and his friends.
I can't wait to sit down with my family on Christmas Eve and watch the movie, there is nothing better then a good old fashioned cartoon.
What is your favorite holiday movie?