Paperspring Review
About a month ago I received my Paperspring order that I won from a giveaway blog.
I chose to order four Digital Name Art Greeting Cards. I decided to order them because I never have birthday cards when I need them so I ordered the Cupcakes card and for the digital name art I just had "Happy Birthday" written on the cards.
When I received the Digital Name Art cards I got what I was hoping for. It looked identical to what it looked like on the preview. I was impressed.
With a wedding coming up, thank you cards are a must. So I also ordered 25 thank you cards. Here is what I ordered: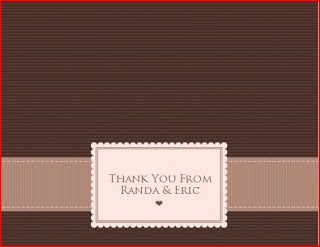 I love them! I think they are so cute. On the inside I just had another "thank you" and our first and last name on it.
Paperspring offers a variety of announcements, cards, invitations, stationary and more!
When I won this giveaway I was unaware that they only ship to the US. So when I tried to check out it wouldn't work. After an email and a phone call Paperspring still sent it to me in Canada, free shipping. They really went above and beyond for me and I was really impressed.
Be sure to check out Paperspring's sticky stock. It's so neat!
This giveaway is now closed