Parmesan Jalapeno Bread
This parmesan jalapeno bread is a flavorful twist on homemade baked bread. It's insanely easy and is a no-knead recipe.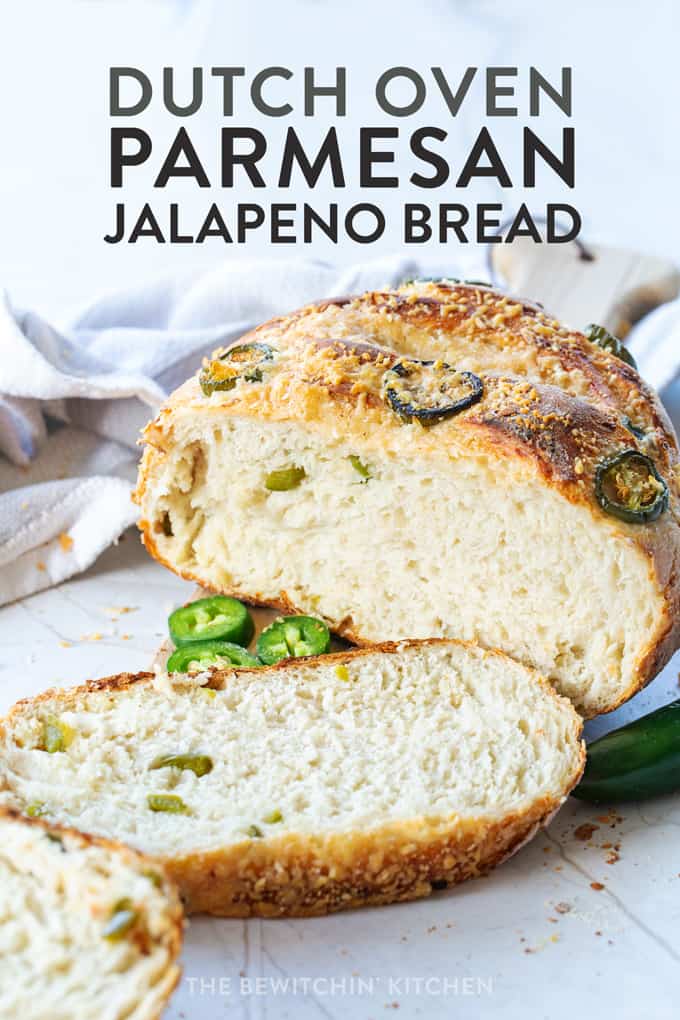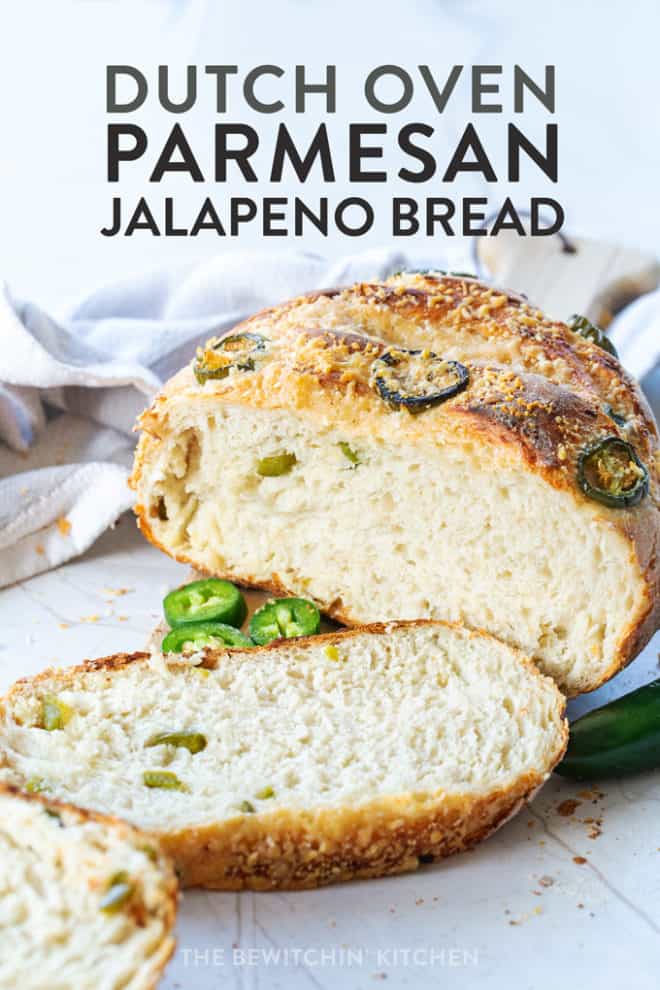 Disclosure: This post contains affiliate links for your convenience. As an Amazon Associate, I earn from qualifying purchases.
Parmesan Jalapeno Bread
During this pandemic, I will admit that I have succumbed to the bread baking phase. Actually, it's not a phase because I haven't stopped. From no-knead bread that evolved to Rosemary Garlic Dutch Oven Bread to this jalapeno bread (and now I'm working on sourdoughs).
There is just something about baking bread that makes me feel productive.
I've been sitting on this recipe for a few weeks. I meant to publish it immediately but … crisis schooling is hard. That plus my own schooling and trying to build a nutrition guide.
It's a lot. So I'm being gentle with myself.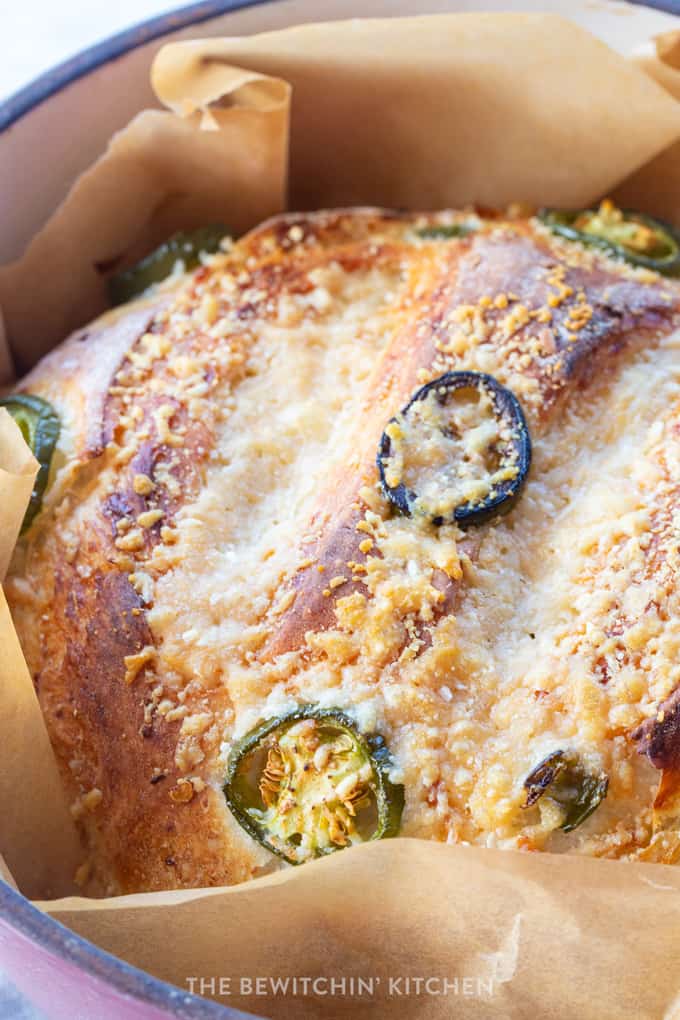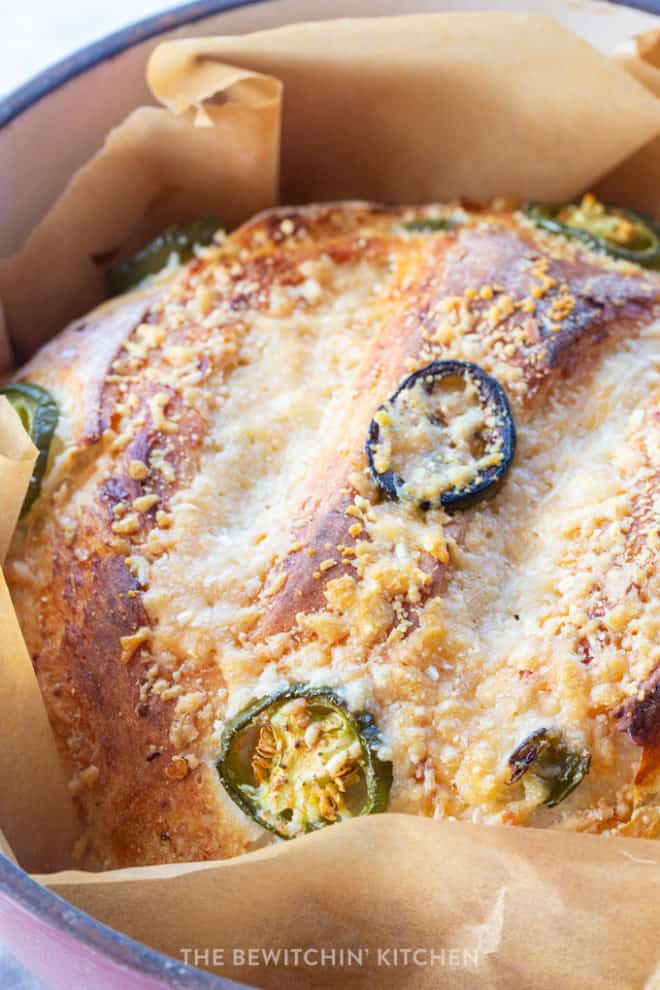 What's Needed for Jalapeno Bread
There truly isn't much needed for this recipe.
Aside from the ingredients, I recommend the following: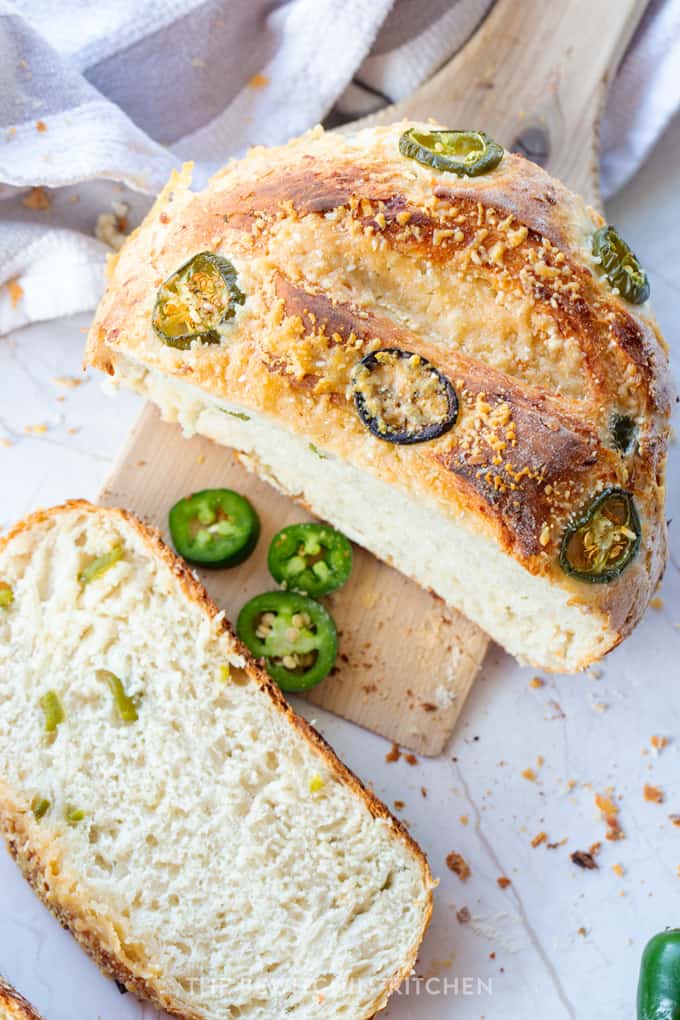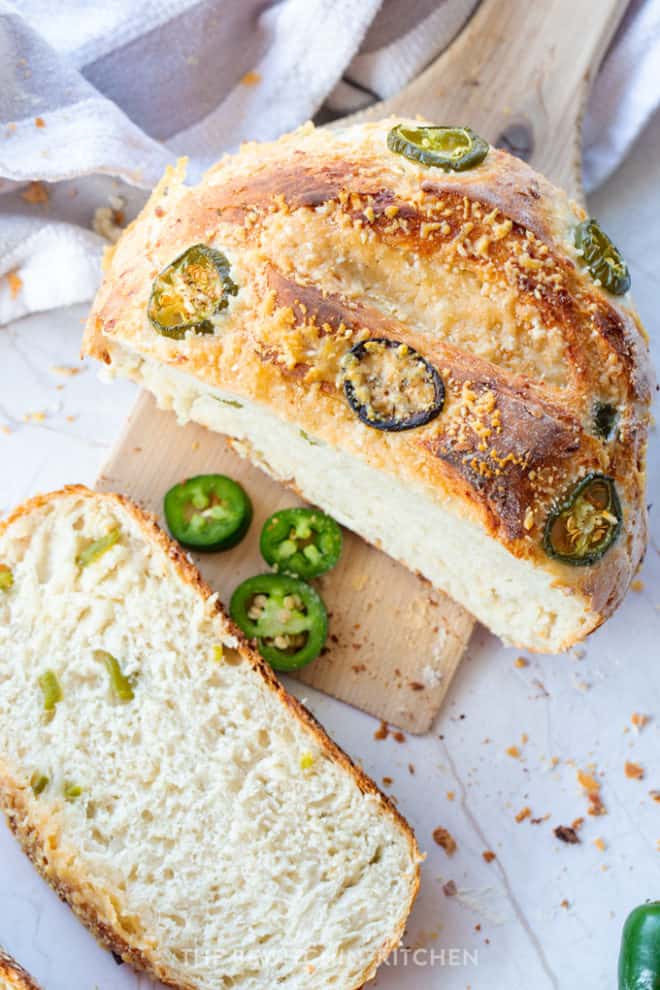 Is a Dutch Oven Needed?
I haven't made this jalapeno parmesan bread without one, so I don't know how it will turn out without it. You could try a heavy bottom pot with a lid.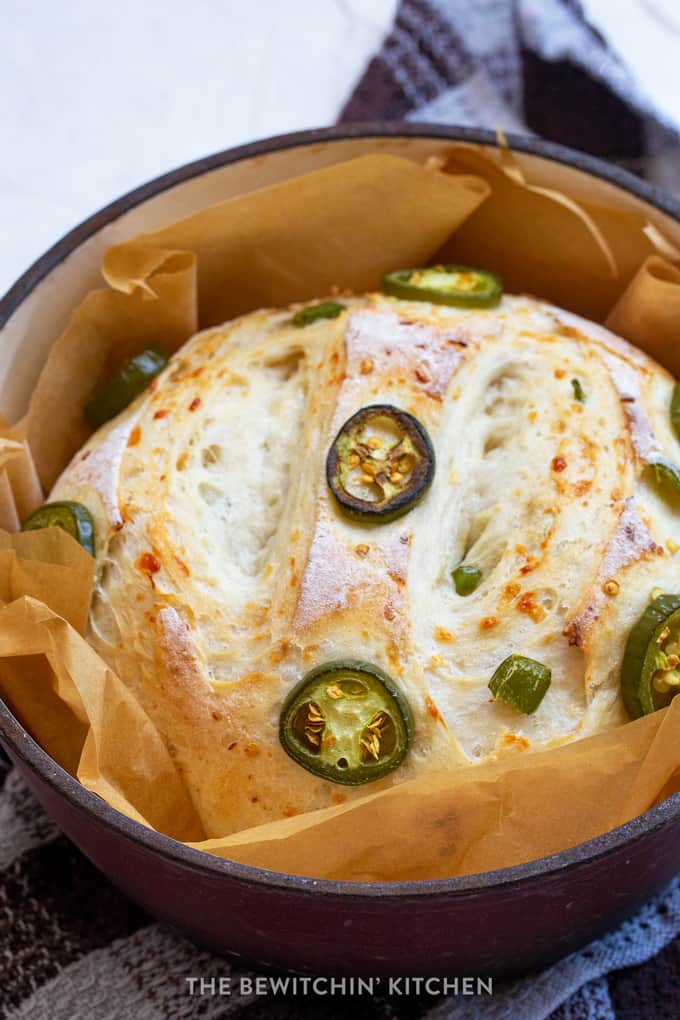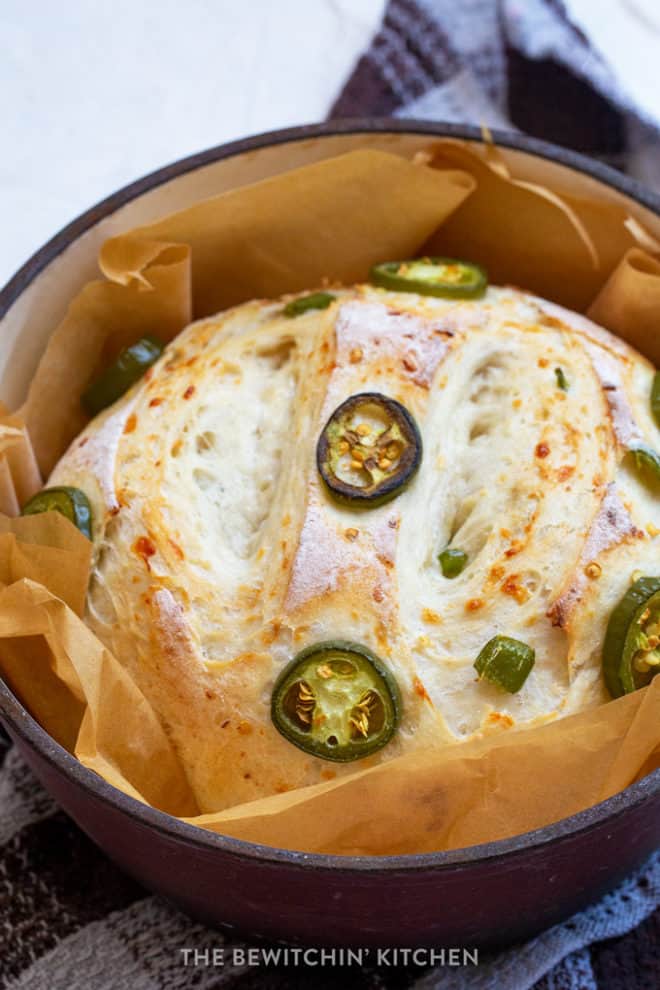 Can I use Quick Rise Yeast?
Yes! In fact, the quick rise yeast is all I use. I don't have time to let things rise for upwards of 12 hours. When I bake bread, I want it ASAP.
There are variable factors in how long a bread will rise: the temperature of the home, the temperature of ingredients, your elevation. There are multiple factors so what works for me may serve differently for you (yours may rise quicker or take longer).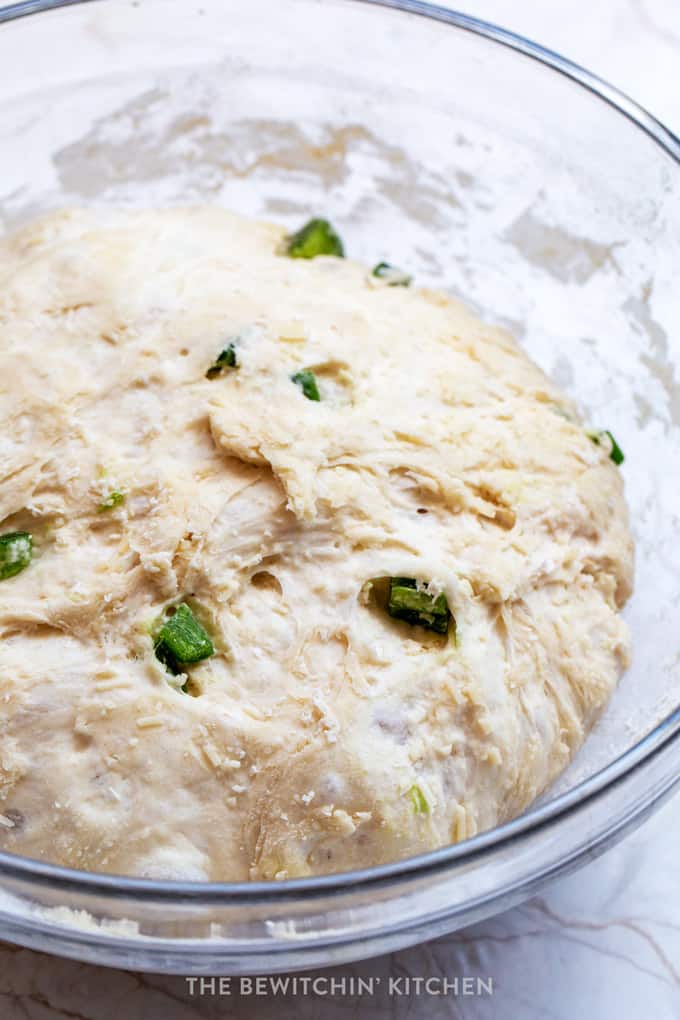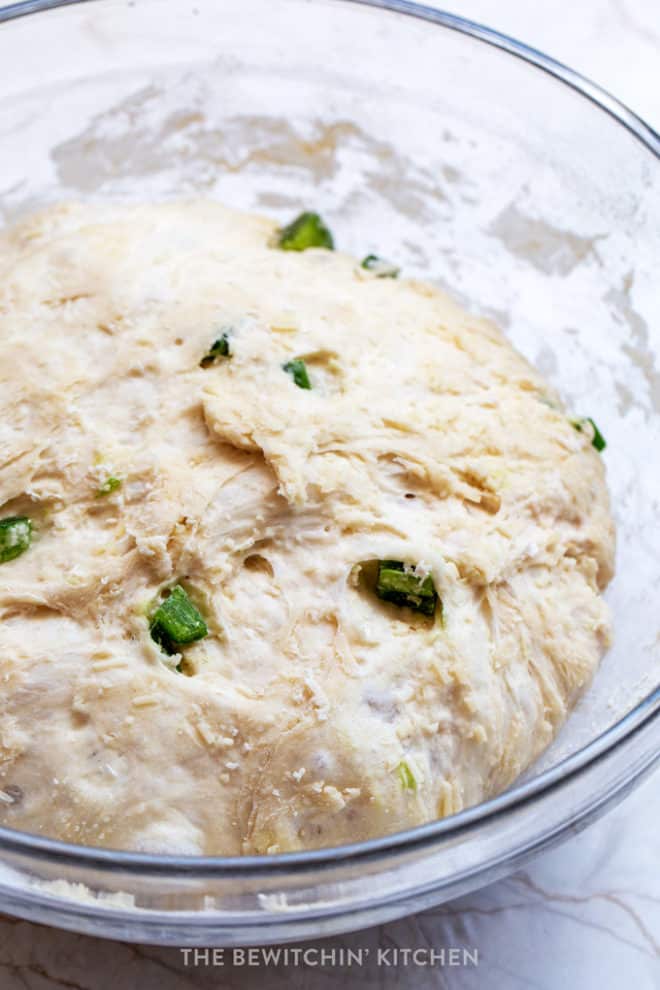 I have a proofing option with my oven. So I turn it on and use it. If you don't have that option make sure you cover your bowl with a clean dishcloth (or saran wrap) and put in somewhere warm.
If it's winter and your home is cooler, turn on the oven and set the bowl on top of the stove.  I have also let the bread sit over furnace vents in the past as well (this worked so well for my homemade buns).
How to store homemade bread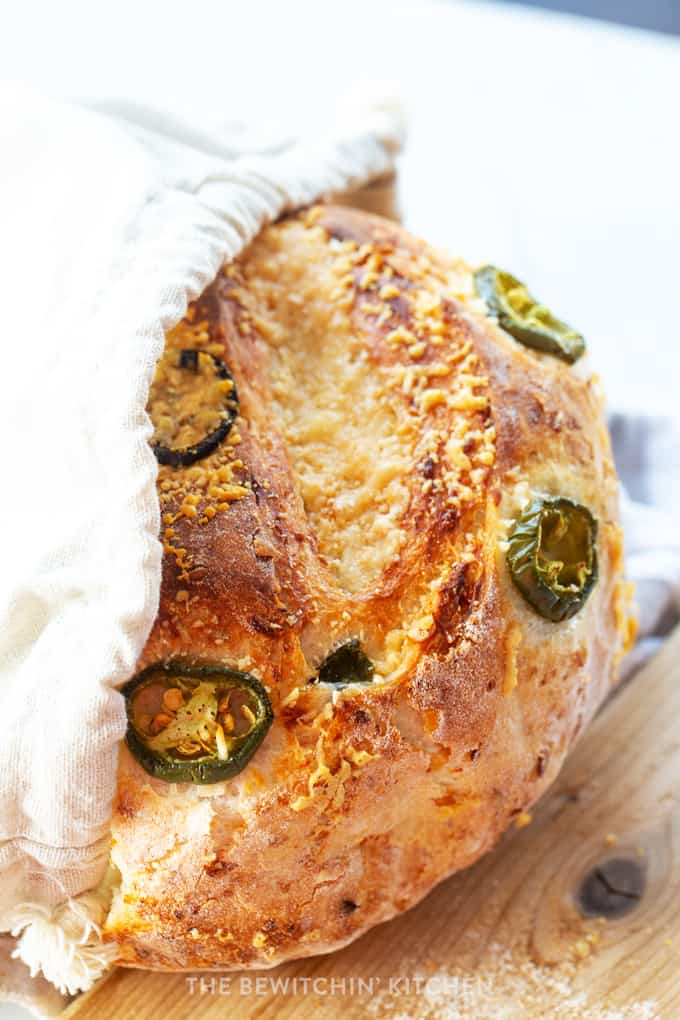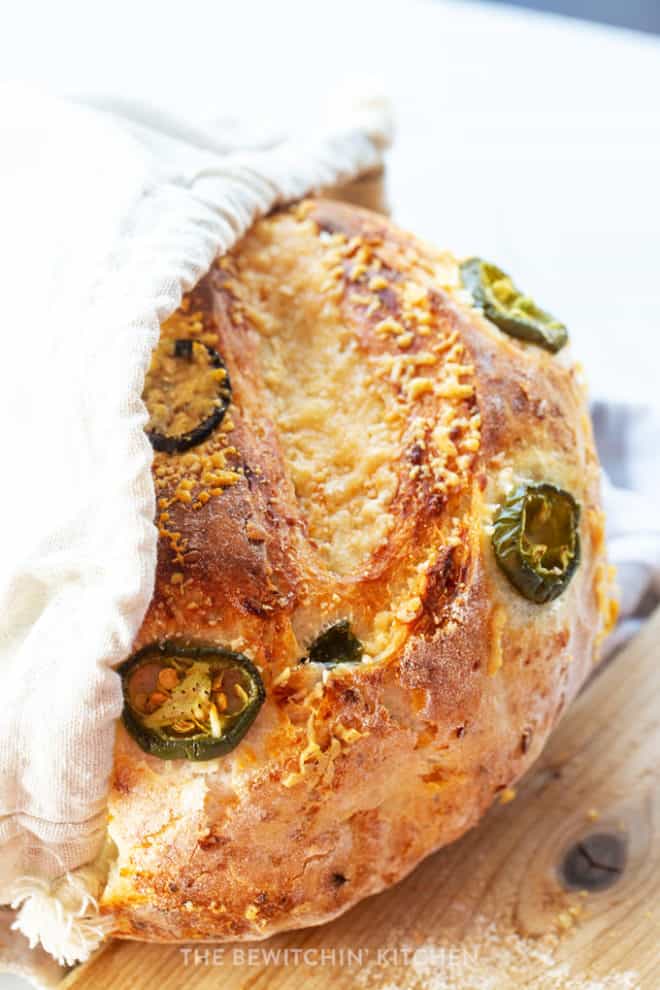 The only downfall to homemade bread is that it goes stale fairly quickly.
I purchased bread bags to store my loaves in. They do help but don't expect super moist bread after a few days.
My family and I are trying to reduce our plastic use, but if you have leftover bread bags kicking around, give those a try.
If you have any solutions that work for you, please share them in the comments.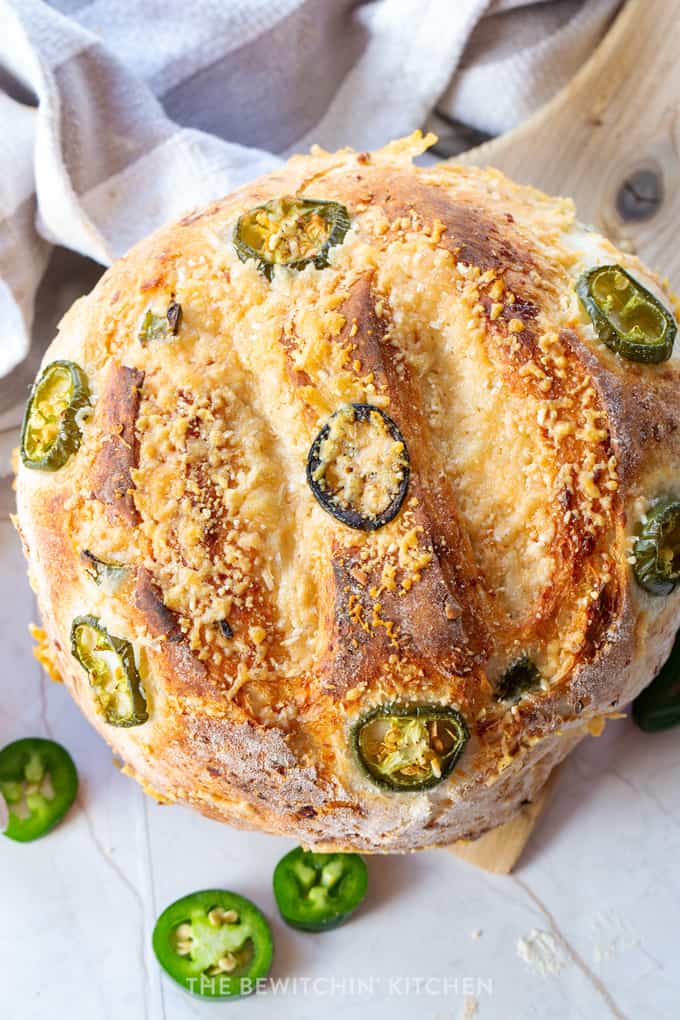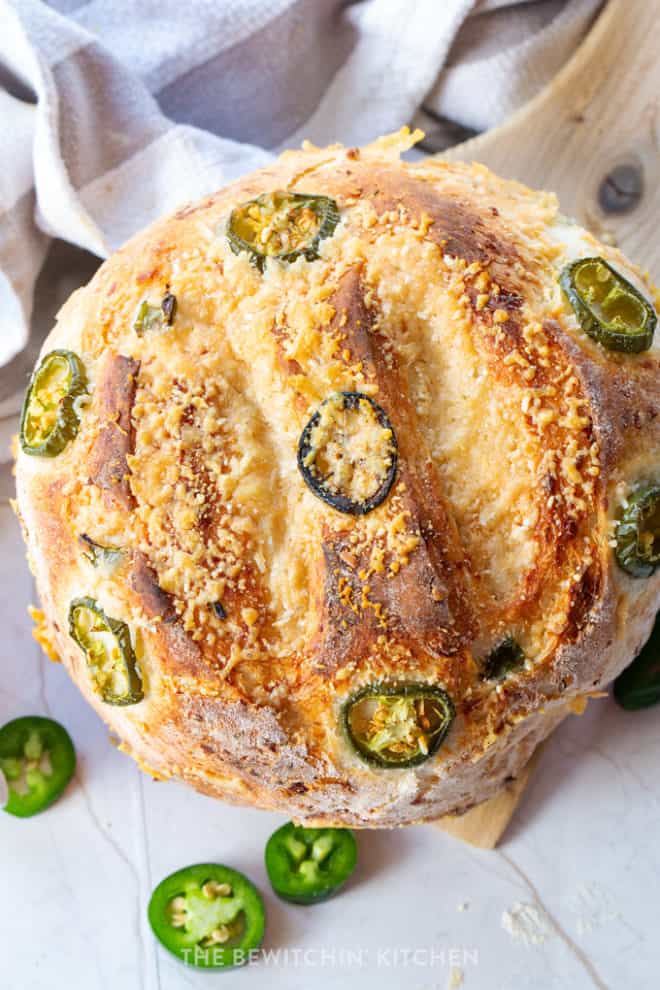 Recipes that go well with homemade bread
I'm always about serving fresh bread with a hot bowl of homemade soup. There is seriously nothing better. I also enjoy a slice of warm bread with butter and salt (I could easily eat half a loaf this way).
Here are a few of my favorites (I served it with hamburger soup last week).
Dutch Oven Jalapeno Bread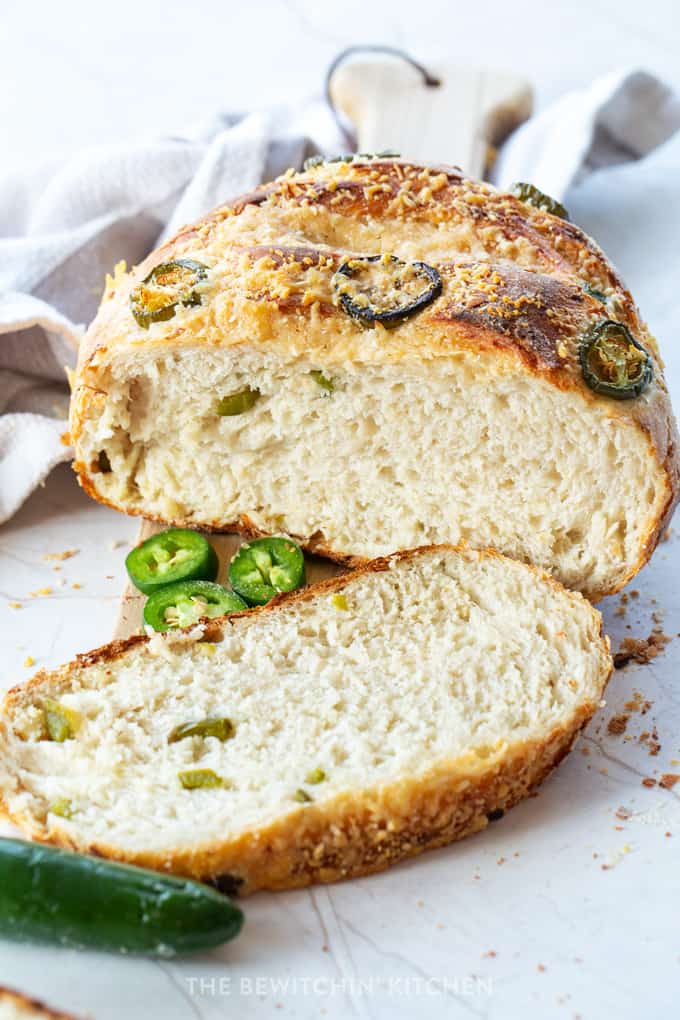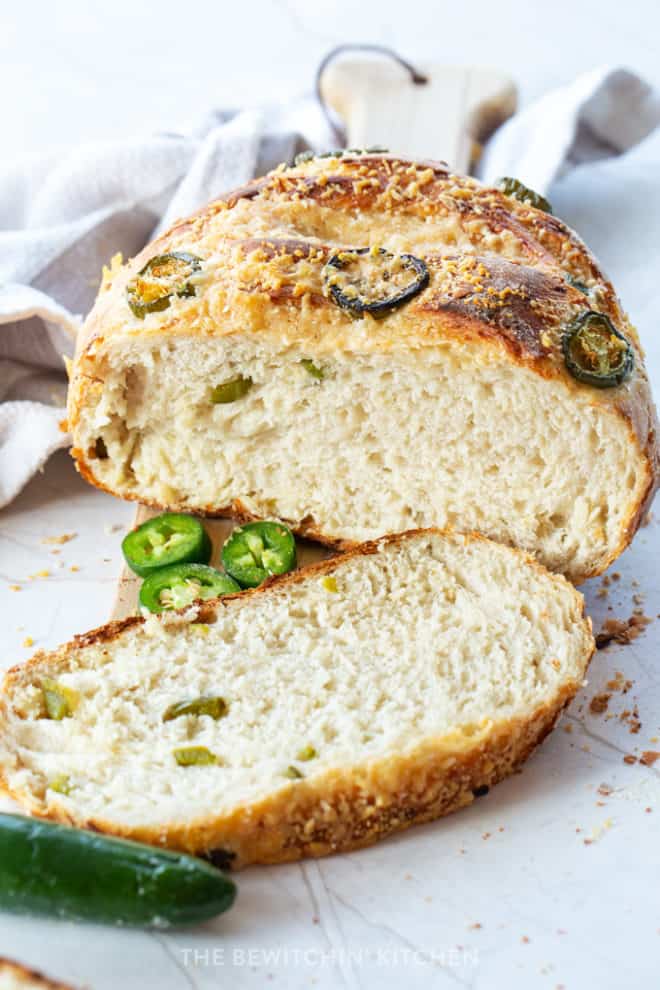 Don't be intimidated by baking bread. This is one of the simplest recipes.
You'll simply mix it in a bowl do a rise or two and transfer to a dutch oven and bake. That's it!
Dutch Oven Parmesan Jalapeno Bread
This Parmesan Jalapeno Bread is a no knead recipe that's baked in a dutch oven, has a quick rise, and goes great with soup. It's easy and delicious.
Equipment
5.5 or 6qt Dutch Oven

Wooden Spoon
Servings 8 slices
Calories 223kcal
Ingredients
3 cups all purpose flour
1 1/2 tsp sugar
2 tsps salt
2 1/2 tsp quick yeast 1 package
1 1/3 cups water warm
3/4 cup parmesan cheese grated
1 jalapeno diced (leaving about 6 slices for topping) ** see notes
Instructions
First Rise
Add all of the ingredients (and 1/2 cup of the parmesan cheese, and only the diced pieces of the jalapeno) to a mixing bowl and stir together. The dough will be sticky and shaggy. That's exactly how it's supposed to be.

Cover the bowl with a towel and let rise in a warm spot for 60 minutes. I used the proof setting on my oven, if you don't have that setting you can turn on your oven, and set it on your stove so it has a warm place to rise. OR you can set it near your warm air vents.
Shaping the bread
Lay out a piece of parchment paper and dust it with flour. Transfer the dough from the bowl to the paper and behind shaping it. You'll want to stretch out each side and fold it over and work around until you have it in the shape of a ball. (Don't worry you can't mess this up).

Flip it over to where the smooth side is up. Cover with the towel and let it rise for roughly 20 minutes (or until the dutch oven is read in the next step.
Heating the dutch oven
Place the dutch oven in the oven without the lid. Preheat your oven to 450F and let it come to temperature. Your bread will rise while your dutch oven heats up.
Baking the bread
Using oven mitts, take the dutch oven out of your oven and place it on top of the stove. Lift the bread using the parchment paper and transfer it to the dutch oven. Score the bread to let steam escape while it bakes. You can do this by taking a knife and slicing it about 1 inch deep. Add the sliced rings of jalapeno.

Cover with the lid and place it to the oven. Bake for 30 minutes. At this point it won't be very brown, take it out and scatter the 1/4 cup of parmesan cheese you have left over top. Place it back in the oven without the lid for another 10 minutes, or until the color of your liking.

Remove from the oven and lift the bread out of the dutch oven using the parchment paper. Let cool for at least 30 minutes.
Notes
If you want a mild bread, remove ribs and seeds. If you would like even more of a kick, add two peppers.
Nutrition
Serving: 1slice | Calories: 223kcal | Carbohydrates: 38g | Protein: 10g | Fat: 3g | Saturated Fat: 2g | Cholesterol: 6mg | Sodium: 734mg | Potassium: 95mg | Fiber: 2g | Sugar: 1g | Vitamin A: 92IU | Vitamin C: 2mg | Calcium: 118mg | Iron: 2mg
Follow On Pinterest
Follow @bewitchinkitchen On Pinterest for more delicious recipes!