Hamburger Soup
Hamburger soup has always been a favorite soup of mine, mostly because it's so simple. Each time I make it the recipe changes a little bit, usually because I like to use up whatever I can that's sitting in my fridge.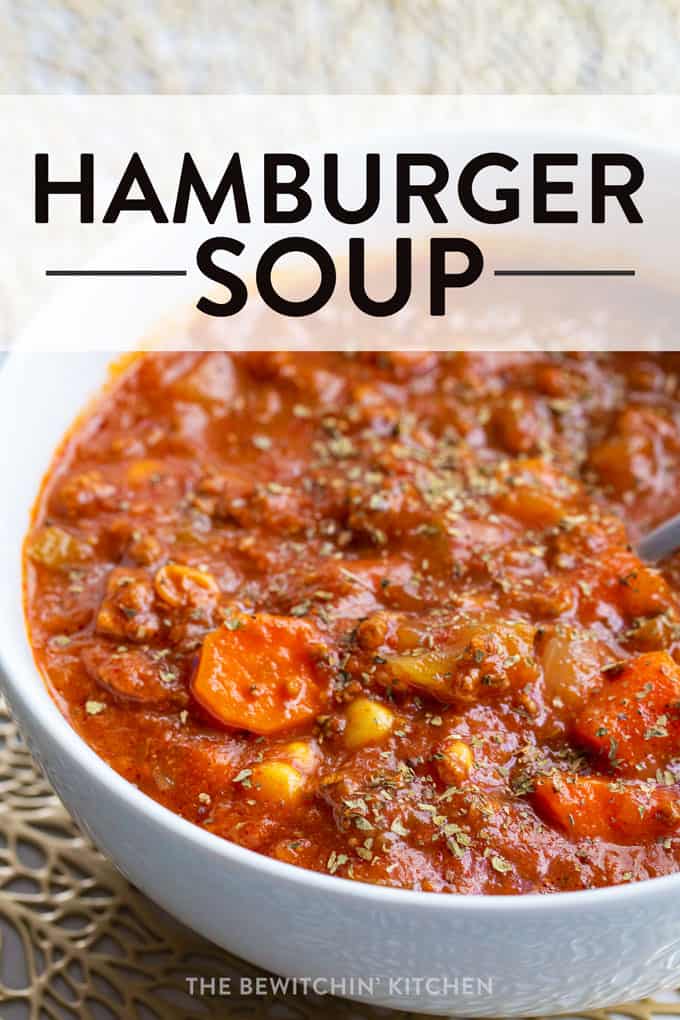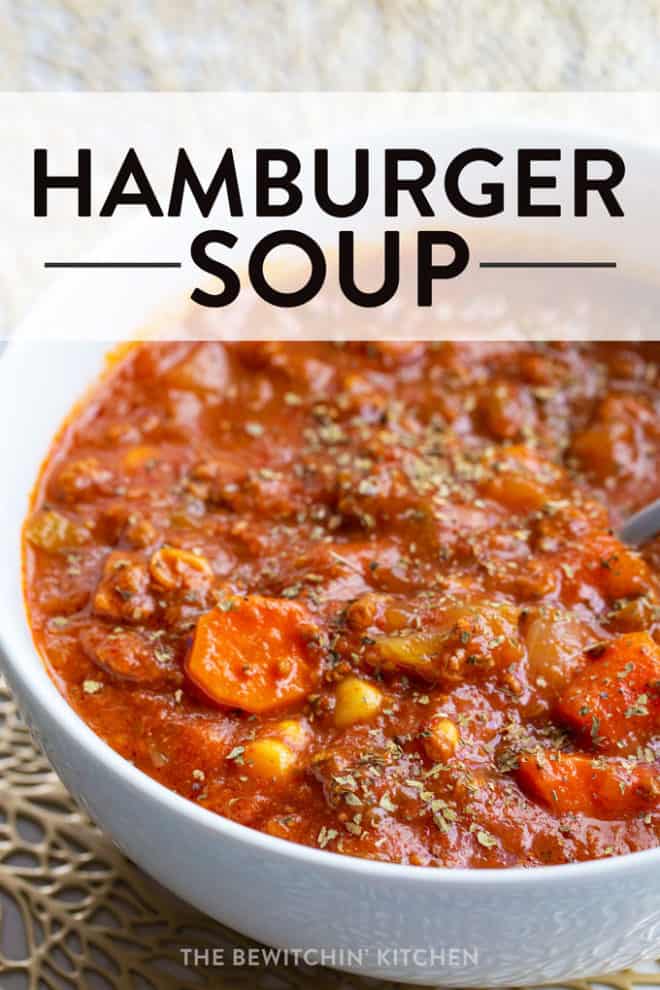 Hamburger Soup
Disclosure: This post contains affiliate links for your convenience. As an Amazon Associate, I earn from qualifying purchases.
This recipe was originally published on September 2015. I have recently revamped this recipe, enjoy!
You may as well name it leftover soup since it's the perfect fridge clean out recipe.
My favorite time of year to make this soup is either in the fall or winter. This hearty soup is a great way to warm up after a brisk walk in autumn or a day of sledding in the winter season.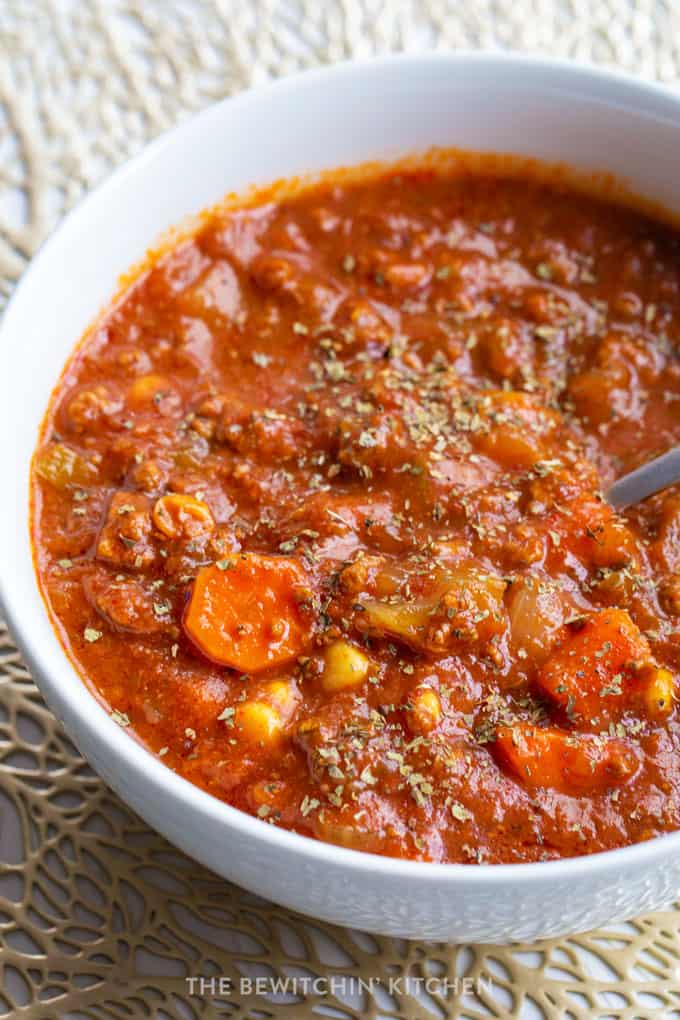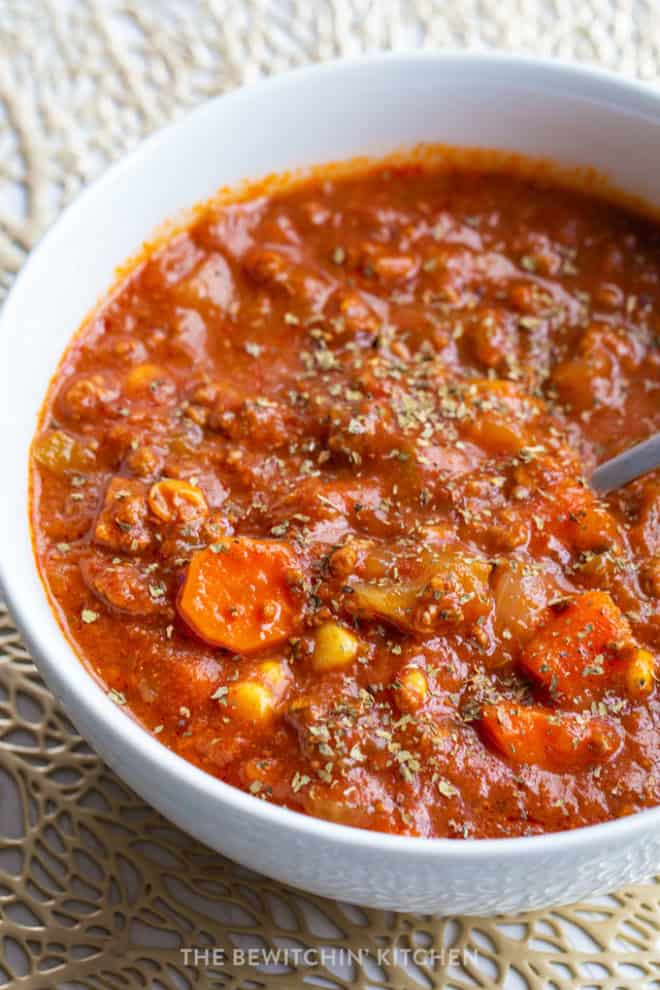 However, the last time I made it was last week in mid July. That's what's so great about this soup is that whenever the craving hits, it doesn't take long to whip up.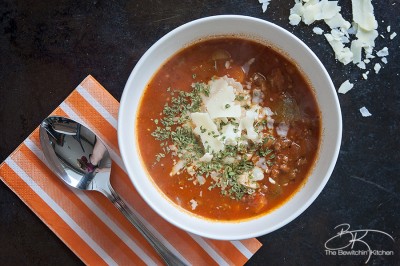 The last time I made this soup, I decided I wanted to blog about it, and wrote down everything I did.
It turned out to be one of the better hamburger soup recipes I have made and I used a lot less ingredients – so win win there! I probably used a lot more garlic than I said in the recipe below, I buy pre-minced garlic from Costco (like this one) and usually just spoon it in (I love garlic).
What to put in Hamburger Soup
Hamburger soup ingredients:
Ground beef
Onion
Carrots
Celery
Green pepper
Crushed Tomatoes
Beef broth
Spices of choice: oregano, rosemary, thyme, etc
Bay leaves
Red pepper flakes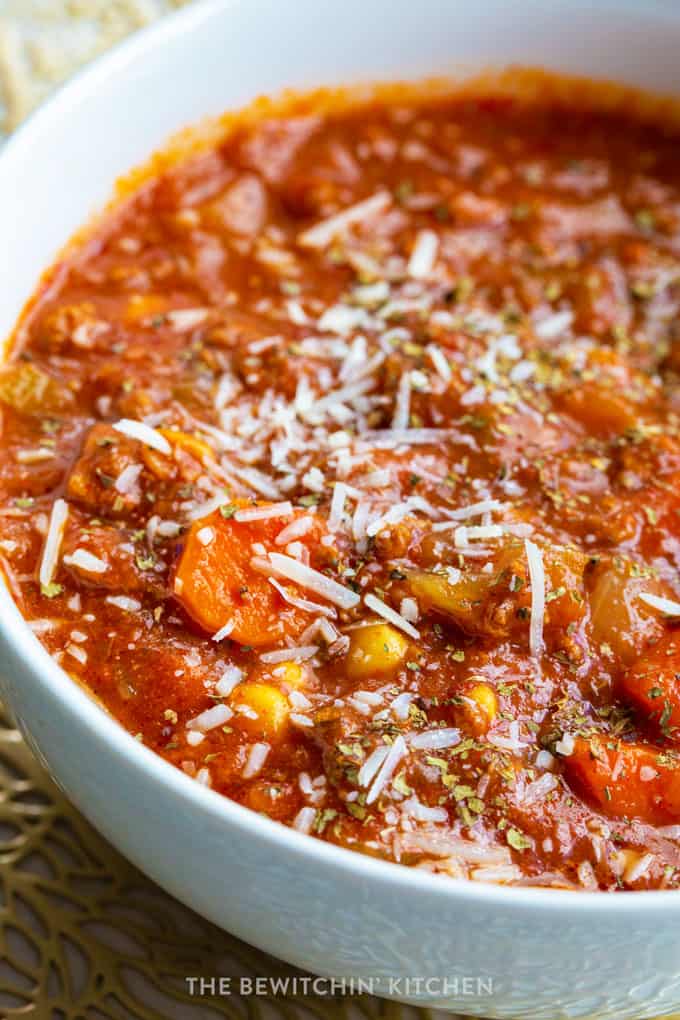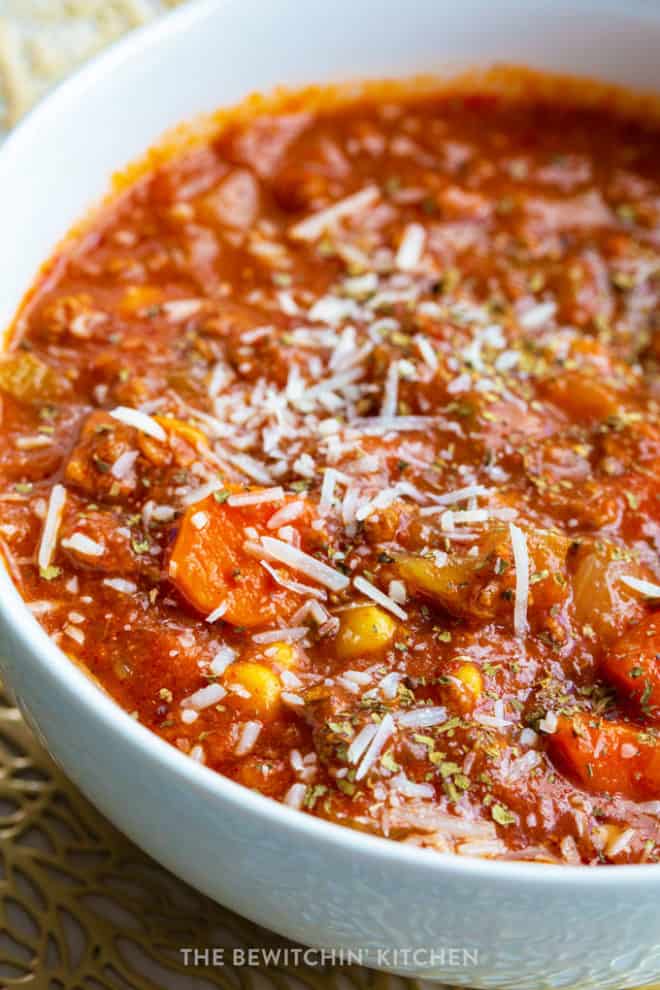 I'm a huge fan of parmesan, I put it on everything (like this recipe for the best spaghetti sauce ever) and this soup is no different. Just try it, I promise you'll love it.
Is Hamburger Soup Healthy?
Absolutely.
As long as the ingredients added are whole foods, yes hamburger soup is healthy.
Can you make hamburger soup without noodles?
I never make hamburger soup with pasta. I know a lot of people like to add macaroni, but I'm more of a hearty vegetable and meat kind of a person.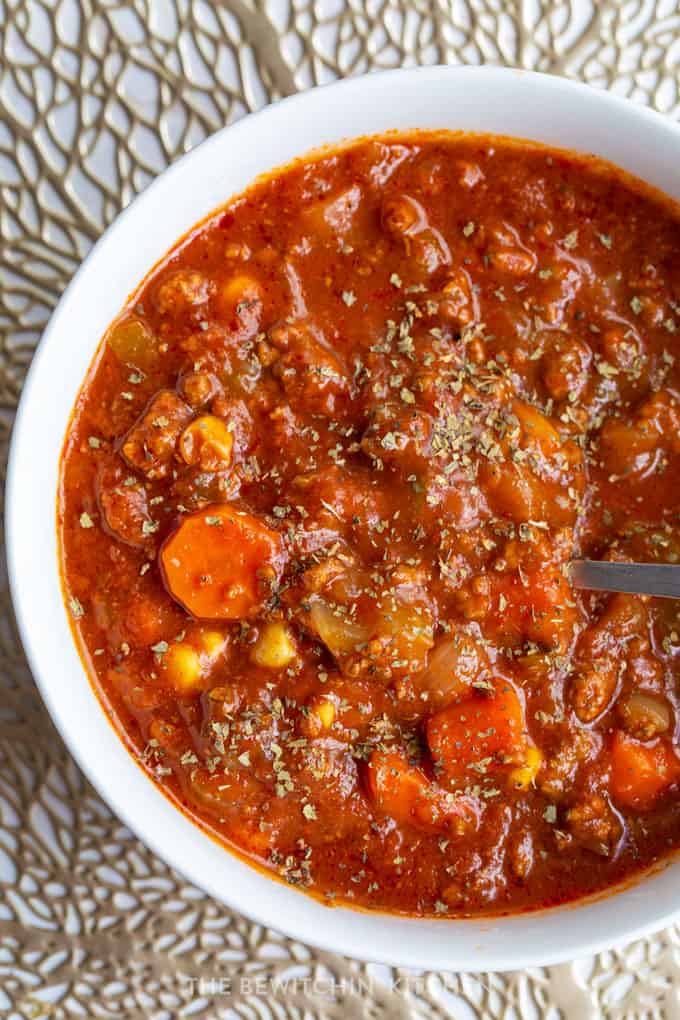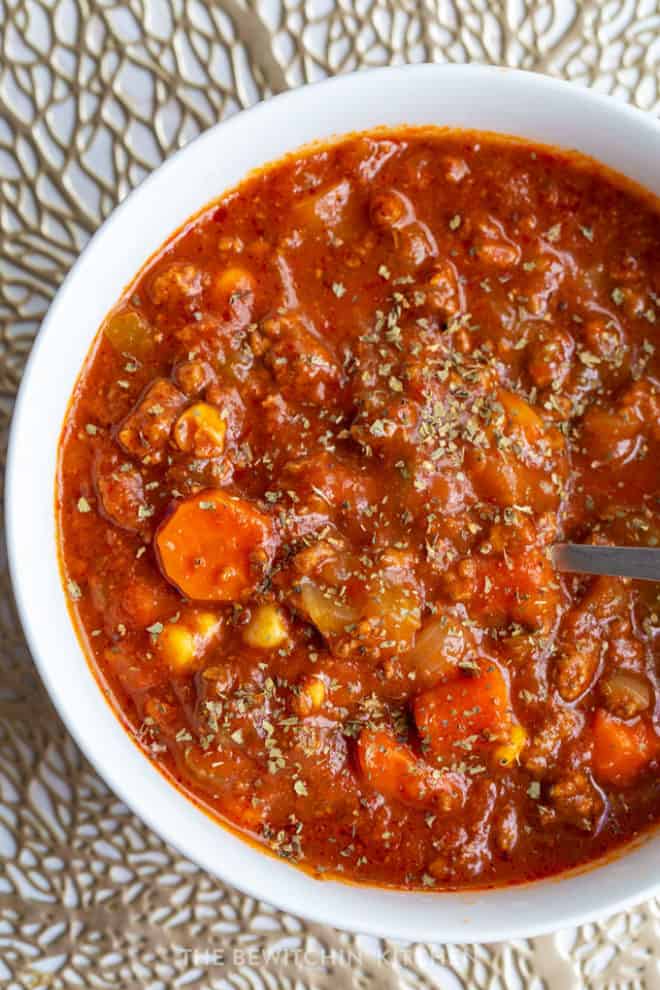 Is Hamburger Soup Whole 30?
Whole30'ers if you drop the parmesan cheese, this hamburger soup recipe is Whole30 compliant (along with paleo too).
Simply follow the compliant recommendations. This last set I made had corn (which is not Whole30) so just adjust your ingredients to make it fit your diet and lifestyle.
21 Day Fix Hamburger Soup
By popular demand, I am now offering the container counts for the Ultimate Portion Fix. I'll be slowly updating all my recipes so you can use my recipes for Beachbody programs like 21 Day Fix, 80 Day Obsession, Liift4, and more.
Here are the counts for this creamy scallops recipe:
The full recipe has 10 greens and 4 reds.
For 1/8th of this recipe: 1 1/4 green, 1/2 red.
How to make hamburger soup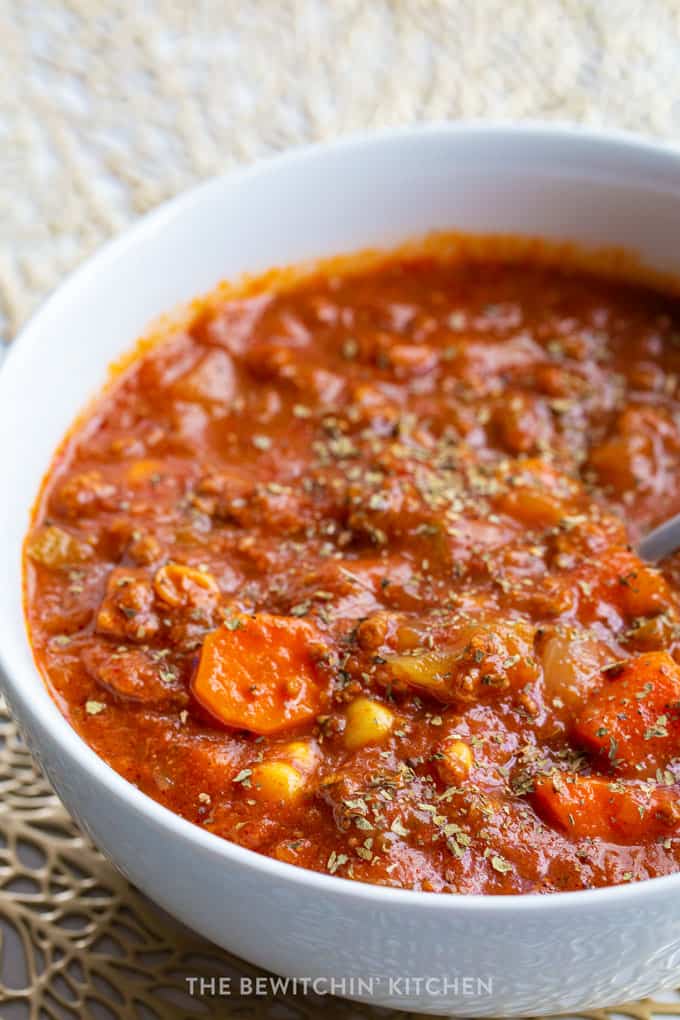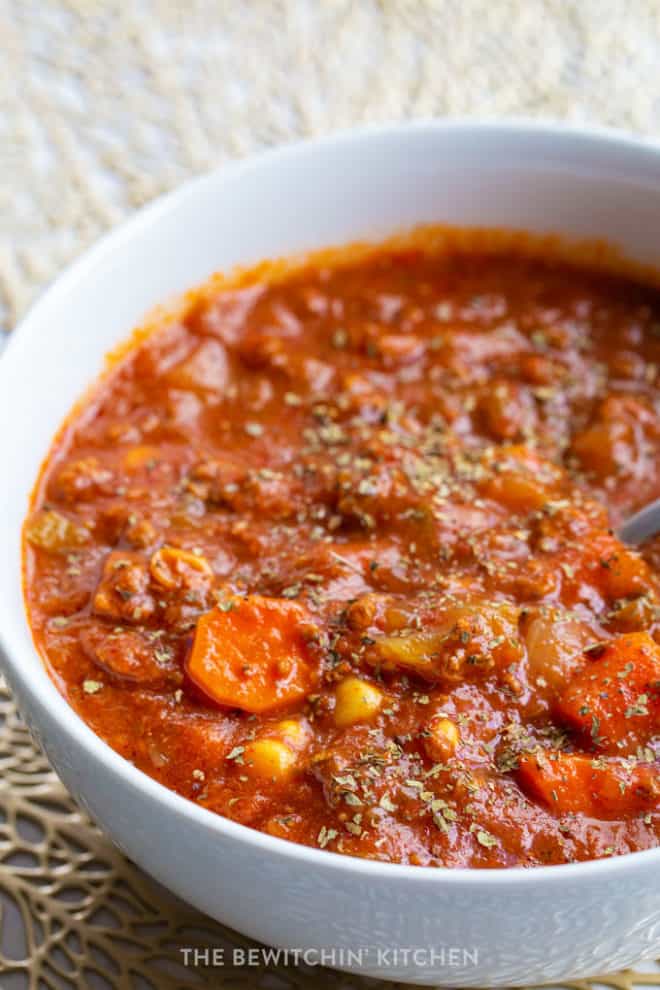 Whipping up hamburger soup is so simple. I like to make it on the stove (there is something about the smell as it simmers, pure comfort) but you can totally do this in the slow cooker, Ninja Foodi, or Instant Pot.
More amazing soup recipes:
There are no set rules on what to put in hamburger soup, so use this recipe as a base and add what you have on hand to make it your own.
Hamburger Soup
Servings 8 people
Calories 146kcal
Ingredients
1 lb lean ground beef
1 green pepper diced
1 onion diced
4 carrots peeled and sliced
4 celery stalks sliced
2 garlic cloves minced
28 oz crushed tomatoes canned
4 cups beef broth
1 tbsp oregano
2 bay leaves
1 tsp sea salt
1 tsp pepper
1/2 tsp red pepper flakes
Parmesan cheese optional
Instructions
Over medium heat scramble fry the beef until almost done.

Add the green peppers, onion, carrots and celery and saute it with the beef until no longer pink. Drain excess fat.

Bring the pot back to the burner and add the rest of the ingredients.

Bring to a boil, cover and reduce heat to a simmer. Simmer for at least an hour.

Serve with parmesan cheese if desired.
Notes
21 Day Fix Hamburger Soup
The full recipe has 10 greens and 4 reds.
For 1/8th of this recipe: 1 1/4 green, 1/2 red.
Nutrition
Serving: 1serving | Calories: 146kcal | Carbohydrates: 14g | Protein: 16g | Fat: 4g | Saturated Fat: 2g | Cholesterol: 35mg | Sodium: 946mg | Potassium: 755mg | Fiber: 4g | Sugar: 7g | Vitamin A: 5501IU | Vitamin C: 25mg | Calcium: 80mg | Iron: 3mg
Follow On Pinterest
Follow @bewitchinkitchen On Pinterest for more delicious recipes!
What's your favorite comfort food?