Pan Seared Scallops with White Wine Sauce
This recipe for creamy pan seared scallops with a white wine garlic cream sauce is perfect for unexpected guests or an indulgent weeknight meal. Seared to perfection and coated in a simple pan sauce, these garlic scallops are ready in just minutes! Serve with asparagus, rice, or pasta for a simple, easy dinner.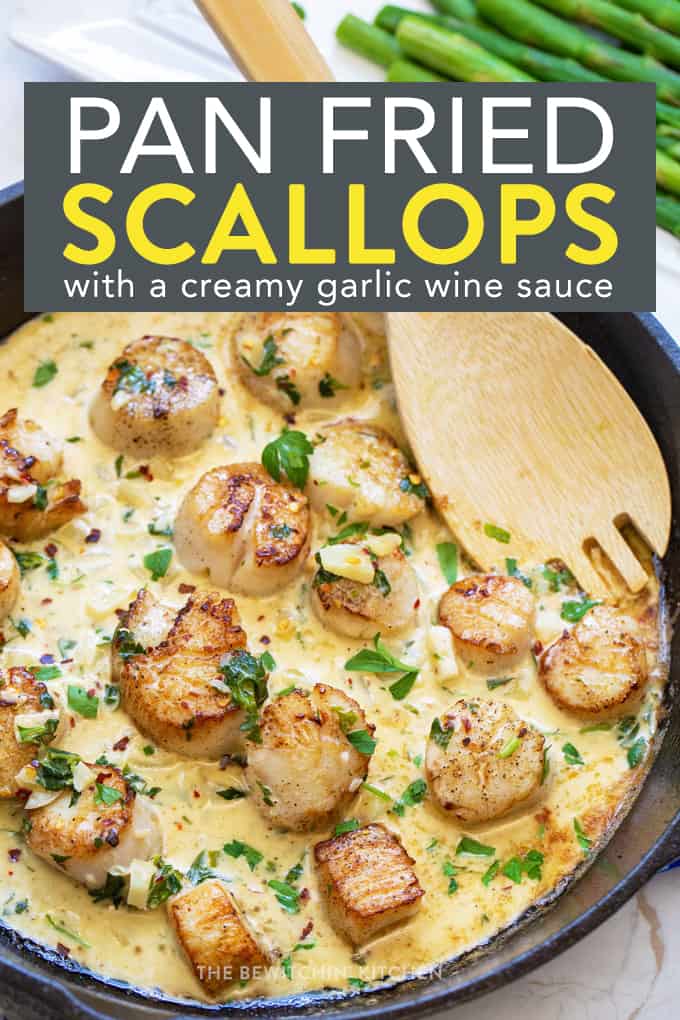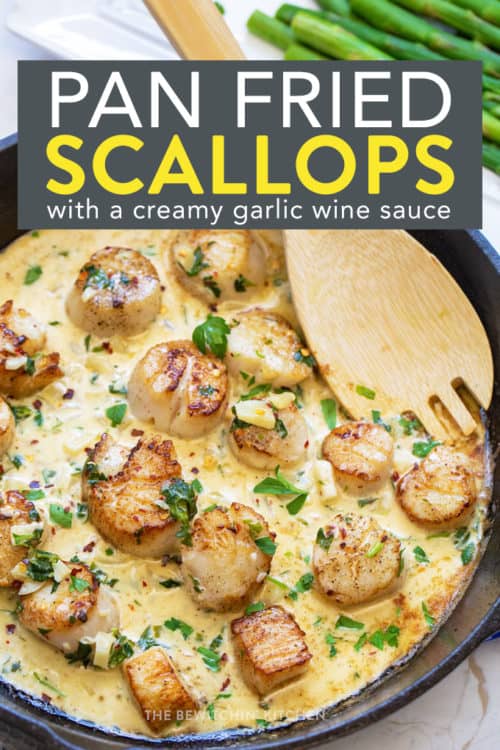 Seared Scallops with White Wine Garlic Cream Sauce
Growing up, a seafood dinner was always a special event. Bacon wrapped scallops, crab, shrimp, prawns — all the good stuff would be served up during Christmas Eve or a special get together with family and friends.
Now that I'm grown and in control of my own meal plans, I like to treat myself to scallops once a month (hello, surf and turf Fridays).
I usually serve up scallops on their own, as buttery garlic scallops, or wrapped with bacon, but I wanted to try something a little different for this blog post: a white wine garlic cream sauce.
Why you will love this pan seared scallops recipe
Ready in no time – less than 15 minutes, from start to finish
Impressive flavor – your guests will have no idea how easy it was to make
Short ingredient list – scallops and cream, plus wine and pantry staples
No fancy tools needed – just a skillet and a saucepan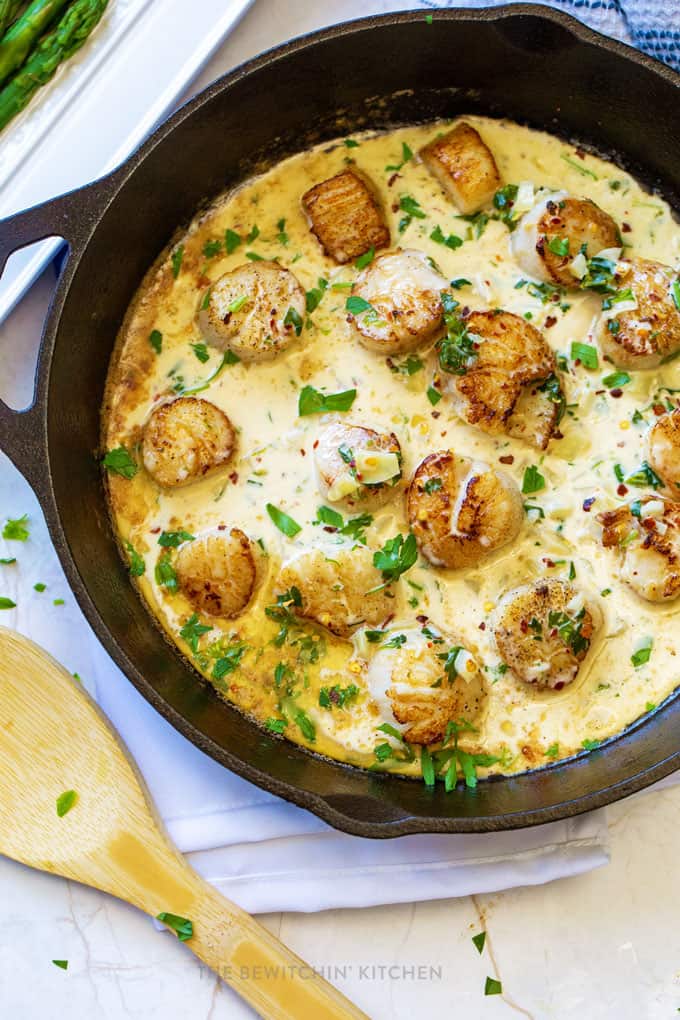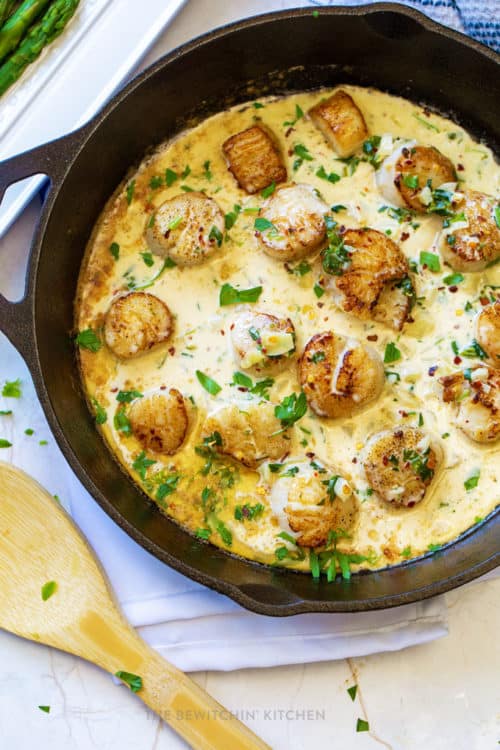 How to Sear the Perfect Garlic Scallops with Wine Sauce
Scallops are super quick to cook. They're perfect for those nights where you know you don't have a lot of time (like when you have hockey and gymnastics back to back). Add a simple pan sauce and your favorite side, and dinner is served!
Prep the scallops
There are a few steps to take before you get cooking to ensure that your wine scallops come out perfectly seared and tender.
Thaw slowly. You can use either fresh or frozen for this creamy scallops recipe. If frozen, thaw in the refrigerator (ideally overnight) for best results.
Halve if needed. If any scallops are particularly large, feel free to slice them in half widthwise (so each piece is still circular). It's easier to cook each batch if all of the pieces are similar in size and shape.
Bring to room temperature. Let the seafood rest on the counter for 20-30 minutes first. This will ensure even cooking throughout, without any cold spots in the center.
Always pat dry. Rinse scallops, then dry both sides with a paper towel before adding the seasoning. If they are still wet, the garlic scallops won't brown properly when seared.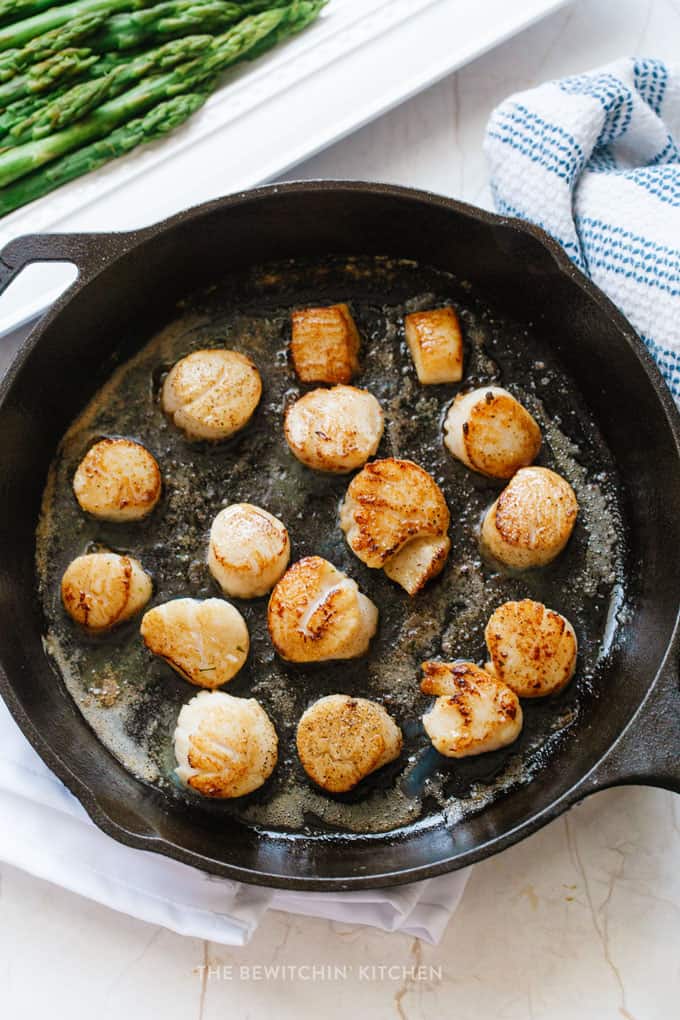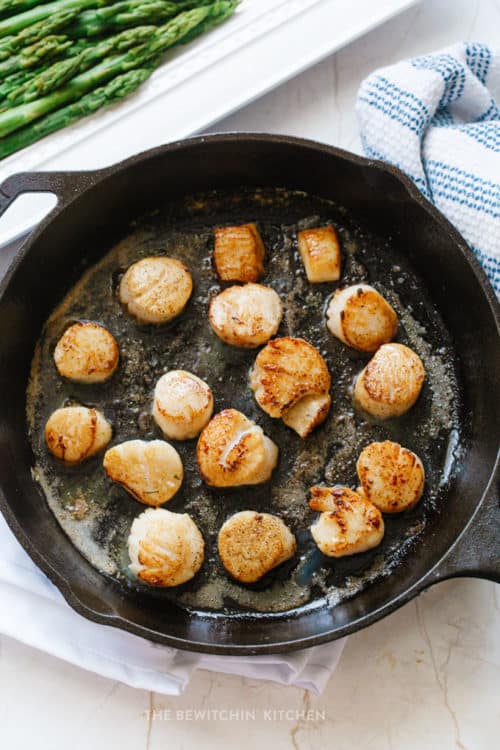 Make the sauce first
Because the white wine garlic cream sauce takes longer than the seafood, you'll want to have it ready and waiting!
If you are skilled at multitasking, your best bet would be to sear the wine scallops while the cream sauce thickens. That way, everything is hot and ready to serve at the same time!
Don't stress – it's just as easy to work on one at a time. The sauce will hold since the seafood cooks in mere minutes.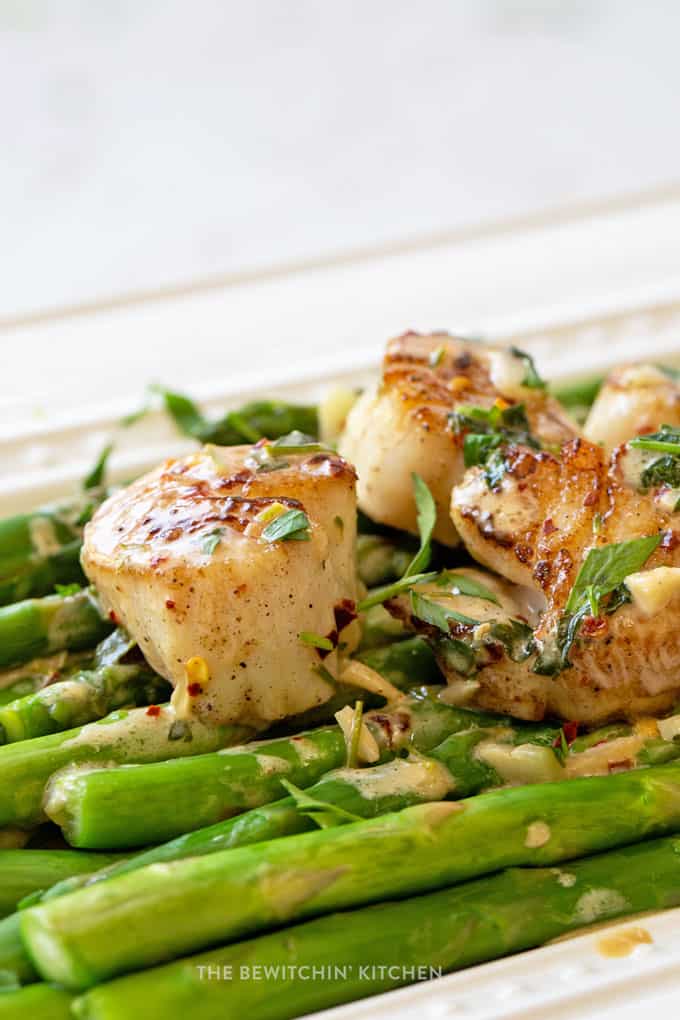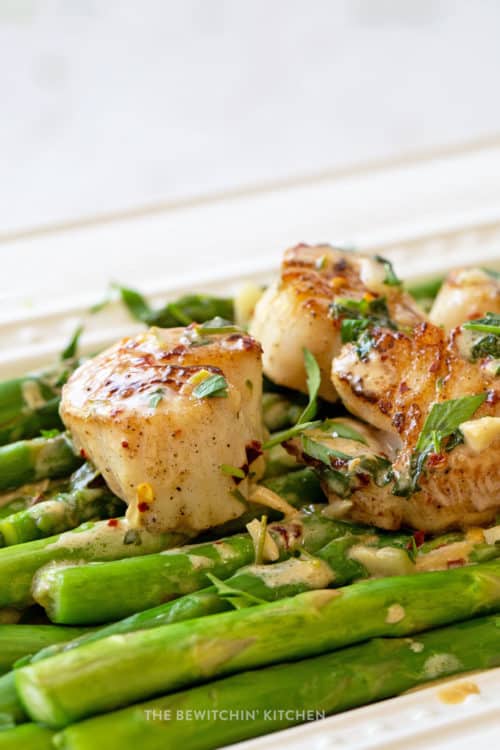 Look for the MSC Certified logo
When shopping for scallops (or any seafood) it's important to look for the MSC Certified Logo.
The MSC Certified Logo means that the seafood you're buying is certified sustainable seafood by the Marine Stewardship Council. Find out more at the Marine Stewardship Council website.
What does this mean?
It helps protect fish stocks for the future.
You can find MSC Certified Logo seafood at grocery stores around the country in fresh, frozen, or canned varieties. I personally found the scallops for this recipe at Walmart but you can find more at Loblaws, Whole Foods Markets, Costco, Sobeys, and other retailers.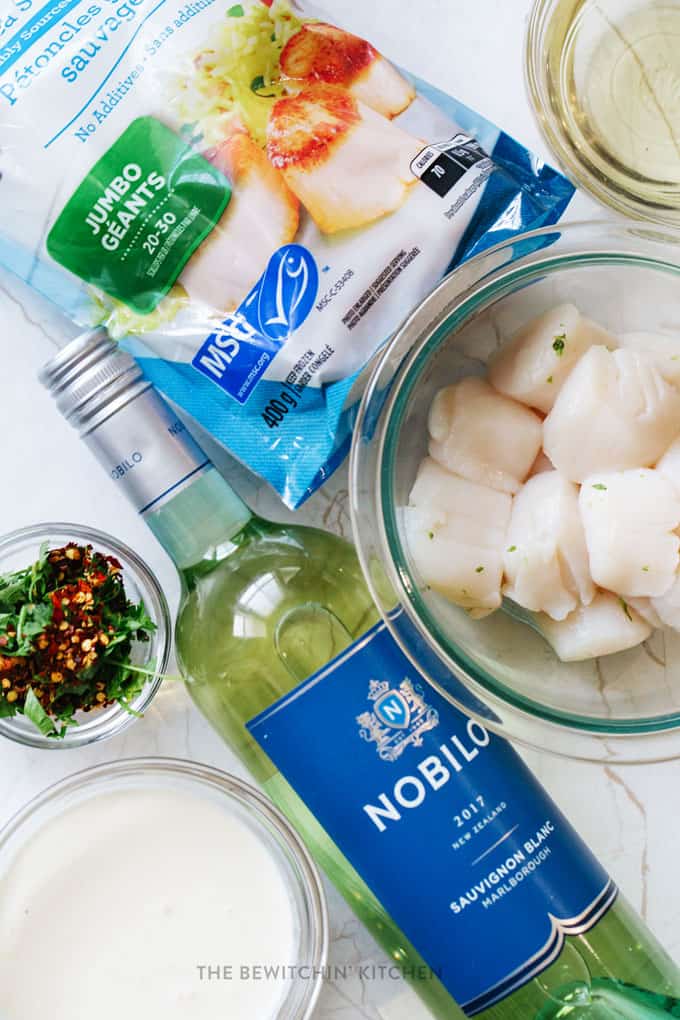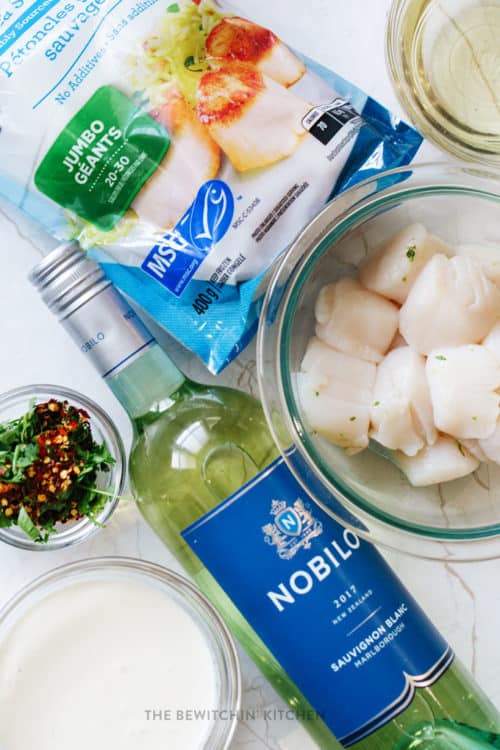 Frequently Asked Questions about White Wine Scallops
What is the secret to cooking scallops?
Surprisingly, less is actually more when preparing this delicate seafood! Keep the seasonings light, then sear for just a minute or two on each side. It's also important to pat dry scallops before searing them in hot butter or oil. Extra moisture will prevent them from getting that gorgeous caramelization on the surface.
Avoid overcooking or they will turn out tough and rubbery. Perfectly seared scallops should be browned on both sides and tender in the center.
What to serve with creamy garlic scallops?
I love to pair this recipe with Garlic Roasted Asparagus or my Three Pepper Salad. Creamy garlic scallops would also be delicious over a bed of pasta or rice to soak up all of that delicious pan sauce!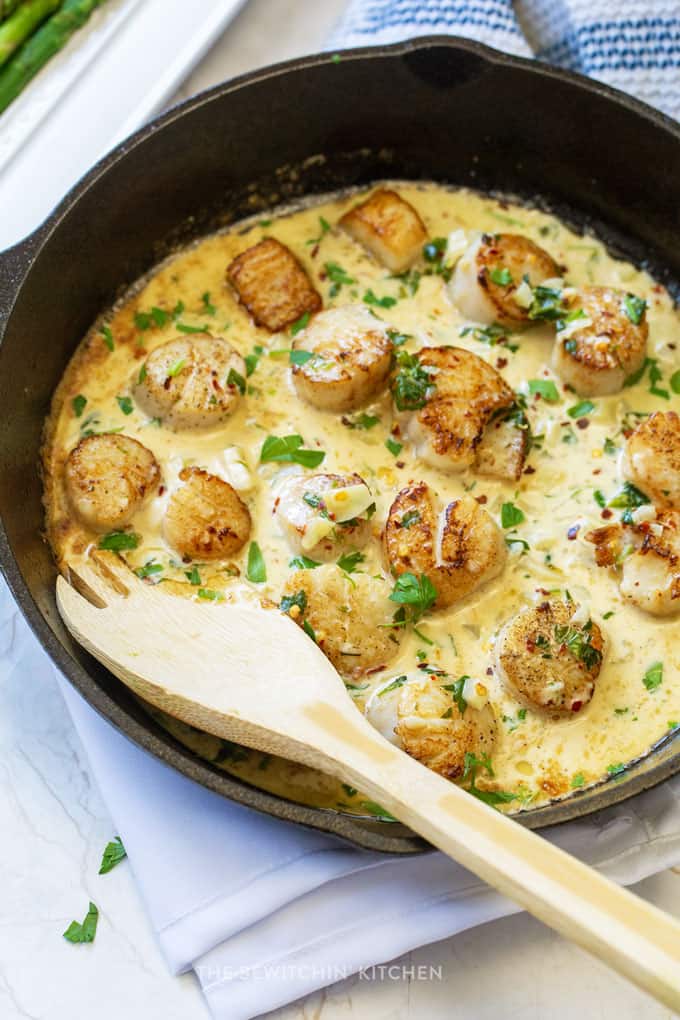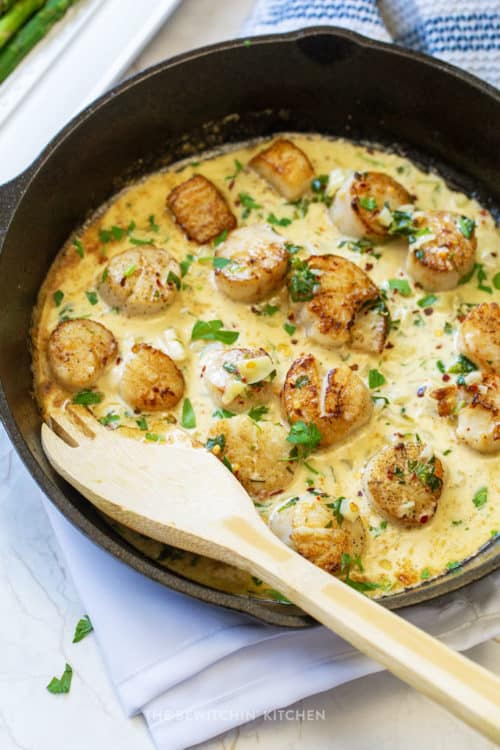 What is the best white wine for garlic cream sauce?
I used a Sauvignon Blanc by Nibilo. It paired beautifully with the creamy scallops and added a little something extra to the sauce.
This wine itself is from New Zealand and offers a fresh, crisp pairing with seafood. It's refreshing with some citrus and tropical fruit flavors. The perfect wine for summer.
Nobilo's Sauvignon Blanc is proudly certified by Sustainable Winegrowing New Zealand and it's easily available here in Canada.
Find it at the New Zealand section at retailers across Canada (LCBO, Sobey's, Loblaws, BC Liquor Stores, and some private retailers.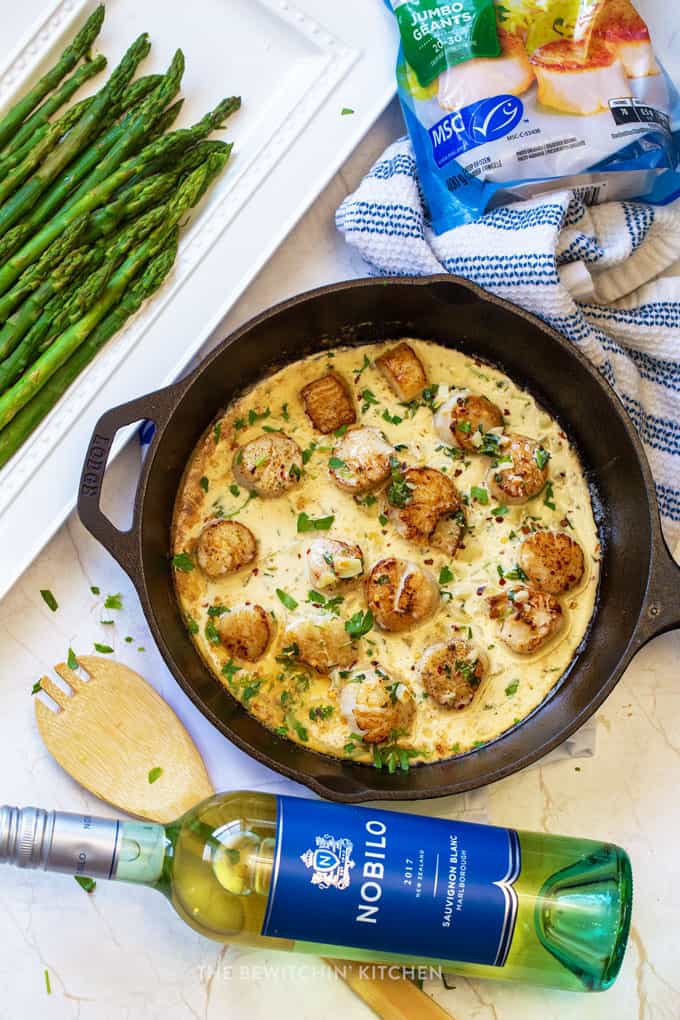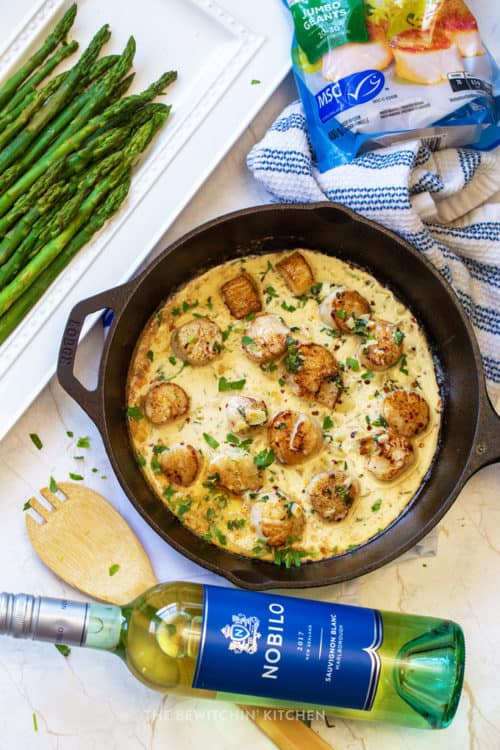 Simple ingredients and excellent crisp wine bring this dish together. I'd like to thank Nobilo Wines and the MSC for bringing the best of land and sea to my kitchen.
Not only did my family and I get to enjoy an incredible meal, but I also received the peace of mind of knowing that my dinner came from sustainable practices. It's a win-win!
More easy seafood recipes:
Pan Seared Scallops with a Garlic White Wine Sauce
This recipe for Pan Seared scallops with a white wine garlic cream sauce is perfect for unexpected guests or an indulgent weeknight meal.
Servings 4 people
Calories 395kcal
Ingredients
2 tbsps butter
4 cloves garlic large
1/2 cup Nobilo White Wine I used sauvignon blanc
3 tbsps chopped, fresh parsley
1/2 tsp red pepper flakes
1/2 cup heavy cream
1 tbsp butter
1 tbsp olive oil
2 lbs MSC Certified sea scallops look for the MSC blue fish label
salt and pepper
Instructions
For the cream sauce
In a medium sauce pan, over medium heat add the butter and garlic. Saute for about 1-2 minutes or just right before the garlic begins to brown.

Deglaze with the wine, turn heat to medium and reduce until half the liquid is gone.

Add the parsley, red pepper flakes, and cream. Turn the heat to low and simmer until the cream thickens. About 4-6 minutes. Set aside while you cook the scallops.
For the scallops
Rinse the scallops, pat with a paper towel until dry and season both sides with a little sea salt and pepper.

In a cast iron pan, over medium high heat, heat the butter and olive oil for a minute or two (or until the pan sizzles when you add a drop or two of water).

Add the scallops, careful not to overcrowd the pan, and cook until opaque. This is takes about two minutes on each side (depending on the size of scallop.

Pour the garlic cream sauce over the scallops and serve.
Notes
Serve with asparagus, rice, or pasta.  
Nutrition
Serving: 1serving | Calories: 395kcal | Carbohydrates: 10g | Protein: 28g | Fat: 24g | Saturated Fat: 13g | Polyunsaturated Fat: 1g | Monounsaturated Fat: 8g | Trans Fat: 1g | Cholesterol: 118mg | Sodium: 1563mg | Potassium: 528mg | Fiber: 1g | Sugar: 1g | Vitamin A: 781IU | Vitamin C: 1mg | Calcium: 45mg | Iron: 1mg
Follow On Pinterest
Follow @bewitchinkitchen On Pinterest for more delicious recipes!