Riu Palace Pacifico in the Riviera Nayarit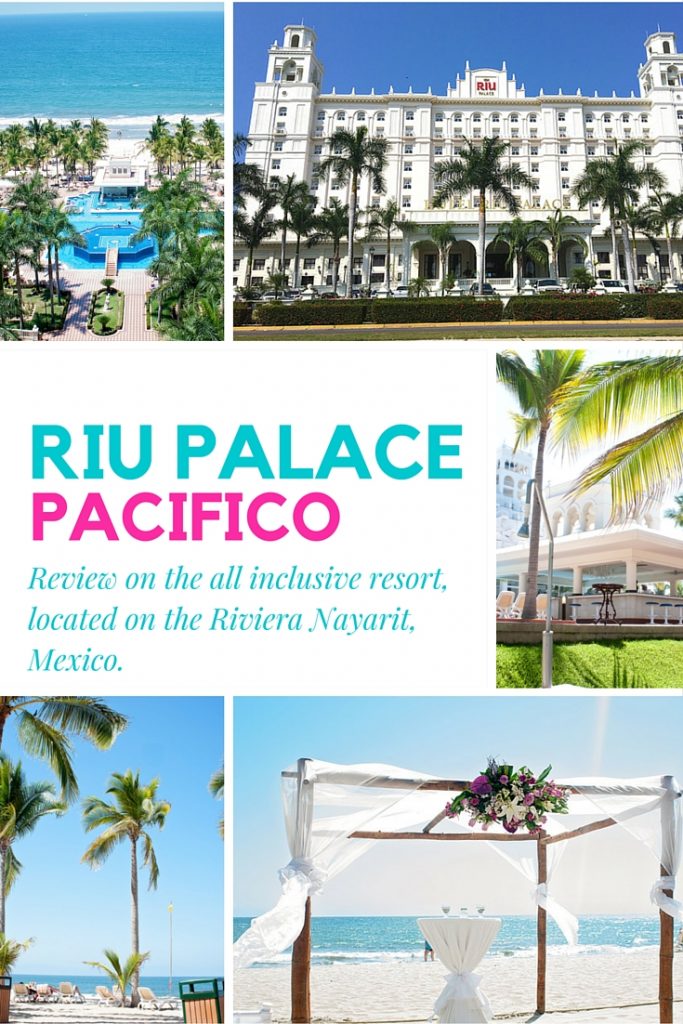 I'm back from my first all-inclusive vacation and my first trip to Mexico. We stayed at the Riu Palace Pacifico located in the Riviera Nayarit.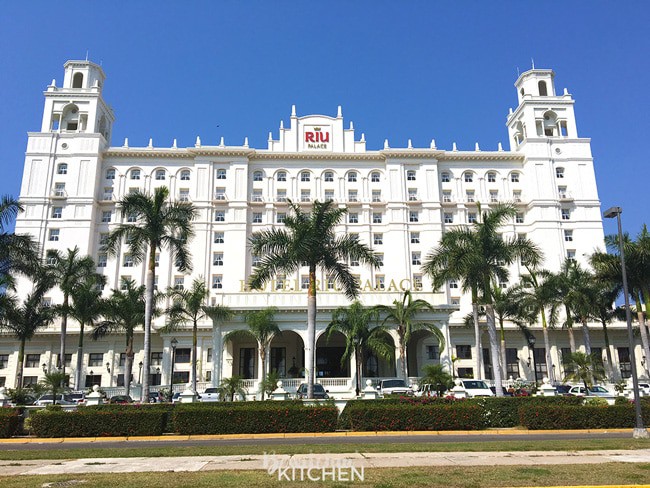 My first impression, as we rolled up the Riu Palace Pacifico, was that it was grand. Immediately upon arrival, we were greeted by the friendly staff and pampered from the get-go. Checking in, we sipped on tropical mocktails and were given our bracelets, information about the resort, and answered any questions we had.
Everyone at the Riu Palace Pacifico was incredibly friendly and did everything they could to ensure that we had an amazing vacation. Even when I showed up with my little injury from a zip lining tour, I was approached often asking if there was anything they could do. Incredible hospitality, I have never been treated like that before.
Riu Palace Pacifico: The Room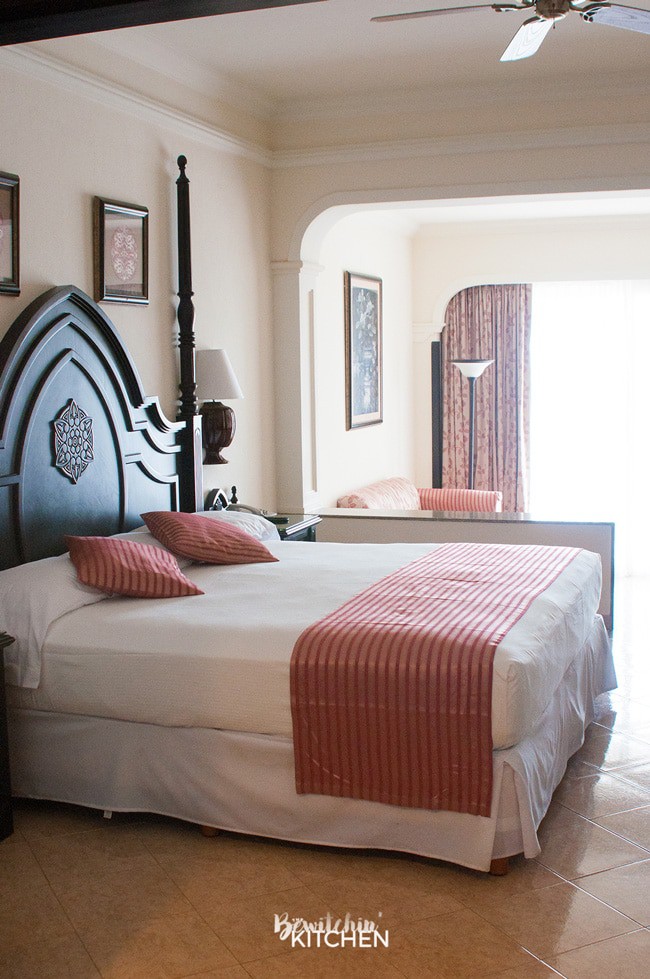 Our room was the junior suite, with the sea view. The room was bigger than the average hotel room and it was very clean (my number one concern). Since I had never been to an all-inclusive before, I had nothing to compare it to but someone I was travelling with said that it's one of the better one's she's been in.
Our room included our king size bed, a sofa, dining table, large bathroom with jetted tub, a fully-stocked fridge and bar and a balcony with a stunning view.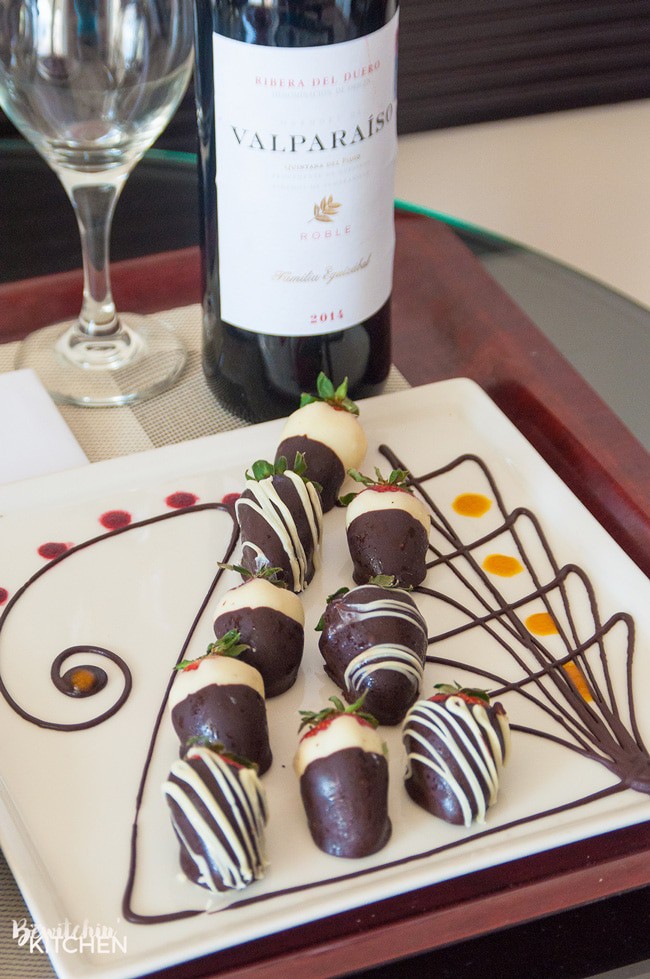 When we arrived, we were surprised with a welcoming letter, chocolate covered strawberries, a dried meat platter, two bottles of wine, a bottle of sparkling wine and a raspberry and chocolate truffle platter. As I said before, the hospitality at the Riu Palace Pacifico is incredible. The chocolate covered strawberries didn't last long.
Housekeeping came twice a day (morning and night), and sometimes I think three times a day. In addition to housekeeping, people came in the evening to restock the bar. However, if we weren't there to ask for more water, we didn't get any. If that happens, just call down to the front desk and they'll take care of you.
Riu Palace Pacifico: The Food
I wrote a Riu Palace Pacifico Dining Guide because my stomach is actually where my heart is, but here is a quick run-down:
There were two buffets: the one was open for breakfast and dinner (and had 6 buffets/stations),and La Toscana, which was open for a buffet at lunch (with a pasta bar).
There were four a la carte's: Guacamole (Mexican), Krystal (fusion), La Toscana (steakhouse for dinner service), and Kyoto (Japanese).
At about 1-2, near the pool, there was a chef cooking BBQ and burritos.
Sports Bar, which was open 24/7 and was a place for late night snacks.
Room Service, the menu was a bit limited but still good for when you wanted a quick bit late at night.
The buffets were really good (so many desserts) and I loved Guacamole. I was very ill after eating at Krystal. The dinner was really good, but within an hour or two I was so sick. I couldn't figure out if it was something I ate, or if it was because I was eating a lot of food that I wasn't used to (deep-fried shrimp, on top of the other deep fried foods of the day).
Riu Palace Pacifico: The Property
The grounds at the Riu Palace Pacifico are incredible. The building itself is beautiful and I the fountains, statues and lush greenery gives the property a luxurious feeling. I tried to do a few Facebook lives during my stay of the pool, the lobby, and the grounds but the Wi-Fi isn't good at the resort. I didn't have a strong enough signal if I was outside my room. If you follow me on SnapChat (@RandaDerkson), I shared there.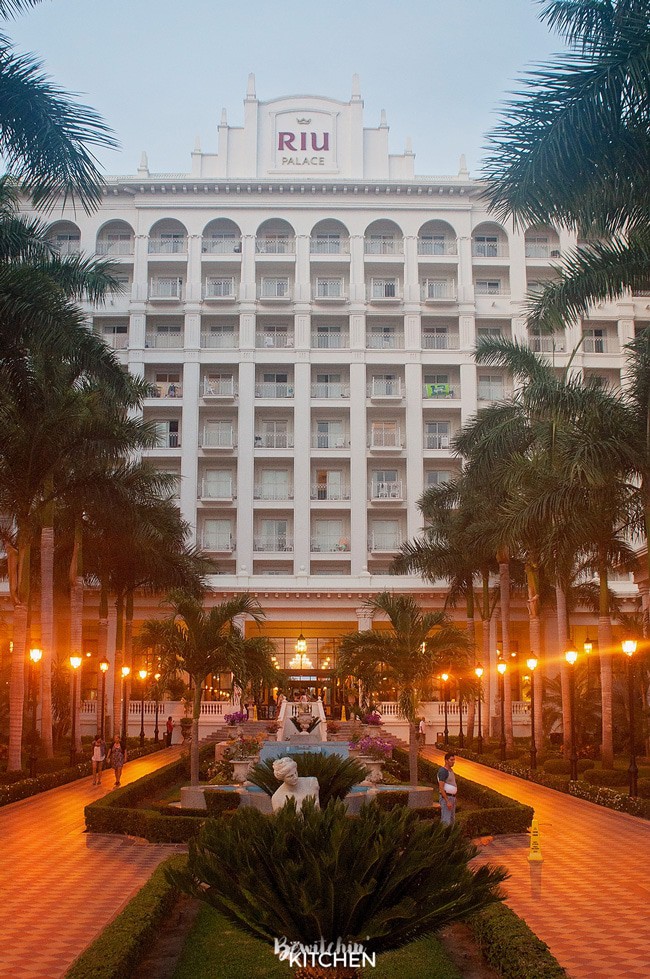 I loved the Riu Palace Pacifico at night. The lamp posts are all lit up and it's a beautiful place to take a walk with a loved one.
The pool is great, we spent a lot of our time in it. I loved The Marlin bar (swim-up bar) and if I was brave enough I would have joined in with everyone during the water aerobics and activities at the other end of the pool. The Riu has a group of people who come out, have fun and fire everyone up at the pool. We called them the fun squad. They were high energy and were really funny.
The only complaint I had about the Riu Palace was the smoking. Smoking is welcome on the grounds. Smoke makes me feel sick to my stomach and it was a little distracting when people would smoke near us while laying out by the pool (or in the pool). Most people followed the rules and didn't smoke on the patios at dinner, but every so often I would see a person sneak a puff (there were no smoking signs on that part of the resort).
Other than the smoking, the WiFi was a little annoying when I was trying to work. I wasn't able to, but my husband reminded me that I was on vacation and that the emails could wait. I'm glad I listened to his advice. I relaxed for the first time in years.
The Beach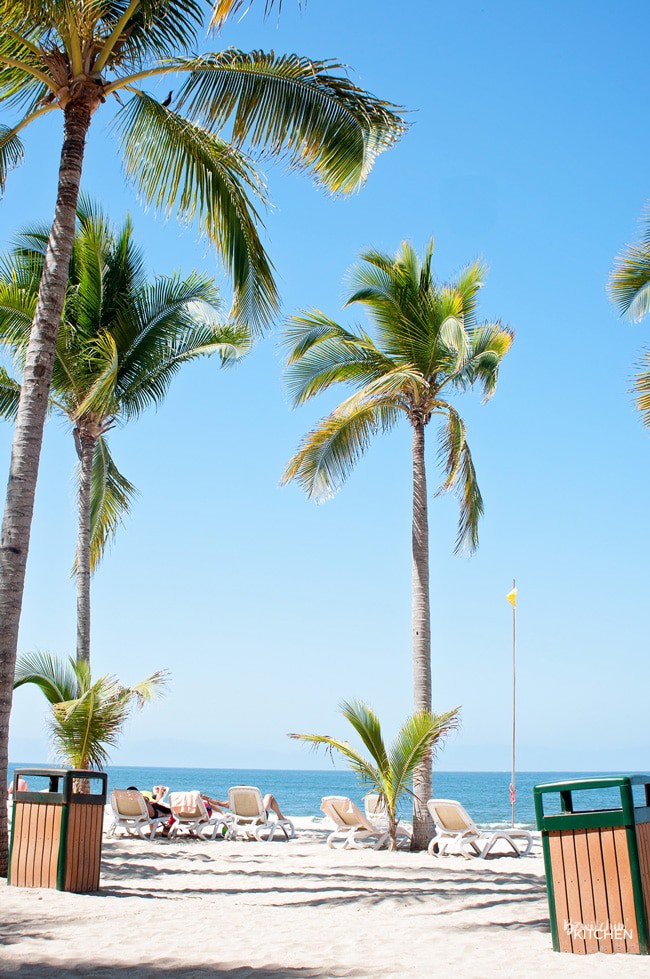 The beach at the Riu Palace is the nicest beach I have been on. Granted, I only have Hawaii to compare it to but it was so nice.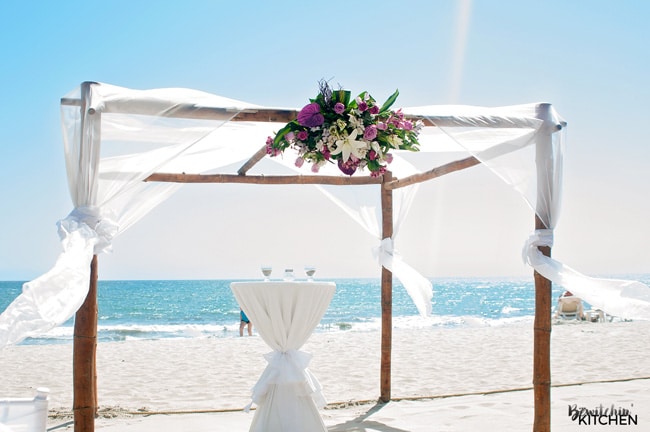 The reason we ventured to the Riveria Nayarit was because friends of ours were getting married and the ceremony was stunning on the beach. I love the wooden arches. If you're reading this and planning a wedding, keep in mind there will be people in the background of your images. I did my best to photoshop a few out of this photo, but since I don't have talent (or patience) for photoshop this is as good as it gets.
The sunsets were amazing there. I fully enjoyed walking at sunset down the beach, just don't step on a washed-up puffer fish (I almost did)!

With exception to getting sick at the end of the trip, both my husband and I had an amazing time in Mexico. When you save your money all year for a vacation, it can be scary picking a resort and I'm glad we went with the Riu Palace Pacifico. Multiple people in our group said they would go back if they came back to the Puerto Vallarta/Nuevo Vallarta area of Mexico.
Want to hear more perks about the Riu Palace? Here are my top 10 reasons to stay at the Riu Palace Pacifico.
To learn more about the Riu Palace Pacifico or to book your next vacation. Head to the Riu Palace Pacifico website.