Rowenta Silence Force Extreme Compact #haveyouheard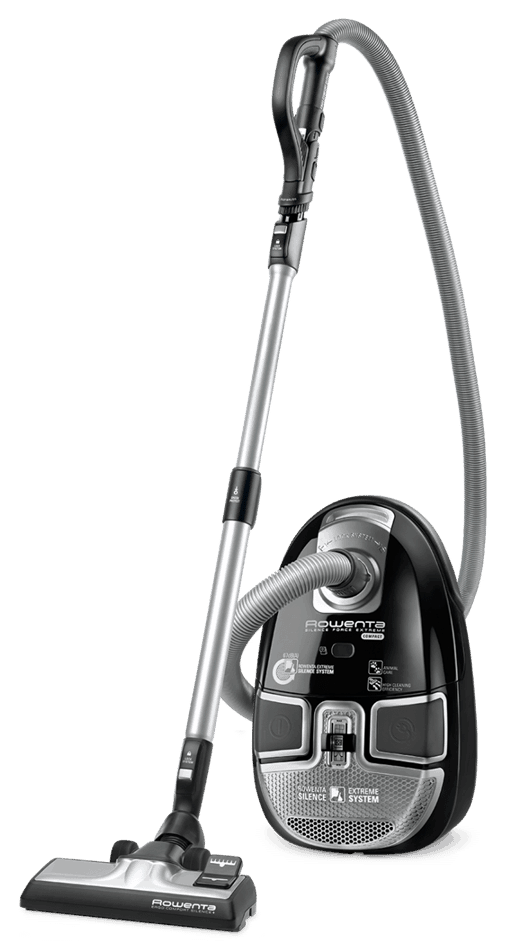 Have you heard of the Rowenta Silence Force Extreme? Before it showed up at my door, I hadn't and now I'm determined to let everyone know about this compact and powerful vacuum.
Update: I no longer recommend this vacuum. It lasted a year but then lost its mojo.
My vacuum broke down a couple of weeks ago, and I as much as I wanted to replace my beloved appliance I didn't have an extra $600-$700 laying around for the replacement model. My living room area rug needs to be done daily, and I wasn't too sure what to do.
Rowenta To The Rescue.
Rowenta is an established top brand in the floor care market in Europe and across the world, standing on the cutting edge of innovation, design and performance. Today that tradition of excellence continues with the Canadian release of the floor care range.
I received the Rowenta Silence Force Extreme Compact, and I was pretty impressed with all that was included:
Vacuum
Multi Floor Head
Maxi Turbo Brush
Delta Hard Floor Brush 
Integrated Easy brush dusting tool
Sofa Brush
Telescopic Crevice Tool (with on-board storage)
Includes 2 Wonderbag Allergy Care 
microfiber bags with 5 layers to filter out 
99% of particles*- additional bags sold separately – Holds up to 5L of dirt.
It's also really quiet. At just 65 decibels (similar to a loud conversation), I am able to vacuum my house and not have my son wake up from his nap. I have noticed the vacuum is a little louder when you use the turbo brush (which happens to be my favorite attachment) but it's still quieter then most.
Enough talk and let's get to some photos. Here is my area rug before using the Rowenta Silence Force Extreme:
You can see some lint, crumbs and dog fur (this is daily in my house with a pomeranian and toddler). The fact that the rug is dark, only makes it show up that much more. 
This was just after a few passes of the Silence Force Extreme Compact. Good as new!
The Rowenta Silence Force Extreme Compact has so much suction. I'm going to be honest, as excited as I was when I was opening up the box when the Rowenta arrived – I didn't have high hopes. I assumed it wouldn't be even in the same category as my Dyson and it was so small, so I didn't expect much power.
I was so wrong.
The vacuum has so much suction it lifts up my air intake vent, my Dyson has never done that!
Here is something really awesome. The vacuum nozzle design is so slim that it fits under my sofa. I no longer have to move my furniture every time I want to clean my floors. I have never had a vacuum with this feature before, it is so helpful and makes cleaning my house that much quicker.
It works on all floors, I use it on laminate, ceramic tile, area rug and carpet. I have also used the dusting tool (which is conveniently attached to the handle) on my easily scratch-able end tables with no negative effects.
I am so impressed with the Rowenta Silence Force Extreme Compact on every level (including it's compact design so it easily stores in my coat closet without taking much space). You can find the Rowenta floor care family is available at The Bay, Sears, Home Outfitters and Bed, Bath and Beyond, across Canada.