Saving Mr. Banks Now Available On Blu Ray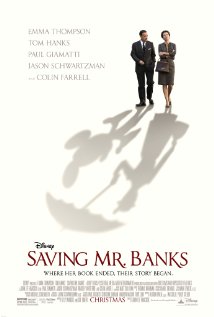 When I first heard about Saving Mr. Banks a few months ago, I knew I had to see it. Seeing it in the theatre was out of the question, so I waited until it was out on Blu Ray (which it now is).
What an amazing movie.
I'm usually not one to watch movies, while they play I am either on my iPhone or iPad. I "listen" to the movie and don't really pay attention. For this movie, all my electronics were put away, Saving Mr. Banks had my undivided attention. I was almost in tears the whole time, it was THAT good.
Saving Mr. Banks is the story about the making of Mary Poppins. Walt Disney promised his daughters that he would make a movie about their beloved novels by P.L Travers and (over the course of twenty years) makes good on his word. It wasn't without difficulty as P.L Travers puts up a hard front and doesn't like the idea of her treasured character going on the big screen.
Tom Hanks and Emma Thompson bring to life the untold true story about the origins of one of the most treasured Disney classics of all time. John Lee Hancock (The Blind Side) directs this acclaimed film, which reveals the surprising backstory behind the making of Mary Poppins.  Determined to fulfill a promise to his daughters, Walt Disney (Hanks) tries for twenty years to obtain the rights to author P.L. Travers' (Thompson) beloved book. Armed with his iconic creative vision, Walt pulls out all the stops, but the uncompromising Travers won't budge. Only when he reaches into his own complicated childhood does Walt discover the truth about the ghosts that haunt Travers, and together, the set Mary Poppins free.

On Blu-ray and Digital HD, Saving Mr. Banks sweeps viewers away with enchanting high definition picture and sound, plus delightful, never-before-seen bonus features, including "The Walt Disney Studios: From Poppins to Present," in which director John Lee Hancock takes viewers on an insider's tour of Disney Studios today and reflects on studio life during the creation of Mary Poppins. Additional bonus materials include "Let's Go Fly a Kite," in which the film's cast and crew sing an impromptu version of the iconic song on set during the last day of shooting, and deleted Scenes.
I'm so thrilled that I have added this new Disney classic to my collection.
Have you seen Saving Mr. Banks yet?