Schwarzkopf Repair Rescue Holiday Beauty Box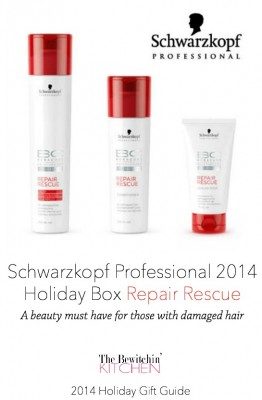 I'm not all that nice to my hair, and it shows. That's why I'm excited for the Schwarzkopf Repair Rescue Holiday Beauty Box.
In the past year my hair has had extensions, been lightened numerous times, curled, flat ironed, blow dried, and teased. Many of those things happening at once. Mix in the fact that I take thyroid hormones and that brings a recipe for dry, brittle hair that is read to snap in half. Thankfully I'm avoiding my hair completely breaking off thanks to products like Schwarzkopf Repair Rescue.
The secret of Repair Rescue lies in our highest concentration of breakthrough proteolipids, a powerful combination of a hydrolyzed keratin and a lipid component that restore the protective layer of virgin hair. While Amino Cell Rebuild, with Amino Acids and Panthenol, acts to perfect the cortex, rebuilding the architecture of the hair from the inside, restoring strength and elasticity, while adding vital moisture. Cell Perfector Technology provides additional care – repairing the hair by filling structural gaps, restoring elasticity, fortifying throughout and imparting deep shine into all hair types. – Schwarzkopf Professional website
In English terms: it uses proteins and fats to rebuild your hair, make it shiny and overall healthy.
Schwarzkopf Repair Rescue Holiday Beauty Box, What's Included: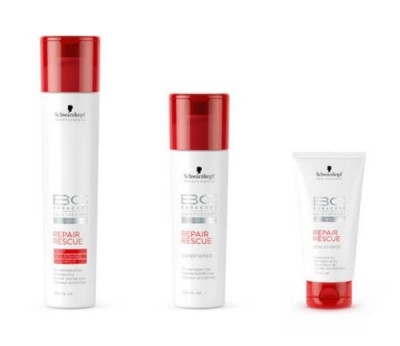 Deep Nourishing Shampoo 250 mL: An intensively caring shampoo for extremely damaged normal to thick hair.
Conditioner 200 mL: Intensive creamy conditioner for damaged hair.
Sealed Ends 75 mL: An intensive cream-serum for hair ends that seals and prevents splitting.
BC HAIRTHERAPY REPAIR RESCUE (formulated for colored and highlighted hair) featuring our best selling repair product in Canada REPAIR RESCUE SEALED ENDS; an intensive nourishing cream for sealing and preventing split ends.
Two Gifts For The Price of One
When you buy any Schwarzkopf Professional 2014 Holiday Beauty Box, Schwarzkopf Professional will donate a portion of proceeds to their innovative Shaping Futures Initiative. Your gift will help to transform lives through hairdressing, by teaching disadvantaged young adults basic hairdressing techniques in order to give them the opportunity for a better livelihood and future.
For further information on BC HAIRTHERAPY & the Shaping Futures Initiative, please visit www.schwarzkopf-professional.ca.
We all damage our hair from time to time, what's your #1 damaging culprit? (eg: flat iron, blow dryer, etc).