The Healthy Shopper 2013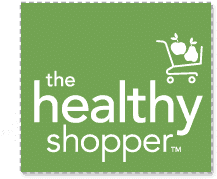 It wasn't long ago when I had the privilege to review and learn about The Healthy Shopper (don't forget to read my 2012 review on The Healthier Shopper). The Healthy Shopper is a service that I am over the moon for (and a site that I frequent often), it helps make your healthy lifestyle easier (and cheaper).
The Healthy Shopper provides a coupon book each year for healthy and organic products. It's hard to find coupons for products that are not processed and mass produced by the big companies. Yes, it's nice to save a buck or two (or in come cases a couple cents) but it's so frustrating to me that the majority of those products are loaded with GMOs, chemicals and synthetics. That being said I can understand that it's not always easy to purchase the "good for you" organic products at the grocery store. They're usually anywhere from $1-$4 more then the big name products. Like I said, it's all frustrating. That's when The Healthy Shopper steps in and steps up.
If you 're interested in living a healthy lifestyle or just interested in eating fresh, flavor loaded, NATURAL foods: The Healthy Shopper is a resource that you would love. The 2013- 2014 expires at the end of March 2014, so you will have a long time to use up the coupons and save money on your groceries. The coupon book is free, you just have to pay shipping and handling (which is worth the savings you will receive) if you are not near a store that carries them. You can also print off E-Coupons from their website.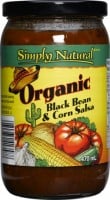 From my last review of The Healthy Shopper, I was introduced to Simply Natural's dressings and vinaigrette. I haven't used another brand since. So I was thrilled to try Simply Natural's Organic Salsas. It's not your typical salsa. They're non GMO, organic, gluten free, lactose free, cholesterol free and fat free. The following flavors are available:
Organic  Salsa
Organic Chunky Salsa Mild
Organic Pineapple Salsa
Organic Mango Salsa
Organic Black Bean & Corn Salsa
I cannot stand tomatoes, so I am always a little nervous whenever I try an organic salsa. The regular salsa is delicious! It's simple as that. The pineapple and mango salsas sound perfect for the coming summer and my mind is on fire with ideas for recipes using them. That being said, I cannot wait to sit down with some tortilla chips and dive into the Organic Black Bean & Corn Salsa. I have a feeling that one may just be my favorite.
Not able to take advantage of the Canadian savings? That's fine, check out The Healthy Shopper's recipes for healthy meal ideas. There are a lot of recipes to choose from (I'm thinking of making the Apple & Quinoa Salad this week) and I'm sure you will find a recipe that will please everyone in your family.
Find out where you can pick up your free copy of The Healthy Shopper.