13 Whole30 Lunch Ideas to Make Meal Planning Easy
You've made the commitment to eat wholesome foods for 30 days, you've lined up your healthy dinners but what about lunches? Here are some of the most delicious Whole30 lunch ideas found around the web.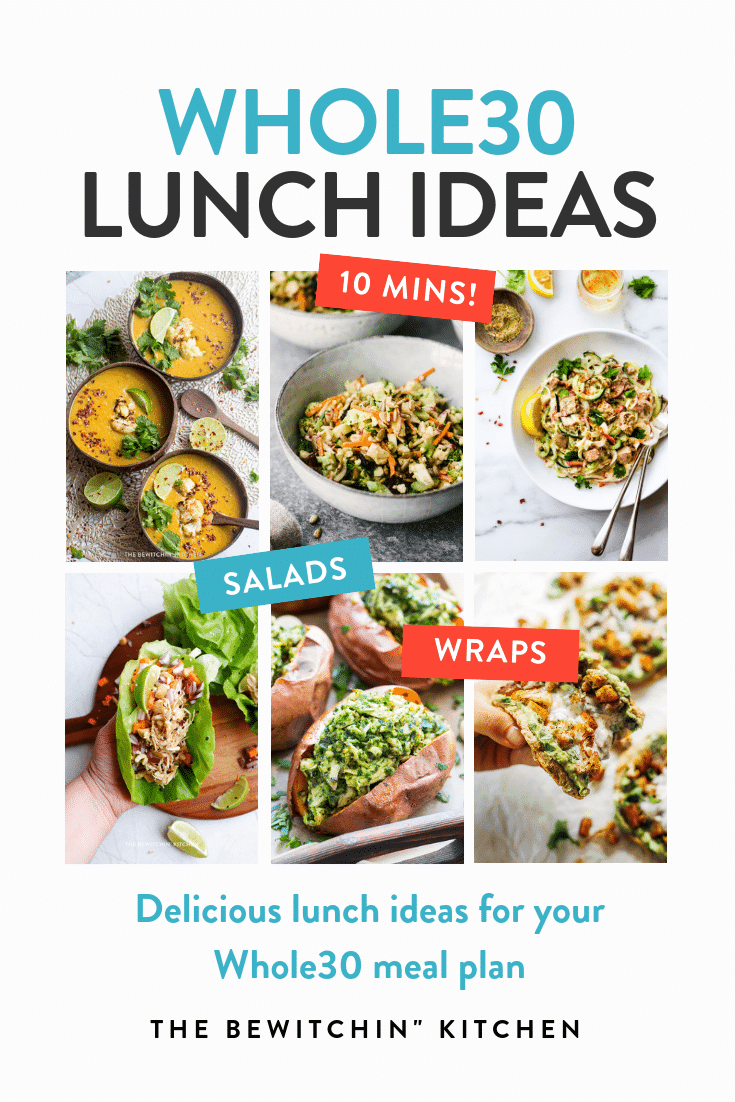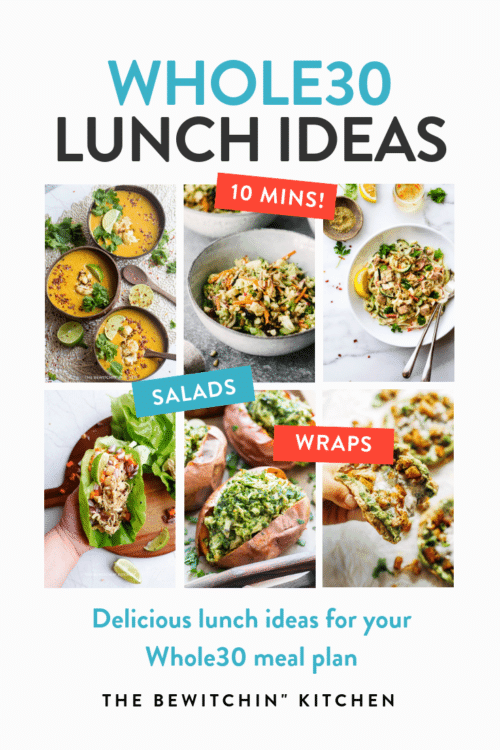 Whole30 Lunch Ideas
Disclosure: This post contains affiliate links for your convenience. As an Amazon Associate, I earn from qualifying purchases.
If you have a tradition job where you don't work from home, a lot of these recipes will have to be done with some meal prep at the beginning of the week.
Whole30 meal prep may look like this:
Wash all fruits and vegetables
Peel and cut all vegetables for easy snacks and quicker cooking.
Pre-cook any meat for salads, stir-fries.
Pre-cook casseroles to take to work.
I recommend buying some glass snap lids for transporting. They can go from fridge to oven or microwave to dishwasher.
They're so simple to deal with.
You can find them on my Amazon Whole30 Resource page.
If you're looking for more Whole30 meal ideas. Check these out:
25 Easy Whole30 Dinner Recipes. Delicious recipes for the dinner table during the Whole30 Challenge.
Subscribe to the Whole30 meal plans from Real Plans. This is a great tool to help with your success! A few clicks and your week is planned out for you, with a shopping list.
Whole30 Lunch Recipes
Here are a few Whole30 lunches found on The Bewitchin' Kitchen: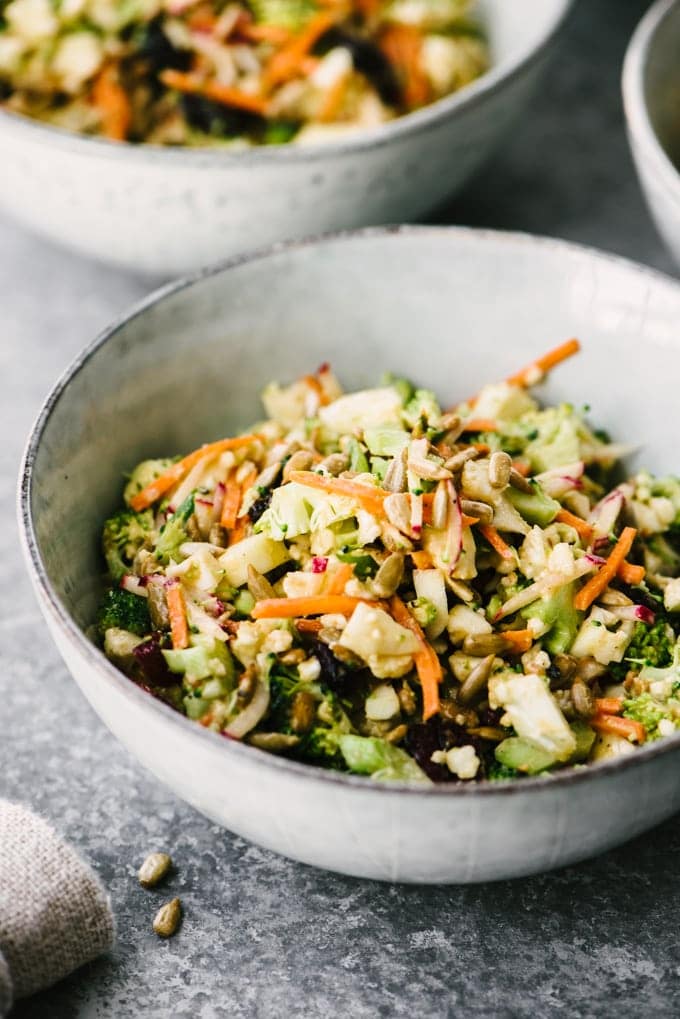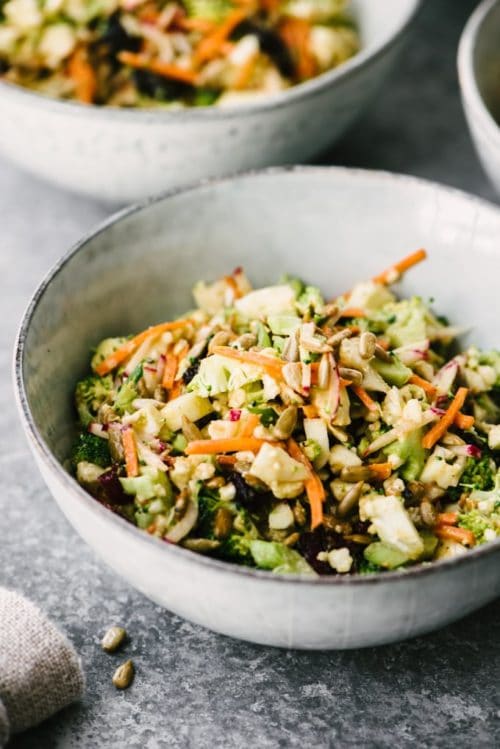 Broccoli and Cauliflower Salad with Sun Butter Sauce
From Our Salty Kitchen
Our Salty Kitchen's delicious salad is a nut free Whole30 meal. It's a fantastic vegan option that's perfect for making ahead to take with you to work.
Crunchy vegetables (and my favorite varieties) with a creamy sunbutter dressing, talk about a match made in heaven.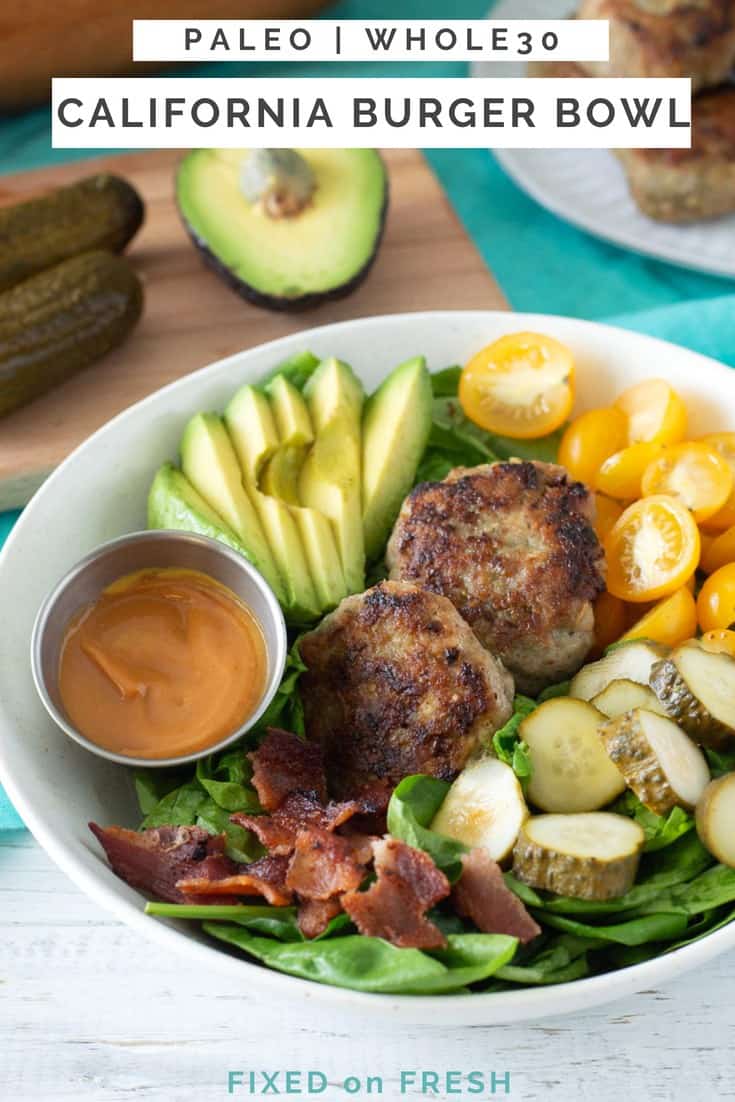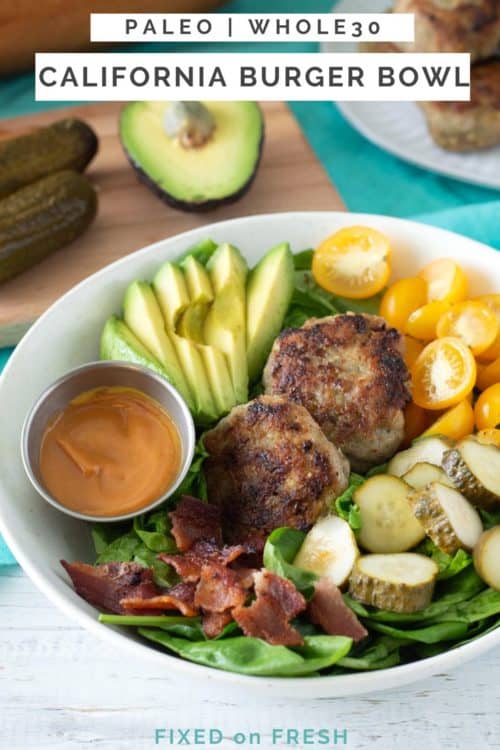 California Burger Bowls
From Fixed on Fresh
I love a good burger, and sometimes that's one of the most difficult parts of doing Whole30. However, I love this version of a burger bowl! Fixed on Fresh speaks my love language with adding in pickles (just make sure they're Whole30 compliant).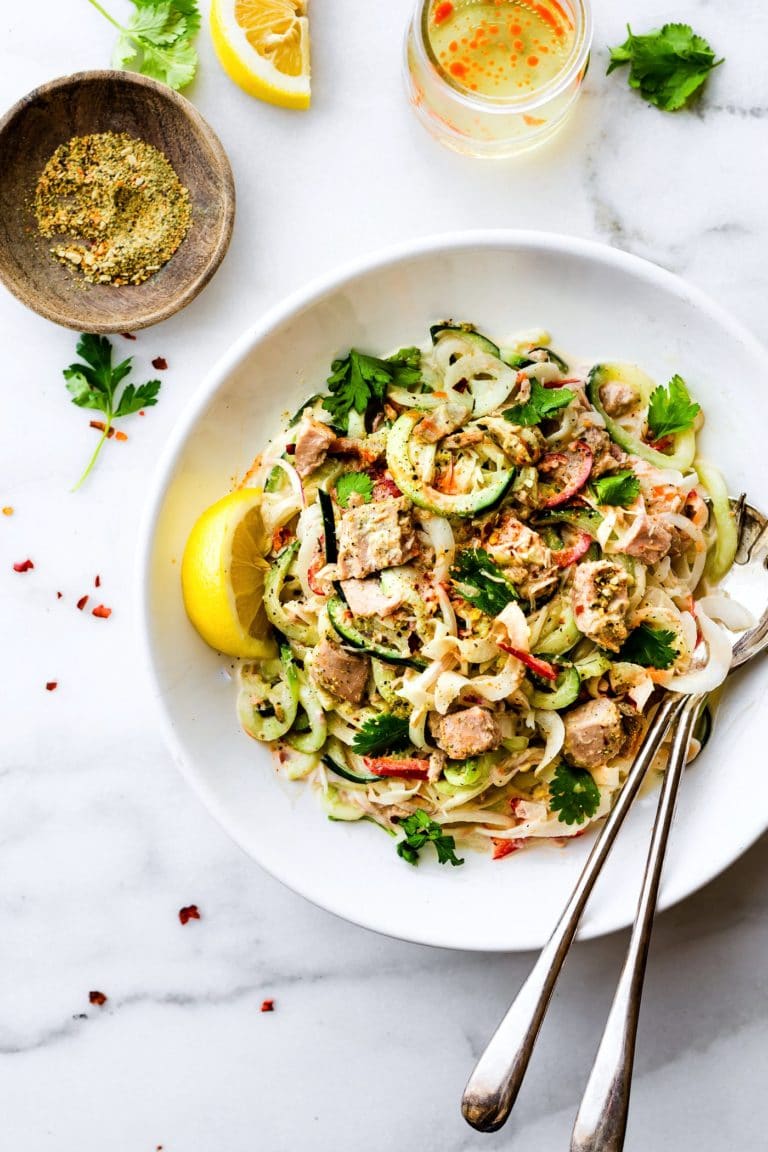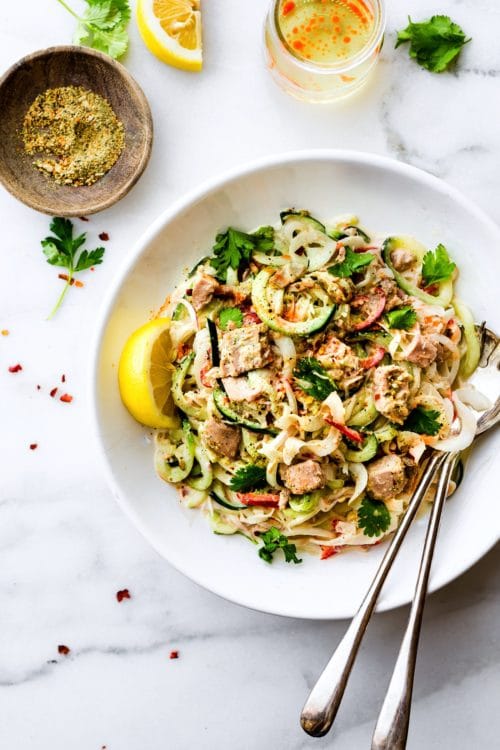 Chili Tuna Spiralized Spring Vegetables Salad
From Cotter Crunch
Cotter Crunch is one of my favorite bloggers. She has such incredible gluten-free recipes. This Chili Tina Spiralized Salad is a favorite because it's not a Whole30 lunch recipe that you see every day. It's not trying to replace anything, it's unique all on its own.
The fact that it's ready in 10 minutes makes it a winner.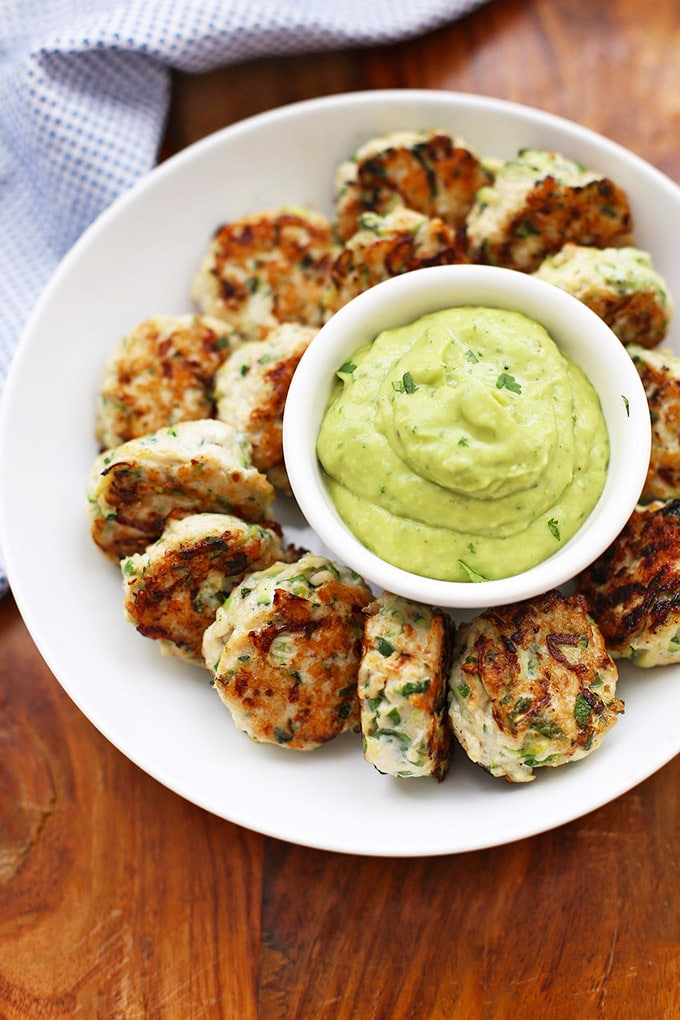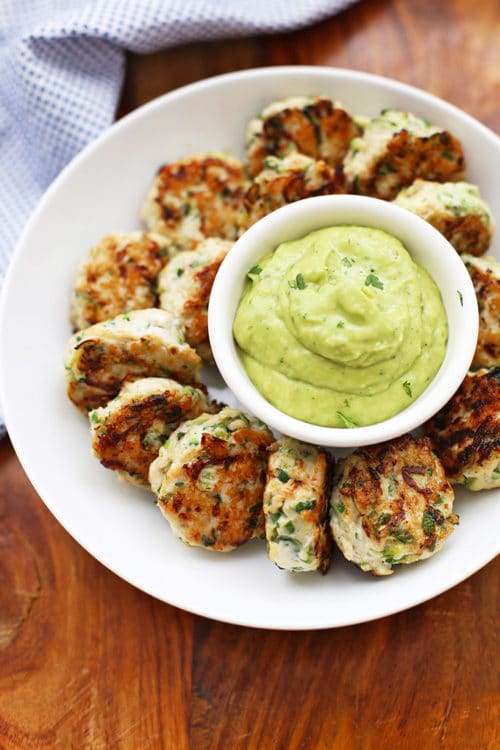 Chicken Zucchini Poppers
From One Lovely Life
What really piqued my attention with these chicken zucchini poppers is that she mentions a member of her family not liking zucchini but he LOVED these. I'm not a huge zucchini fan either. I want to like it, trust me, but I truly have to hide it. So knowing that it's loved by a zucchini hater sold me.
The fact that it's such a simple Whole30 recipe makes it even better.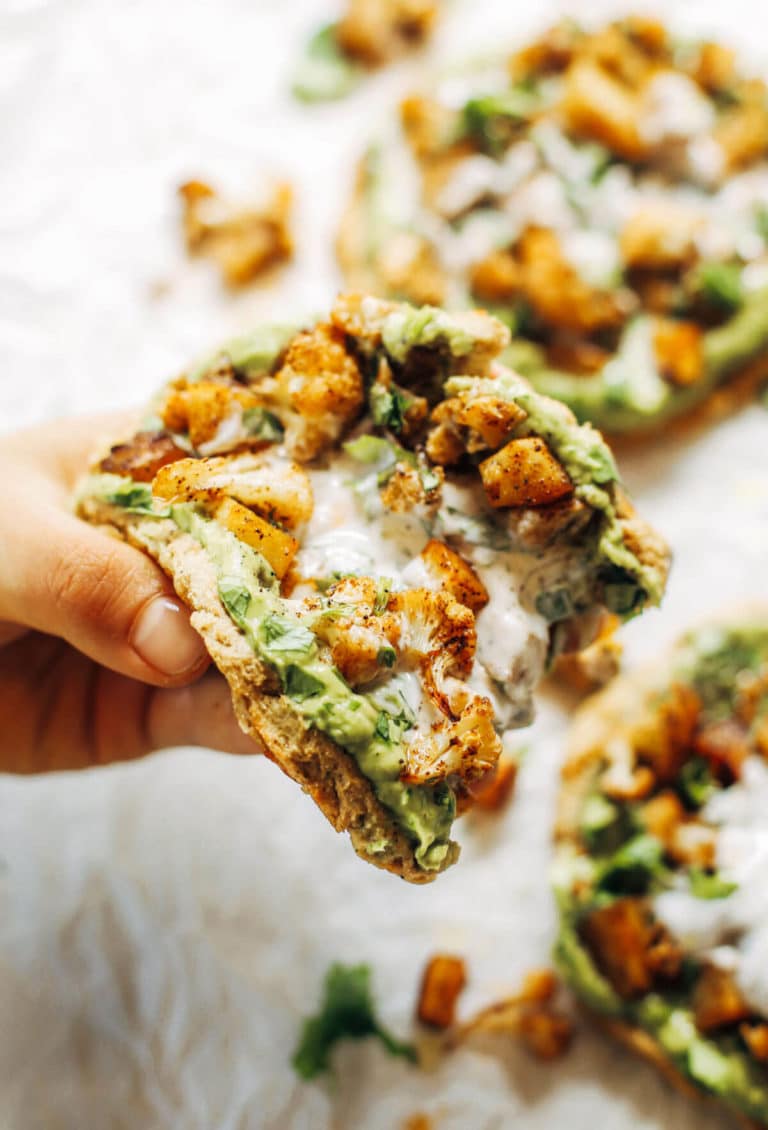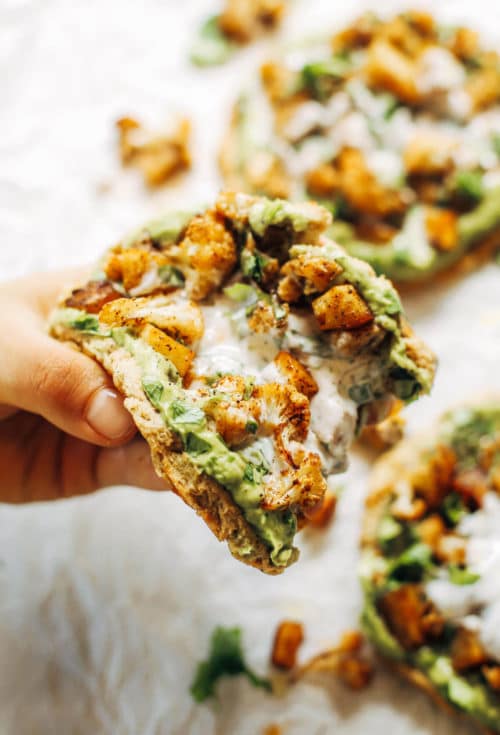 Cauliflower Pitas with Avocado Crema
Just looking at the photo has me drooling! Reading through the recipe, it doesn't look overly difficult and may be a great option for lunches.
If it happens to fall apart during transport, it won't make a difference. It will be just as delicious eaten with a fork. I say that because knowing me, I'd mess it up somehow.
Buffalo Chicken Ranch Meal Prep Bowls
From 40 Aprons
I love this Whole30 lunch idea! Cauliflower rice with a creamy Whole30 homemade ranch dressing, avocado, veggies, and spicy buffalo sauce.
Sounds delish!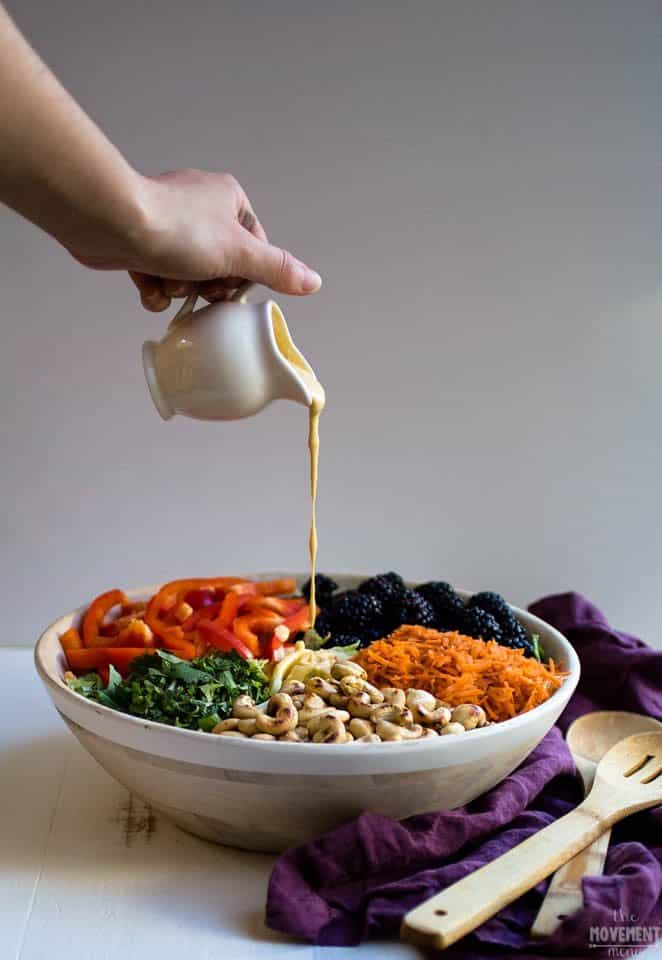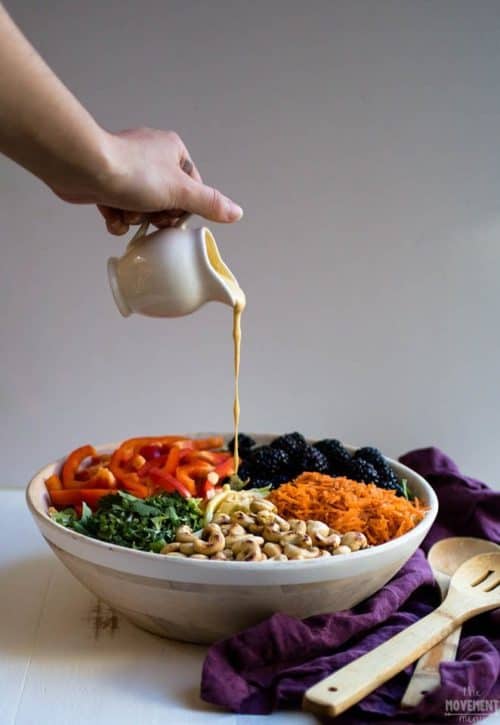 Whole30 Thai Breakfast Bowl
From The Movement Menu
I love Monica's blog so much that in a meal planning assignment I recently did for the Academy of Culinary Nutrition, I referred my study buddy to this very recipe.
Delicious veggies topped with a creamy cashew dressing – sounds like my kind of meal!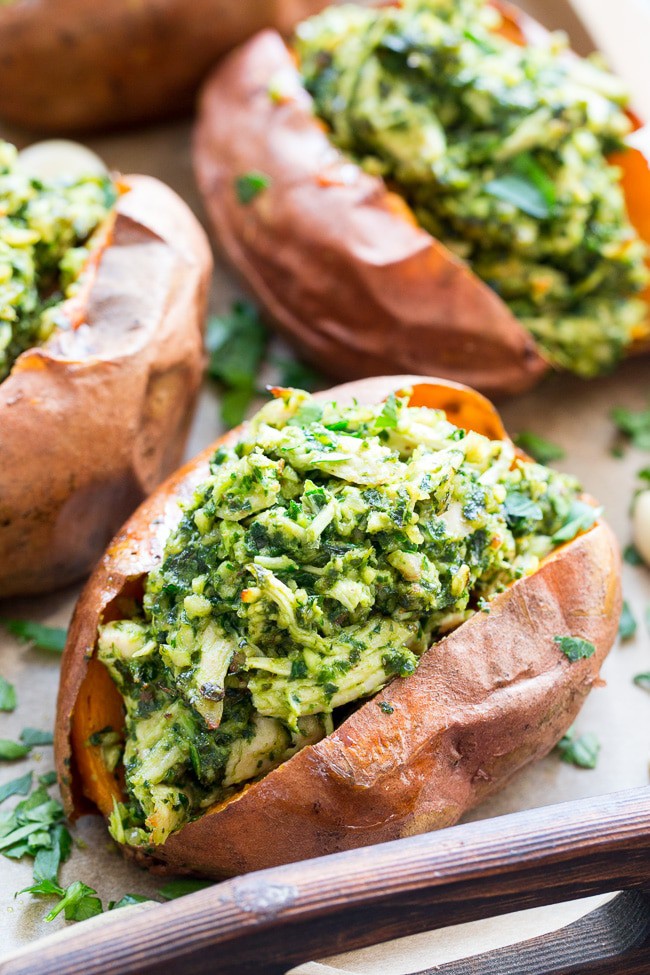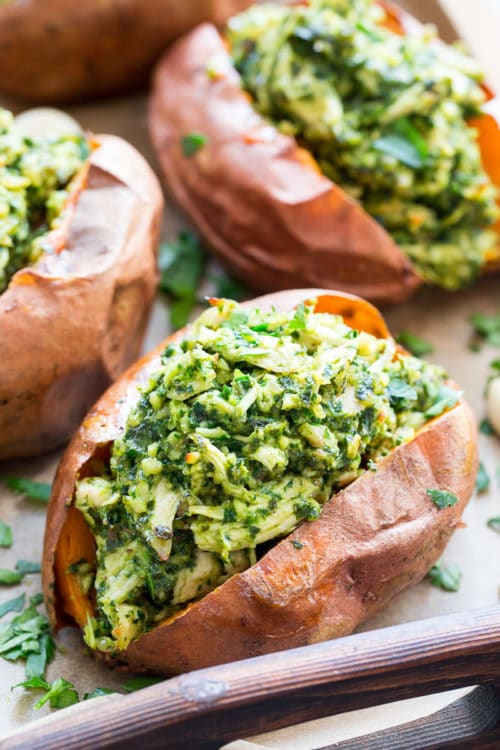 Chicken Pesto Stuffed Sweet Potatoes
From Paleo Running Mama
One of my favorite Whole30 lunch ideas!
I love pesto, I love chicken, and I love sweet potatoes.
So I'm pretty sure this recipe is a home run. I'm adding this to my meal plan next week!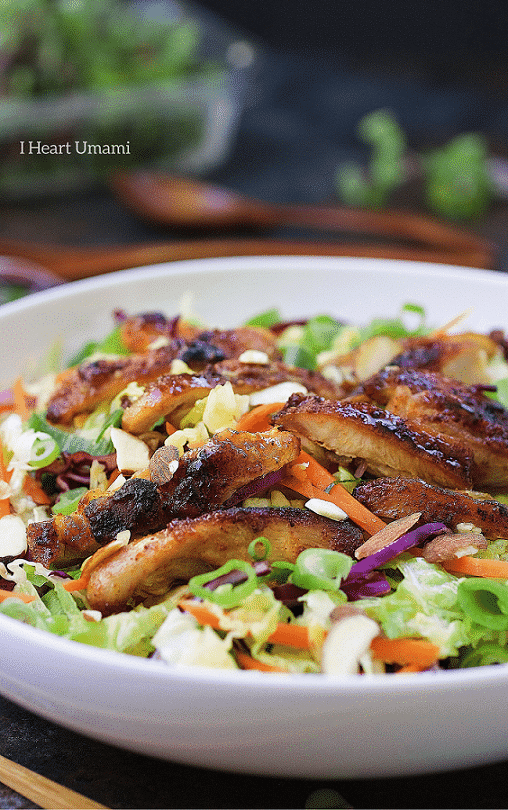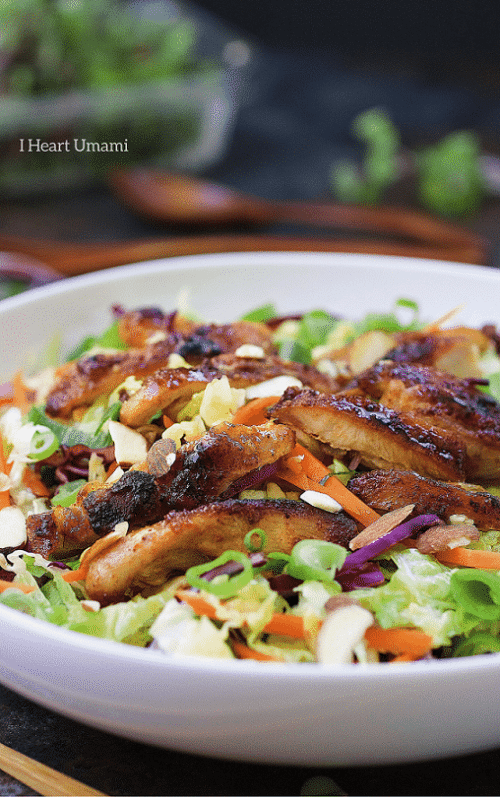 Paleo Asian Chicken Cabbage Salad
From I Heart Umami
If you're looking for a Whole30 lunch that's perfect all year long, this asian chicken salad is perfect for you.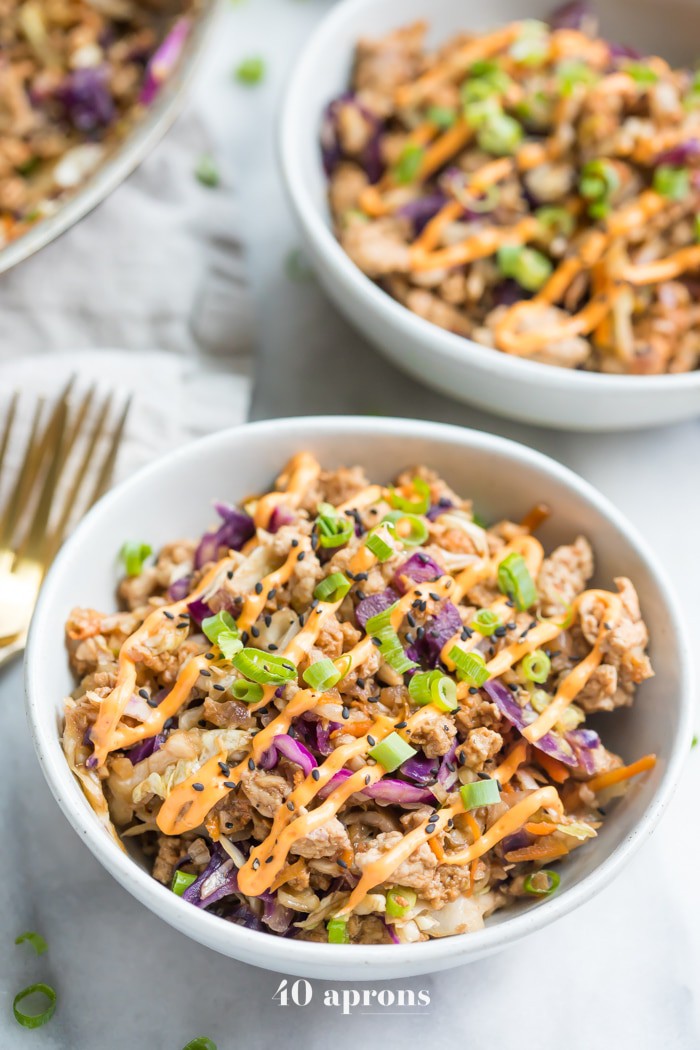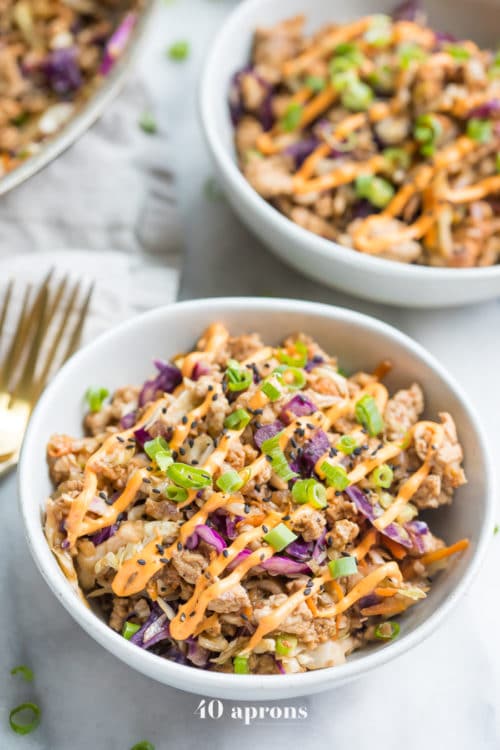 Egg Roll in a Bowl with Creamy Chili Sauce
From 40 Aprons
The comments on this recipe show how delicious this salad is. I make a version of this creamy chili sauce and it is de-lish!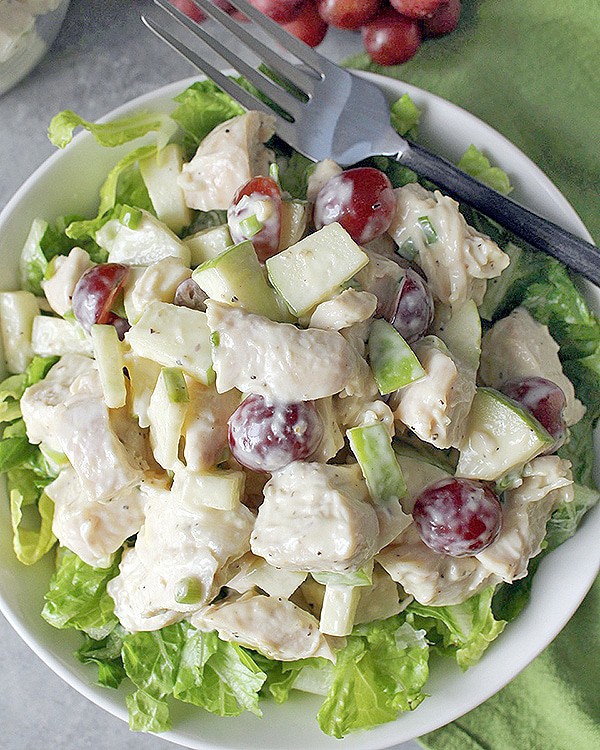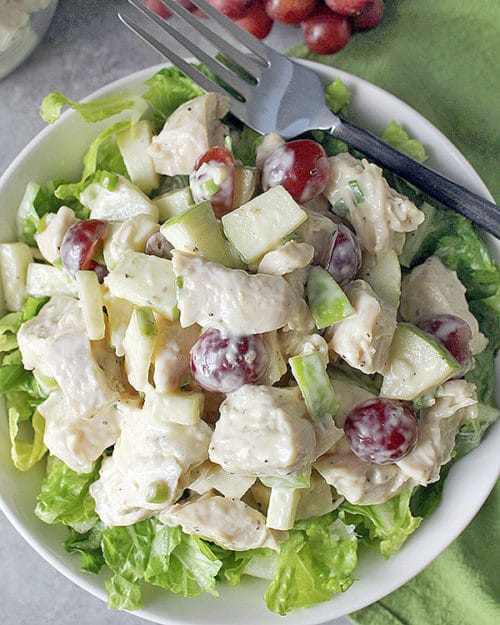 Paleo Whole30 Chicken Salad
You don't have to give up chicken salad, just whip it up Whole30 style!
Serving with veggies and you have such an easy Whole30 lunch idea to whip up.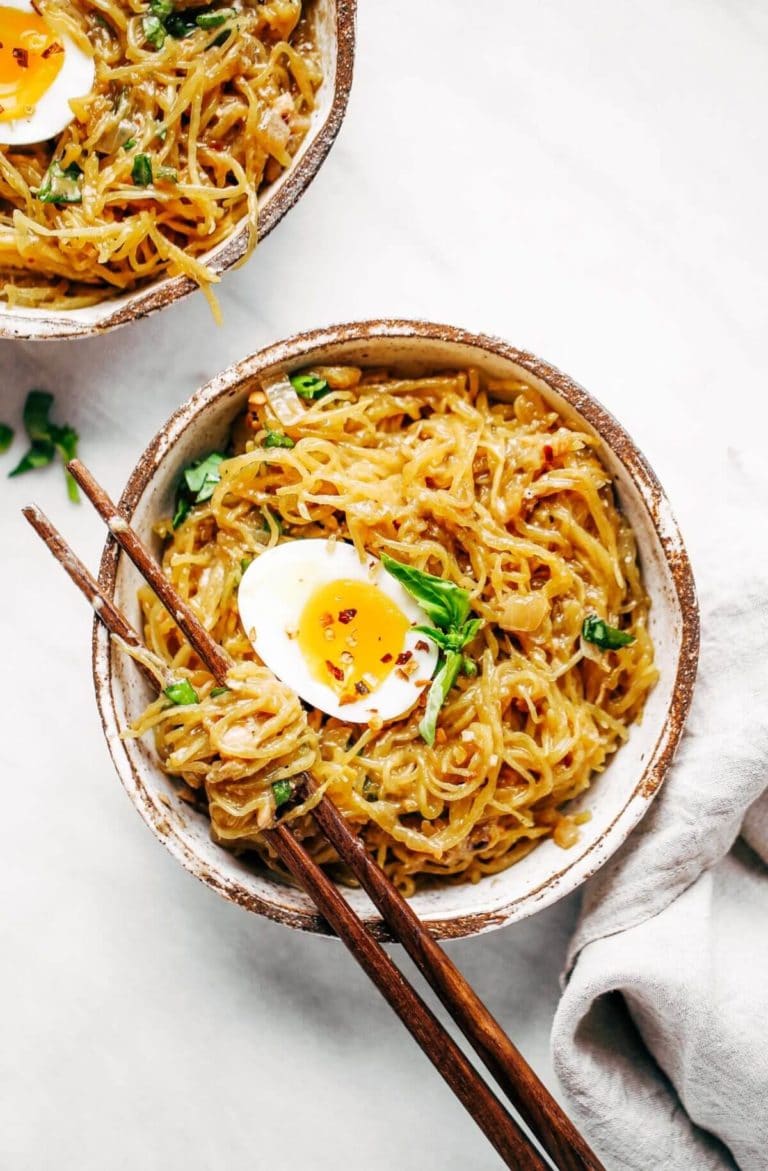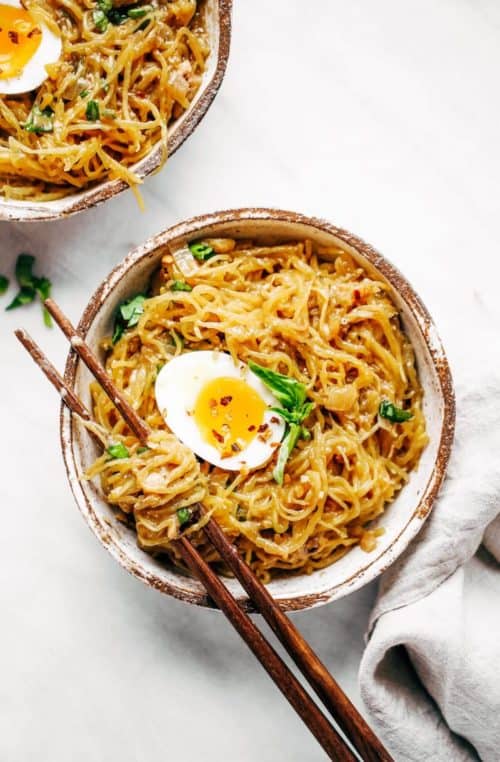 Spice Spaghetti Squash Noodles
Spaghetti squash topped with a creamy coconut sauce loaded with spice and a ton of flavour.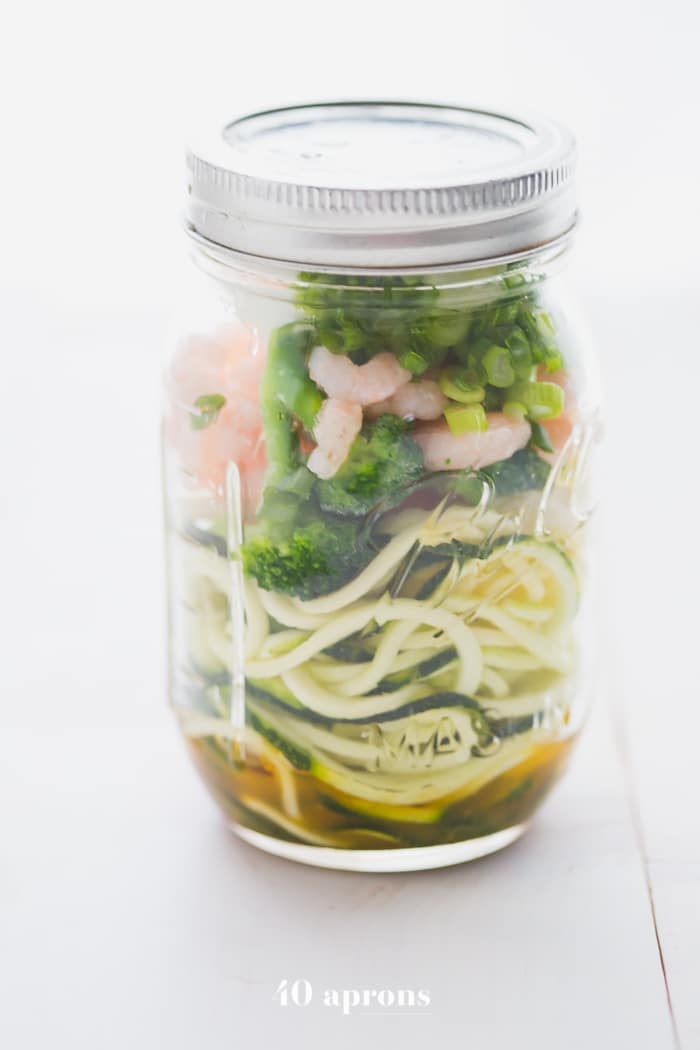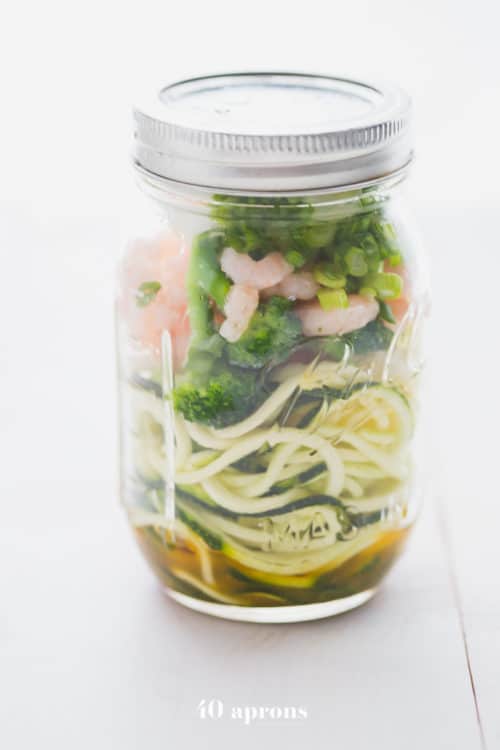 Whole30 Cup Zoodles
From 40 Aprons
Another amazing Whole30 lunch from 40 Aprons. She is such an incredible resource for Whole30 recipes!
I love how this recipe is perfect for on the go.
Do you have any favorite Whole30 lunch ideas?
Share your top Whole30 lunches in the comments.