11 Apple Health Benefits You Didn't Know
You know the saying, an apple a day keeps the doctor away. Apples are considered a magic food (and thank goodness for that because I love them) and after digging around I have to say that that old adage was actually words of wisdom. Here are some amazing apple health benefits you should know about.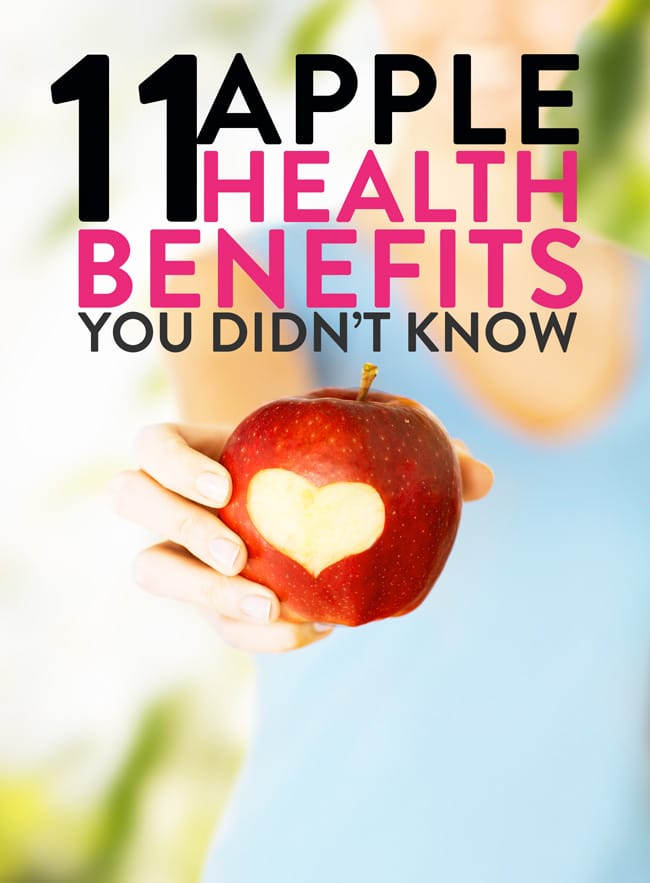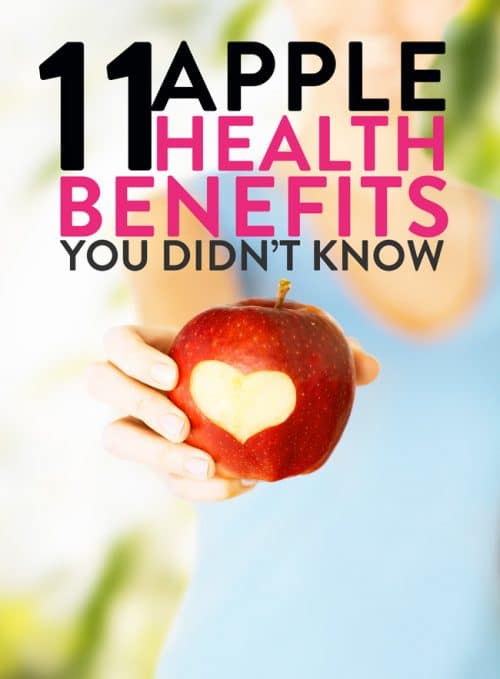 February is apple month. Here in Western Canada, we recognize the quality produce grown here on B.C. soil while encouraging people to support our local growers. Many consumers don't typically think of February as a month for fresh fruit, however fresh B.C. apples are available throughout the long winter months.
Apple Health Benefits
They're natural anti-inflammatories: I suffer from chronic hives, and I have done a lot of reading into foods that could help with my hives and apples always popped up in my searches. Whether it was a placebo effect or it really worked, I have noticed a difference. If you understand science talk, then you may want to read this.
They can help lower cholesterol: Pectin is found in apples (like the peel – always eat the peel) and it's a water-soluble fiber. This study says that women who ate dried apples vs those who didn't had a decrease in their LDL thanks to the pectin.
Apples can help lower your risk of a stroke: A study in 2000 said that people that ate apples had a less decreased chance of a stroke. Read more about that here.
Apples are high in fiber: A medium sized apple can have 4.4 grams of fibre. If a healthy woman is supposed to have 25 grams of fiber a day, one snack is almost 20% of our daily recommended intake.
They help protect the body from free radicals: You can thank the phytonutrients and antioxidants for that.
Apples can help shorten cold symptoms: Apples are a source of Vitamin C and vitamin C can shorten the duration of cold symptoms.
Apples are low histamine foods: Apples are low histamine releasing foods, which could be another reason why I find them beneficial when I'm having hive breakouts. I'm going off memory from my nutrition textbooks on this one, so please do further research for yourself on this topic.
Regulates your digestion: The soluble fiber helps with both constipation and diarrhea, thanks to the fiber soaking up the water, thus easing digestive distress. There's a reason why the BRAT diet works!
Apple Cinnamon Yogurt Bowl
Weight loss: Apples are low in calories but thanks to the fiber they help keep you full. They're one of my favorite night snacks to curb my cravings. Hint: if you're craving chocolate – melt a little but if dark chocolate and dip a few slices of granny smith apples in it. Not only do you crave your chocolate craving, but your stomach feels satisfied from the snack as well.
Apples keep your mind sharp: According to Medical News Today, "These results suggest that fresh apples, banana, and orange in our daily diet along with other fruits may protect neuron cells against oxidative stress-induced neurotoxicity and may play an important role in reducing the risk of neurodegenerative disorders such as Alzheimer's disease."
They burn fat: Rats that were given apple polyphenols had about 30% less body fat compared to a placebo test group. Source.
[clickToTweet tweet="Apples burn fat, keep your mind sharp, and they taste good! Check out: 11 Apple Health Benefits" quote="Apples burn fat, keep your mind sharp, and they taste good! Check out these 11 Apple Health Benefits!"]
The list of apple health benefits can go on and on, but I'm going to stop it at these eleven. These eleven healthy benefits of apples are what I can relate to the most. The help with my chronic hives, the reduction of a risk of a stroke, and fat burning properties are pretty remarkable for a little ball of fruit (and just think, I originally ate them because I think they taste good).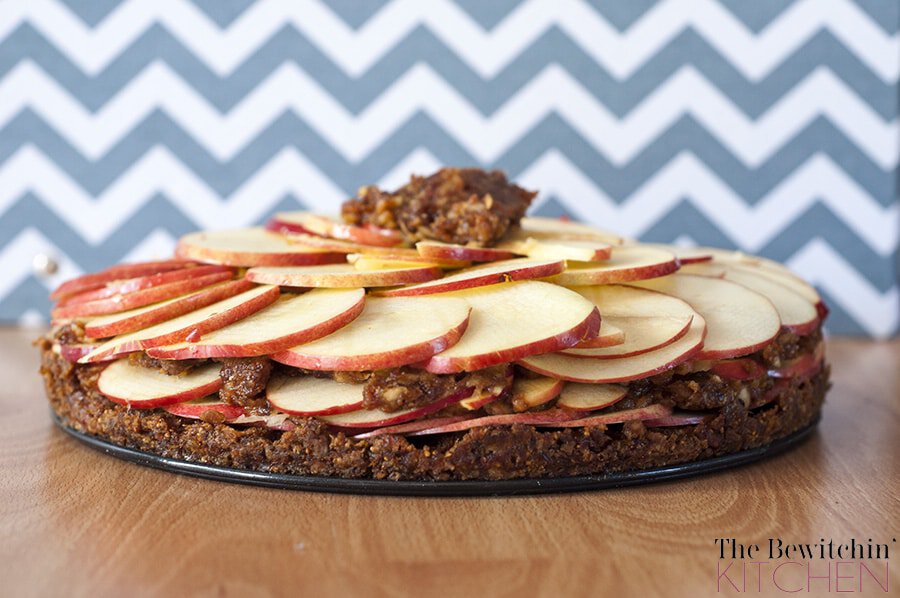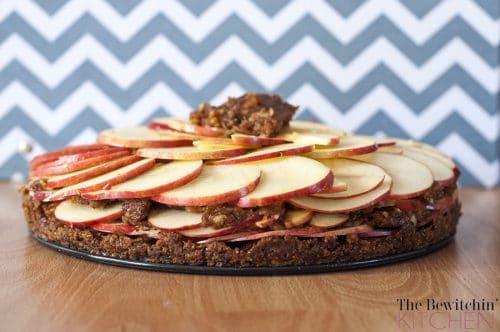 Healthy Apple Recipes
Raw Apple Pie (seen above)
Spicy Chicken and Apple Sweet Potato Stir Fry
Baked Apples with Coconut Whipped Cream
Do you know any apple health benefits that you want to share? Leave them in the comments.
Follow BC Tree Fruits on their social channels for recipes, tips and more: Facebook, @bctreefruits , @bctreefruits.
Disclosure: I am the furthest thing from a doctor. If you're looking for medical advice, please take this information to your doctor and speak with him/her about it. This post was also sponsored by my friends at BC Tree Fruits. All opinions are my own.