Southwestern Chicken and Rice Casserole
Southwestern Chicken and Rice Casserole is such an easy meal to put together. I like to make this dinner pretty plain (since my hubby can be really picky). We make this dinner often and it never disappoints.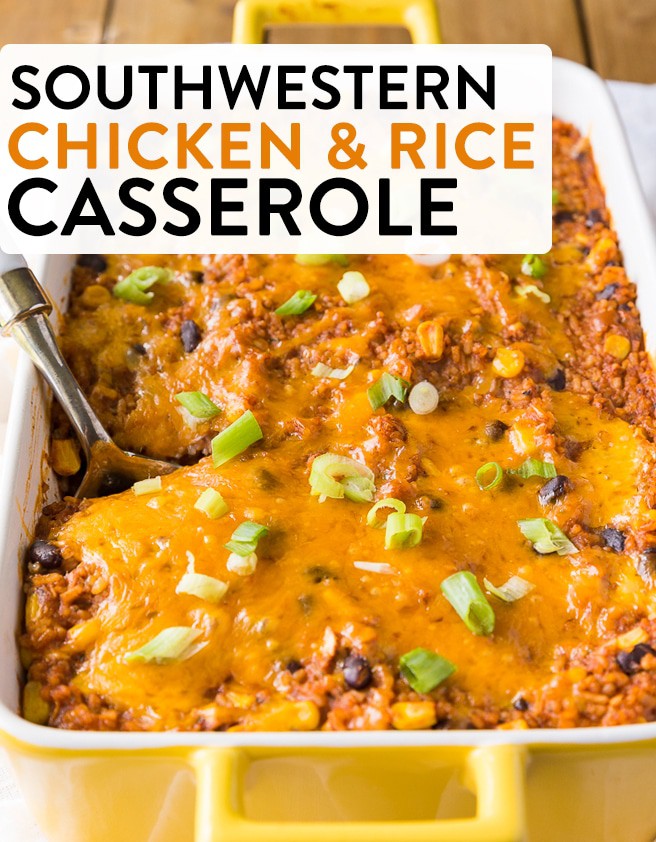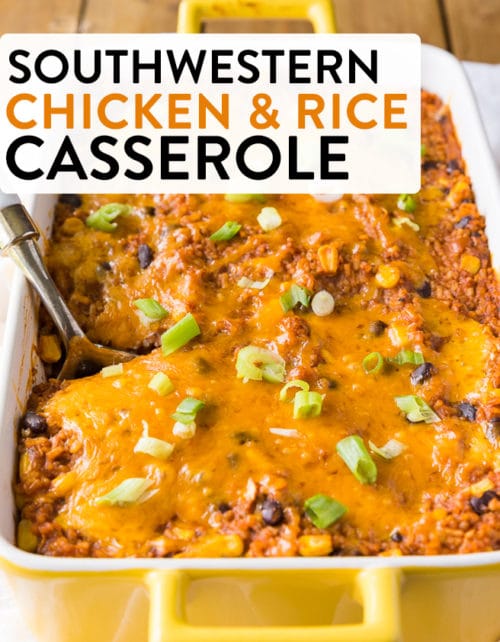 Southwestern Chicken and Rice Casserole
Disclosure: This post contains affiliate links.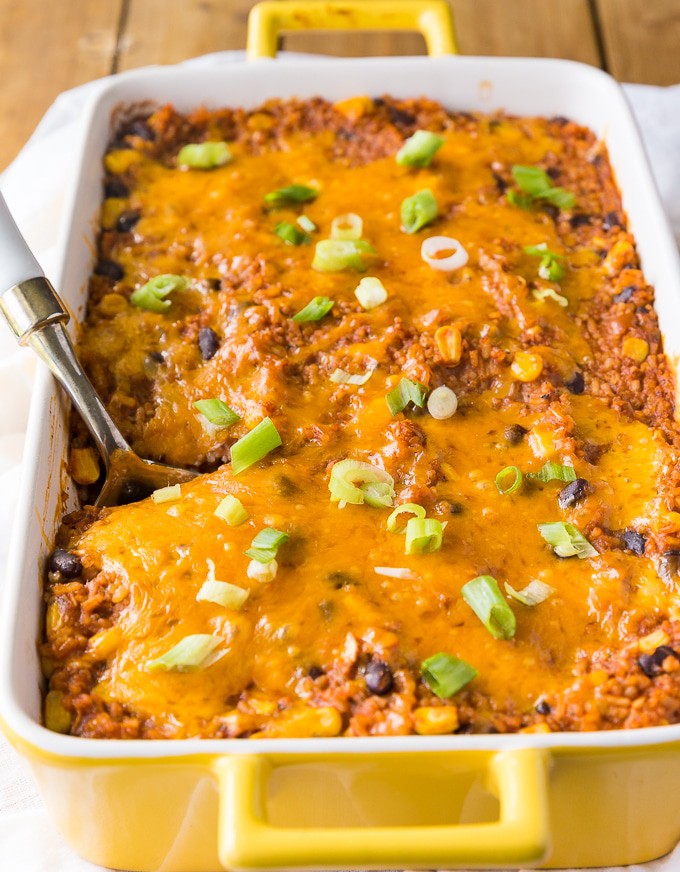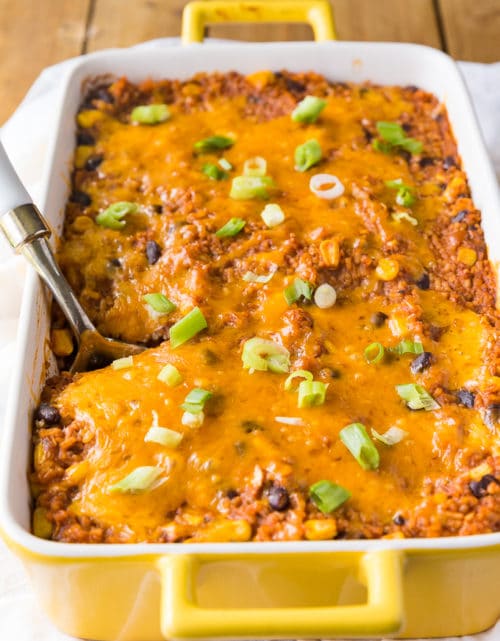 This is one of my favorite recipes to make on crisp fall days. It's easy to toss together, and a winner with my family so it's a win, win all around.
I first started making this recipe in 2008, and when I started the blog in 2009 I knew it had to go up. It is one of the first recipes posted here on The Bewitchin' Kitchen! That being said, it needed a photography revamp so I'm coming back and editing the post to include some yummy photos.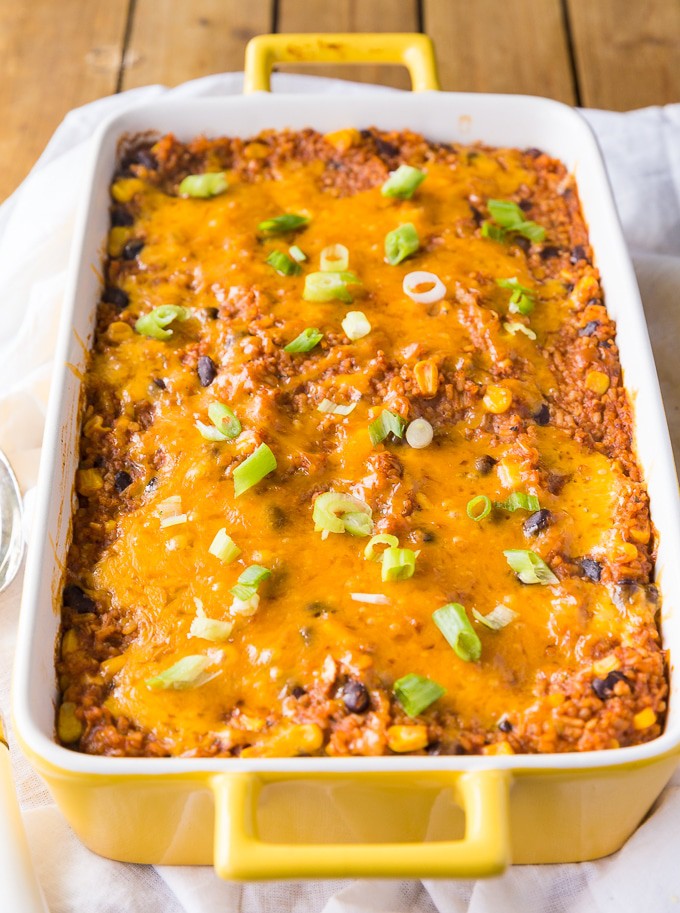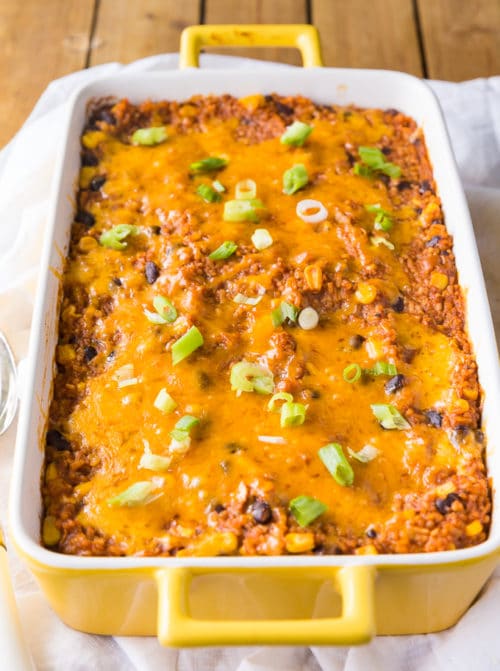 I love southwestern flavors. Especially cumin, cumin is my favorite spice in my cabinet (and one that I tend to overuse from time to time – whoops). Over the years I have grown to love black beans and corn and use those in recipes like this Southwestern Chicken and Rice Casserole, along with fajitas, tacos, and burrito bowls.
Recipes you should also check out:
Southwestern Chicken and Rice Bake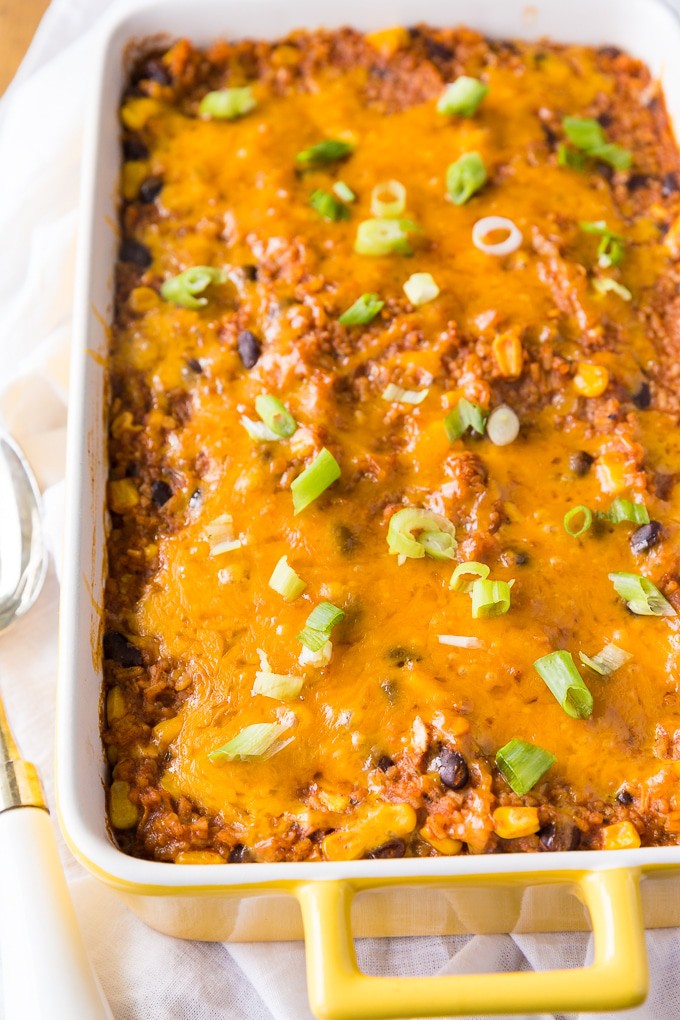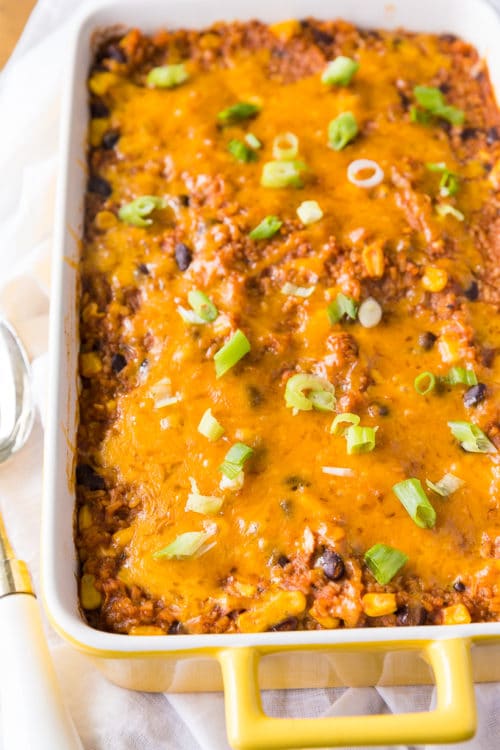 Supplies you may need. 
This cheesy dish is oh-so-good. It's one of my comfort food favorites, but then again I'm crazy about cumin. Cheesy, cumin, tomato sauce, I'm so there. I'm hoping to have a dairy free and gluten free option to this up soon, so stay tuned for that.
Okay guys, now I'm craving this again. Enjoy, I'm off to plan this for next week's meal plan.
Southwestern Chicken and Rice Casserole
This cheesy casserole bake has rice, black beans, and chicken. It's easy to make as a vegetarian recipe too! An easy dinner that makes delicious leftovers.
Servings 12 servings
Calories 265kcal
Ingredients
2 cups cooked rice
3 chicken breasts cooked and diced
1 small can corn drained and rinsed
1 14oz can tomato sauce
1 14oz can black beans drained and rinsed
2 teaspoons dried cilantro leaves
2 teaspoons ground cumin
1 teaspoon garlic powder
1 teaspoon dried leaf oregano
1 tablespoon chili powder
Cayenne Pepper to taste If I don't have any on me, I use 1/4 cup Franks Red Hot Sauce.
4 tablespoons butter
4 tablespoons flour
1 cup milk
1/2 cup chicken broth
1/4 teaspoon black pepper
1/2 teaspoon salt
1 cup Cheddar cheese optional
Instructions
Preheat oven to 350°
In a large bowl, add the cooked rice, chicken, corn, black beans, tomato sauce, cilantro, cumin, garlic powder, oregano, chili powder, and ground cayenne pepper. Set the bowl aside.

In a large saucepan, melt the butter over medium heat. Whisk in flour until it's blended and cook until it begins to bubble. Slowly stir in the milk, chicken broth, salt, and pepper. Let it simmer (while whisking constantly) until it thickens up.

Pour into the rice mixture. **If you are using Franks Red Hot Sauce instead of cayenne, this is where I add it.

Pour into a sprayed 9x13 casserole dish, bake for 25 to 30 minutes. Add cheese and bake for another 8 minutes or until melted.
Nutrition
Serving: 1g | Calories: 265kcal | Carbohydrates: 25g | Protein: 20g | Fat: 10g | Saturated Fat: 5g | Polyunsaturated Fat: 1g | Monounsaturated Fat: 3g | Trans Fat: 1g | Cholesterol: 58mg | Sodium: 745mg | Potassium: 703mg | Fiber: 5g | Sugar: 4g | Vitamin A: 2784IU | Vitamin C: 11mg | Calcium: 134mg | Iron: 3mg
Follow On Pinterest
Follow @bewitchinkitchen On Pinterest for more delicious recipes!
Recipe slightly adapted from Epicurious.