Creamy Turkey Soup In Bread Bowls
This creamy turkey soup recipe is a delicious way to use up leftover turkey after a holiday feast. This homemade turkey soup is so simple to throw together, you and your family are going to love it. Want to add a little extra pizazz to the meal? Serve it in a bread bowl.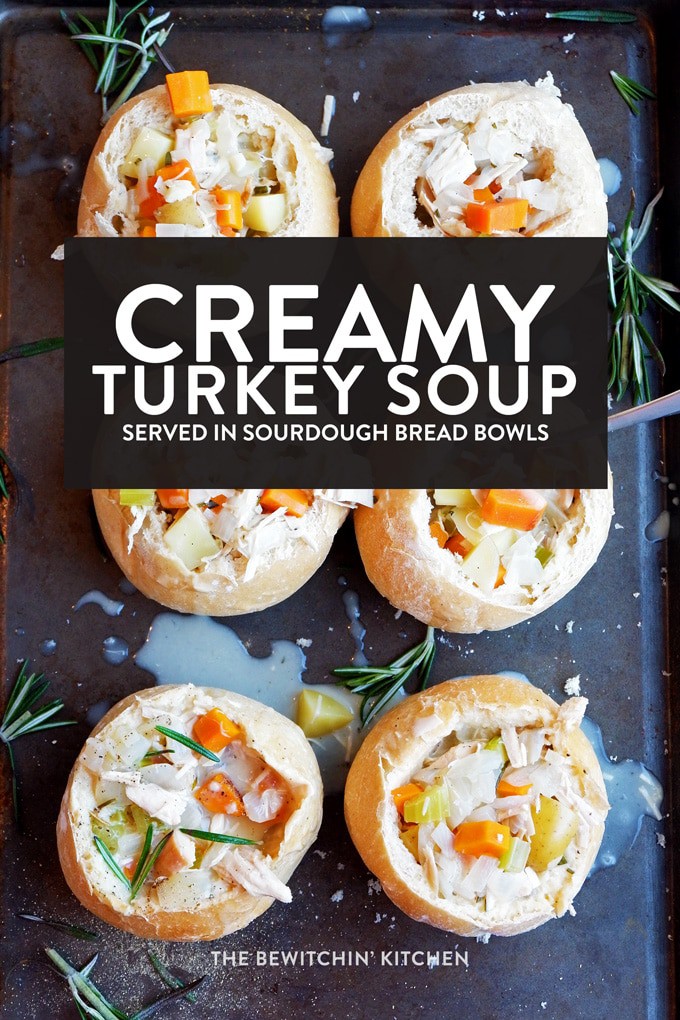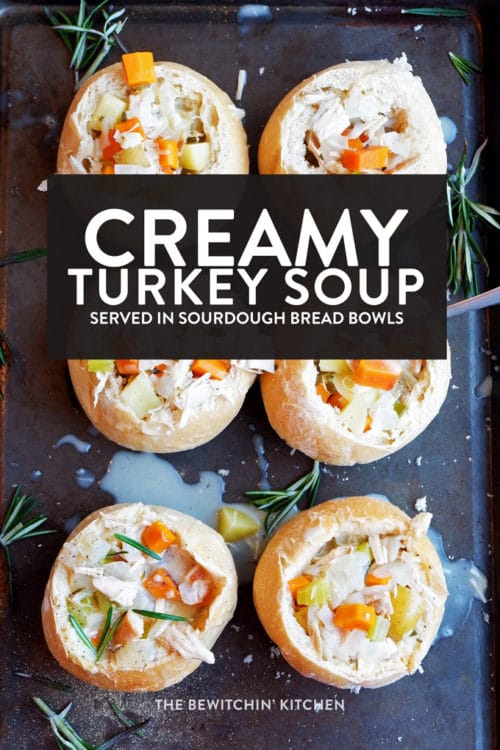 Creamy Turkey Soup In Bread Bowls
Disclosure: This post contains affiliate links for your convenience. As an Amazon Associate, I earn from qualifying purchases.
I think we can all agree that turkey dinner is a wonderful thing. It produces a massive feast with days worth of leftovers. That being said, the same old thing day after day gets a little old. That's why I'm thrilled to share this recipe for Creamy Turkey Soup In a Bread Bowl. It's delicious and a fabulous way to mix things up and use up leftovers, without the "leftovers".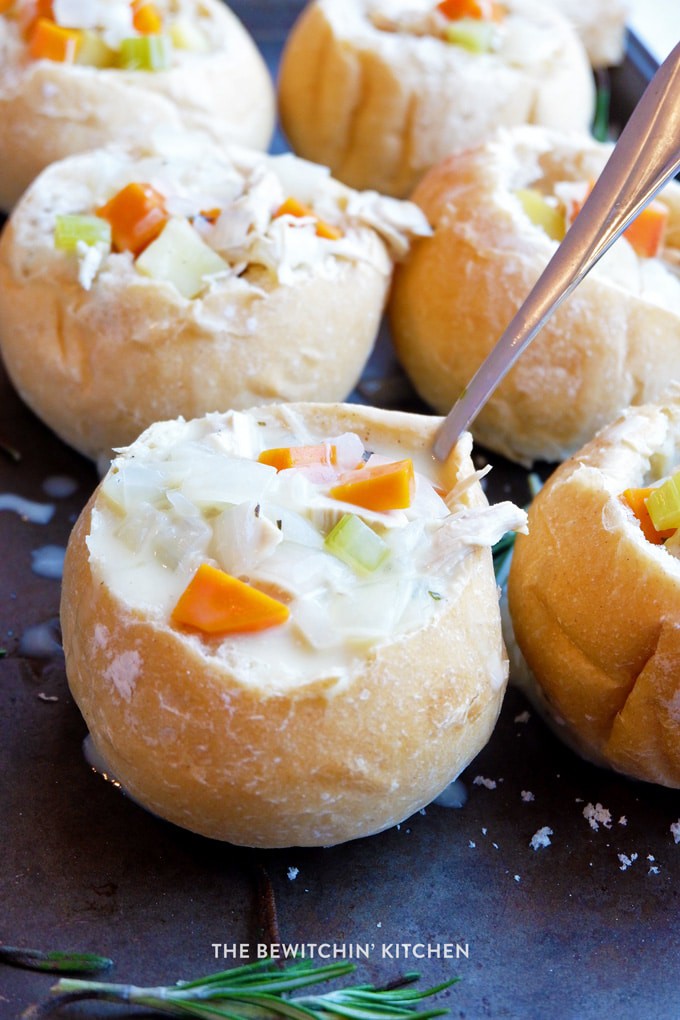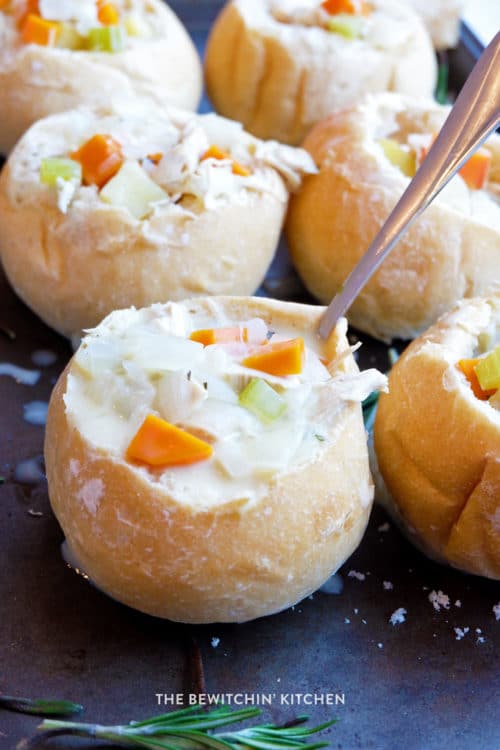 Growing up my turkey soups were either turkey noodle or turkey rice soup. So making this creamy turkey soup was a fun change.
Gluten Free Creamy Turkey Soup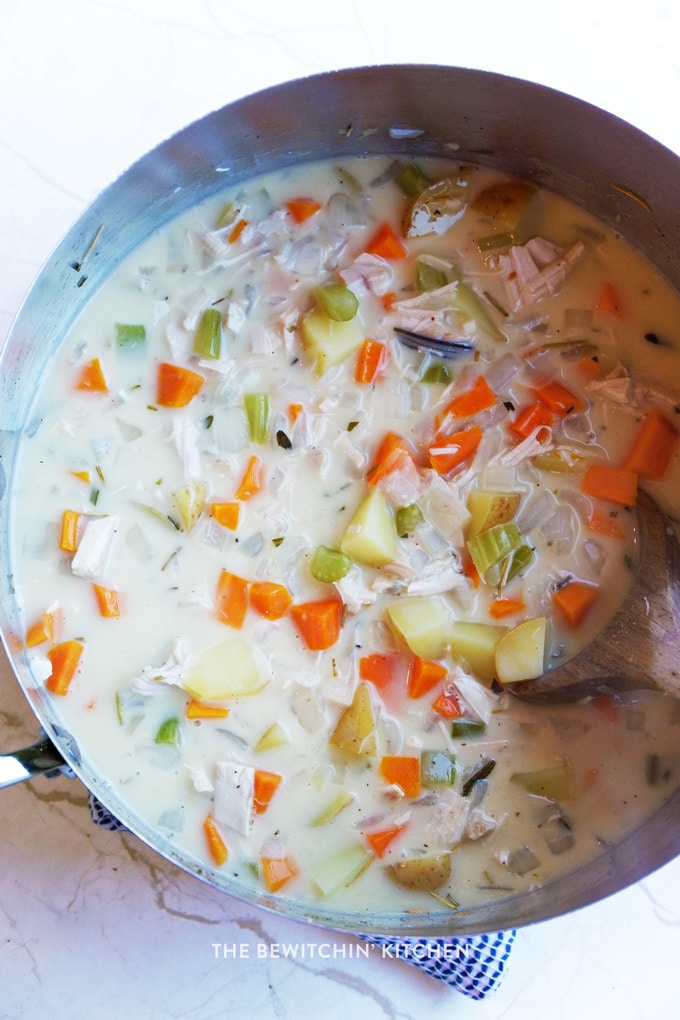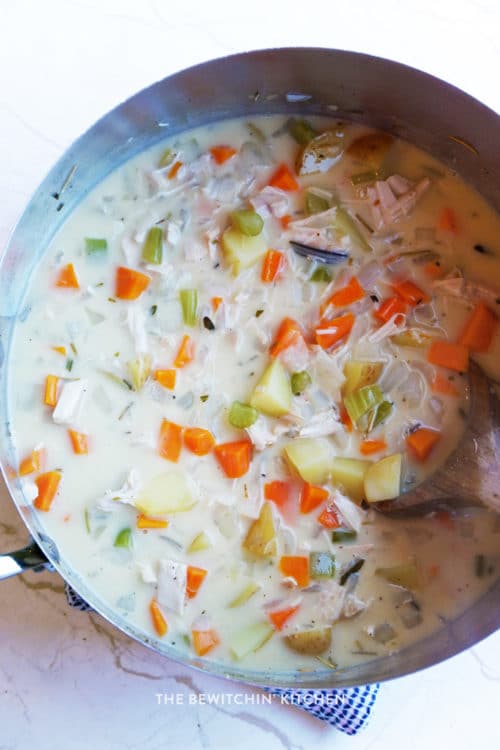 You can make this cream of turkey soup recipe gluten free by doing the following:
Swapping all purpose flour for a gluten free flour (I used arrowroot powder).
Swap the bread bowls for a gluten free variety, or skip the bread bowls all together (but that's no fun).
What Bread to Use for Bread Bowls
When choosing a bread for bread bowls, look for a firm bread. You don't want something too soft that will dissolve or not hold the soup.
For this recipe, I used sourdough buns but here are a few other options:
Rye
Italian rounds
Pretzel buns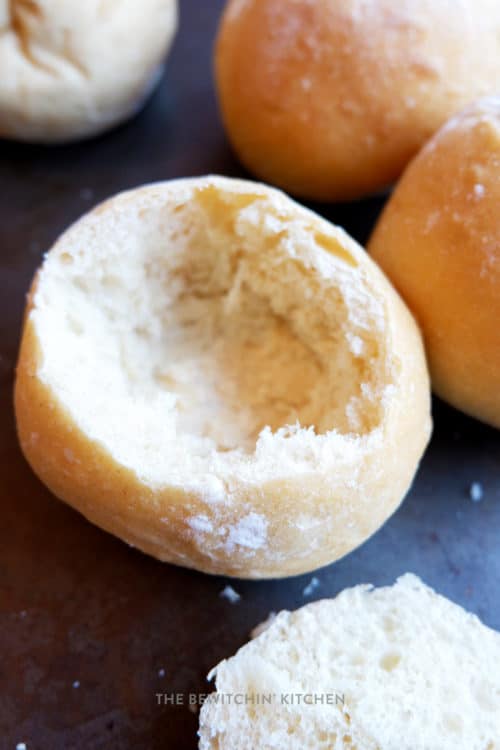 How to make a bread bowl:
Slice the top off of a bun.
Scoop some of the insides of the bun/roll out (not all, you want to leave a wall).
I leave a thick wall to support the soup. Simply squeeze it together to make it a little more sturdy.
Creamy Turkey Stew
Randa's Tip: Use the full turkey and boil down the carcass and vegetable scraps to make a turkey broth. If you don't have any on hand, chicken broth works just as well.
How to Make Turkey Soup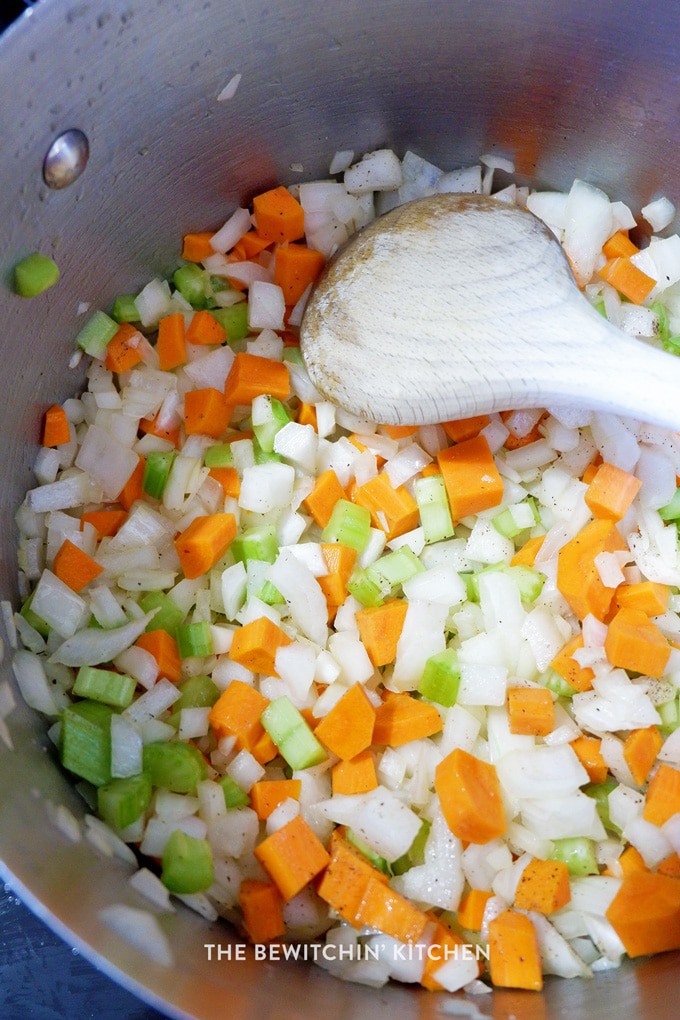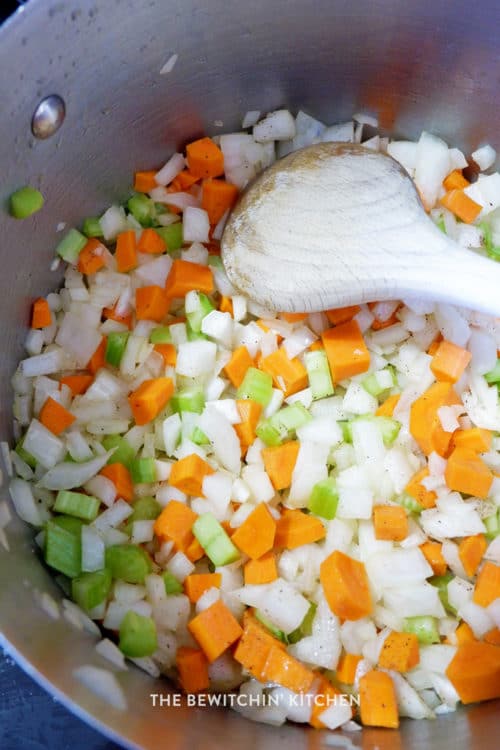 I recently learned that most soup recipes should start with carrots, celery, and onion. It's called a mirepoix Something about the aromatics (honestly, I don't remember – give it a Google) that makes the soup amazing.
Thankfully this base is a staple with chicken and turkey soups so I was already in the habit.
A mirepoix ration is 2:1:1 in the order of onions, carrots, and celery.
What Spices Go in Homemade Turkey Soup?
In this homemade creamy turkey soup recipe, I used fresh rosemary and dried thyme.
Those spices are what I had on hand and I knew that they blended well with turkey.
Other spices that go in turkey soup are:
Fresh is always best, but if you don't have any – that's fine too.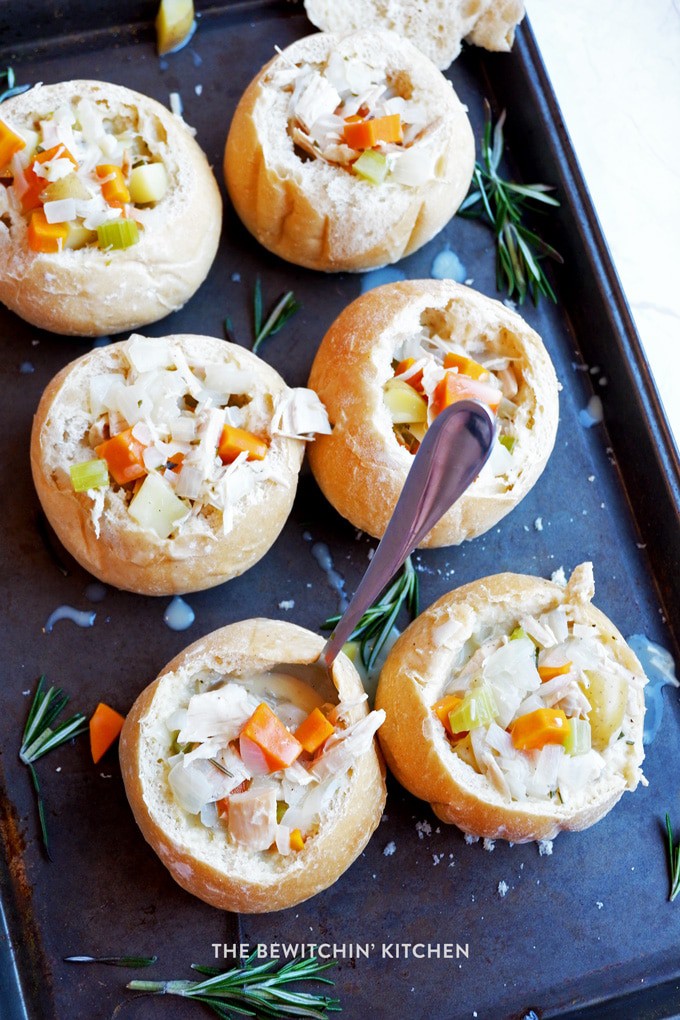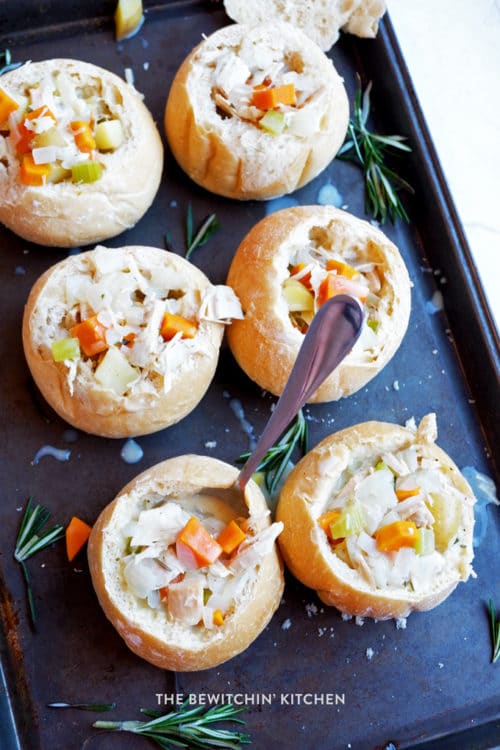 Supplies and ingredients needed for this cream turkey soup recipe
Butter
Onions
Celery
Carrots
Potatoes
Garlic cloves
All purpose flour (or arrowroot powder for gluten-free)
Chicken broth
Turkey breast
Heavy whipping cream
Salt and pepper
10 sourdough buns (or gluten free buns for a gluten free meal)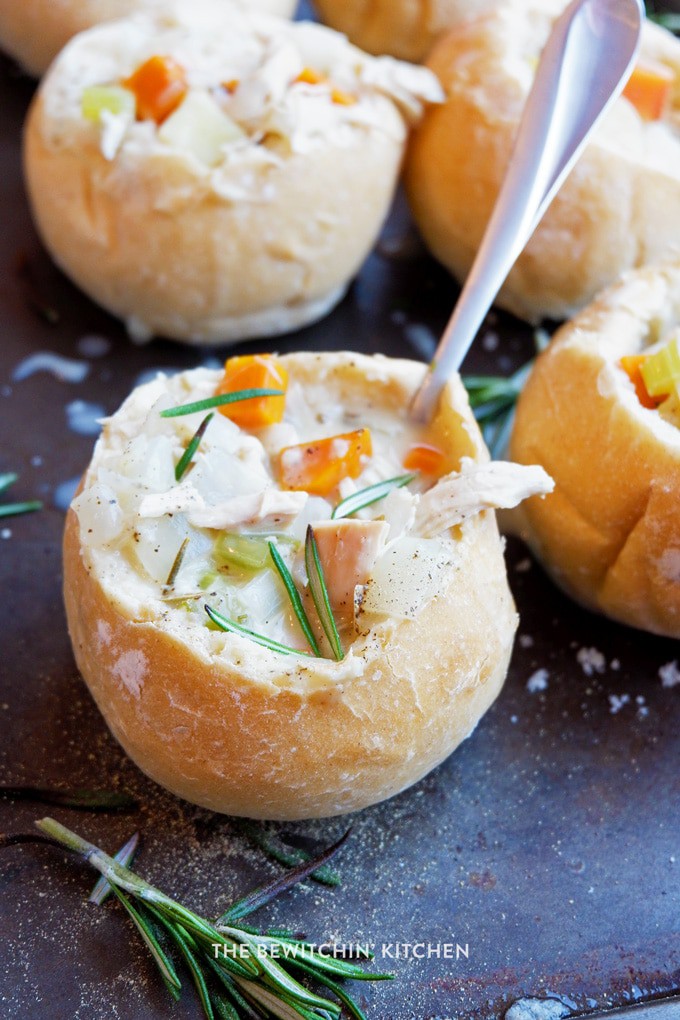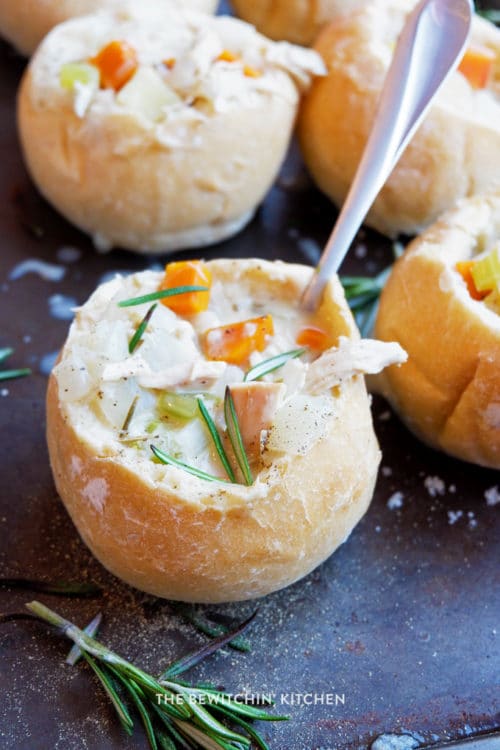 Turkey Recipes on The Bewitchin' Kitchen
Tell me in the comments, what's your favorite way to use up turkey dinner leftovers?
Don't forget to save this recipe and pin it to your leftover turkey recipes board.
Creamy Turkey Soup
This creamy turkey soup recipe is a delicious way to use up leftover turkey after a holiday feast. This homemade turkey soup is so simple to throw together, you and your family are going to love it. Want to add a little extra pizazz to the meal? Serve it in a bread bowl.
Prep Time 10 minutes
Cook Time 35 minutes
Total Time 45 minutes
Servings 10 cups
Calories 217kcal
Ingredients
2-3 tbsps butter ghee or coconut oil if dairy free
2 large onions diced
2 celery stalks diced
2 large carrots sliced
2 potatoes peeled and diced
2 garlic cloves minced
1 tbsp fresh rosemary minced
2 tsps dried thyme
2 tbsps all purpose flour
4 cups chicken broth
2 1/2 cups shredded turkey breast
1/2 cup heavy whipping cream coconut milk if dairy free
2 tsps salt
1 tsp pepper
10 sourdough bread buns or gluten free buns
Instructions
For the creamy turkey soup
In a large stockpot heat the butter over medium heat.

Add the onions, celery, and carrots. Saute until onion is translucent, about 5 minutes.

Add garlic, potatoes, rosemary, and thyme. Stir until fragrant (about 1 minute).

Sprinkle the flour (or arrowroot powder if gluten free) over the vegetables and stir.

Add the chicken broth (or leftover turkey stock), leftover turkey breasts, salt, and pepper. Bring to a boil, cover and simmer on low for 20-25 minutes.

Add cream, heat through, taste and adjust seasonings.
For the bread bowls
Slice the top off of the sourdough buns and scoop out the inside. Don't take out too much as you want some support for the soup. I recommend taking out half the bread, then pushing the rest down to form a barrier.

Ladle the soup into the bowls. Enjoy!
Notes
Weight Watchers Freestyle Points: 5 (for soup only).
Nutrition
Serving: 1bowl (no bun) | Calories: 217kcal | Carbohydrates: 13.6g | Protein: 19.5g | Fat: 9.3g | Saturated Fat: 5.3g | Trans Fat: 0.2g | Cholesterol: 69.6mg | Sodium: 915.4mg | Fiber: 2.3g | Sugar: 3.3g
Follow On Pinterest
Follow @randaderkson On Pinterest for more delicious recipes!
Calories in Creamy Turkey Soup
FREE Recipe Binder
Are you constantly wondering what's for dinner?
When I don't meal plan I feel behind, and we usually end up ordering take out. This recipe binder will keep you organized and make life a little bit easier.