Garlic Rosemary Bread
Have you ever baked bread before? If not, you're going to love how easy it is. This dutch oven garlic rosemary bread recipe is one of my new favorites, and it's so simple. There is seriously nothing more comforting than homemade bread.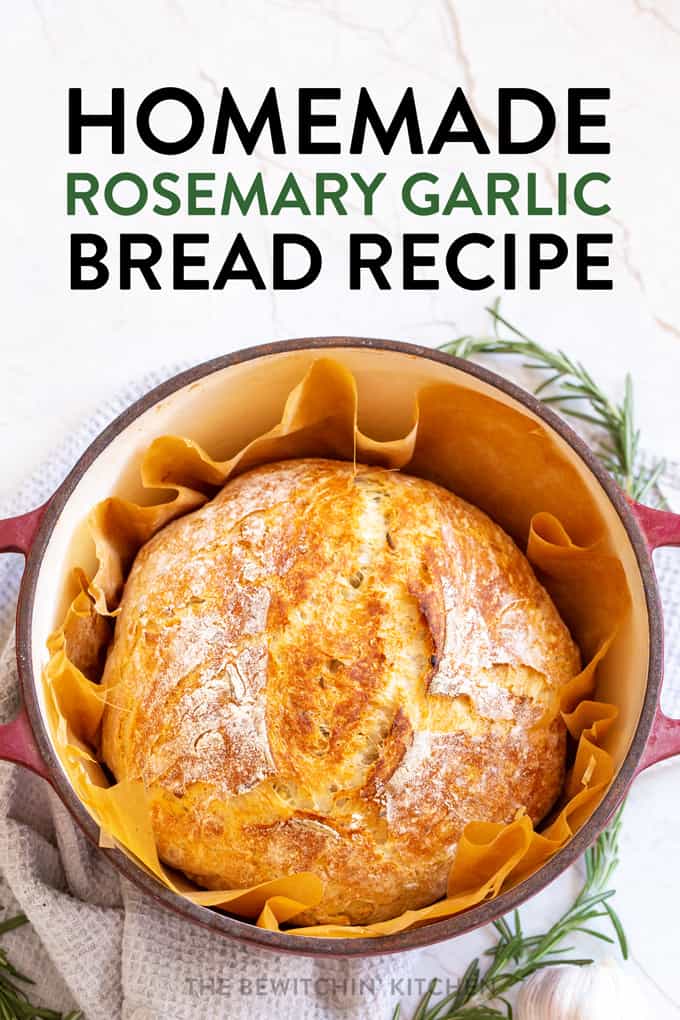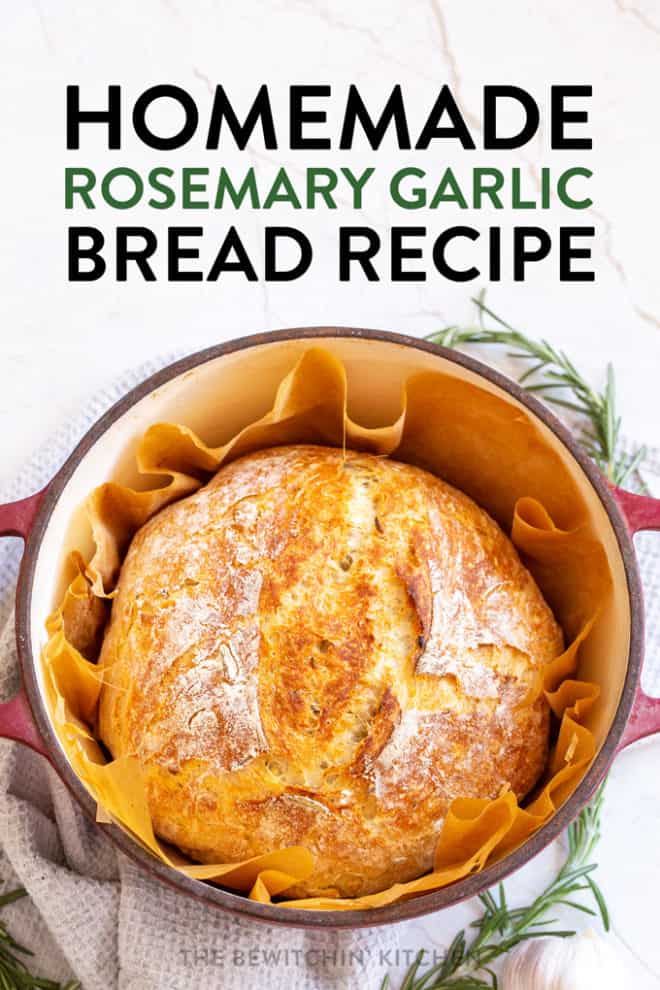 Disclosure: This post contains affiliate links for your convenience. As an Amazon Associate, I earn from qualifying purchases.
Artisan Bread with Garlic and Rosemary
I love artisan bread. The end.
Kidding, but homemade bread is something that makes my heart sing. I'm not going to lie. The best part is that is it's so easy, so simple, and so delicious.
A few weeks ago I came across this No Knead Bread recipe from Gimme Some Oven and it's delicious. I used it as a guide to dress it up and lower the flour a bit for this crusty rosemary and garlic bread recipe.
I had never baked bread with a dutch oven before and after Ali's tutorial, I'll never do it differently ever again.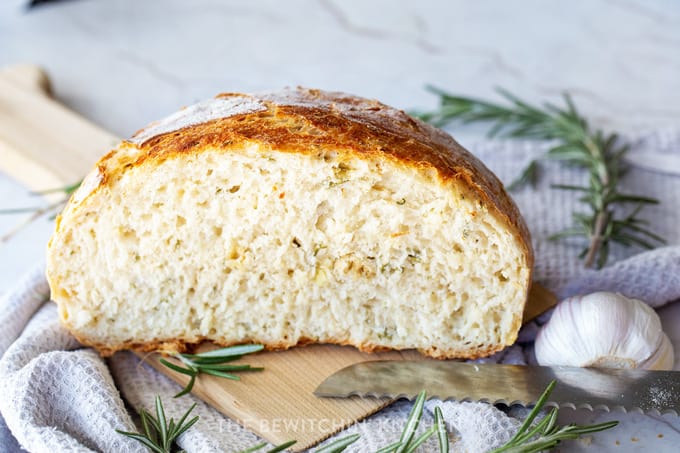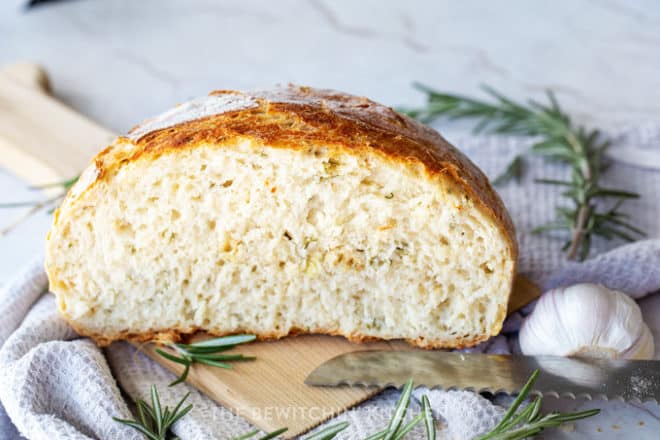 Supplies Needed For Roasted Garlic Bread
There isn't much you need, aside from the ingredients, but I do recommend the following:
Dutch Oven (I have a ceramic KitchenAid dutch oven that I received as a wedding gift, but I can't find it online. I have ordered an Amazon Basics brand one to try out to see how it works, I'll report back.)
I haven't made this recipe without a dutch oven, so I don't know how it will turn out without it. The dutch oven helps the bread bake with steam.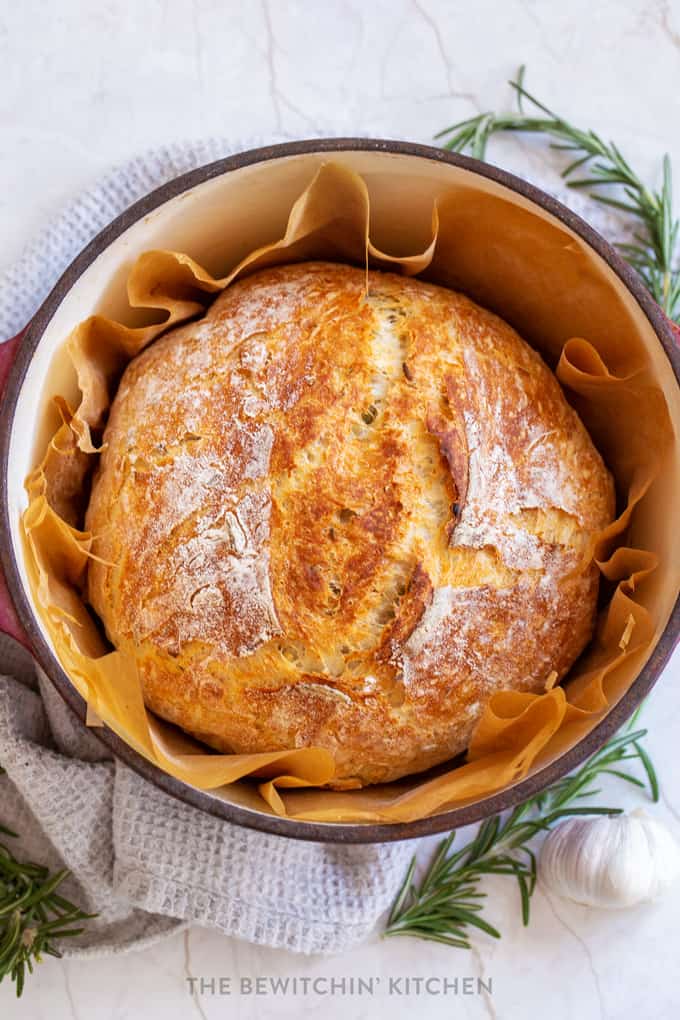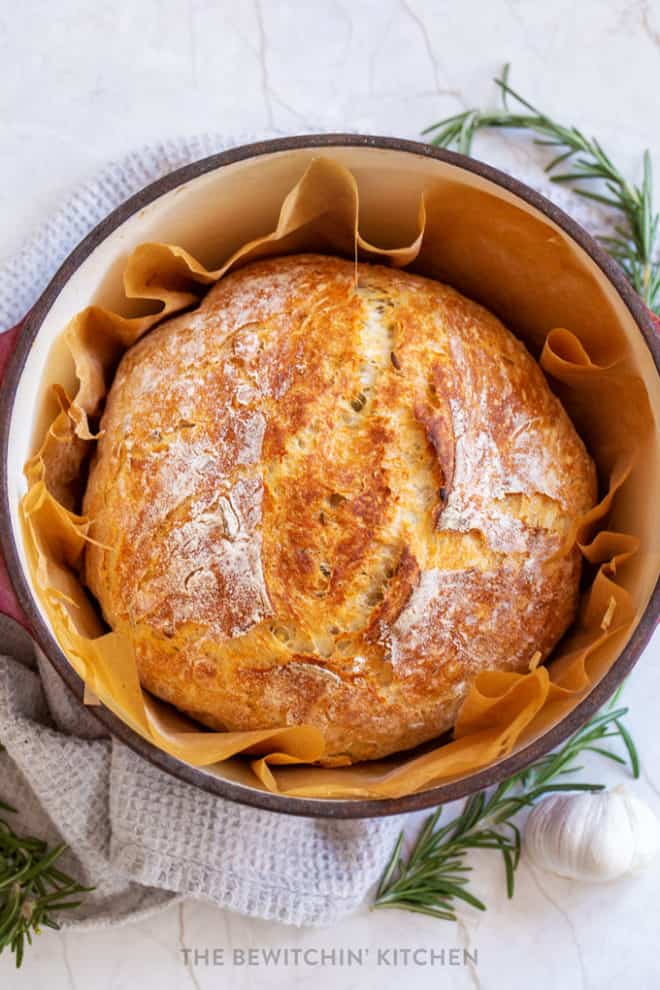 How long does bread need to rise?
There are a few factors involved in having artisan breads rise: the temperate of your home, the type of yeast you used, the flours, your elevation. It all matters. So you may have to experiment a bit to find what works best for your situation but I'll share what works for me.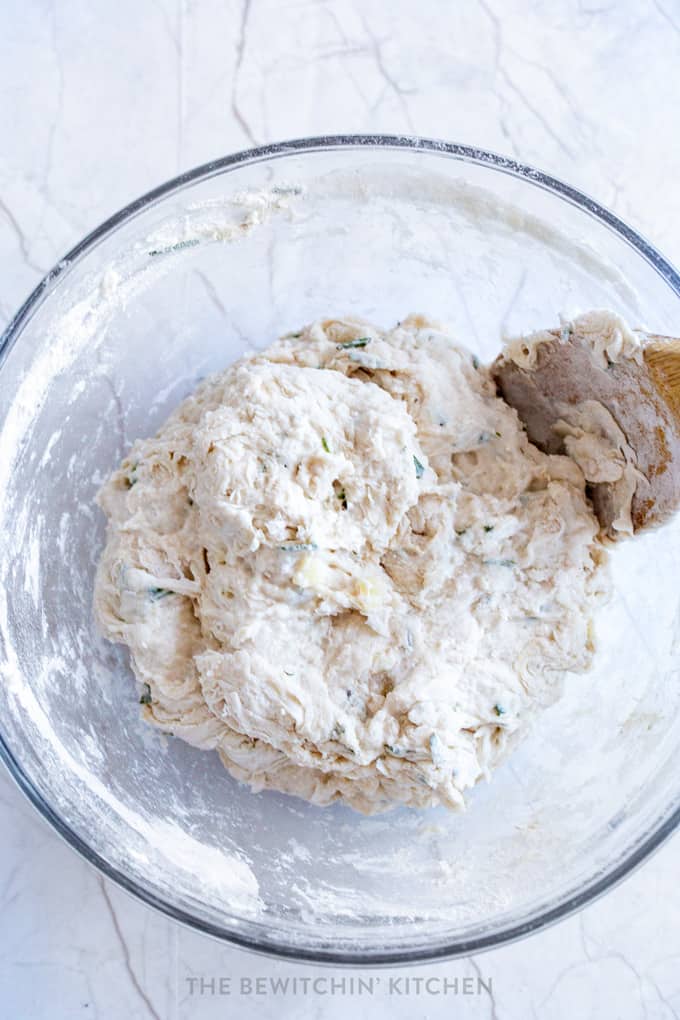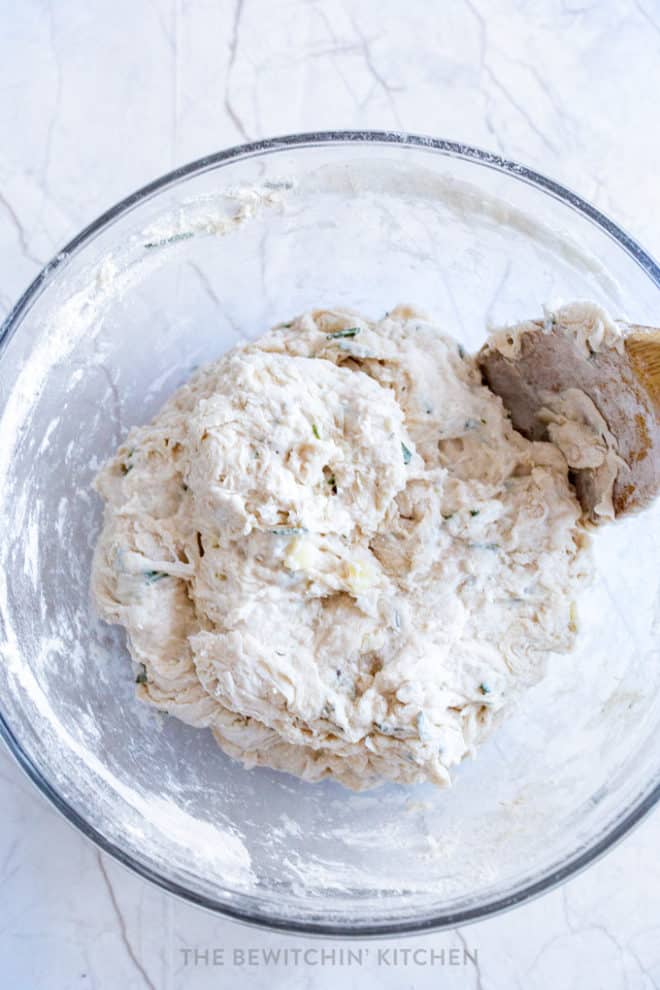 I simply combine all the ingredients into a mixing bowl and stir it together with a wooden spoon. I don't bother kneading this recipe and it's so freeing). The less work, the better. I am always looking for the simplest route possible.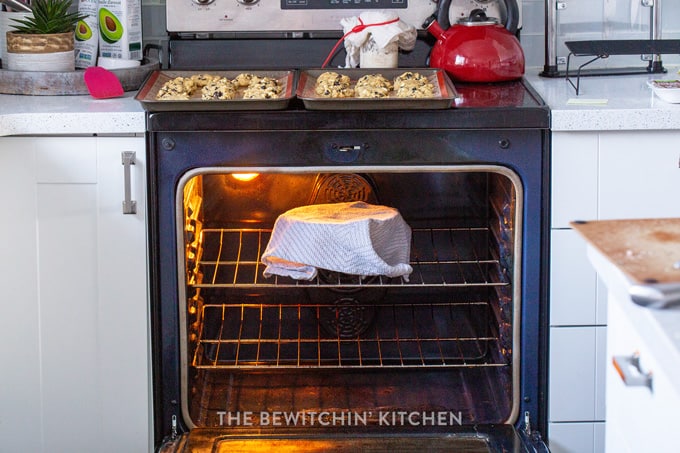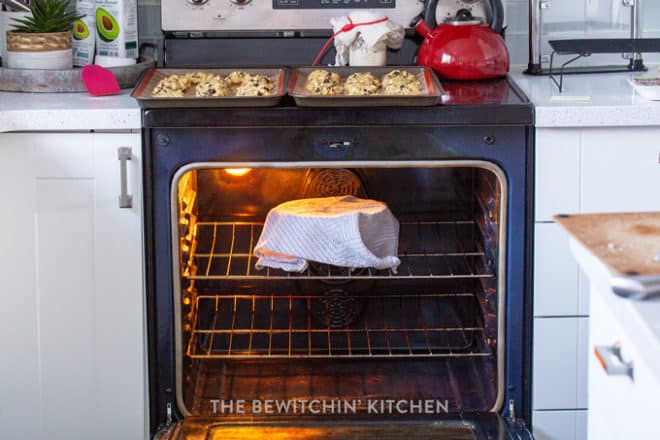 I'm lucky enough to have a proofing option with my oven. My house is usually cold (especially when it's not the summer) so I hit bread proof, cover it with a clean towel, and let it rise for an hour.
If you don't have a proofing option, you can turn on your oven and let the bowl sit on top. I have also let the bread sit over furnace vents in the past as well (this worked so well for my homemade buns).
Make what you have work for you.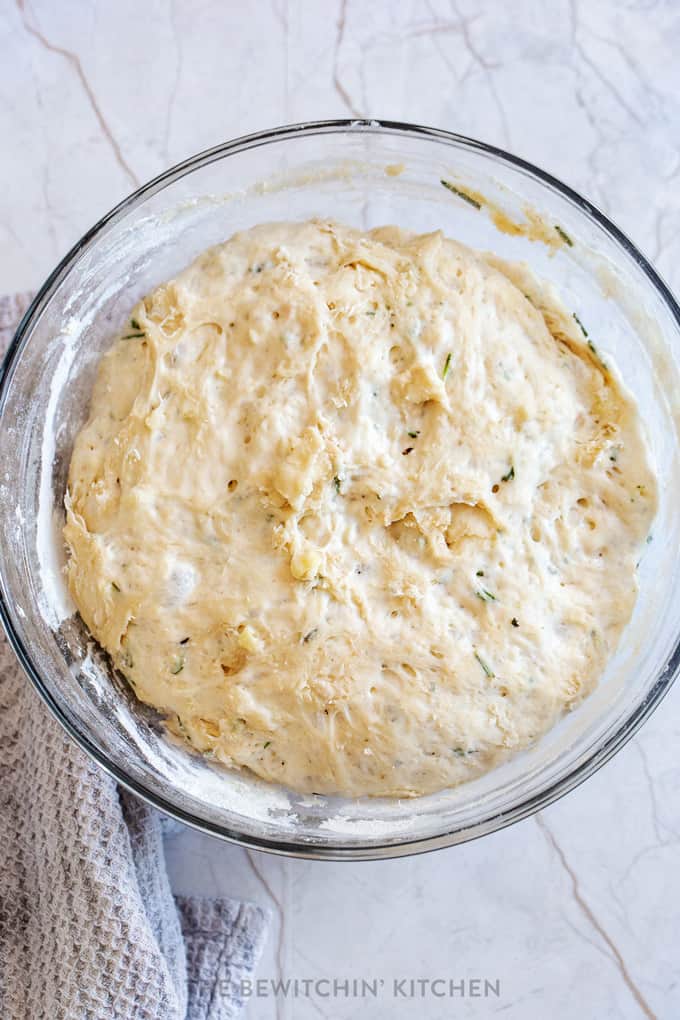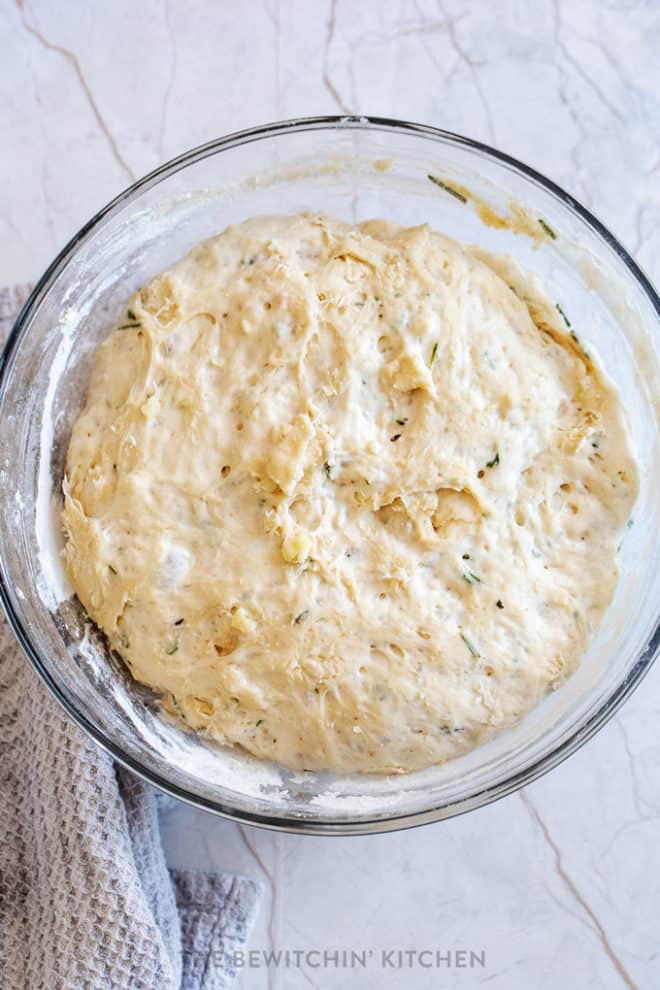 This is what the roasted garlic dough looks like after rising for an hour. I used a quick yeast because that's always what I have on hand. I typically only ever make my family's recipe for homemade buns and that requires the quick rise yeast, so that was that.
Can you use regular yeast? Yes. If you do let me know how it turns out in the comments.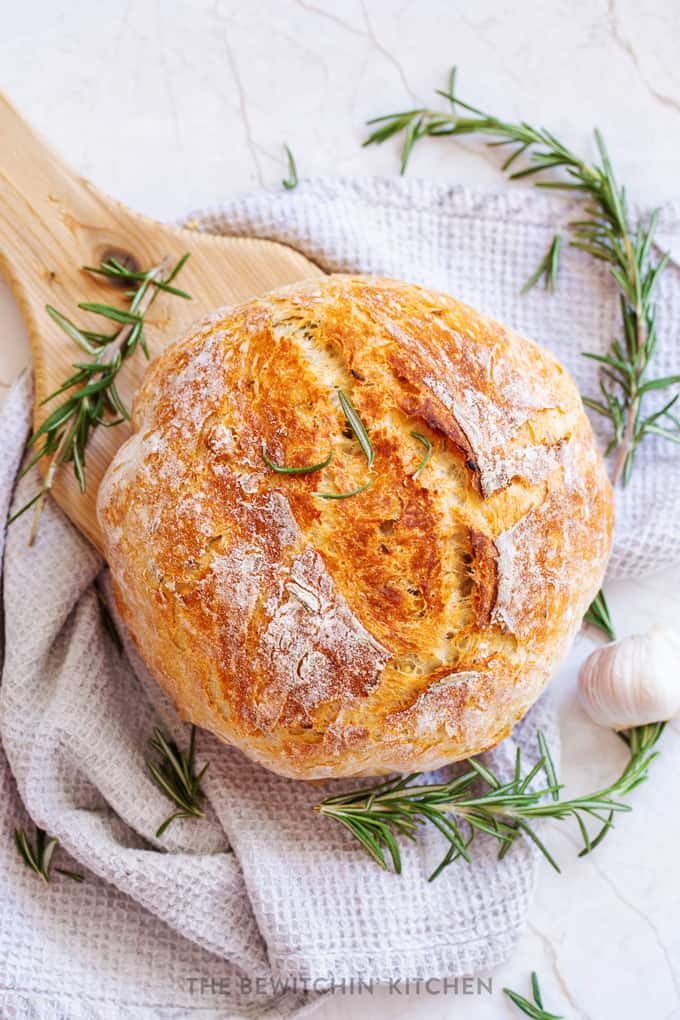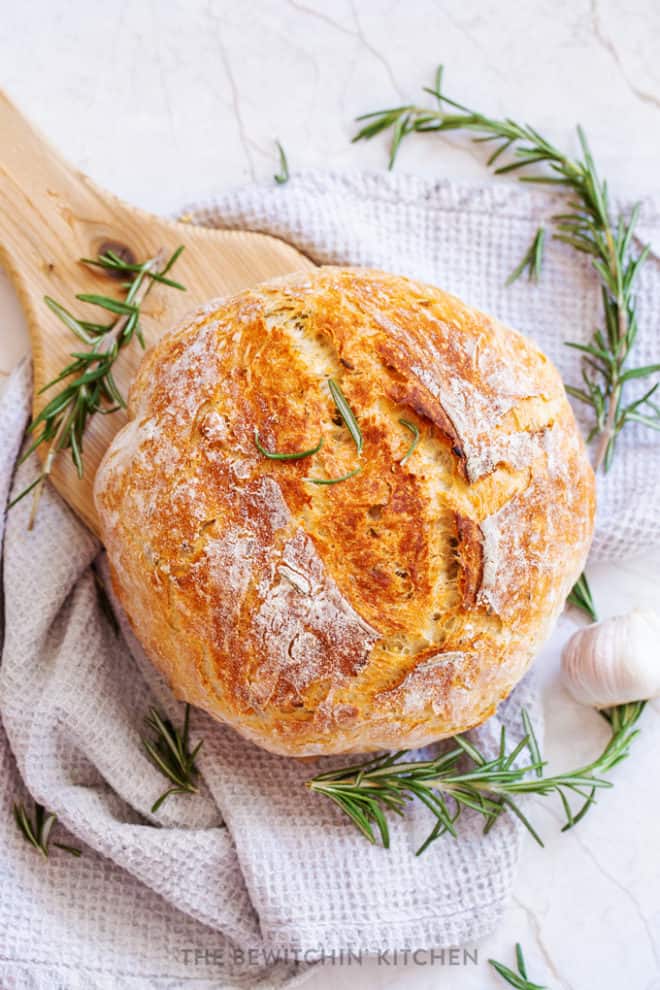 Scoring Rosemary Bread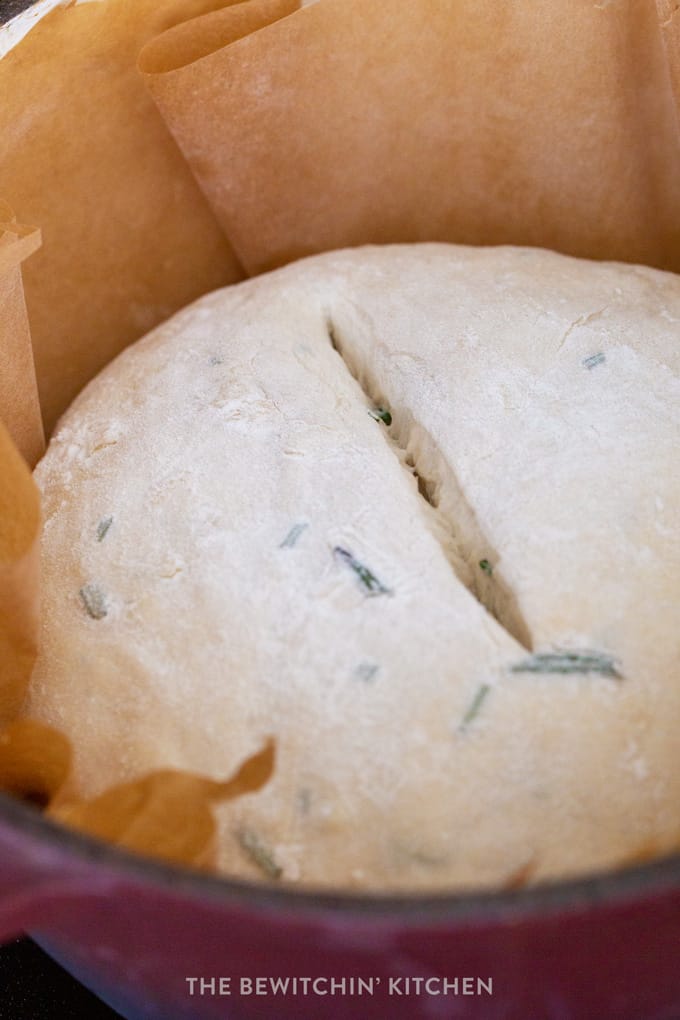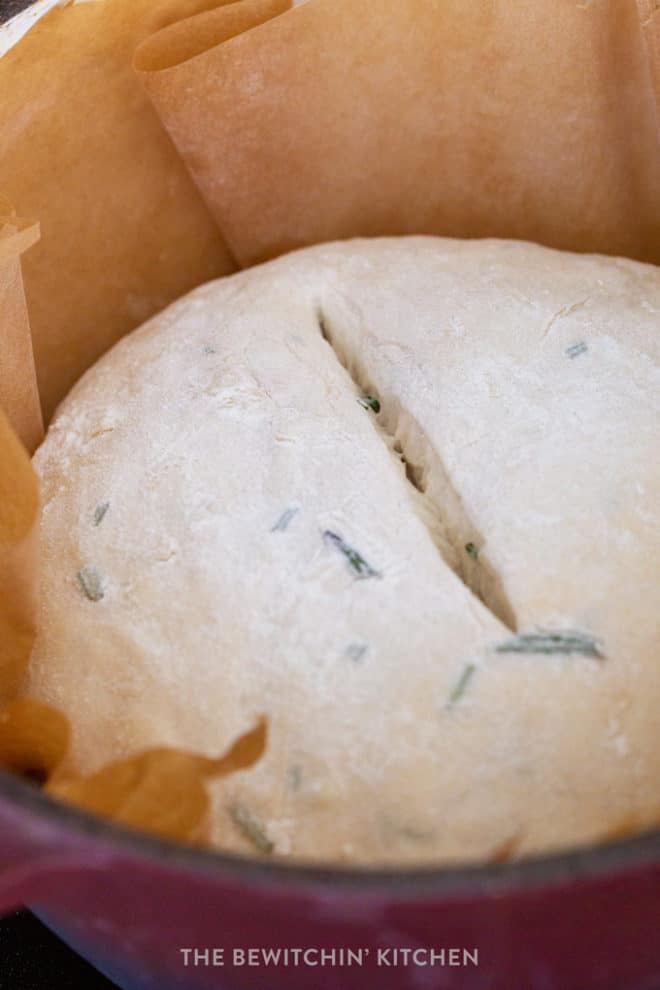 To allow the steam to escape while baking the bread, I scored my bread.
I did this by taking a paring knife and slicing down the center. You can make multiple slices or go the fancy route and make some pretty designs.
I'm a beginner at bread scoring, but one day I'll attempt some pretty work. I'm not there yet.
What to serve with homemade dutch oven bread
Don't get me wrong, I can eat this loaf of bread on its own (especially with some salted butter) but I am all for homemade bread and soup. Here are a few of my favorite homemade soup recipes: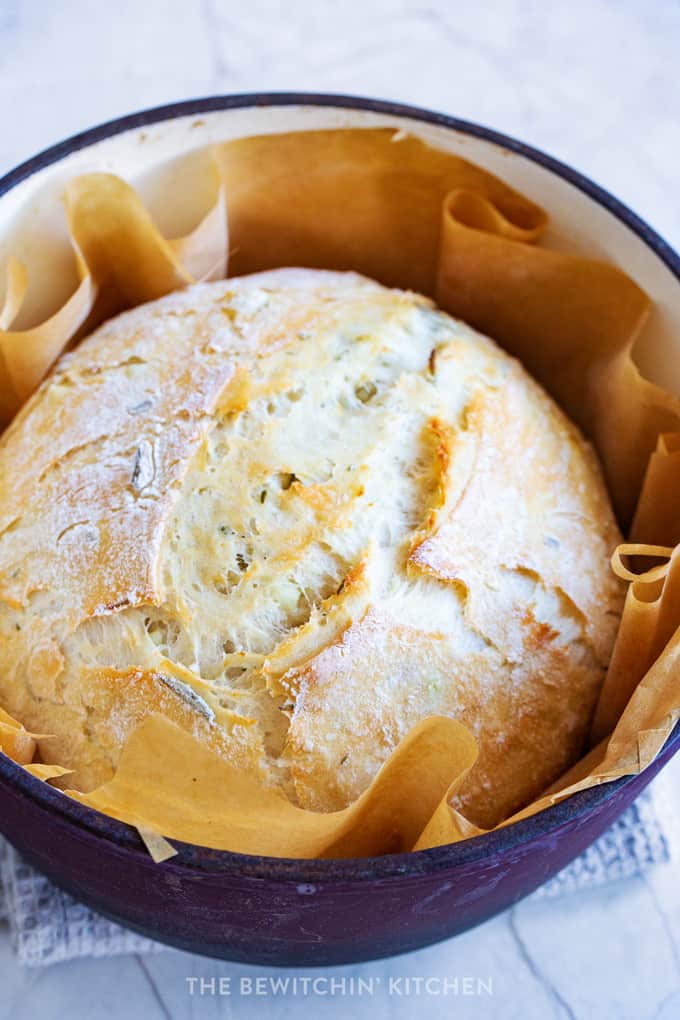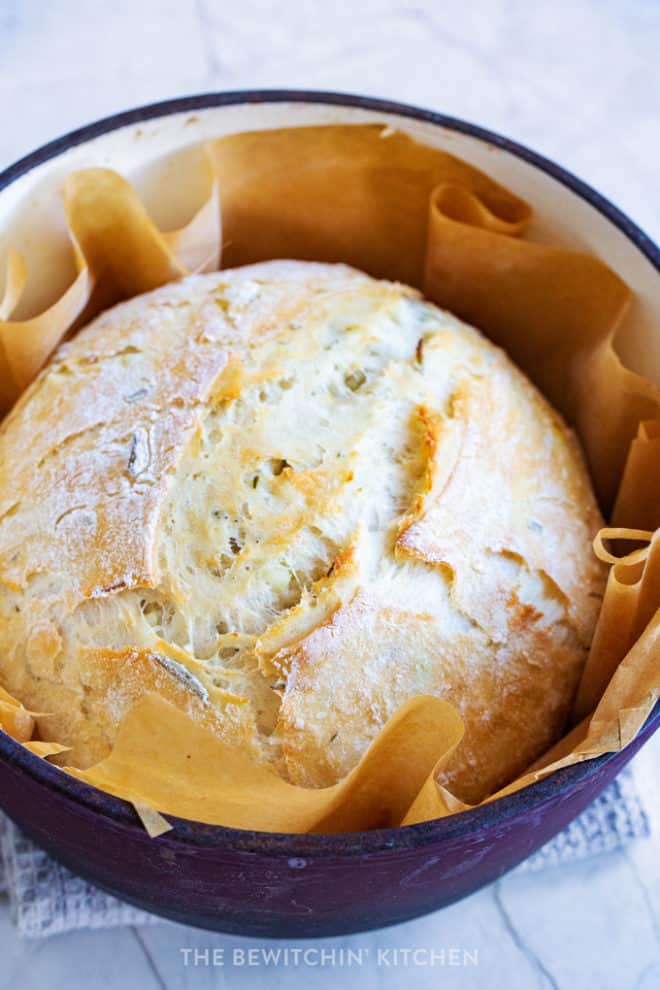 How to make rosemary garlic bread in a dutch oven
Baking garlic bread in a dutch oven is a game-changer. It doesn't dry out and it's like it hugs the dough to form this beautiful artisan loaf. I've tried so many bread recipes with garlic before, but this one creates such simplicity and a really beautiful pull apart bread.
I love this method of baking.
Turns out the steam of the bread works with the dutch oven to simply bake it to perfection. I'm not even going to pretend to know what I'm talking about here…all I know is that it works and it works well.
So just trust me on this one.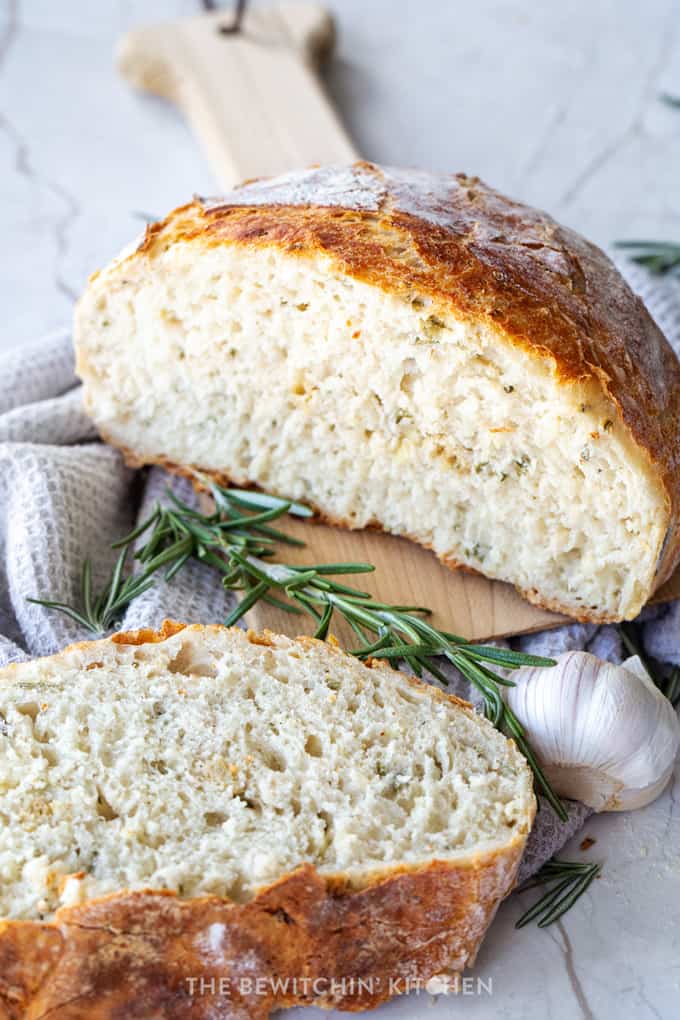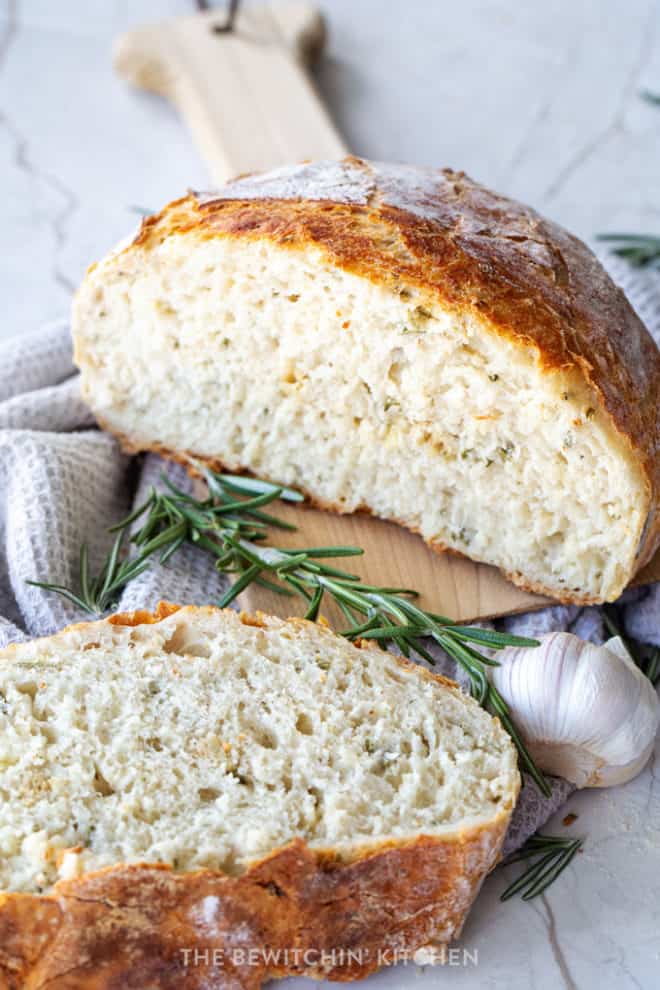 Do you bake bread? Do you have a longstanding family recipe or do you throw things together and hope for the best? Let me know in the comments…and be sure to share your recipe!
Next up on the bread experiment is Jalapeno Parmesan Bread. It's delicious and you have to try it!
Dutch Oven Garlic Rosemary Bread
 This dutch oven garlic rosemary bread recipe is one of my new favorites, and it's so simple. There is seriously nothing more comforting than homemade bread.
Equipment
5.5 or 6 qt Dutch Oven

Wooden Spoon
Servings 8 slices
Calories 187kcal
Ingredients
3 cups All Purpose Flour
1 1/2 tsp sugar
2 tsps salt
2 1/2 tsp quick yeast (1 package)
1 1/3 cups water warm
2 large rosemary sprigs taken off stems an diced
3 garlic cloves diced
Instructions
First Rise
Add all of the ingredients to a mixing bowl and stir together. The dough will be sticky, shaggy and a hot mess. That's okay, it's supposed to be that way.

Cover the bowl with a towel and let rise for 60 minutes. I used the proof setting on my oven, if you don't have that setting you can turn on your oven, and set it on your stove so it has a warm place to rise. OR you can set it near your warm air vents.
Shaping the bread
Lay out a piece of parchment paper and dust it with flour. Transfer the dough from the bowl to the paper and behind shaping it. You'll want to stretch out each side and fold it over and work around until you have it in the shape of a ball. (Don't worry you can't mess this up).

Flip it over to where the smooth side is up. Cover with the towel and let it rise for roughly 20 minutes (or until the dutch oven is read in the next step.
Heating the dutch oven
Place the dutch oven in the oven (I didn't include the lid). Preheat your oven to 450F and let it come to temperature. Your bread will rise while your dutch oven heats up.
Baking the bread
Using oven mitts, take the dutch oven out of your oven and place it on top of the stove. Lift the bread using the parchment paper and transfer it to the dutch oven. Score the bread to let steam escape while it bakes. I just did a simple slash down the center with a knife, but you can make it pretty with designs if you'd like.

Cover with the lid and transfer it to the oven. Bake for 30 minutes. When it's done the color will be pale. Place it back in the oven without the lid for another 10 minutes, or until is golden brown of to your liking.

Remove from the oven and lift the bread out of the dutch oven using the parchment paper. Let cool for at least 30 minutes.

Serving ideas: butter and a sprinkle of sea salt, olive oil and balsamic, or straight up.
Nutrition
Serving: 1slice | Calories: 187kcal | Carbohydrates: 38g | Protein: 6g | Fat: 1g | Saturated Fat: 1g | Sodium: 586mg | Potassium: 90mg | Fiber: 2g | Sugar: 1g | Vitamin C: 1mg | Calcium: 9mg | Iron: 2mg
Follow On Pinterest
Follow @bewitchinkitchen On Pinterest for more delicious recipes!