Kitchen Organizing Tips – Simple Ideas to Stay Organized
The fact that the kitchen is a popular space also means that it can quickly become a total mess! After all, aside from the bathroom, it's the one space in the house that EVERYONE uses. So here are some kitchen organizing tips to make life a little easier.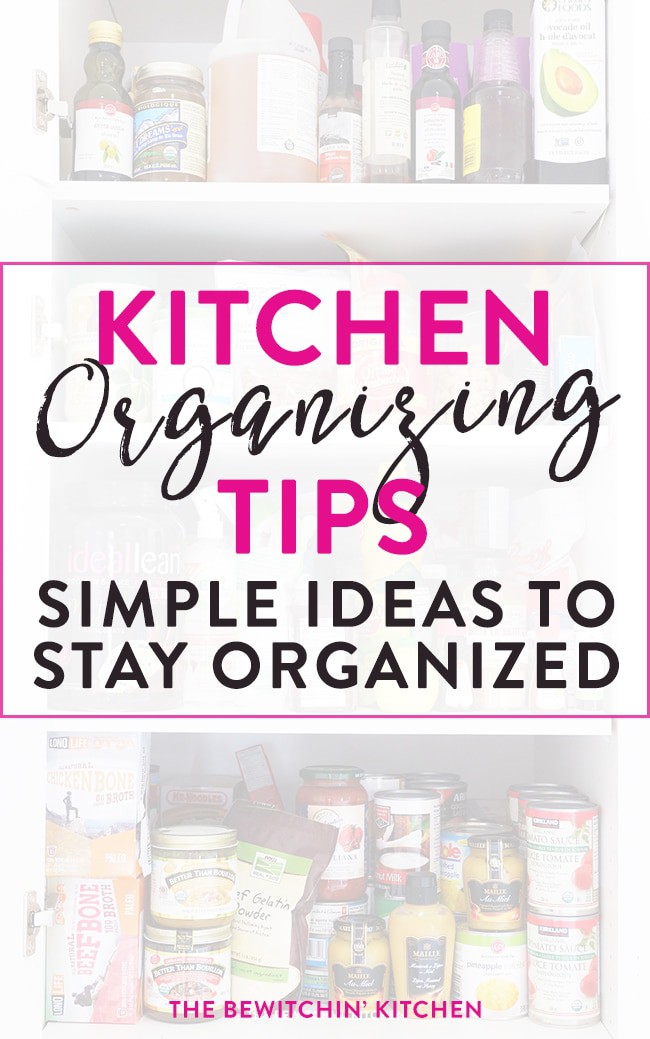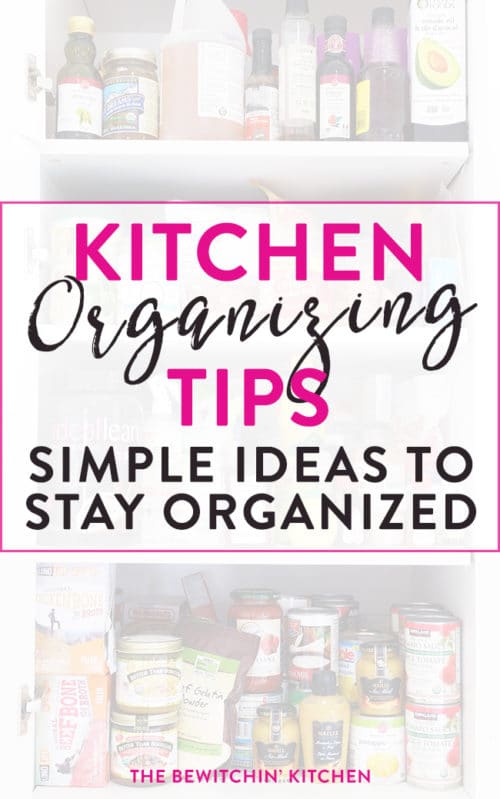 There is an old saying: the kitchen is the heart of the home, hey I've used that as tagline for my blog for years. Haven't you noticed that most people at your parties end up there, as do friends and family? It's not just because of your fabulous food, though that probably helps!
Food is a comfort and the kitchen is the heart of where the comfort comes from. It's not just about eating, but feeding the soul too! Kids learn to bake in the kitchen, friends share over coffee in the kitchen, people bond and build memories!
So how do you keep the space tidy and organized, but still inviting and warm? Easy!
Related: Getting Started with the KonMari Method
Kitchen Organizing Tips
This post contains affiliate links.
1. Start as you mean to finish
Before you can organize any space, you need to review and purge. Clutter is the enemy! Every item in your kitchen should have a home. If it doesn't have a home, it shouldn't be in the kitchen. Getting the whole family in the habit of not using the counter or island as a dumping ground for everything from car keys to next week's homework is the way to go.
There are likely items in your kitchen that shouldn't or don't need to be there, so take a look around:
Check your countertops for clutter: Do you need all of those small appliances out and visible or could some be stored because they only get used occasionally? Decide what needs to stay out and what can be put away.
Go through your spices and pantry to see if there are jars and cans that are woefully out of date, or that you don't use, and get rid of them.


TBK's Pro Tip: I like to put all the packages of spice refills in a basket or fill up small glass containers. I use these ones.

Packaging is a huge space stealer. After all, three half-empty boxes of the same cereal take up a lot of cupboard space. Combine and reduce; even better if you can get rid of the packaging by putting dry goods into see-through jars or containers.
Source – Just a Girl and Her Blog from How To Organize a Kitchen Pantry 
(PS: Abby is the queen of organization – head there and get inspired!)
Check your drawers for all your tools and implements: the old spoon your mother used to use can probably go, but the melon baller that you take out for all sorts of tasks should be front and center.
Go through the fridge and freezer and make sure you're leveraging the spaces as best as you can! Using containers, magazine holders and lazy susans, you can get more in while still making it all accessible!
If you know that your kitchen island will receive all the paperwork for the house, including mail, bills, flyers and permission forms, put a basket for these items out but make a point of going through it regularly before it overflows! Take a look at these cute kitchen command centers.
2. Start an inventory
How often have you gone to the grocery store or a Costco, seen a great deal and stocked up? If you have the storage space, by all means! If you don't, having an inventory of what you have in your cupboards, freezer and pantries will avoid a serious over-shop!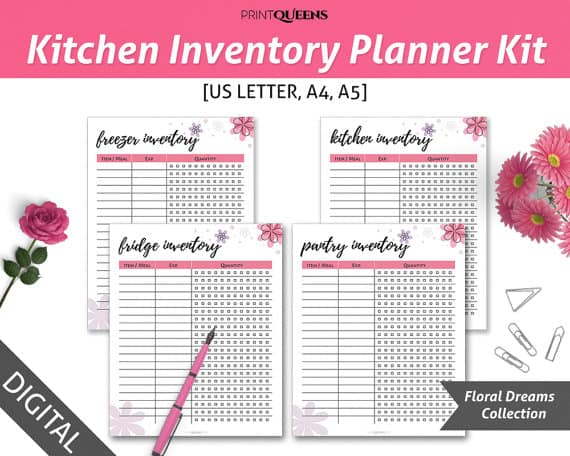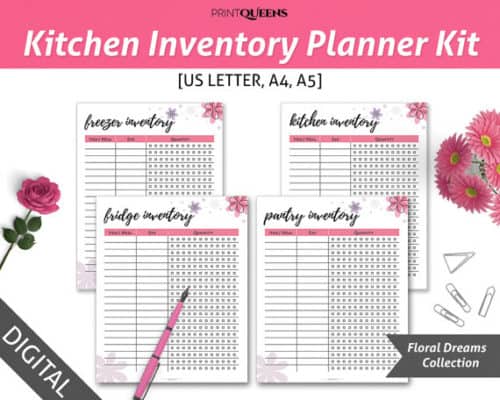 Source – Print Queens
Grab these 4 inventory printables here and have it on a clipboard in your pantry!
I personally always have a grocery list on the go, so when I do run out – it's added right away. You can get your FREE recipe binder (which includes a grocery list) below this post.
3. Figure out what storage spaces are underutilized… and use them!
Here are a few of the usual suspects:
Inside cupboard doors—this is a great spot for putting hooks to hang tools, or adding magnetic strips for putting sharp knives out of reach.
The vertical space on cupboard shelves—leverage the space by adding plastic risers so that you can stack things without making it impossible to get the one item at the bottom that you need.
A blank side wall—put your whiteboard or calendar here: the kitchen is often the best place to put a memo system so that everyone has access to the family schedule and the shopping list.
Under the sink—a lazy susan or shelving can help maximize this space so that you can store your products or small appliances that you don't use all the time but still have access to them.
The top of your cabinets—a great spot to display your turkey platter, that you only use twice a year anyway!
Get creative and use these spaces for hanging baskets, magnetic strips, and so on. One great way to leverage the back of pantry door is by putting up a clear plastic hanging shoe rack. It's a great place to store all the little things, like packets of sugar, or the ketchup that comes with your takeout, as well as snacks that are at just the right level for tiny paws.
Remember, the heart of the home needs to be cozy AND functional, so get organized and enjoy your space, every single day.
Don't forget to check out these posts that you may find helpful
Share your kitchen organizing tips in the comments!