Hot Taco Dip Recipe
This hot taco dip recipe is a savory, cheesy, melty dream! Chances are you have the ingredients already in your pantry, so this recipe will only take seconds to throw together. Then, just let it bake and you're done. Yes, it's really that easy. Easy cheesy hot taco dip at your leisure!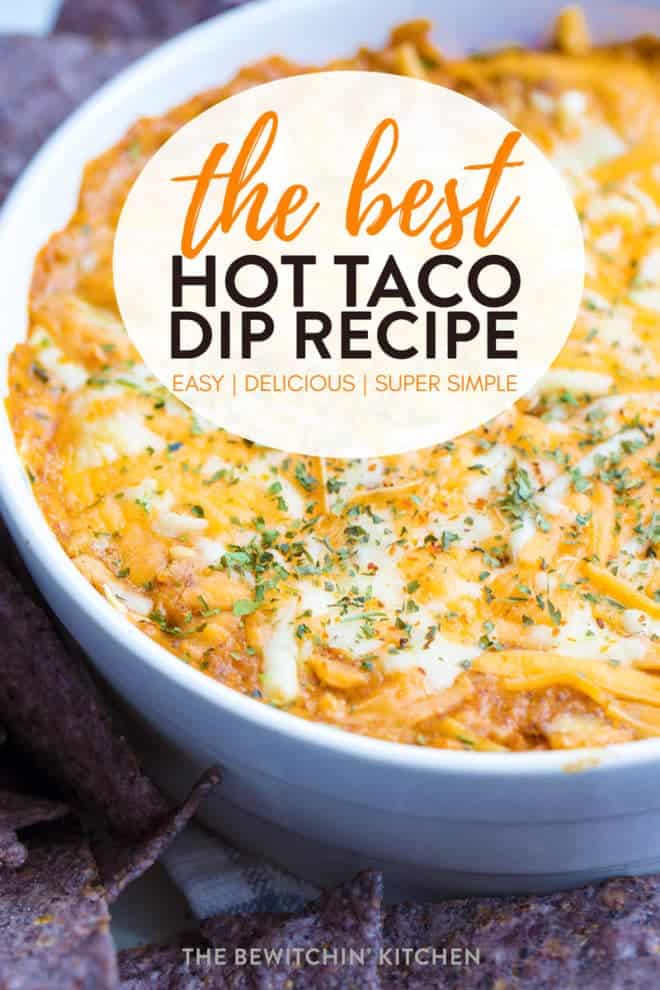 Hot Taco Dip
Disclosure: This post contains affiliate links for your convenience.
I was going through old posts and came across my Southwestern Dip. It's a really simple recipe, and it tastes delicious. While I was reading it, I thought — why not expand on it a bit, compare that with my all-time favorite (Hot Broccoli Dip), and see what kind of Frankenstein's monster I can create.
The result, my friends, is a delicious hot taco dip recipe.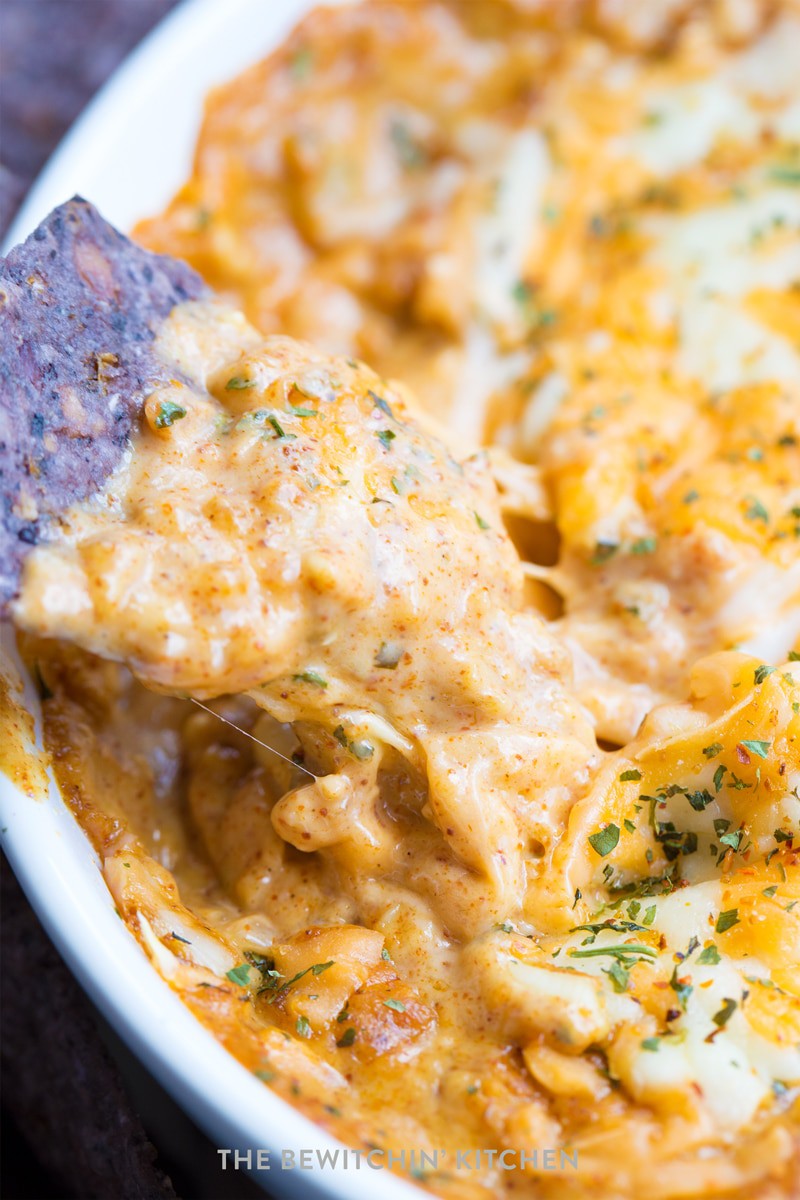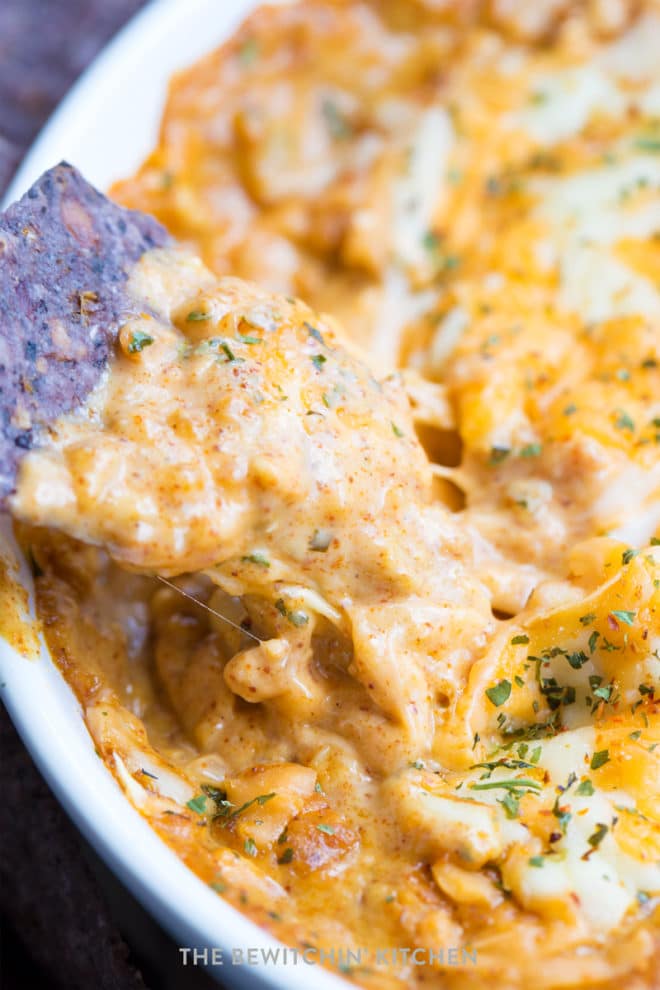 Just look at how cheesy the baked taco dip is! So yummy!
Why You'll Love This Taco Dip Recipe
Fast – This isn't one of those tortilla chip dip recipes that takes hours to prepare.
Easy – This warm taco dip is ready in less than half an hour — most of which is hands-off bake time!
Convenient – Simple ingredients you may already have on hand make this a convenient appetizer to throw together last minute.
Baked Taco Dip Ingredients
Miracle Whip (see note below)
Sour cream
Salsa (I love the ristorante style)
Shredded cheese (cheddar or a Tex Mex blend)
Onion
Red bell pepper
Taco seasoning
TBK's Pro Tip: Make this taco dip recipe with Miracle Whip. Yes, it HAS to be Miracle Whip. Regular mayonnaise has a totally different taste and could affect the outcome of the recipe, but if you're super gung-ho, fly at 'er (and let me know if it worked for you or not). I prefer Miracle Whip when it comes to dips — there's just more flavor. However, I know this can be a hot topic in many food communities!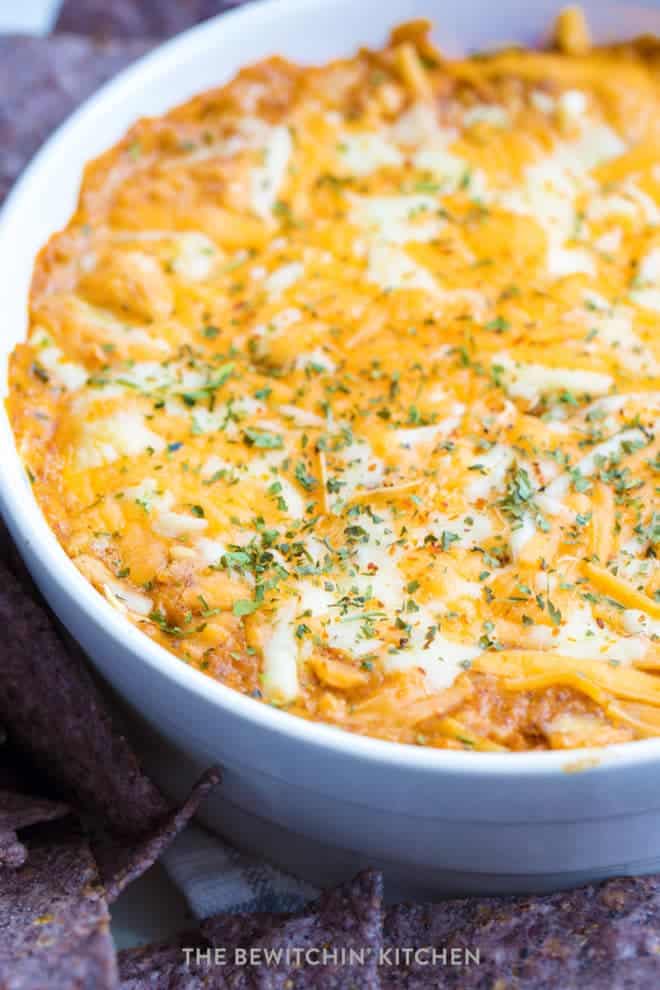 How To Make Warm Taco Dip
Prepare Ingredients
Gather all of your ingredients for convenient grabbing and finely chop your onion and red pepper.
Mix Ingredients
Mix the ingredients together in a bowl, then dump them into a baking dish. If your baking dish is deep enough, you can even mix everything together right in the dish and avoid extra dishes!
Bake
Bake for twenty-five minutes — and that's it!
Serve your warm taco dip with tortilla chips, vegetables, or your favorite crackers. I've been buying Que Pasa Tortilla Chips lately, and they're so good! Plus, they're a British Columbia-based company, so I feel like I'm helping out a local business.
Another way to make this taco dip recipe is to add some protein. Many tortilla chip dip recipes incorporate ground beef. That would certainly make for a heartier baked taco dip, but I think shredded chicken would be delicious too! I prefer a meatless version myself, but I don't think there are many wrong ways to enjoy a hot taco dip.
Frequently Asked Questions
How long do you bake hot taco dip?
I baked this dip for 25 minutes. If you want to the cheese to be bubbly, feel free to broil it for 2-3 minutes as well. Just remember to keep your eye on it so it doesn't burn!
How many calories in taco dip?
In this recipe for hot taco dip, 1/4 cup has 90 calories (without added cheese on top). For the full nutritional information, scroll down to the recipe card for the macronutrients to help ensure you can fit this easy dip recipe in with your health goals.
Leave me a comment — are you a hot or cold dip kind of person? Me? I'm all about the cheesy baked dip recipes!
More Tortilla Chip Dip Recipes
Cheesy BLT Kale Dip with Epicure
Hot Taco Dip Recipe
This taco dip recipe takes seconds to throw together and just 25 minutes to bake. Serve with tortilla chips, vegetables, or crackers.
Servings 2 1/2 cups
Calories 90kcal
Ingredients
1/2 cup Miracle Whip
1/2 cup sour cream
1/4 cup salsa
1 cup cheddar cheese or tex mex cheese
2 tbsps chopped onion
2 tbsps chopped red pepper
1 pkg taco seasoning
Instructions
Preheat oven to 350˚
In a bowl mix together all the ingredients.

Top with additional cheese.

Bake for 25 minutes.
Nutrition
Serving: 0.25cup | Calories: 90kcal | Carbohydrates: 5.4g | Protein: 3.6g | Fat: 5.8g | Saturated Fat: 3.2g | Cholesterol: 16.4mg | Sodium: 420.5mg | Fiber: 0.8g | Sugar: 2.1g
Follow On Pinterest
Follow @bewitchinkitchen On Pinterest for more delicious recipes!