Chicken Parmesan Pizza [Gluten Free]
This healthy parmesan pizza is loaded with juicy breaded chicken, gooey mozzarella, sweet red peppers, and plenty of herbs. Best of all, the pre-made cauliflower crust saves time and makes it gluten free too! Have this delicious (and nutritious!) chicken parm pizza on the table in under an hour.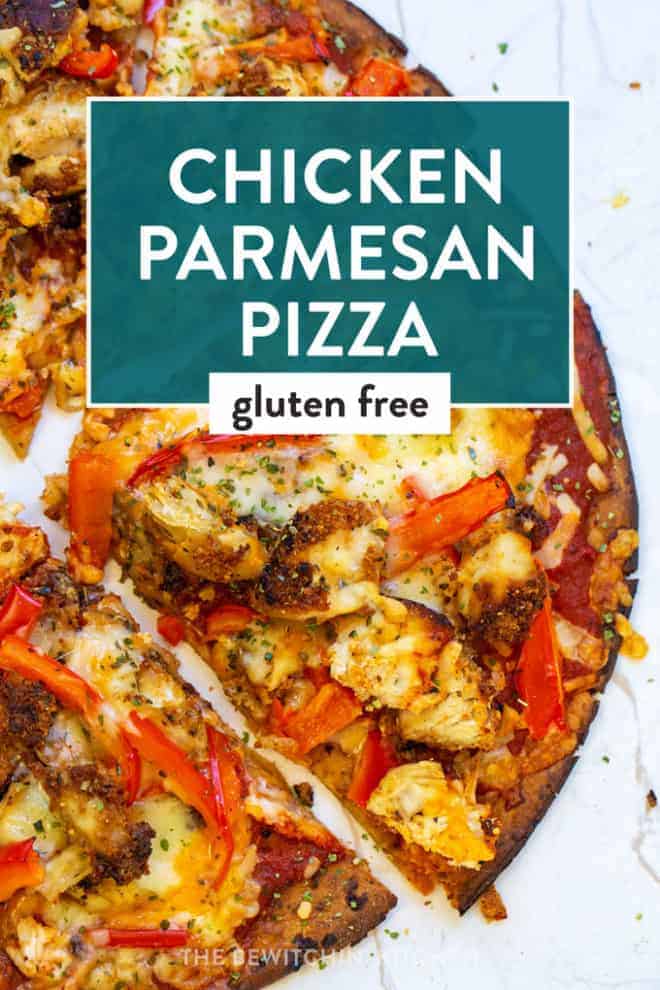 Parmesan Pizza with Chicken
My favorite chicken dish is chicken parmesan. If I see it in a restaurant, it's my kryptonite. This issue is, I have a sensitivity to gluten, so I usually end up in hives. Another favorite meal is pizza, and — you guessed it — I erupt in hive city if I order it at a restaurant.
So, what was my solution? Combine the two into one tasty dish that's loaded with all the good stuff but free from any wheat. And that's how this parmesan pizza was born!
It's incredibly easy to throw together even on the busiest of evenings, and that's thanks in part to the pre-made crust. Keep reading to learn how to maximize the flavors of a few simple ingredients, plus tips on how to make the best gluten free pizza at home.
Why You Will Love Chicken Parm Pizza
Easy to make – using a pre-made crust saves time and effort
Classic Italian flavors – tastes just like your favorite chicken parm
Double the recipe – grab a two-pack of crusts when you need to feed guests
Prep ahead – assemble and freeze your chicken pizza, then bake it later
Gluten free – of course!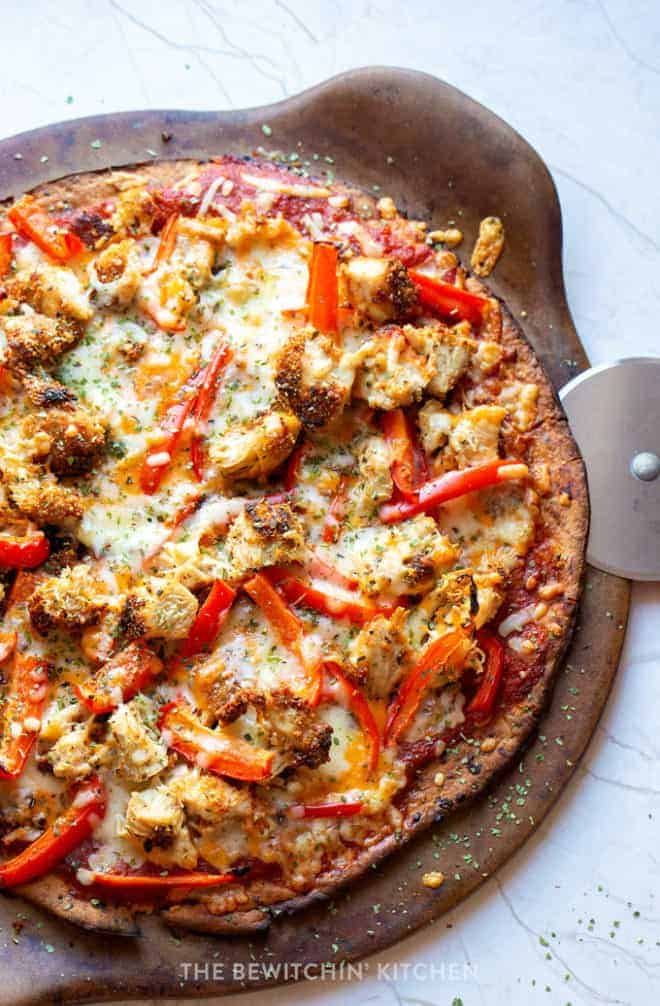 Best gluten free pizza crust
First, we have to take about the foundation of this parmesan pizza recipe. As a mom who is running two businesses and parenting two kids, the days of the homemade pizza crust are not in the cards right now.
Instead, I look for pre-made crusts in the deli or freezer aisle with healthier options. It's amazing what you can find in your natural/gluten-free aisle these days — gone are the days of edible cardboard!
Yes, you can still make a homemade cauliflower crust or a gluten-free pizza crust from scratch, but I didn't have time this week. Instead, I grabbed a cauliflower crust from Costco and went with it. You can also find frozen cauliflower crusts at most supermarkets these days too. Go team allergy!
Now, let's get to cooking…
How to make chicken parmesan pizza
This recipe is probably one of the easiest here on The Bewitchin Kitchen, once everything is ready to assemble that is.
If evenings tend to be hectic, save some time by prepping your ingredients earlier in the day. Slice the peppers and shred the cheese, then store them in separate containers in the fridge. You can cook the chicken ahead of time too, then slice just before putting your chicken parmesan pizza together — the breading will crisp back up in the oven.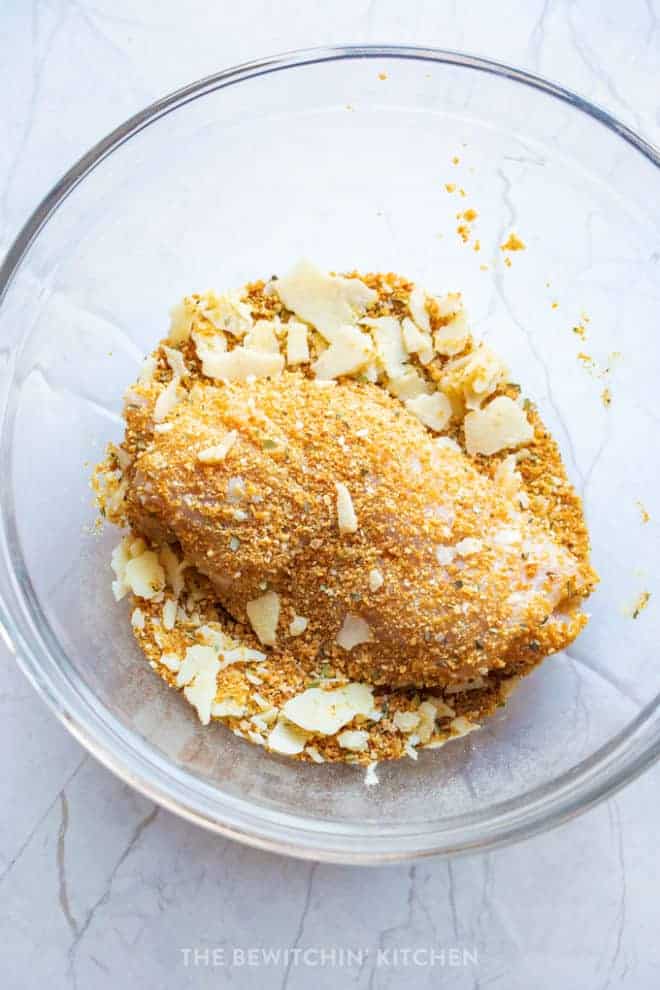 Bread and cook the chicken
First, preheat your oven to 425 degrees F and heat some frying oil in a cast iron skillet on the stove.
Set up a dipping station with two separate bowls — one for the egg and milk mixture, and another for the seasoned breadcrumbs (make sure they are gluten free as well).
Coat the boneless skinless breasts, one at a time, in the egg mixture. Then, dredge in the breadcrumb mixture until covered on all sides.
Fry the meat in the skillet for a few minutes on each side, then transfer the whole skillet to the oven. Bake for 25 minutes, or until the chicken reaches an internal temp of 165 degrees F. Cool for 5-10 minutes, then slice.
Assemble parmesan pizza
As stated before, I'm using a pre-made crust. Since chicken parm is made with marinara, I used that instead of pizza sauce for a bolder flavor.
Sprinkle on a layer of cheese (mix them together first for even distribution), then add your toppings. Finish with the rest of the cheese and extra oregano, and your chicken parm pizza is good to go!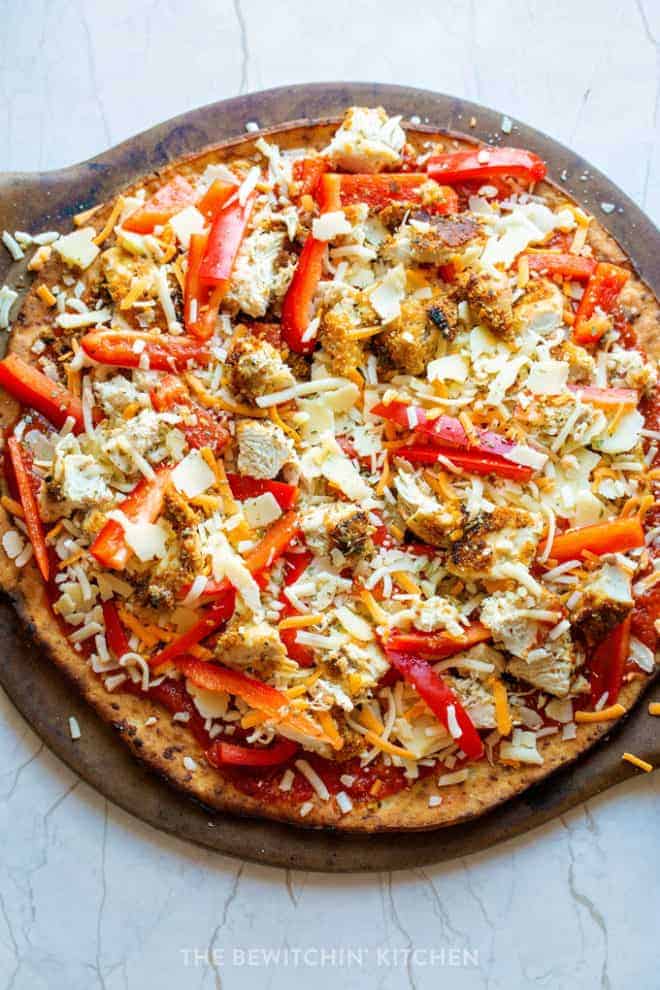 Toss it in the oven
I like to bake my pizzas on a stone, but a crisper tray works just as well. You also can place your chicken pizza directly on the oven rack, but I'd recommend adding a baking sheet on the rack below to catch any cheese drips.
For the best gluten free pizza, bake just until the crust starts to brown and the cheese is melted — about 12-15 minutes. You can also switch it to the broiler for the last minute or so if the crust looks done but the cheese needs a little more time.
Enjoy a slice or two with a side salad and you have dinner!
Frequently Asked Questions about Chicken Parm Pizza
Can I make this recipe with regular pizza crust?
Absolutely! You'll still need to use a pre-made crust if you want to follow the times and temps listed.
Otherwise, you will need to parbake the crust first, then bake again with the toppings. Or, simply increase the oven temp and cooking time — use this recipe as a guide.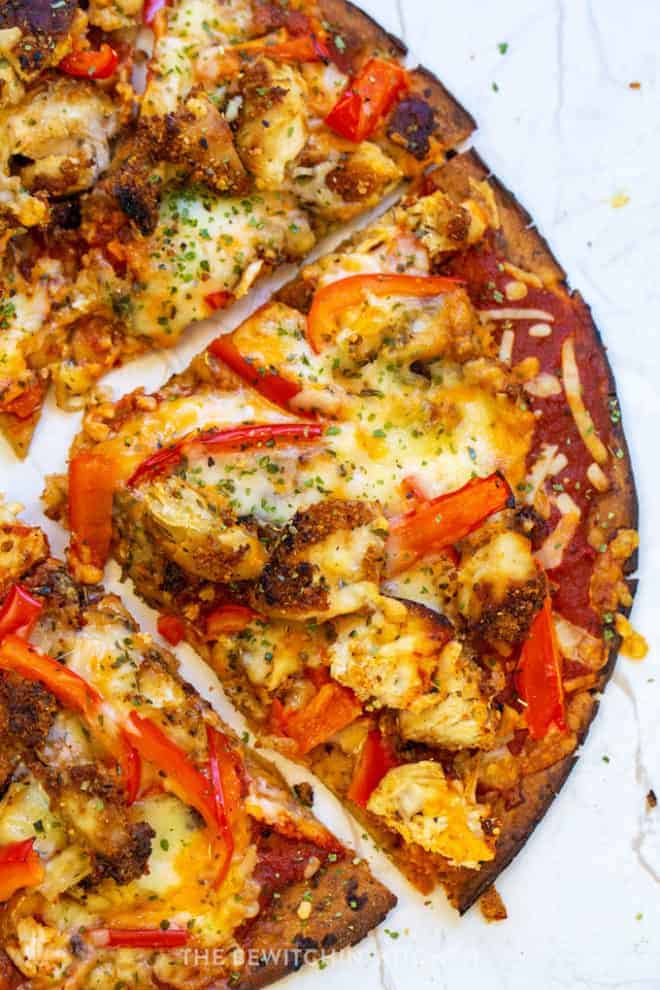 What toppings are good on chicken pizza?
Typically, you can get quite creative with both toppings and sauce options when it comes to chicken. But since we're aiming for chicken parmesan pizza that tastes like the classic Italian dish, we have to be more selective.
Play with the ratio of mozzarella to parmesan cheese to get just the right balance of flavor, and you can always add more parmesan before serving. The red bell peppers can be replaced with another sweet variety like yellow or orange.
You could also swap the oregano for Italian seasoning, and don't forget to garnish with fresh basil!
Can I make homemade pizza ahead of time?
I say, why not? Cook the chicken as directed and let it cool before slicing. Assemble the parmesan pizza as directed, then flash freeze for an hour or so — this helps everything stay in place.
Wrap tightly in a layer of plastic wrap and then a layer of foil. Freeze for up to 2 months.
When you need a quick dinner, unwrap the pizza, pop it in the oven, and bake for 15-17 minutes at 450 degrees F.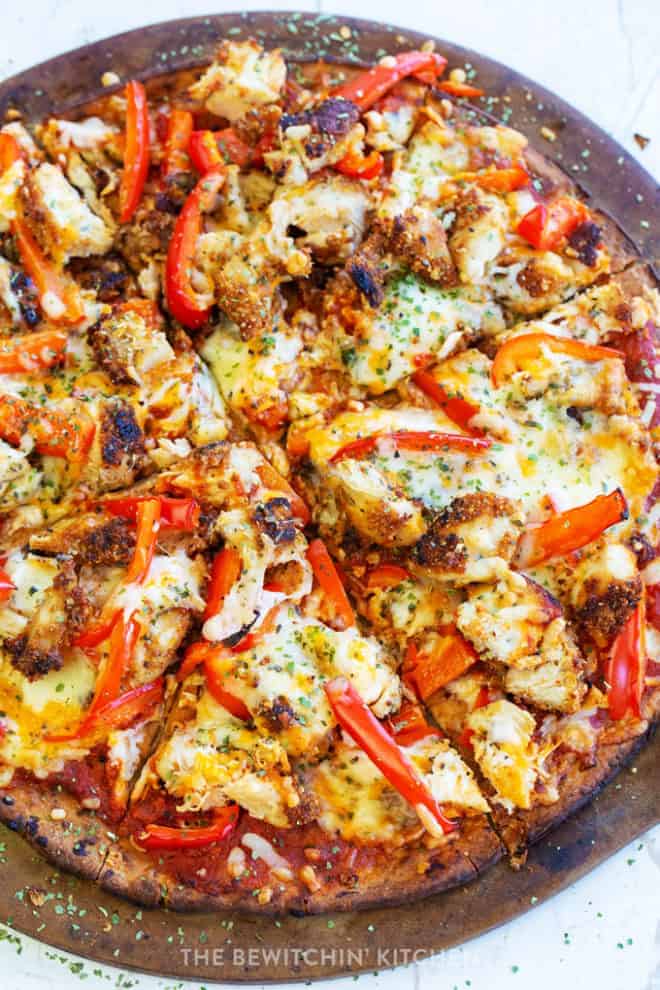 More Easy Pizza Recipes
BBQ Chicken Cauliflower Crust Pizza
Chicken Parmesan Pizza
Parmesan pizza with breaded chicken and red peppers on a pre-made gluten free cauliflower crust is a new comfort food classic!
Servings 8 slices
Calories 251.92kcal
Ingredients
For breading chicken
2 chicken breasts
1/2 cup gluten free breadcrumbs
2 tbsps parmesan cheese
1 tsp garlic powder
1 tsp oregano
1/2 tsp salt
For the pizza
1 cauliflower crust
1/2 cup marinara sauce I used Kirkland Organic
1 cup mozzarella cheese
1/2 cup parmesan
1 red pepper sliced
1/2 tsp oregano
optional: basil for garnish
Instructions
Preheat oven to 425F. Heat a cast iron pain over medium heat.

In a medium bowl add an egg and a splash of milk.

In another bowl add the gluten free breadcrumbs, oregano, garlic powder, salt, and parmesan cheese.

Drip the chicken breast into the egg mixture, and then dredge with the breadcrumb mixture.

Add oil to the cast iron pan. Fry the chicken until golden brown on each side (about 3-4 minutes each). Transfer to the oven and bake at 425 for 25 mins.

Let the chicken cool, slice.
Arranging the pizza
Spread marinara over a pre-cooked gluten-free crust. Feel free to add more if you want a saucier pizza.

Mix both of the cheeses in a bowl (this way it's spread even). Spread 1/2 cup over the marinara, then add the chicken, veggies, and the rest of the cheese. Top with any extra oregano.

Bake for 12-15 minutes. Let cool.
Nutrition
Serving: 1slice | Calories: 251.92kcal | Carbohydrates: 9.57g | Protein: 21.04g | Fat: 8.06g | Saturated Fat: 4.41g | Cholesterol: 58.57mg | Sodium: 747.46mg | Potassium: 336.99mg | Fiber: 1.67g | Sugar: 3.81g | Vitamin A: 702.2IU | Vitamin C: 20.74mg | Calcium: 232.81mg | Iron: 1.3mg
Follow On Pinterest
Follow @bewitchinkitchen On Pinterest for more delicious recipes!
Don't forget to follow them over at Facebook, Twitter, Instagram, and Pinterest.