Chicken Parmesan Pizza [Gluten Free]
I'm so excited to be finally sharing this chicken parmesan pizza recipe with you today. I have had it on my "to make" list for years and the day has finally come. Best of all, it's on a cauliflower crust for some extra "health value".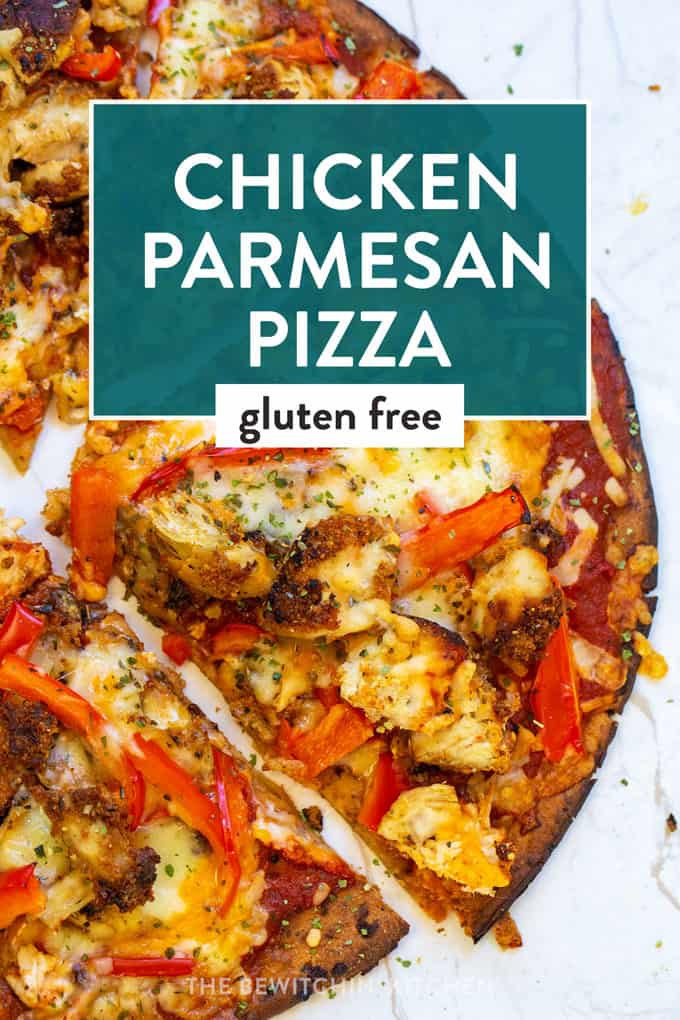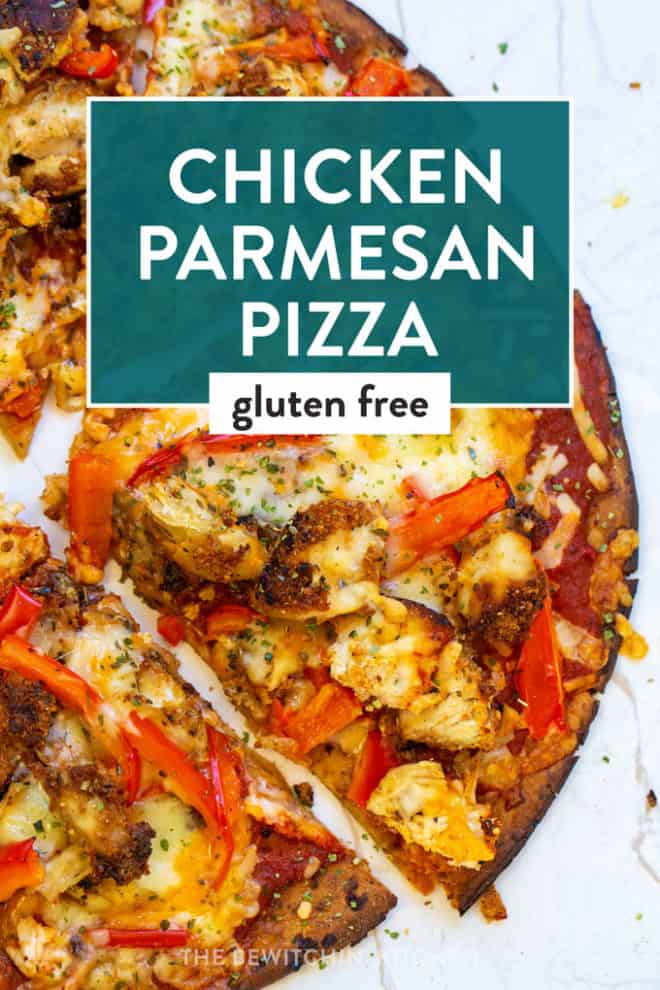 Chicken Parmesan Pizza
Disclosure: I am participating in the Chicken Farmers of Canada campaign managed by SJ Consulting. I received compensation in exchange for my participation in this campaign. The opinions on this blog are my own.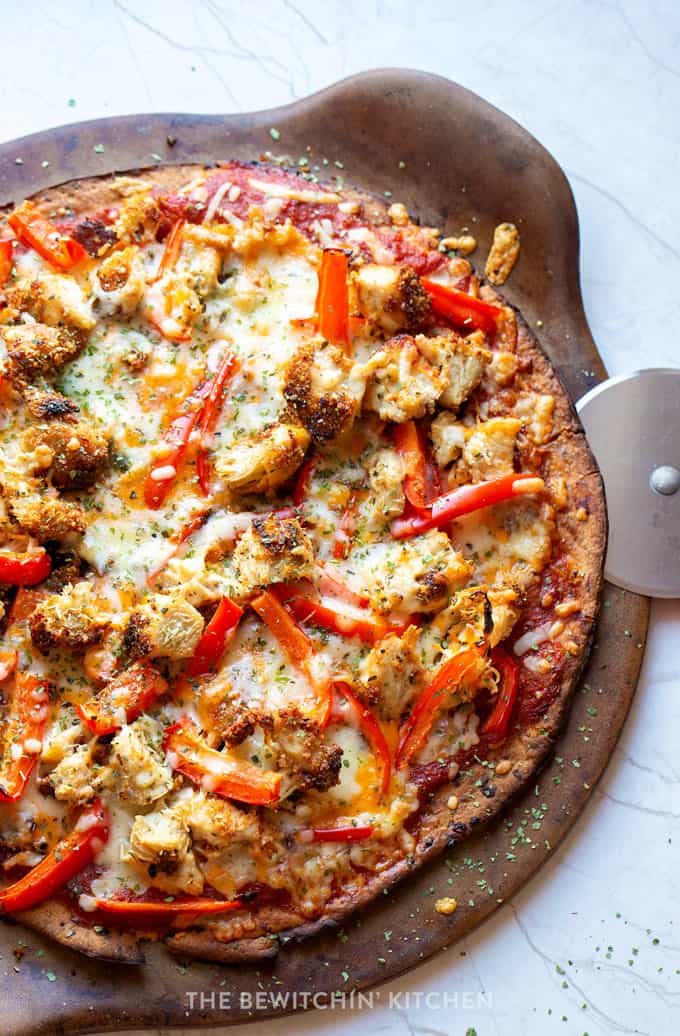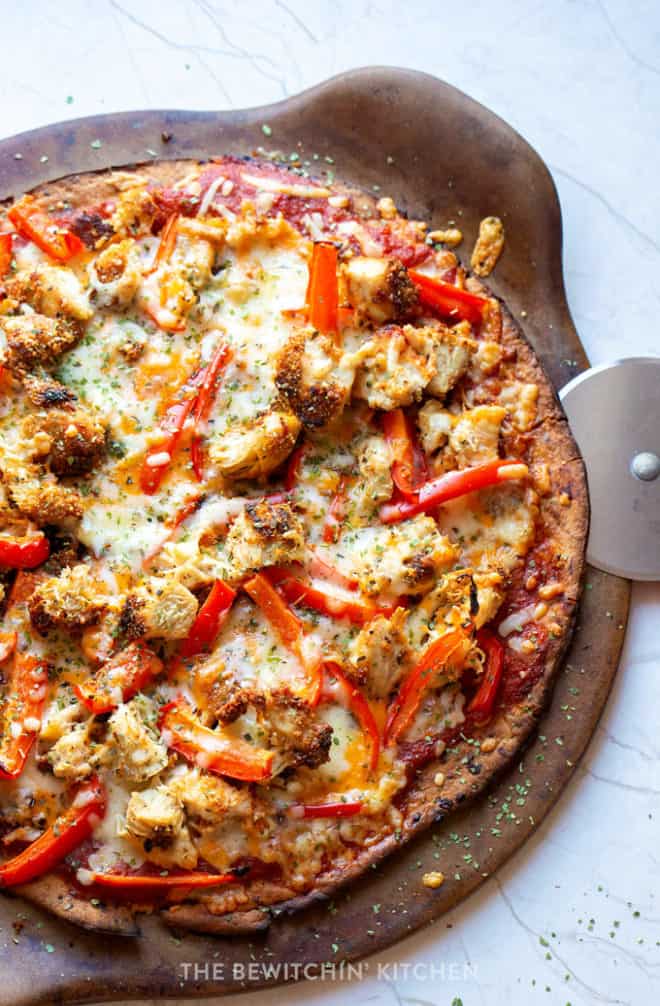 My favorite chicken dish is chicken parmesan. If I see it in a restaurant, it's my kryptonite. This issue is I have a sensitivity to gluten so I usually end up in hives.
My favorite dinner is pizza, again if I order it at a restaurant – I erupt in hive city. Thanks, chronic urticaria.
With that being said, when I decided that this month I'm going to make a chicken parmesan pizza, I knew I had to make it gluten-free, but taste like it's loaded with the good stuff. My taste buds are adjusted but they still love a good wheat-filled dinner.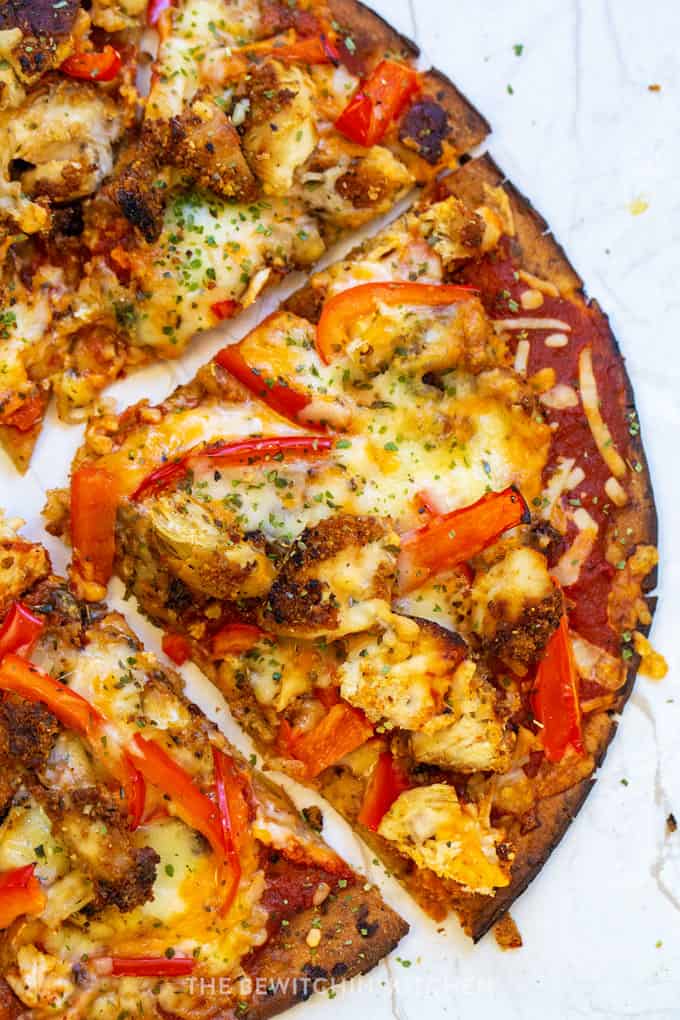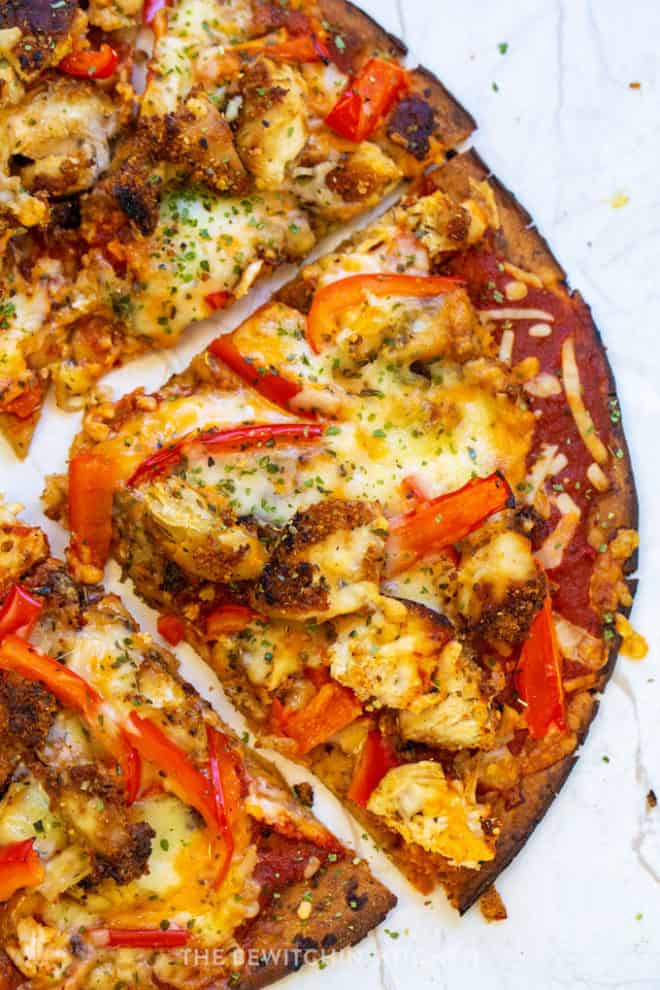 Gluten free pizza crust
As a mom who is running two businesses, parenting two kids (one who's under two), the days of the homemade pizza crust are nil.
Instead, I look for pre-made crusts in the deli or freezer aisle with healthier options. It's amazing what you can find in your natural/gluten-free aisle these days.
Gone are the days of cardboard.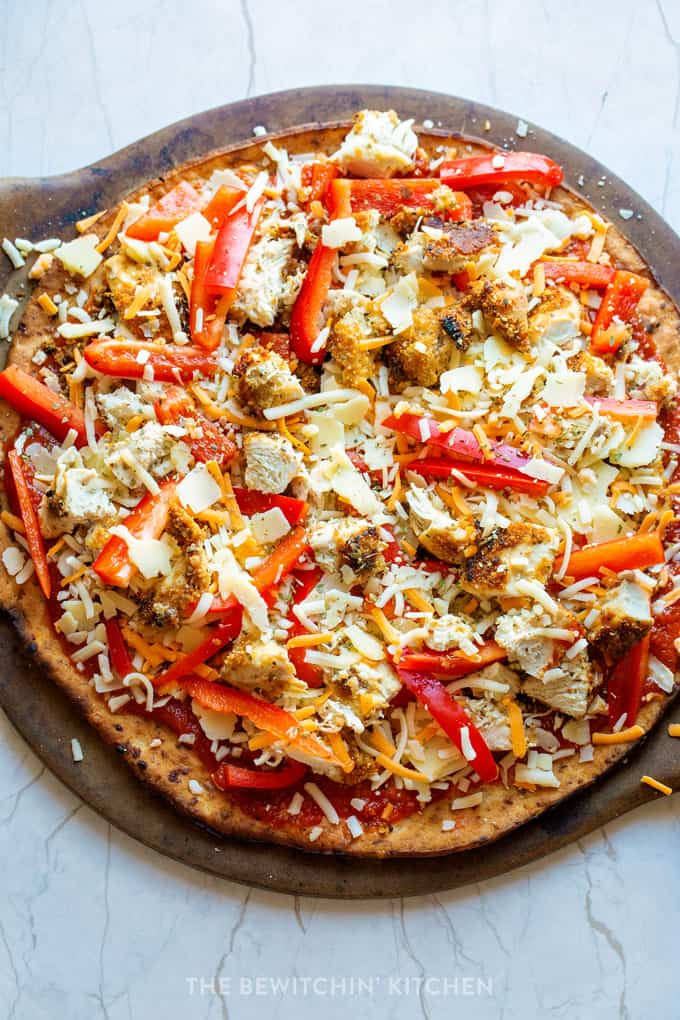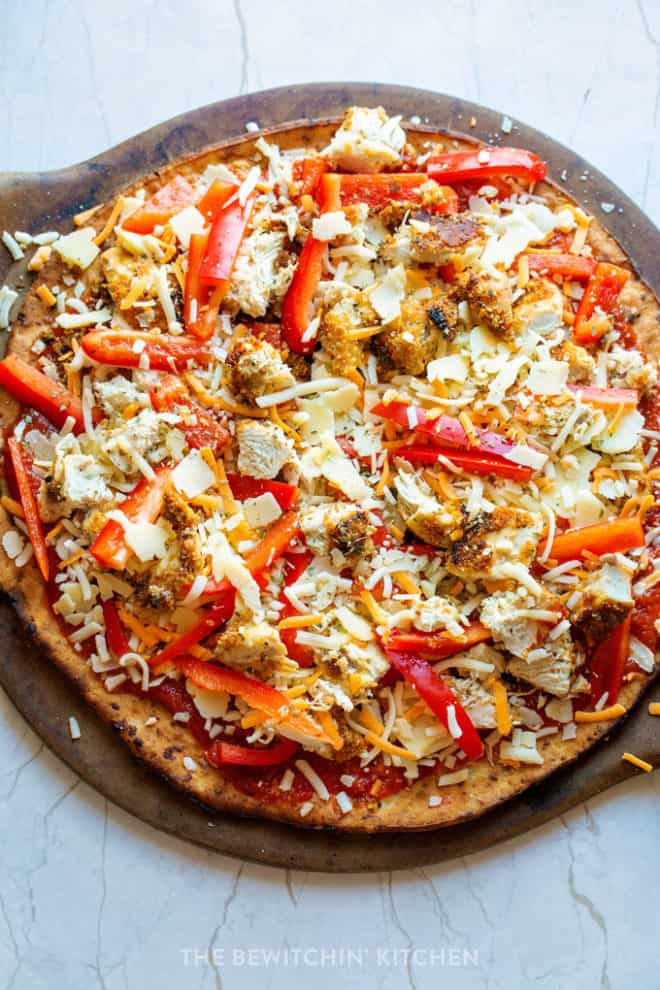 Yes, you can still make a homemade cauliflower crust or a gluten-free pizza crust from scratch but I didn't have time this week. Instead, I grabbed a cauliflower crust from Costco and went with it.
You can also find frozen cauliflower crusts at most supermarkets these days too. Go team allergy!
21 Day Fix Container Count
By popular demand, I am now offering the container counts for the Ultimate Portion Fix. I'll be slowly updating all my recipes so you can use my recipes for Beachbody programs like 21 Day Fix, 80 Day Obsession, Liift4, and more.
Here are the counts for this creamy scallops recipe:
Full recipe: 2 green, 4 red, 5 yellow, 4 1/2 blue.
1 slice (1/8th of the recipe: 1/4 green, 1/2 red, 2/3 yellow, 1/2 blue.
How to make chicken parmesan pizza
This is one of the simplest recipes on The Bewitchin' Kitchen.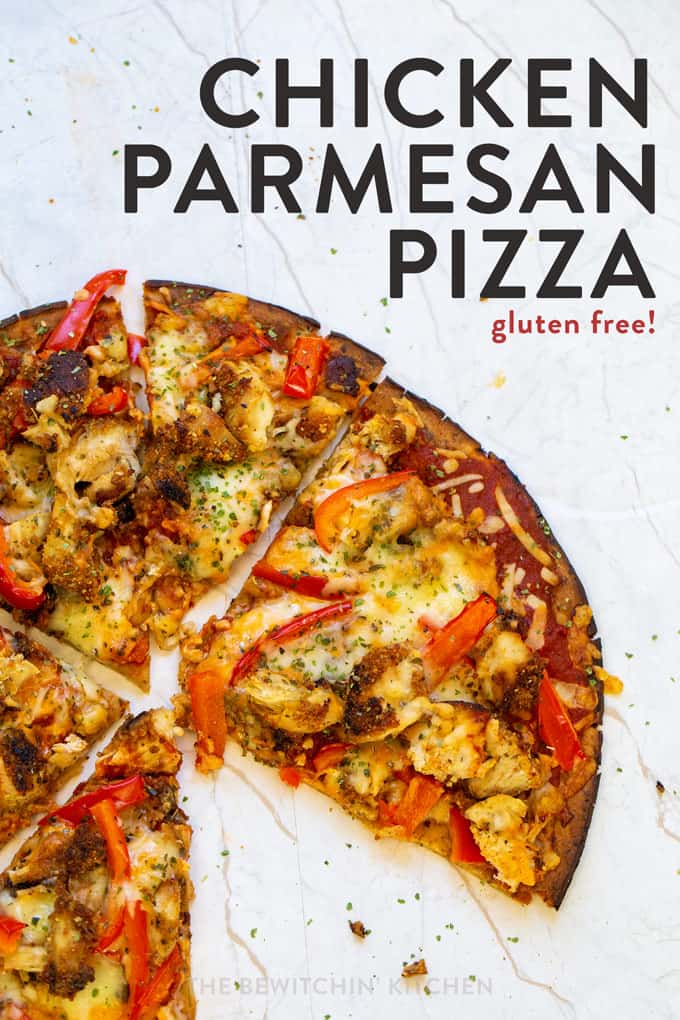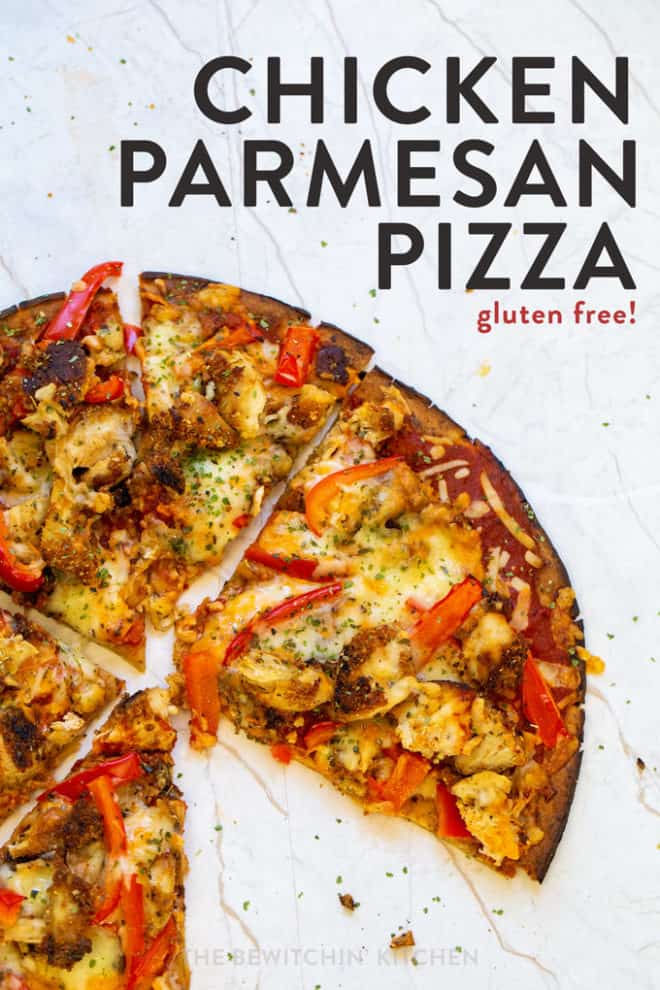 As stated before, I'm using a pre-made crust. I topped it with a marinara sauce.
I decided to use marinara instead of pizza sauce because chicken parmesan is made with a marinara, so I thought it would work better.
Top with my gluten free parmesan breaded chicken (recipe below) and red pepper and you're good to go.
Enjoy a slice or two with a side salad and you have dinner!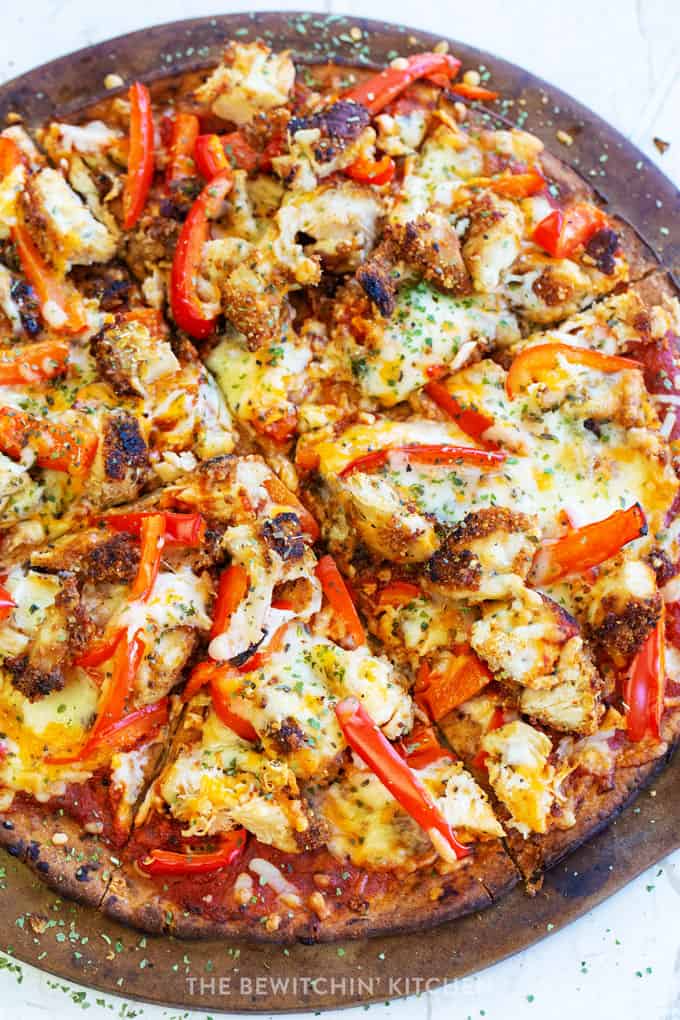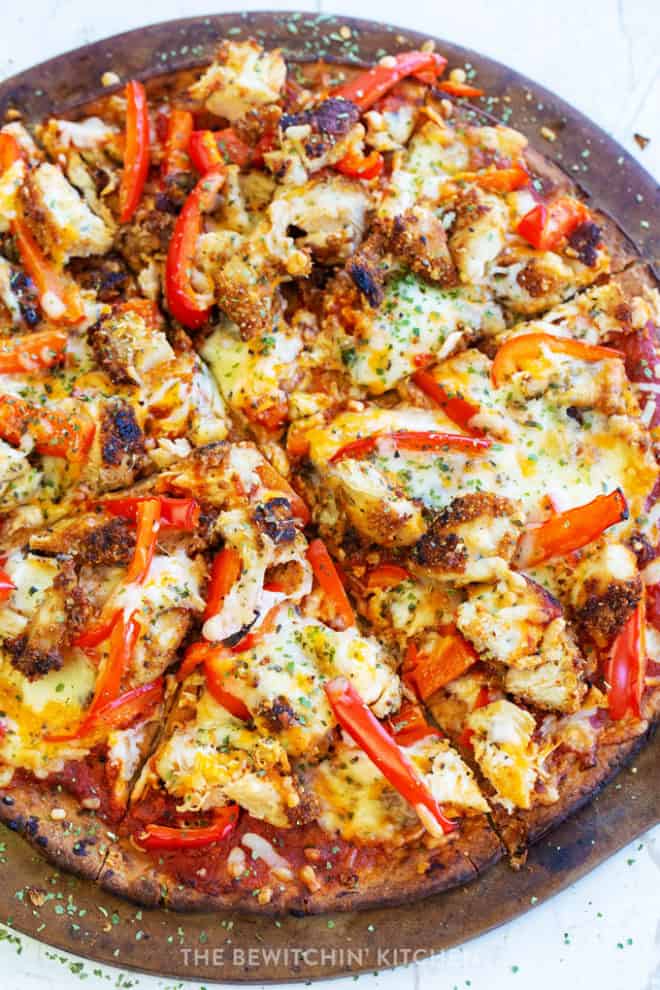 As always, I cooked chicken that has been raised by Canadian Chicken Farmers.
Why?
Not only is Canadian chicken is a healthy choice but it's also grain-fed, free of added hormones (like all chicken in Canada) and steroids, and raised right here in Canada according to nationally-set, high food safety, and animal care standards.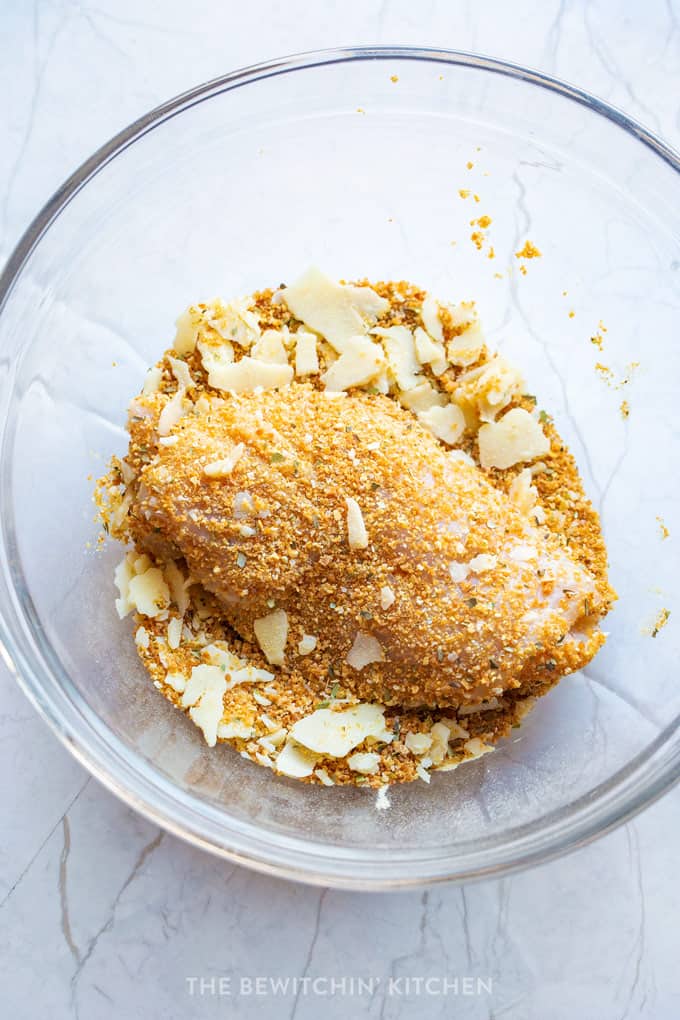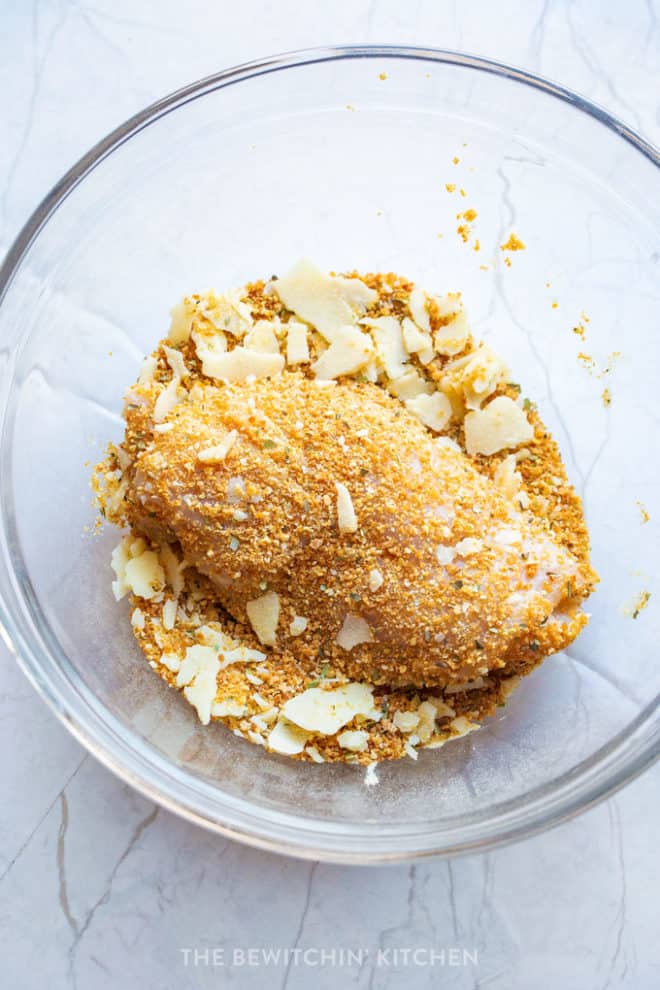 The animal care standards are audited by a third party program and it's a mandatory program for all Canadian chicken farms.
DID YOU KNOW? Canadian chicken farmers are committed to sustainability by preserving the health of the land, providing value to Canada's economy, and making affordable food for Canadians.
Pizza recipes you're going to love
Also, check out the holiday helper contest below the recipe.
Chicken Parmesan Pizza
You're going to love this homemade chicken parmesan pizza recipe! Made on a pre-made gluten free cauliflower crust (to make life easy), it's a new comfort food classic.
Servings 8 slices
Calories 251.92kcal
Ingredients
For breading chicken
2 chicken breasts
1/2 cup gluten free breadcrumbs
2 tbsps parmesan cheese
1 tsp garlic powder
1 tsp oregano
1/2 tsp salt
For the pizza
1 cauliflower crust
1/2 cup marinara sauce I used Kirkland Organic
1 cup mozzarella cheese
1/2 cup parmesan
1 red pepper sliced
1/2 tsp oregano
optional: basil for garnish
Instructions
Preheat oven to 425F. Heat a cast iron pain over medium heat.

In a medium bowl add an egg and a splash of milk.

In another bowl add the gluten free breadcrumbs, oregano, garlic powder, salt, and parmesan cheese.

Drip the chicken breast into the egg mixture, and then dredge with the breadcrumb mixture.

Add oil to the cast iron pan. Fry the chicken until golden brown on each side (about 3-4 minutes each). Transfer to the oven and bake at 425 for 25 mins.

Let the chicken cool, slice.
Arranging the pizza
Spread marinara over a pre-cooked gluten-free crust. Feel free to add more if you want a saucier pizza.

Mix both of the cheeses in a bowl (this way it's spread even). Spread 1/2 cup over the marinara, then add the chicken, veggies, and the rest of the cheese. Top with any extra oregano.

Bake for 12-15 minutes. Let cool.
Notes
21 Day Fix Container Count
Full recipe: 2 green, 4 red, 5 yellow, 4 1/2 blue.
1 slice (1/8th of the recipe: 1/4 green, 1/2 red, 2/3 yellow, 1/2 blue.
Nutrition
Serving: 1slice | Calories: 251.92kcal | Carbohydrates: 9.57g | Protein: 21.04g | Fat: 8.06g | Saturated Fat: 4.41g | Cholesterol: 58.57mg | Sodium: 747.46mg | Potassium: 336.99mg | Fiber: 1.67g | Sugar: 3.81g | Vitamin A: 702.2IU | Vitamin C: 20.74mg | Calcium: 232.81mg | Iron: 1.3mg
Follow On Pinterest
Follow @bewitchinkitchen On Pinterest for more delicious recipes!
Want more chicken recipe ideas? Search the recipe sections over at Chicken.ca to discover more healthy recipes. Don't forget to follow them over at Facebook, Twitter, Instagram, and Pinterest.