Spinach & Ricotta Stuffed Shells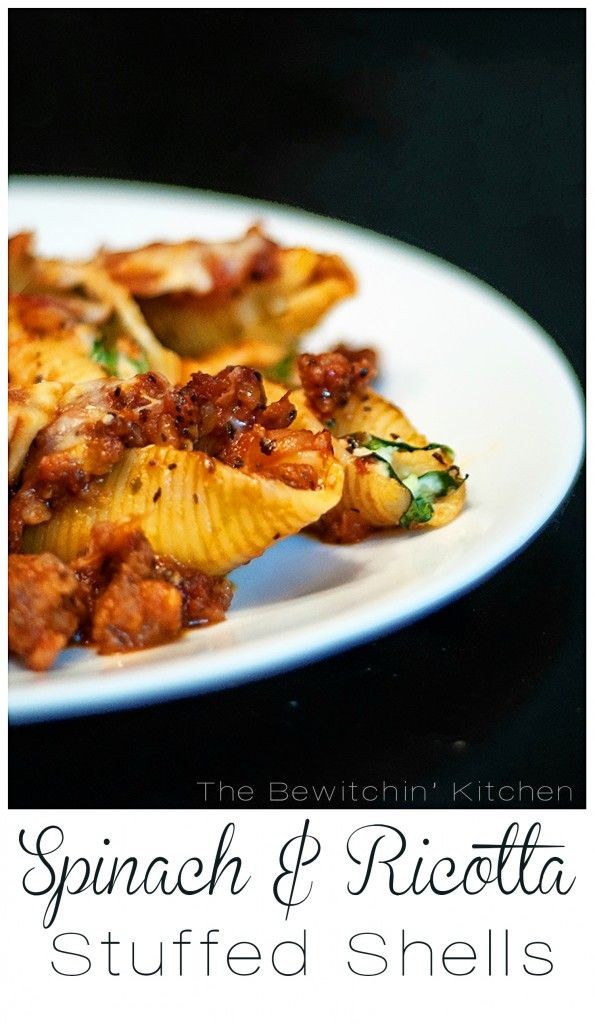 Before a couple of weeks ago, I have never had Stuffed Shells. I've pinned many tempting recipes, but never stepped out of my "pasta comfort zone" of penne or capellini.
Update: I recently merged The Everyday Domestic with The Bewitchin' Kitchen and lost a lot of images. I am working on getting them back. Please be patient.
I recently went to Prince George (my closest form of city civilization) to visit my bestie, Katie. I hadn't seen her since her wedding in September, so this visit was more then past due. We caught up over coffee, went over her gorgeous Project Life album and went shopping. It was much needed girl time, and since I left my son back with his grandparents it was also much needed "Randa time". Even better, I didn't have to cook dinner. Katie made a delicious dinner of Spinach & Ricotta Stuffed Shells, accompanied with wine from our favorite Okanagan winery (Silver Sage).
It sparked a new love for Stuffed Shells.
So last week I made my first attempt. I adapted this recipe from Fitness Magazine and it came out great.
I changed a few things from the original recipe. I used hot italian sausage, but mild would work well as well. I like hot italian because I find not much needs to be done with seasonings to the over all dish, maybe that's just me.
I love the smell of onions cooking and with the addition of the italian sausage, my husband requested that I cook like this more often.
The ricotta and spinach filling is amazing too, everything in this recipe came together so nicely.
It looked almost looked professional at this point, I was pretty proud of myself. If you notice that some of the shells already have pasta on them, that's because I made a mistake. Originally I tried to fit this in a 9×9 pan and that did not work. So I can to take the shells outs, transfer the bottom sauce to a 9×13 and then re arrange the shells. 9×13's are the only way to go with this dish.
They're completely edible by this point, but I wanted to be extra bad and add some cheese. I thought the original recipe didn't add it, but after re reading the recipe and comparing to what I did – it does. Good thing too, everything is better with a little bit of cheese.
There it is! Spinach & Ricotta Stuffed Shells! It's really easy and tastes amazing. I'm going to be playing around with more stuffed shell recipes in the future.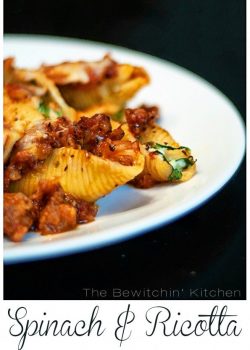 Spinach & Ricotta Stuffed Shells
Ingredients:
20 jumbo pasta shells
1 1/2 tsps olive oil
1/2 onion, diced
2 cloves of garlic, minced
1 package of hot Italian sausage (cut off casings)
1 14 ounce can crushed tomatoes
1/2 tsps sugar
1 tbsp oregano
Salt & Pepper (for seasoning)
2 1/4 cups chopped spinach
1 1/4 cup low fat ricotta
1 cup part-skim mozzarella, shredded
1 egg white
Directions:
Preheat oven to 375 F.
Cook the jumbo pasta shells as directed on the box. (Mine took 14 minutes.)
While the shells are cooking, heat olive oil in pan and fry up hot italian sausage and onion together, over medium high heat. Cook until 3/4 way done and add garlic. When it's cooked, transfer to a collander/strainer and let grease drain. There is no need to clean the pan completely of grease.
Return the pan to heat and reduce to medium. Add crushed tomatoes, sugar and oregano. Season with salt and pepper and reduce to a simmer for about ten minutes.
While this is simmering, grab a large bowl and combine your spinach, ricotta, egg white and a little bit of salt and pepper. Set aside.
Add sausage mixture back to the pan. Taste and adjust Seasonings.
Spray a 9×13 pan with non stick cooking spray and spoon half of the tomato and sausage sauce over the bottom.
When you shells are cooked, rinse with cold water and dry with a paper towel. Spoon about 1 tablespoon of the ricotta mixture into the jumbo pasta shells. I used about 19 – 20 shells. Arrange in the baking dish and top with remaining sauce.
Bake for twenty minutes, and then take out and add mozzarella. Bake for another then. If cheese isn't bubbly and brown, turn on your broiler for a few minutes.
Adapted from Fitness Magazine.
All images and text ©
.
If you like this recipe, please feel free to share it and "Pin it".
FREE Recipe Binder
Are you constantly wondering what's for dinner?
When I don't meal plan I feel behind, and we usually end up ordering take out. This recipe binder will keep you organized and make life a little bit easier.