Painting Kitchen Countertops With Giani Granite
Here's my experience with painting kitchen countertops with Giani Granite.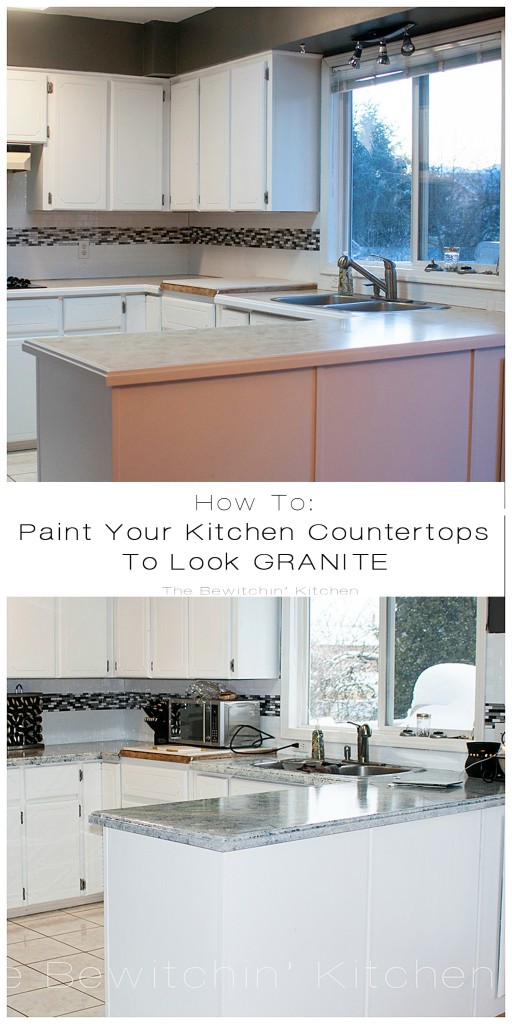 I've attempted a DIY counter top before in the past, and it turned out okay but I found that it was missing something. It was missing the shine, the smoothness and the natural look that grainte provides. So when I decided to opt for a faux grainte look, I didn't want to mess around. I turned to the experts over at Giani Granite when it came to painting kitchen countertops.
Painting Countertops: The Tools I Used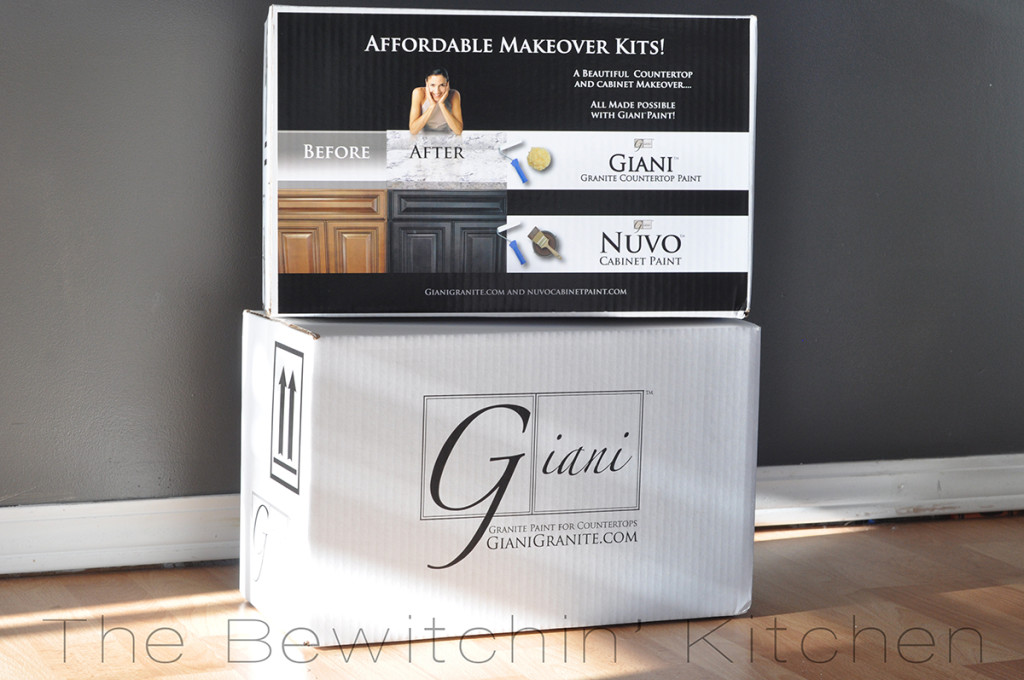 Giani Granite is an easy way to update your dated (or just plain ugly) surfaces. Giani isn't limited to countertops, you can use Giani on many surfaces to create a granite look. They offer a variety of stunning colors to create the granite look you're looking for. My favorite is the chocolate, but since my kitchen is painted Benjamin Moore's Kendall Charcoal and my cupboards are white I thought White Diamond would work well with my situation.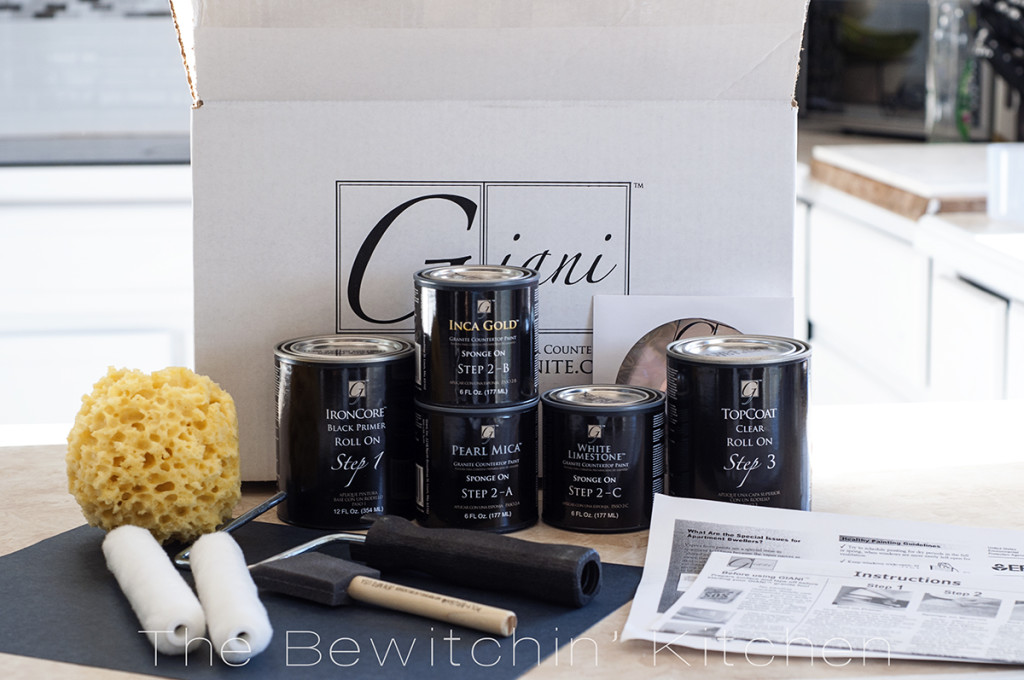 What's included in the Giani Kit:
Sea Sponge
Roller with two covers
Foam brush
Practice board
Primer
3 mineral covers
Top Coat
DVD and paper instructions
You will need a paint tray, paper plates, SOS pads, Frog Tape and drop sheets. Lets Get Started!
Prepping Countertops for Paint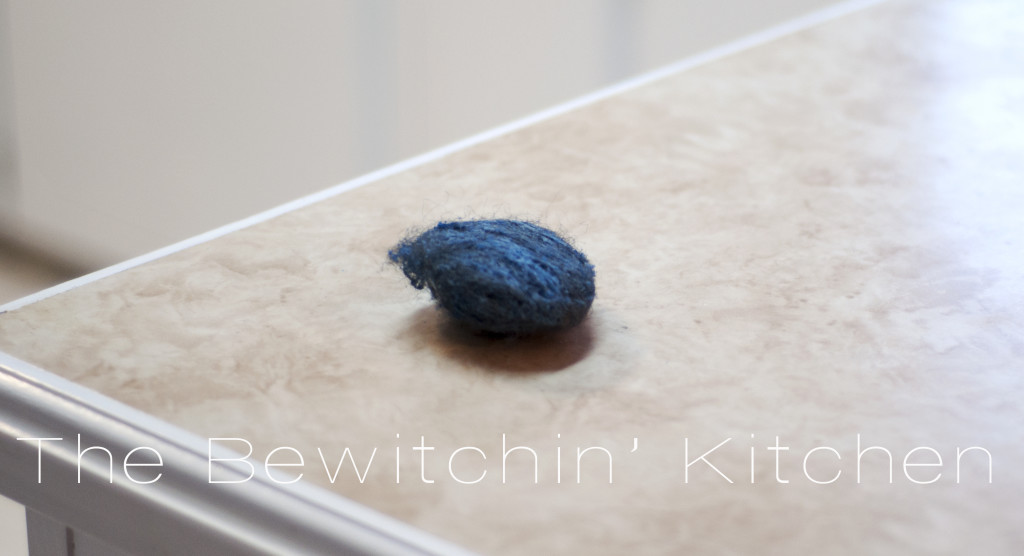 As tedious as it is, the prep work is the most important part of the whole process. So do a good job now, and avoid a lot of headaches later. Giani Granite does not require sanding, and after all the sanding I had to do during my kitchen cabinet transformation, I was thrilled. All I had to do was take an SOS pad to where I wanted to paint, then rinse it twice. Actually, I rinsed it a few times more than twice. I was wanted to really make sure there was no more residue (to rinse just take a damp cloth or paper towel to the counter tops).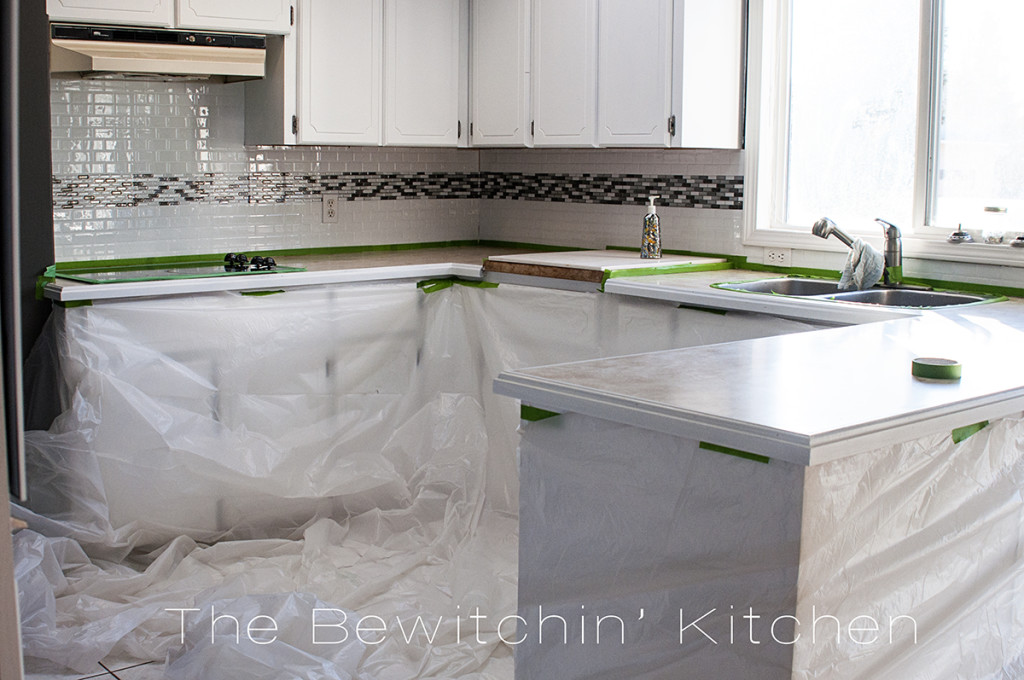 I wasn't going to risk getting any of the paint on my newly painted kitchen cabinets, so I took an extra step and covered them with a cheap drop cloth. You can get them at the dollar store, for $1. I protected my new DIY backsplash and walls with Frog Tape, as suggested by Giani.
Painting Kitchen Countertops
The first step of that actual painting process is to prime. To prime my bathroom and my kitchen took less than ten minutes, and it only took that long because I was being finicky. I found that it didn't cover every spot, and that worried me so I did a light second coat after drying for two hours (you're not supposed to do that but I didn't have any issues). The primer is to dry for at least eight hours before you paint over it.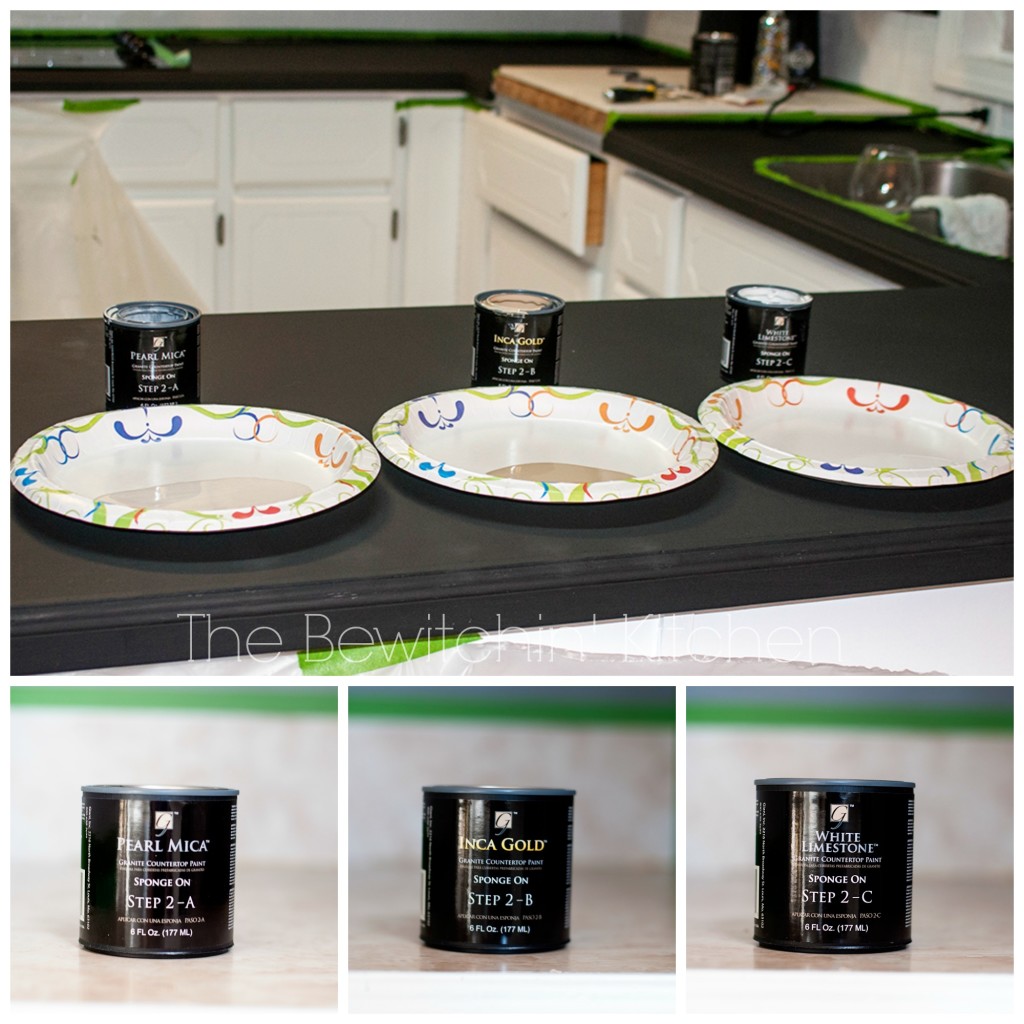 I placed the paint on separate paper plates and cut the sponge into four pieces (I could have just done three, but I wasn't sure if I was going to use the primer as a color or not). Then I just started dabbing it on the counter top in random patterns. I was really worried about messing it up, I practiced on the sheet provided first but found that it was no help. The color seemed to absorb into the paper; however, I did find it useful for practicing my veining technique. The paint needs to dry for at least four hours before you put on the top coat, eight hours if you use the primer as an accent color.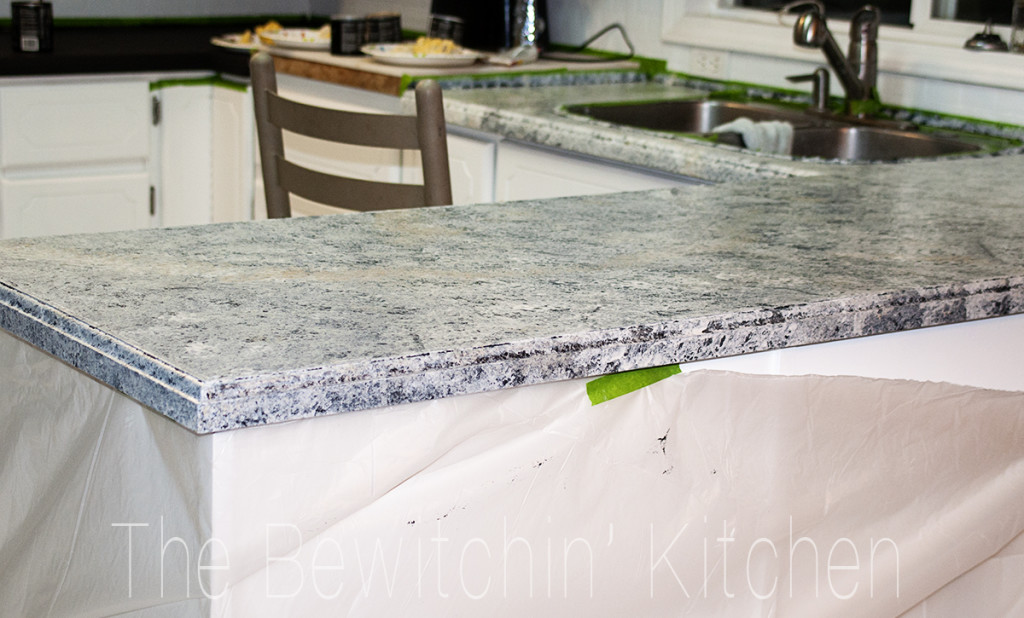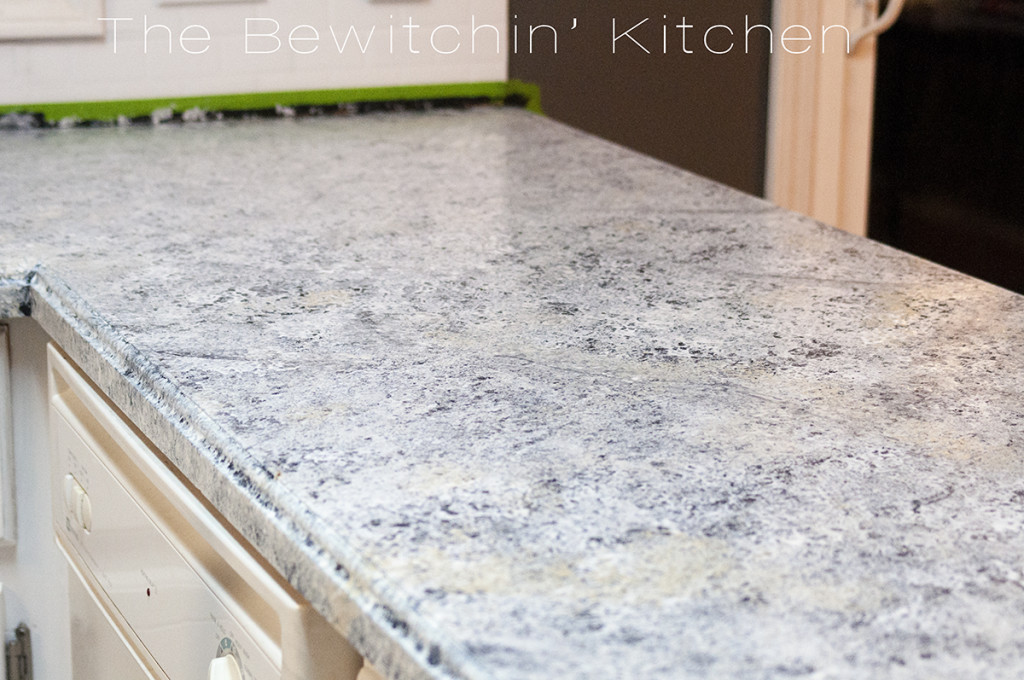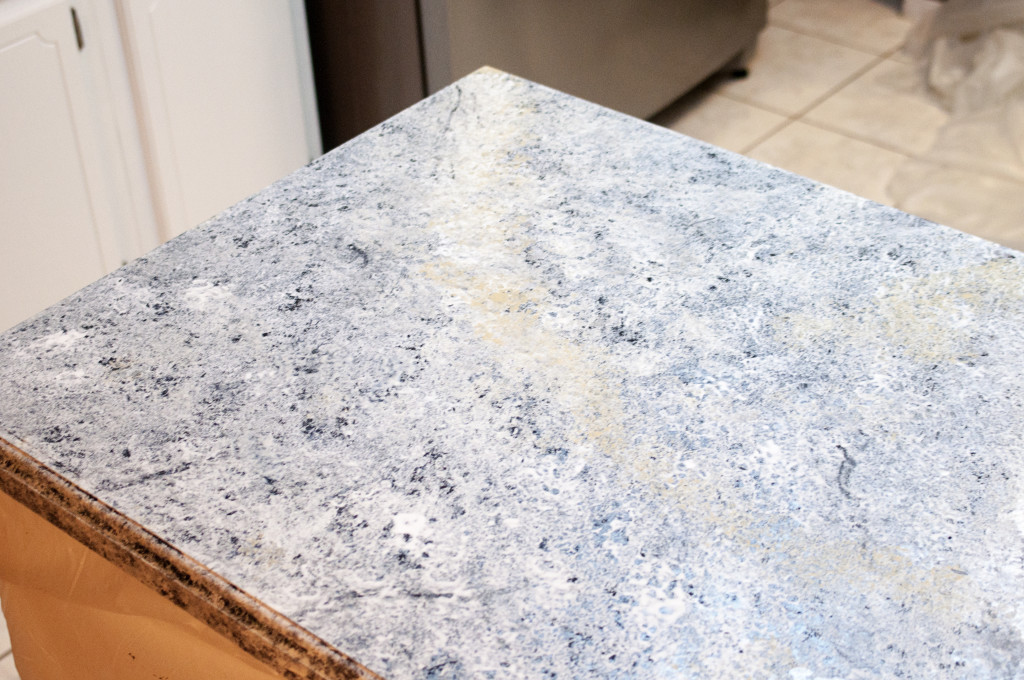 You are in total control when using the Giani kits. I wasn't a huge fan that the White Diamond kit came with Golds, I wanted to leave it out but figured it was there for a reason and used it sparingly. I did do one "accent" section and I think it really helps it look more like natural stone. I'm glad I did it. I also bought a paint brush kit from the dollar store to do some "veining". Here's a quick video I took to demonstrate my technique: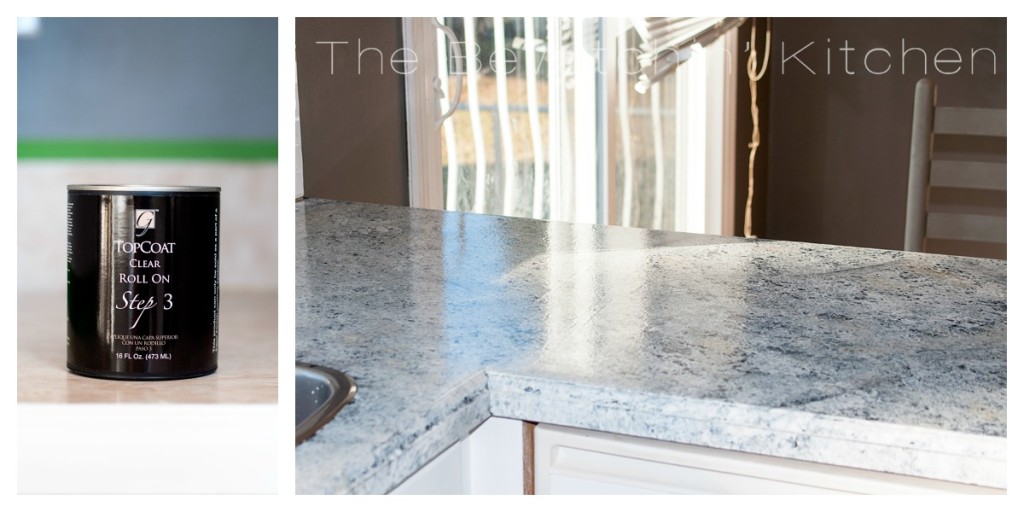 The final step is the top coat. I found it to be the most difficult step. I watched the video a few times and read about techniques but I still managed to get lap marks (which are visible in the above photo). I only notice them when I'm looking for them, they're not really all that visible. Before I applied the first coat, I lightly sanded down the paint with 600 grit paper. I didn't want it to be textured. I quickly applied the top coat (it dries really fast), waited four hours and gave it another light sanding. I made sure that I got every bit of dust with a damp tack cloth before applying the second coat.
Giani says that you can use your counters again within 24 hours. I was really hesitant, so I placed my Scentsy warmer and my fruit holder down first. My microwave sat on my cutting block for five days. I didn't want to risk damaging my counters after all that. This product fully cures after 14 days.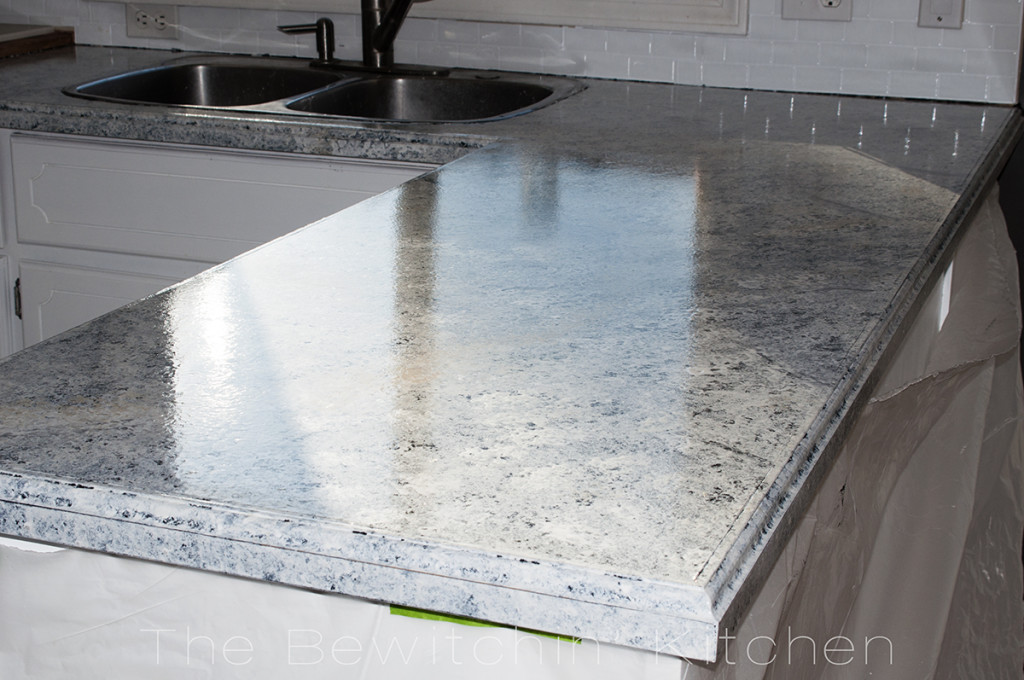 The photos don't do it justice! It looks incredible. I wouldn't say it looks just like granite, but it looks like a good quality laminate counter top. The product adhered well to the previous laminate and painted wood (the sides) and it now looks like one piece.
For more information on Giani Granite please visit their website. Don't forget to give them a "Like" on Facebook for inspiration and giveaway opportunities and follow them on Pinterest!
Giani Granite is available at Amazon.com and Amazon.ca (limited color options) or Walmart.
More DIY home reno projects:

Looking for more great ideas? Click here to follow me on Pinterest!
Visit Randa | The Bewitchin' Kitchen's profile on Pinterest.