Pear Butter With Cinnamon & Vanilla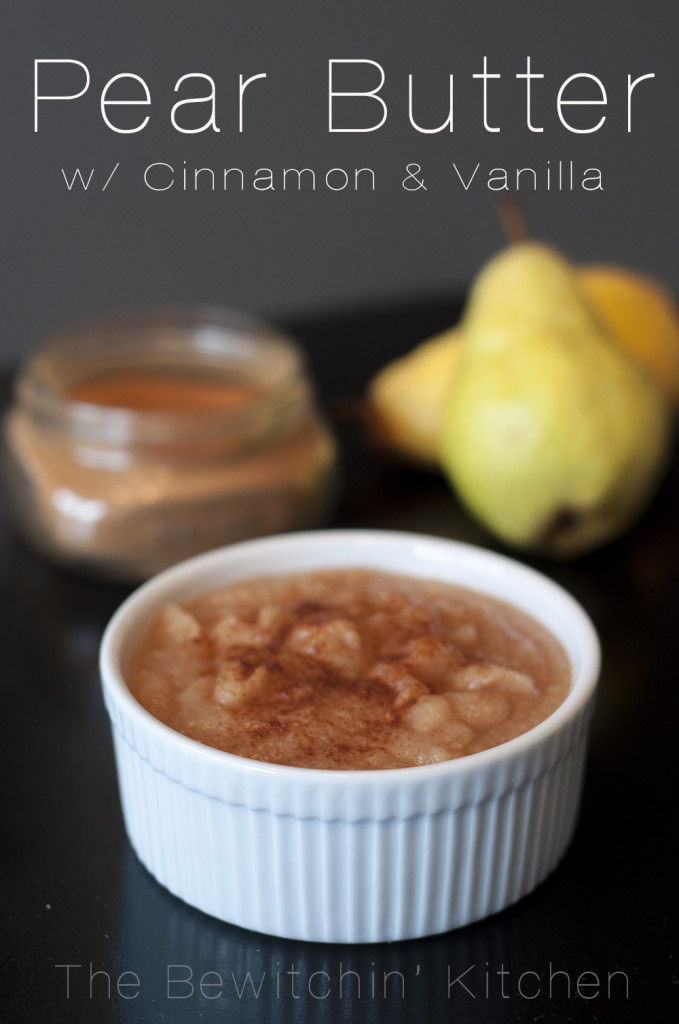 I have never been much of a pear eater, but I moved up here to the North Coast of British Columbia and low and behold I have a pear tree in my back yard. The other day I went out and picked most of the tree and that's when I realized I have no idea what to do with them all. I accidentally came with this
pear butter
.
Pear Butter
I say it was an accident because yesterday I was making pear homemade fruit leather and while I was making it I got fancy with the fruit, added some spices and flavours and cooked it down. After pureeing it I noticed it was similar to apple sauce. I use a lot of applesauce in the baking I do for my son (I substitute butter and oil with it), but I was out. Then it hit me – I could make Healthy Pear Muffins with chunks of pears and pear sauce. Perfect! So I decided to make a batch of pear sauce (which because I add spices and honey too, I was later told it's then known as a pear "butter") to continue with my pear cooking spree.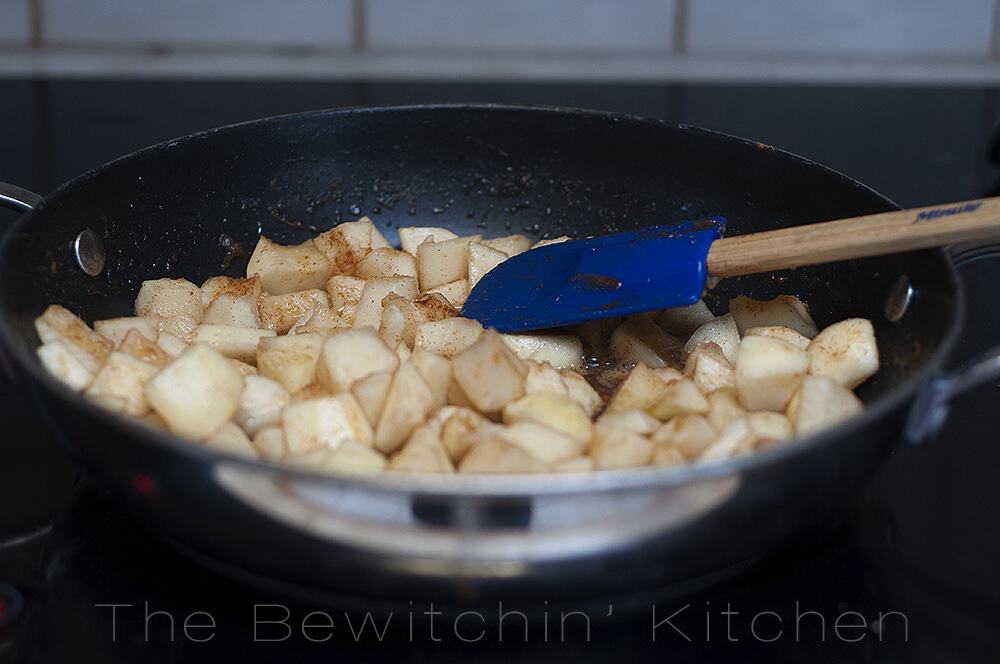 Now, I have no idea why it's called a "butter" when there is no butter in it, but I'm just going with the flow. This recipe has no sugar in it since the pears are naturally sweet enough, that being said I did add a little bit of honey. I didn't actually measure the honey, but from eyeballing it I would figure it was about 1 tbsp.
Homemade Pear Butter
Pear Butter
Cooked down pears with cinnamon and vanilla, this pear butter is so easy and so tasty!
Servings 1 cups
Calories 447kcal
Ingredients
4 cups chopped pears about 4-5 pears
1/4 cup water
1 tbsp honey
1 tsp vanilla
1 tsp cinnamon
Instructions
Add all of your ingredients to a pan and cook over medium heat, stirring often.

Cook until pears are tender and liquid is reduced, about 20-25 minutes.

Let the pears cool for a couple minutes and then transfer to a blender (I highly recommend the Ninja).

Blend until smooth.

Store in the fridge.
Nutrition
Serving: 1batch | Calories: 447kcal | Carbohydrates: 118g | Protein: 2g | Fat: 1g | Saturated Fat: 1g | Polyunsaturated Fat: 1g | Monounsaturated Fat: 1g | Sodium: 11mg | Potassium: 772mg | Fiber: 21g | Sugar: 81g | Vitamin A: 167IU | Vitamin C: 28mg | Calcium: 81mg | Iron: 1mg
Follow On Pinterest
Follow @bewitchinkitchen On Pinterest for more delicious recipes!
See how easy that was? You could use the same idea for apples as well. I'm keeping mine on hand to top pork and to add to baking.