Pear Butter With Cinnamon & Vanilla
Learn how to make Pear Butter at home in just 30 minutes! Transform fresh pears, honey, cinnamon, and vanilla into a sweet and spiced spread with this easy pear butter recipe. Slather it on morning pastries or use it as a substitute for applesauce in your favorite baked goods.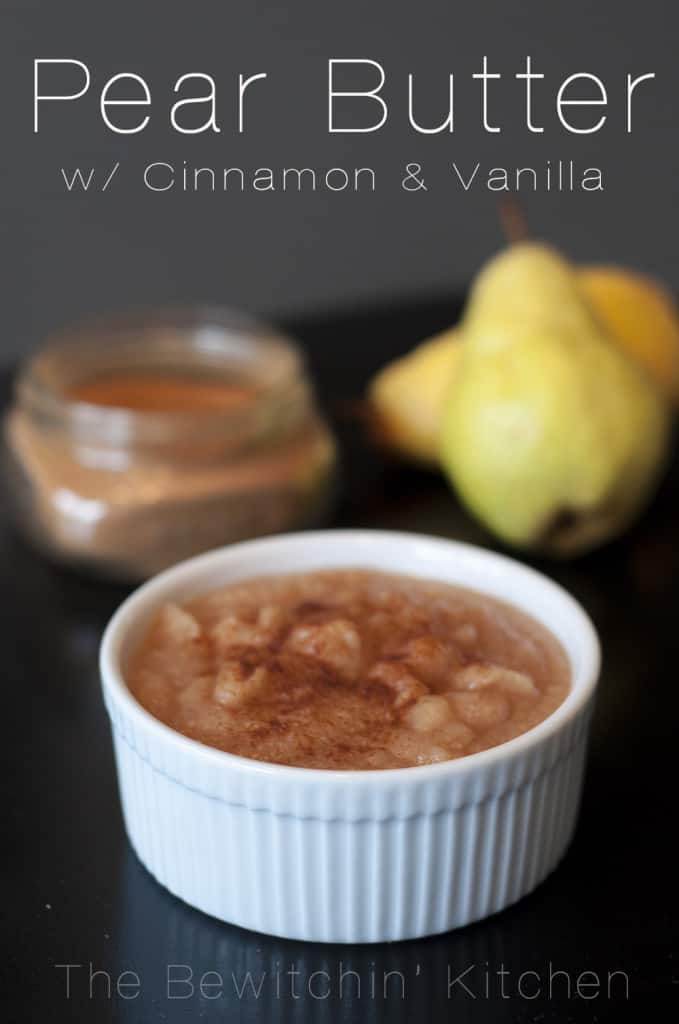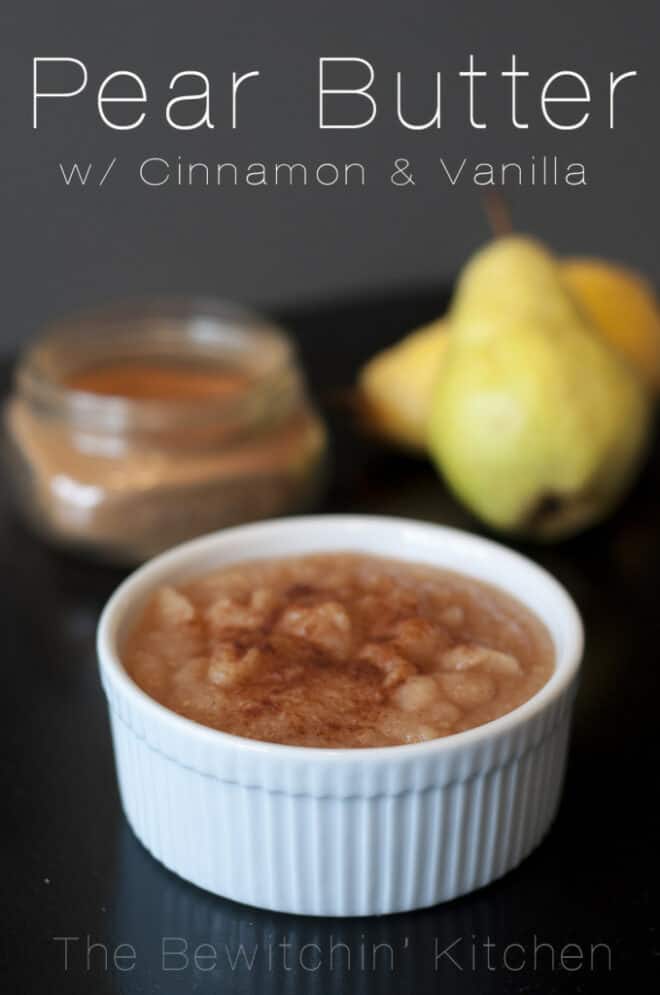 Old Fashioned Pear Butter Recipe
Despite the name, there isn't actually any butter in this spread. In fact, it's naturally vegan, dairy-free, and gluten-free, so it's a real winner when it comes to sweet treats.
So how did this recipe for pear butter come about? Well, I have a pear tree in my backyard and always end up with more than we can eat. One day, I was making homemade fruit leather with our recent harvest and I started to get a bit fancy with the fruit — adding spices and flavors while cooking it down.
After pureeing the mixture, I noticed that the texture was similar to applesauce. And since I use homemade applesauce as a substitute for butter and oil in my baking, I thought, "Why not try this instead?"
This pear butter recipe, paired with chunks of fresh pears, is the perfect addition to muffins and quick bread. Or, keep a jar in the fridge and spread it on your morning toast!
Why You Will Love This Recipe For Pear Butter
Easy to make – chop, simmer, and puree
Only 4 ingredients – plus some water
Lasts for weeks – store in the fridge or freezer
So many uses – as a spread, sweet topping, or in baked goods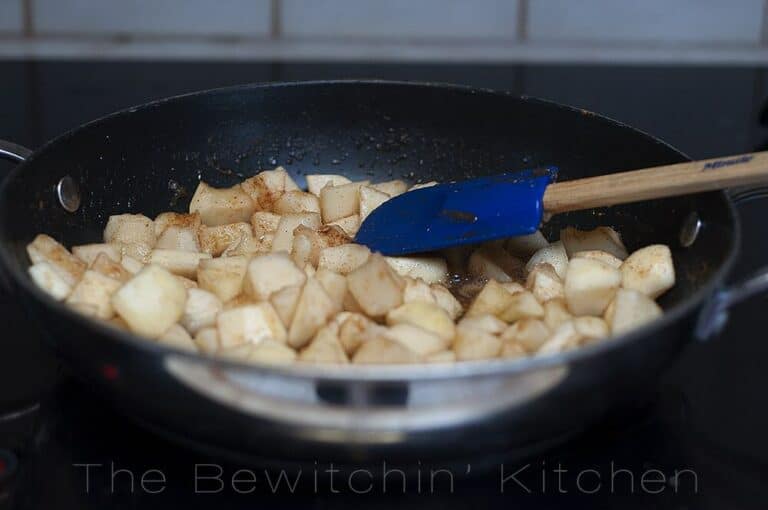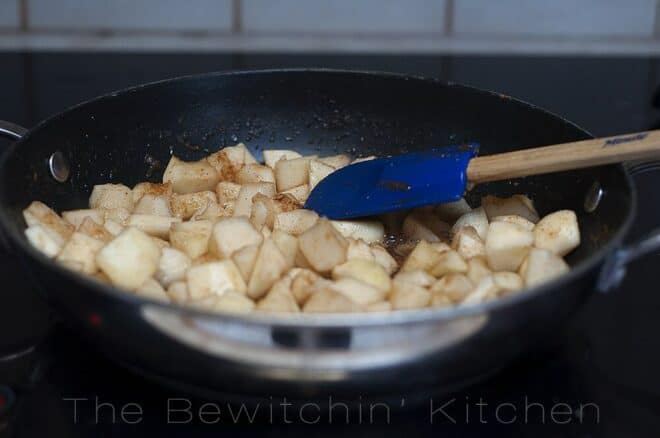 How To Make Pear Butter
One of the best parts of going to the farmers market is taking home a variety of delicious artisanal goods. Jams, jellies, and spreads are always a favorite, but sometimes you get a hankering for some sweetness and just can't wait until the weekend!
Keep reading to learn how to make pear butter right in your own kitchen. All you need is a skillet, a blender, and a handful of ingredients.
Simmer Everything Together
Peel and chop each pear, then add the pieces to a wide skillet with some water. There's no need for added sugar since the pears are naturally sweet. That said, I did add a touch of honey (about 1 tablespoon) — you could also use brown sugar for some caramel flavor.
I also love the warm, spiced flavor that comes from the vanilla extract and cinnamon. Cardamom also pairs wonderfully with pears, or you could try any of these other warming spices:
Allspice
Cloves
Nutmeg
Ginger
Simmer everything together for 20-25 minutes, stirring occasionally so nothing sticks to the bottom. Check that the fruit is tender — you should be able to easily pierce it with a fork, but you don't want it to be mushy. The liquid should also be reduced by quite a bit.
Puree Until Smooth
Allow the mixture to cool, then transfer it to a blender or food processor. Puree until smooth, and you're done!
Now, I do have a word of caution. Be sure to leave the lid of the blender propped open a bit (or the fill cap off) so steam can escape. If you don't, it will create pressure inside the blender and result in a puree explosion — ask me how I know!
Serve Immediately or Store for Later
Transfer your pear butter to a jar or another airtight container. You can use it right away or pop it in the fridge — it will continue to thicken a bit as it chills.
Homemade pear butter will keep for a week or two in the refrigerator or up to 3 months in the freezer. If freezing, leave some space at the top of the jar for the liquid to expand.
See how easy that was? You could use the same idea for apples as well. I'm keeping mine on hand to spoon over pork and to add to baking recipes. It would even be tasty on a scoop of ice cream!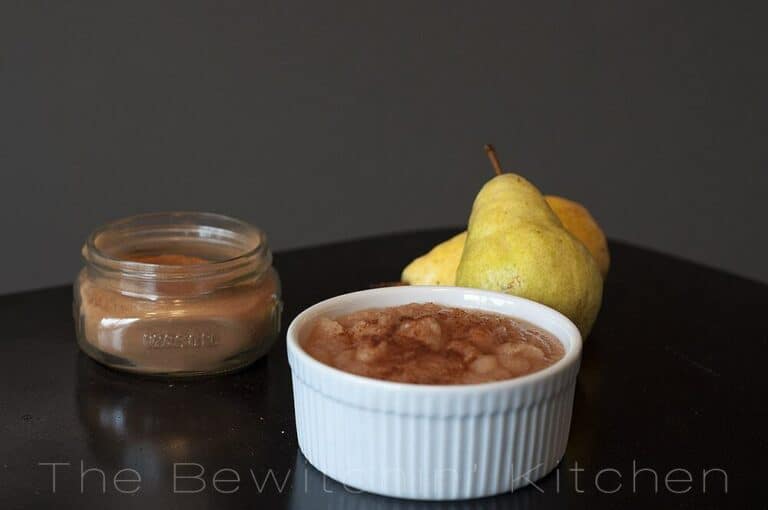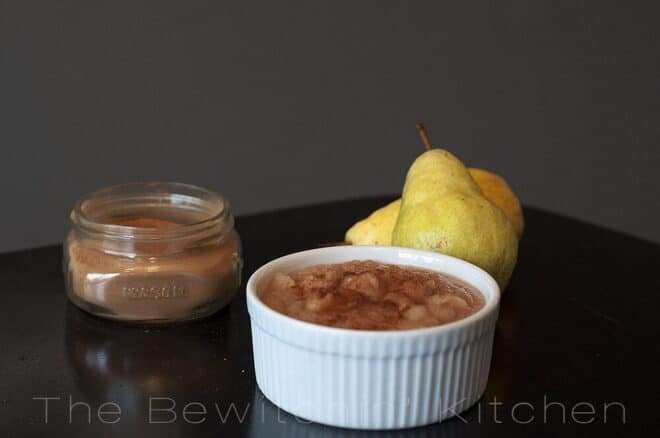 Frequently Asked Questions about Pear Butter Recipe
Why is it called pear butter?
The distinction is in the texture – pear butter is thicker than pear sauce. Traditionally, fruit butters are prepared the same way that sauces are, but with one extra step. After the mixture is pureed, it is then simmered and reduced into a thick spread.
However, there's no need to simmer with this old fashioned pear butter recipe! Pears are naturally high in pectin, which causes the sauce to thicken up nicely all on its own.
How do you thicken runny pear butter?
There are two easy fixes for runny pear butter — either run it through a strainer to remove excess liquid, or simmer the mixture on the stove! The heat will cause some of the liquid to evaporate and the pectin in the fruit will act as a thickener.
Can I double this old fashioned pear butter recipe?
You sure can! In fact, you can scale up the recipe to accommodate as much fruit as you have — as long as your pan is large enough.
Large batches would be perfect for holiday gifts as well. Divide into mason jars and tie with a pretty ribbon for an easy, homemade treat.
More Recipes with 5 Ingredients or Less:
Pear Butter
Homemade Pear Butter is easy to make in just 30 minutes! Similar to applesauce, there are so many ways to use this pear butter recipe.
Servings 1 cups
Calories 447kcal
Ingredients
4 cups chopped pears about 4-5 pears
1/4 cup water
1 tbsp honey
1 tsp vanilla
1 tsp cinnamon
Instructions
Add all of your ingredients to a pan and cook over medium heat, stirring often.

Cook until pears are tender and liquid is reduced, about 20-25 minutes.

Let the pears cool for a couple minutes and then transfer to a blender (I highly recommend the Ninja).

Blend until smooth.

Store in the fridge.
Nutrition
Serving: 1batch | Calories: 447kcal | Carbohydrates: 118g | Protein: 2g | Fat: 1g | Saturated Fat: 1g | Polyunsaturated Fat: 1g | Monounsaturated Fat: 1g | Sodium: 11mg | Potassium: 772mg | Fiber: 21g | Sugar: 81g | Vitamin A: 167IU | Vitamin C: 28mg | Calcium: 81mg | Iron: 1mg
Follow On Pinterest
Follow @bewitchinkitchen On Pinterest for more delicious recipes!