15 Very Cherry Breakfast #Recipes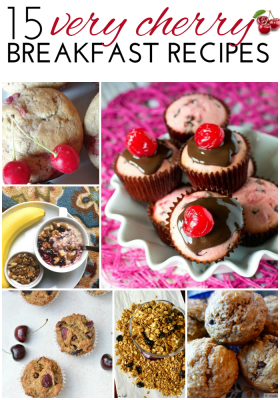 It won't be much longer and cherry season will be upon us. I have been blessed with having four cherry trees in my back yard, and over the past two years of living here I have been experimenting with some recipes.
I don't have enough recipes in my own catalog to do a round up, but lucky for me there are some really talented bloggers out there. The Cherry Greek Yogurt Pancakes sound divine!
15 Very Cherry Breakfast Recipes
1. Chocolate Covered Cherry Muffins | Source: Tastes of Lizzy T
2. Low Fat Cherry Cinnamon Granola | Source: Food Done Light
3. Chocolate Cherry Cider Muffins | Source: Farm Fresh Feasts
4. Gluten-Free Cherry Chocolate Muffins | Source: Fearless Dining
5. Cherry Overnight Oatmeal | Source: A Cedar Spoon
6. Strawberry Cherry Muffins | Source: Coffee With Us 3
7. Cherry Vanilla Breakfast Smoothie | Source: Wine and Glue
8. Black Cherry Streusel Muffins | Source: It Bakes Me Happy
9. Tart cherry Chutney Toast | Source: Jelly Toast Blog
10. Cherry Greek Yogurt Pancakes | Source: Love and Zest
11. Slow Cooker Chocolate Cherry Steel Cut Oatmeal | Source: Running to the Kitchen
12. Cherry Chia Energy Bites | Source: Some the Wiser
13. Cherry Banana and Muesli Muffins | Source: Sugar et al.
14. Cherry Pie Fridge Oats | Source: Sprinkles and Sauce
15. Cherry French Toast | Source: Seasons and Suppers
Bonus: Cherry Recipes Found On The Bewitchin' Kitchen!
Thanks for stopping by and Pinning these wonderful recipes. I hope you enjoyed the recipes from these talented bloggers and myself.
Looking for more great ideas? Click here to follow me on Pinterest!
Visit Randa | The Bewitchin' Kitchen's profile on Pinterest.
Do you have any cherry breakfast recipes? What's your favorite?