21 Day Fix – Week 1 Results
It's Monday, which means I have officially completed my first week of The 21 Day Fix. Here are my thoughts, feelings and (more importantly) what I ate. Don't forget to check out the Ultimate 21 Day Fix Resource Guide.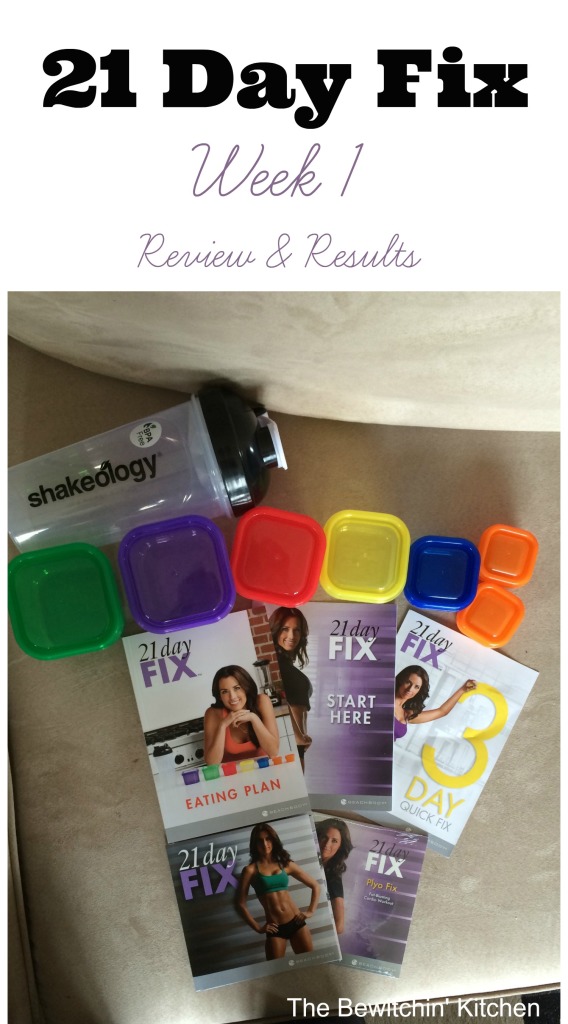 So if you are not sure what the 21 Day Fix is, feel free to read my 21 Day Fix introductory post. In a nutshell, it's a 30-minute daily workout program BUT what's different is it teaches you PROPER portion control. You will be given containers and you simply fill the food up, dump it on the plate and go from there.
No counting calories, counting macros, NO STARVATION!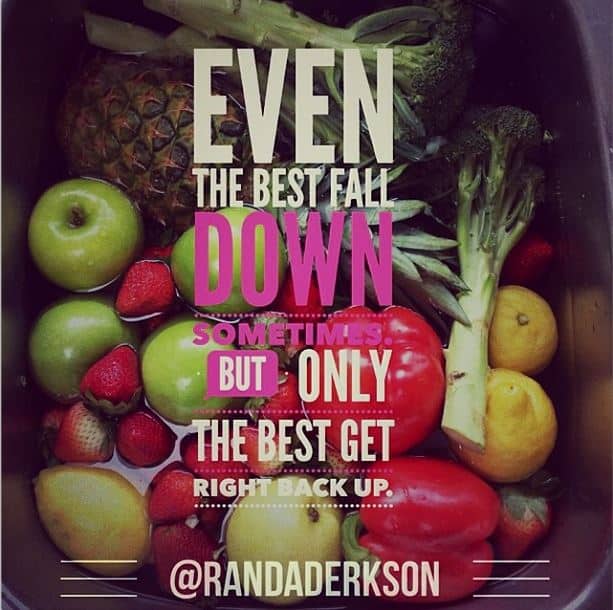 Helpful supplies for 21 Day Fix:
I have included affiliate links for your convenience.
21 Day Fix The Food:
I definitely didn't starve. I was satisfied and full the whole week. When you fill up on nutrient dense food, that's going to happen. Plus I feel awesome! The best part of this program is that there is no DEPRIVATION. I had a glass of wine with my steak dinner on Wednesday and last night I had some dark chocolate with my fruit.
The whole point is it takes 21 Days to make or break a habit, and this teaches you LIFE skills. That's why I love it so much. There is information on the "containers to use" when you go out for pizza or just out to a restaurant. Again, it's teaching you portion size that you can use in everyday life.
There are still foods that you cannot eat, basically, if it's not in the book – it's a no. There are recipes for cookies and treats that you can have, but no store but junk. If there is a chemical in it, it's a no. Or better yet – if it's in the middle shelves of the grocery stores (and it's not peanut butter or whatever) – back away.
Here are some collages of what I ate from Instagram. I stopped posting on the weekend because it's pretty repetitive considering my husband is away this week and I'm just cooking for myself and my toddler.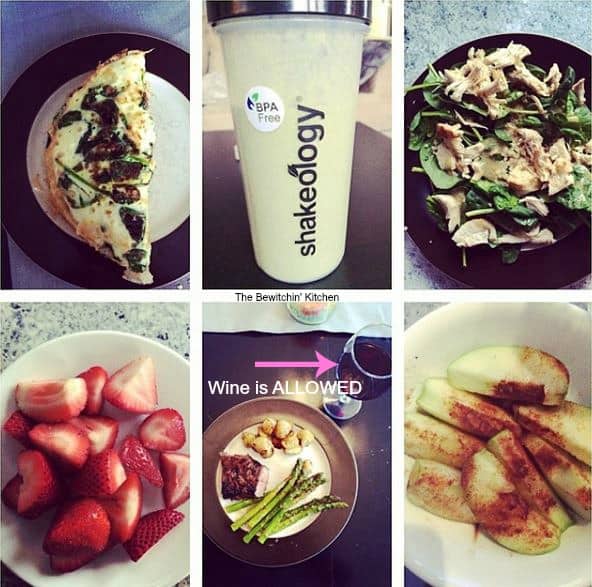 A lot of repetition for the last few days, but it's so good and I switch it up with seasonings and hot sauce. This is what I chose to use my containers for, but the possibilities are endless. This week I have a few different choices on my meal plan, including Cream of Broccoli Soup and Turkey Chili.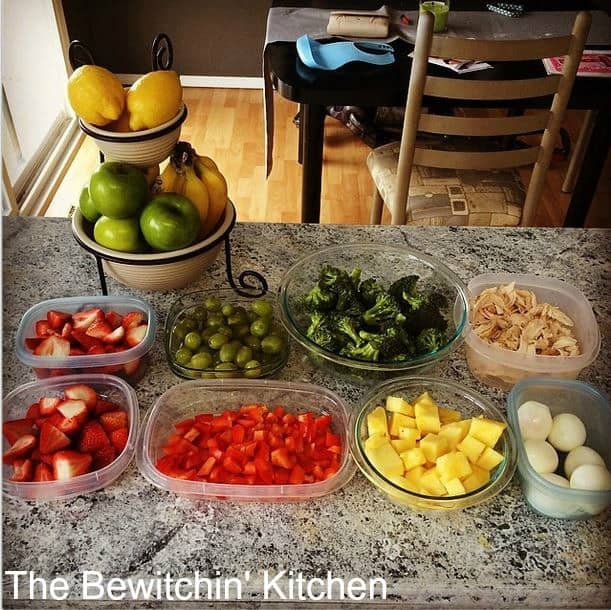 Every Sunday, I pre-wash and cut up all my veggies and fruit. I put my stir fry ingredients together so that way I can quickly make it when the time comes. Doing this has saved me. On nights where I'm too lazy to cook, I don't really have to, it's done for me – I just have to saute and it's done. I pre-cooked and cut up some chicken as well. This is a great option for busy parents and for those who work! Your lunches and snacks are ready for you to bring to the office. A little preparation goes a long way. You can read more about meal prep over at Meal Prep Tips for Busy Families.
21 Day Fix Week 1 Results
I'll let the photo speak for itself: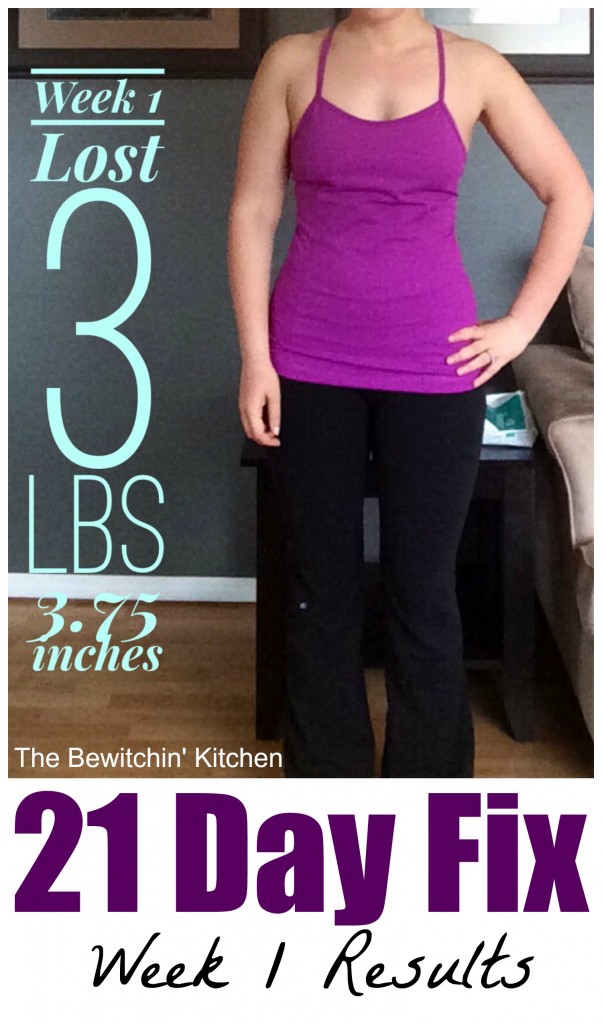 Non Scale Victories:
My skin is improving (not so dull)
Clothes are looking better
Have a slight increase of energy (playing more with my son)
Learning new habits
Remembering to drink my water (I'm aiming for a gallon a day)
Don't forget to read about week 2 and week 3 (plus my results). I also have my results from the 21 Day Fix Extreme workout + a free 21 day fix meal plan. One last thing – I recorded how many calories are burned doing 21 Day Fix Extreme too.
If you would like to order the 21 Day Fix, you can order it over at My Team Beachbody Store (just hit shop).
Purchase 21 Day Fix
21 Day Fix Extreme Essential Package
21 Day Fix Extreme Ultimate Package
All 21 Day Fix Challenge Packs
Disclosure: I am an Independent Beachbody Coach and I do receive a commission of 25%. If you would like to receive a 25% discount and make health and fitness YOUR business drop me an email: randaderkson @ gmail(.)com
Looking for more great ideas?
Visit Randa | The Bewitchin' Kitchen's profile on Pinterest.