CrockPot Pulled Pork
This CrockPot pulled pork packs a punch, I know you're going to love it! Kicked up with chipotle chili powder and a bold, yet tangy homemade BBQ sauce makes it a favorite slow cooker recipe year round. The best part, if you want more than pulled pork sandwiches, this pork loin recipe makes incredible tacos, pizza, and salads.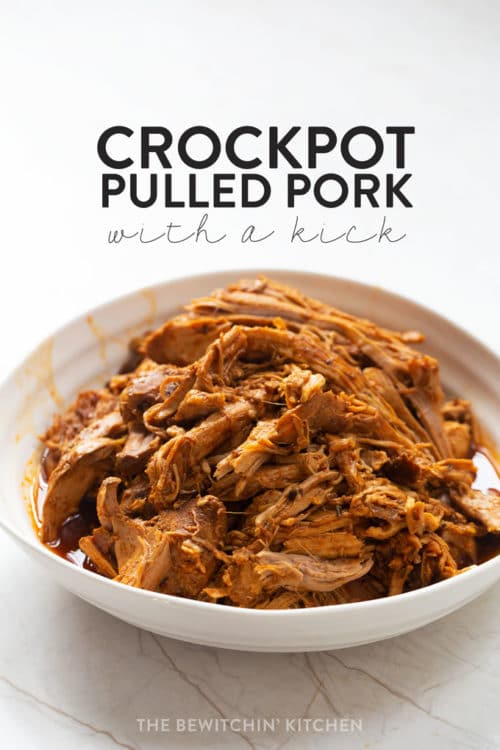 CrockPot Pulled Pork
Disclosure: This post contains affiliate links for your convenience. As an Amazon Associate, I earn from qualifying purchases.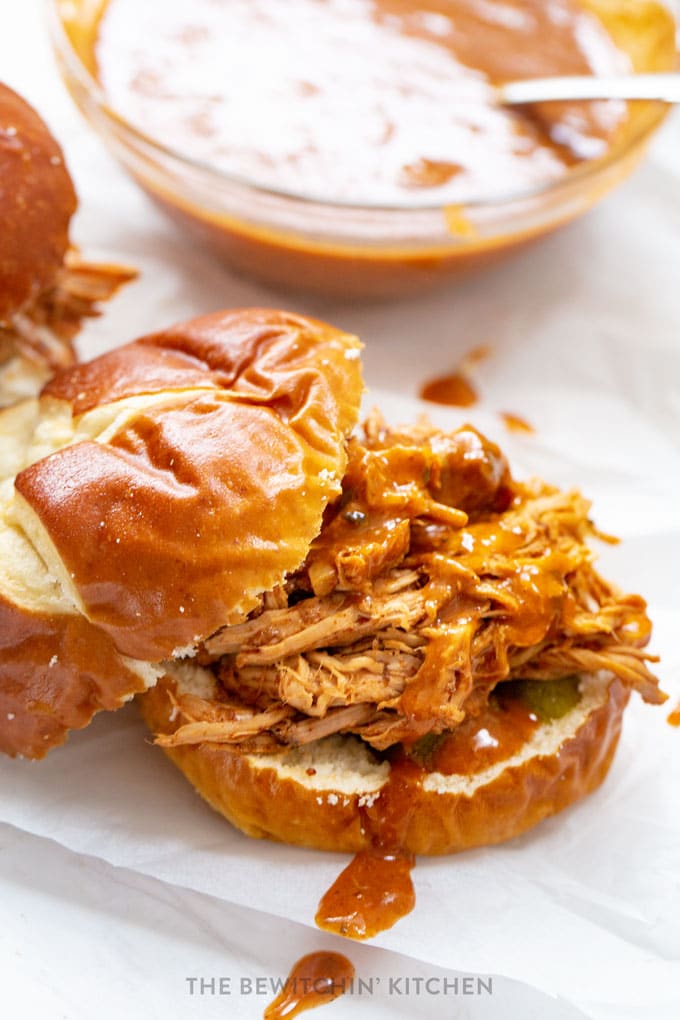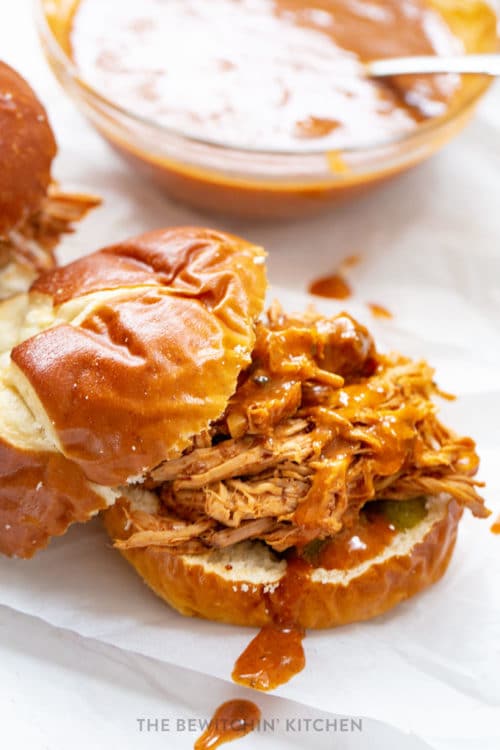 This blog post first appeared back in 2011 and oh my word, I can't believe it's taken me this long to update the photos. But here they are. So much better.
Since 2011, I have developed an obsession with pulled pork. Each time I make it, it's a little different as I add in flavors that I crave at the time.  Sometimes I add tomato paste, sometimes molasses, sometimes honey mustard.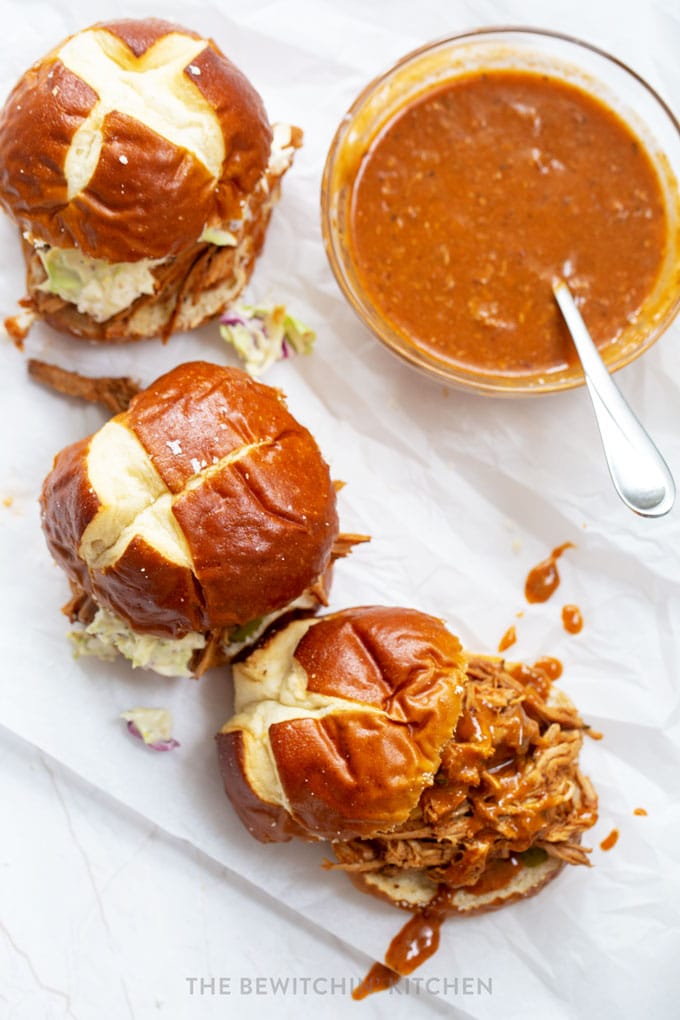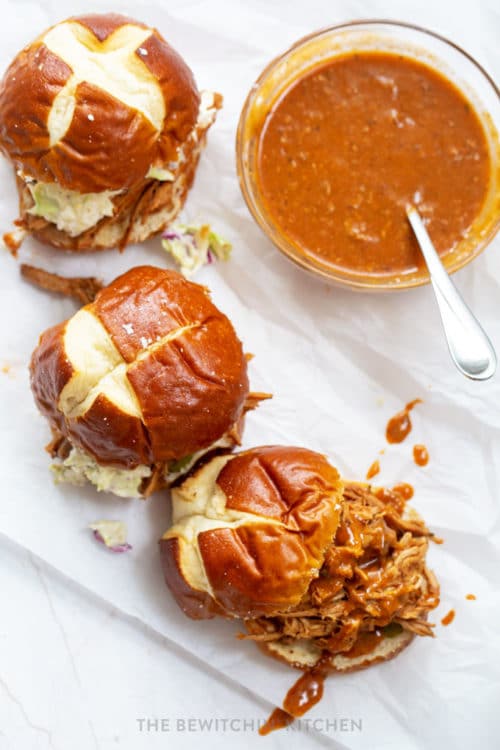 This time, I swapped a few ingredients to give me the punch I have been craving. The spicy, bold, yet zesty barbecue that makes me salivate whenever I think about it.
Pulled Pork Sauce Recipe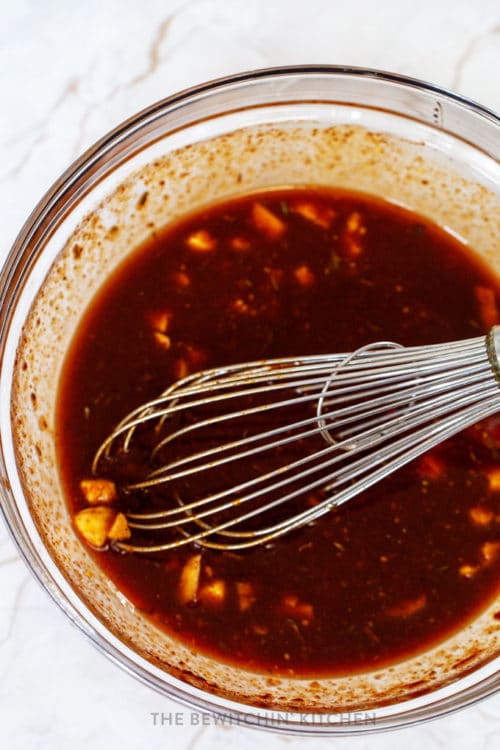 Everyone has a different preference when it comes to pulled pork. I like a bold bbq sauce with a little bit of a tang to it, because it has a little bit of a cheat and uses my favorite bbq sauce as a base. So with that said, your version of this sauce for pulled pork could be different than mine depending on what you use.
This is the bbq sauce I used, it's one of my favorites.
What to do with leftover pulled pork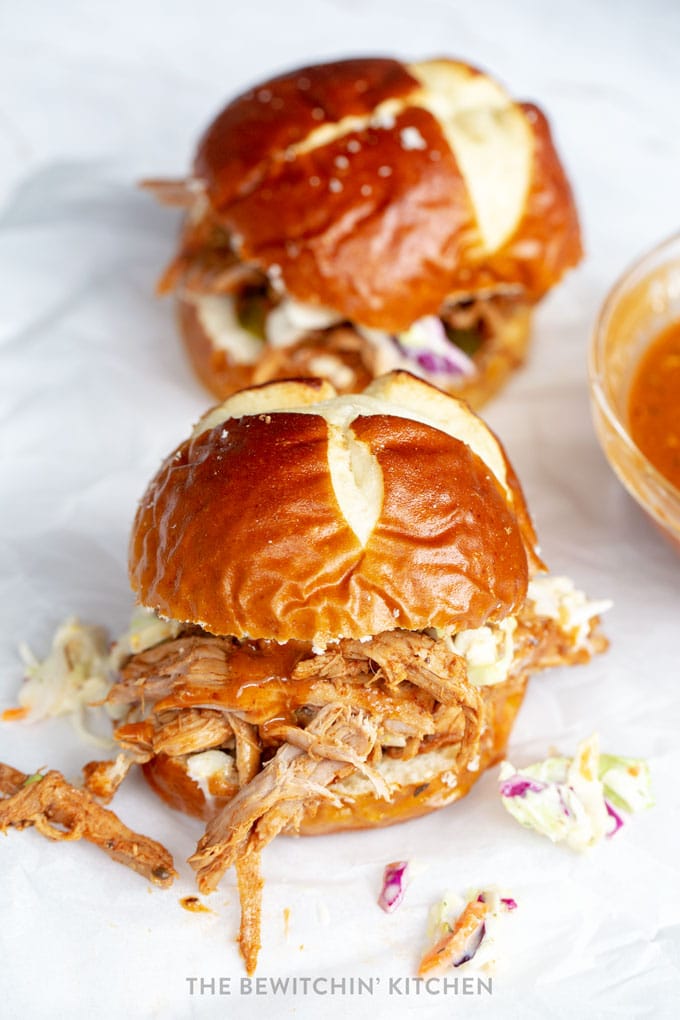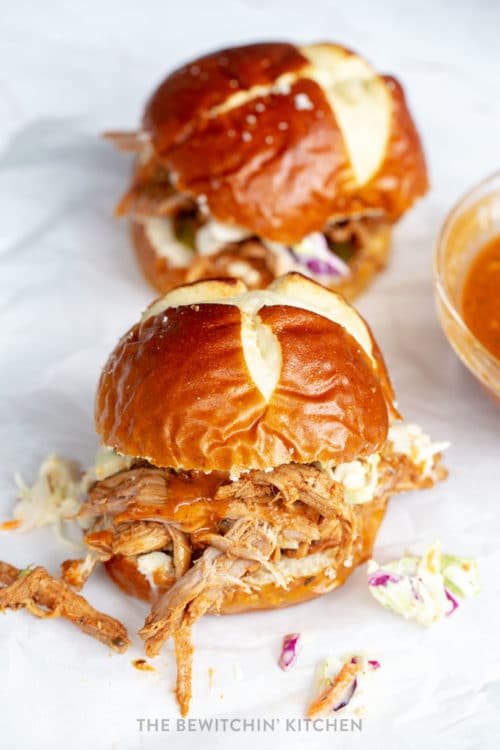 If you have pulled pork recipes here are some ideas:
Make tacos
Nachos
Check out the Pulled Pork Quesadillas recipe
Turn it into Pulled pork pizza
Try some Pulled pork sliders
or just make more pulled pork sandwiches!
How to Make Pulled Pork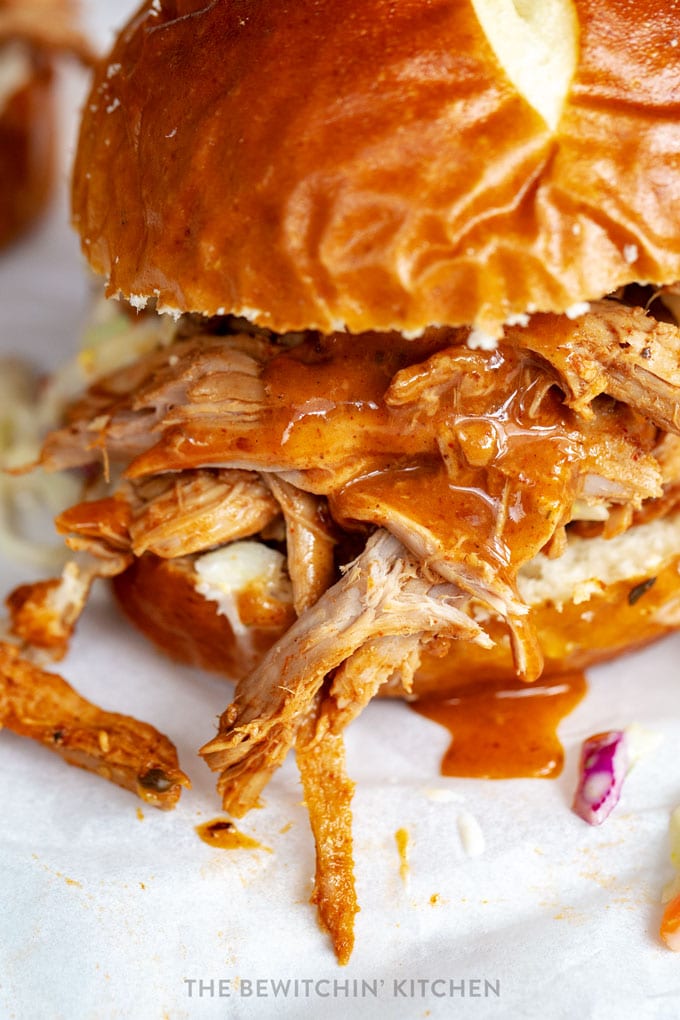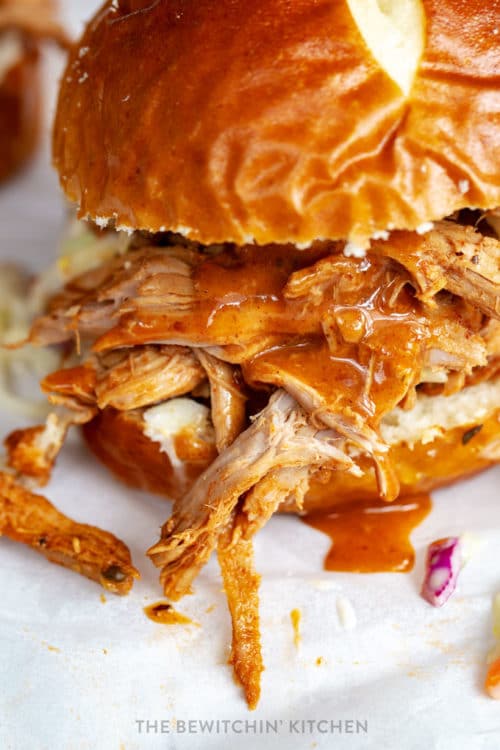 When I make pulled pork I toss it in the CrockPot. In just a few hours, it's falling apart.
It's the easiest way.
TBK's Pro Tip: Make clean up a breeze by using one of these slow cooker liners.
How many calories in pulled pork?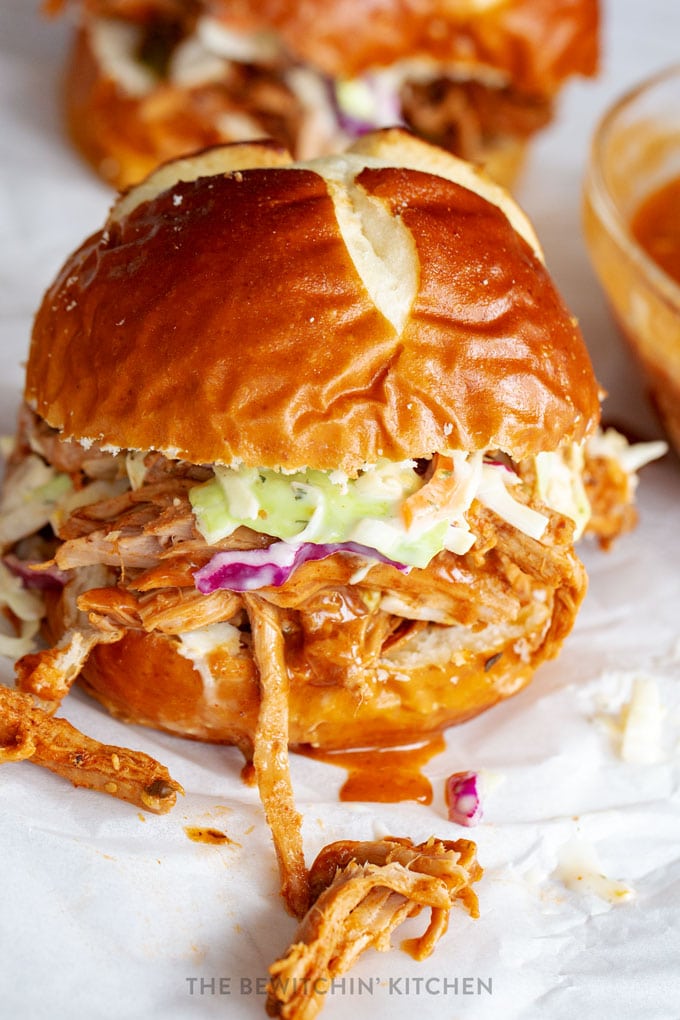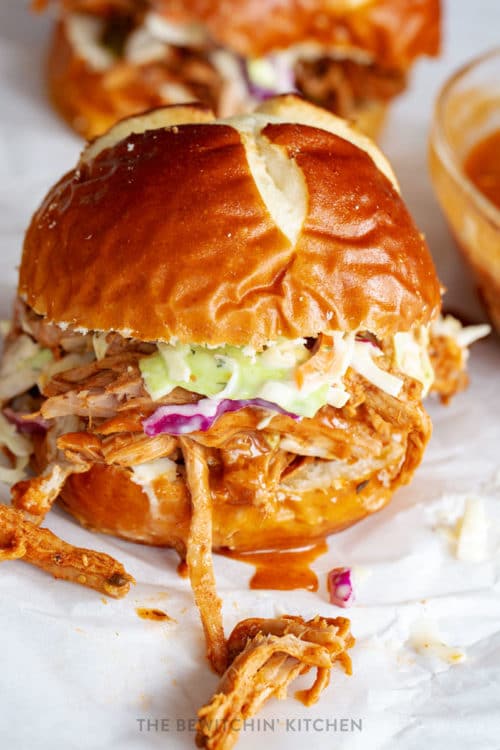 For 1/6th of this pulled pork recipe, it's 391 calories. That is without the bun, toppings, or sides. Please keep in mind that this will also vary with the bbq sauce you base the recipe off of, but you can find the macronutrients at the bottom of the recipe card.
Container Counts
By popular demand, I am now offering the container counts for the Ultimate Portion Fix. I'll be slowly updating all my recipes so you can use my recipes for Beachbody programs like 21 Day Fix, 80 Day Obsession, Liift4, and more.
Here are the counts for this creamy scallops recipe:
Full counts: 2 green, 1 purple, 6 red, 6 blue, 3 tsps.
Per serving: 1/3 green, 1/6 purple, 1 red, 1 blue, 1/2 tsp.
This does not include the bun, but if you need more greens or purples, add some roasted veggies to a side and more purples to your snacks.
What to serve with bbq pulled pork sandwiches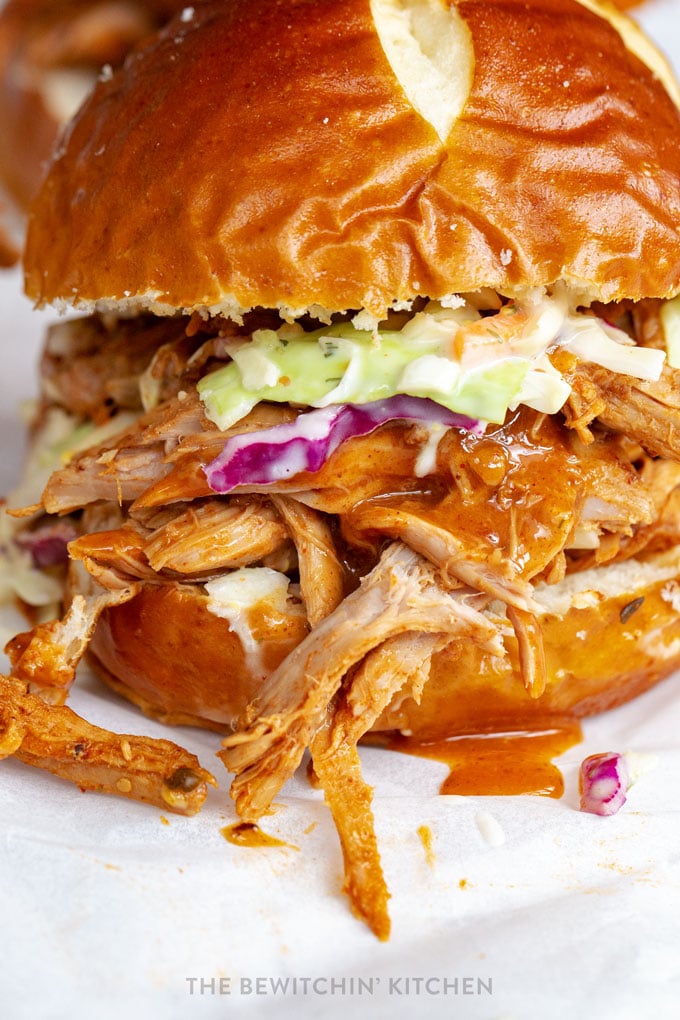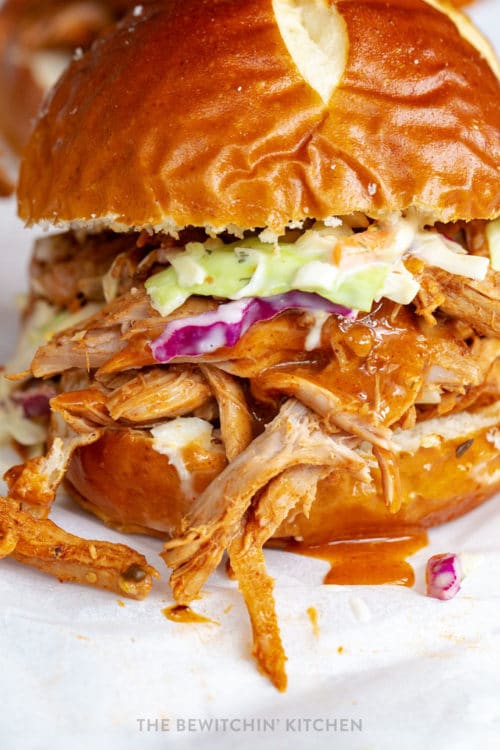 Anything summer related is what I personally believe but here are a few easy side dish recipes from the blog:
As for this easy CrockPot pulled pork? I serve it on a pretzel bun, top with slaw, and serve with a pickle.
Slow Cooker Pulled Pork
There are so many ways to make pulled pork but this is one of my favorites.
Servings 6 people
Calories 569kcal
Ingredients
To serve
6 buns pretzel, hamburger, etc
1 batch coleslaw see notes for my favorite recipe
any other toppings you love pickles, onions, etc
Instructions
Rub the pork with the chili, sea salt, pepper, and paprika. Place in the slow cooker and cook for 8-10 hours on low or 4-5 hours on high.

About three hours into the cooking process, whisk together all the sauce ingredients (except the arrowroot powder).

Pour the sauce over the pork, put the lid back on and let finish in the slow cooker.

When done, shred the pork with two forks. It should fall right apart.

Take the pork out and strain the sauce into a saucepan. Thicken the juices/sauce with an arrowroot slurry over medium-high heat (mix the arrowroot powder with 1 tbsp of water and whisk until thick.
Notes
Adapted from Amanda's Cooking.
If you don't have time to stop the slow cooker halfway to add the sauce (you're at work, the store, etc). Just add it in the beginning. It will be fine.
My favorite coleslaw recipe
Container Counts
Full counts: 2 green, 1 purple, 6 red, 6 blue, 3 tsps.
Per serving: 1/3 green, 1/6 purple, 1 red, 1 blue, 1/2 tsp.
This does not include the bun. If you need more greens or purples, add some roasted veggies to a side and more purples to your snacks.
Nutrition
Serving: 1serving | Calories: 569kcal | Carbohydrates: 67g | Protein: 49g | Fat: 11g | Saturated Fat: 2g | Polyunsaturated Fat: 1g | Monounsaturated Fat: 3g | Cholesterol: 119mg | Sodium: 1539mg | Potassium: 915mg | Fiber: 2g | Sugar: 32g | Vitamin A: 778IU | Vitamin C: 2mg | Calcium: 50mg | Iron: 13mg
Follow On Pinterest
Follow @bewitchinkitchen On Pinterest for more delicious recipes!