LIIFT4 Month 1 Results
The last four weeks have gone by so fast! I can't believe that I'm already halfway done this program. Here are my LIIFT4 month 1 results and a little review and recap.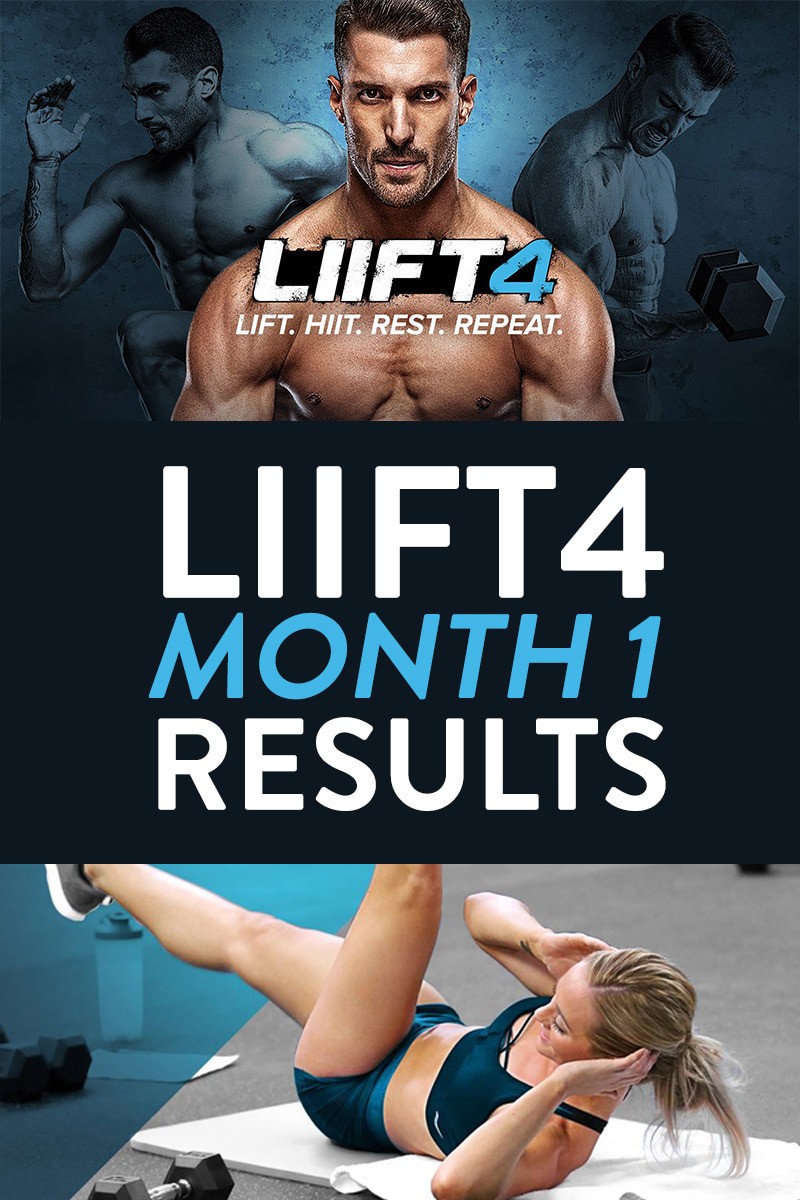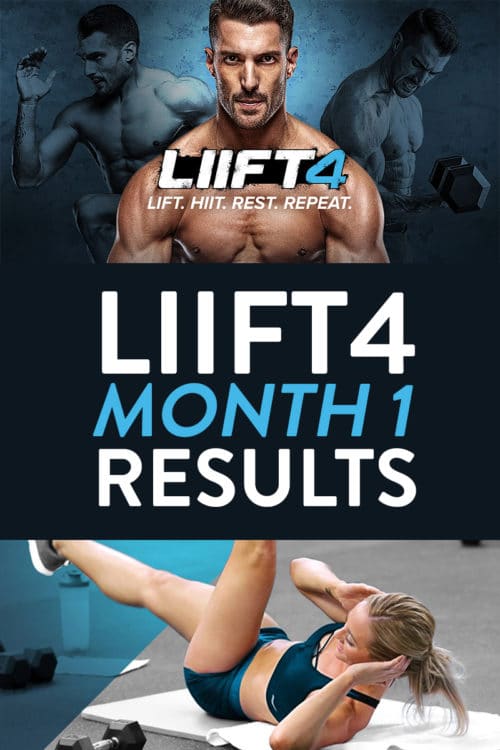 LIIFT4 Month 1 Recap
Dislcosure: This post contains affiliate links.
I received early access to LIIFT4 four weeks ago as part of a coach test group. I don't speak of it often on my blog since I don't really "work the business" but I am an Independent Beachbody Coach and have been since 2013. I mostly use my coach for the discounts on the workouts, Beachbody on Demand, and the supplements like Shakeology, and the performance line.
Because I am apart of the official coach test group, I have access to Joel (the trainer and creator for the program) and his first-hand knowledge on what's what with LIIFT4.
LIIFT4 Month 1 Nutrition
Here's the deal. The program has sections for containers, and if you like the portion fix container system – fly at 'er. I don't.
This program is based on calories and macronutrients (like all programs). The containers make it easy for a lot of people to follow the system, but I don't use them anymore – I find it more time consuming than simply tracking calories and macros.
TBK's Pro Tip: Joel stated in the group that if you have less than 30 pounds to lose – he highly recommends you bump your calorie bracket up two plans. So, if you're Plan A – go to Plan C. Gain some muscle and trust the process.
I track my nutrition using MyFitness Pal (here's how to use MyFitness Pal). I focus on staying in my calorie bracket range and keeping my macronutrients at the 40/30/30 range (40% carbs, 30% protein, 30% fat). It's not perfect every day – but I'm doing alright with it!
I am breastfeeding, so I added another 500 calories to my plan. It's all been a big experiment the last few weeks, and to be totally honest I have been doing what I want. If I'm still hungry (like truly hungry – not snacky) I'll eat more. I'm trying to focus a little more on intuitive eating.
There is a cheat day, but I don't follow it. Instead, most nights, I have a little something (maybe a little wine, last night I had ice cream). Doing this keeps me from binging all day long and it still fits in my macro range so everyone wins!
TBK's Pro Tip: Track your goals, meal plan, and track your progress with The Healthy Grail Health and Fitness Planner.
Last weekend, I had a little too much freedom over the long weekend and gained a few pounds, but I didn't let it deter me. I got back on track and for the first time ever – I never felt guilty for it!

Total mindset change.
LIIFT4 Workouts
I tracked my calorie burn for the workouts. If you want to see them, please read calories burned doing LIIFT4.
The workouts are 30-40 minutes long and you only workout 4 days a week.
This has been a game changer and the reason why I have never missed a workout. I'm able to keep up with this with my busy life of a work at home mom to a 6-year-old and a new baby! If the baby is keeping me from working out one day (she's been super clingy lately), I do it the next day and just shift my workouts to days that work for me that week.
Gamechanger!
TBK's Pro Tip: Joel said if you miss a workout – never double up. Do not do two workouts a day. If you end up missing one in that week timeframe, so be it.
In four weeks time, I have already upped my weights. I can feel myself getting strong and it's amazing!
I'll get into the workouts more in detail when I post my final results.
LIIFT4 Month 1 Results

So far, my LIIFT4 results are amazing. Especially since my eating hasn't always been on track.
Weight loss: 1 lbs
Inches lost: 5.25″
What I've gained: Strength, confidence, and I can feel my energy is improving!