How To Use My Fitness Pal For Weight Loss Success

My Fitness Pal
is my favorite (and most used) app on my iPhone, I recommend it to everyone. It's how I stay accountable and successful in my health and fitness goals. Lately I have had a few of my challenge group members asking me questions on the ins and outs of MFP. It's the perfect time for a post if you ask me.
My Fitness Pal: What Is It?
My Fitness Pal is way to track and monitor your health and fitness goals. You can track the calories you consume, the calories you burn and your macros (percentages of protein, carbs and fat intake). You can take it a step further and add friends to help keep you motivated and write on their "wall". It's fitness social media: there are message boards, support forums and recipe options.
MFP can be used as an app (correct me if I'm wrong but I believe it's available on all phone models) and/or you can use the website. I have noticed that it looks a little different on each the iPhone, iPad and website but in the end it works the same.
It's easier for me to show you….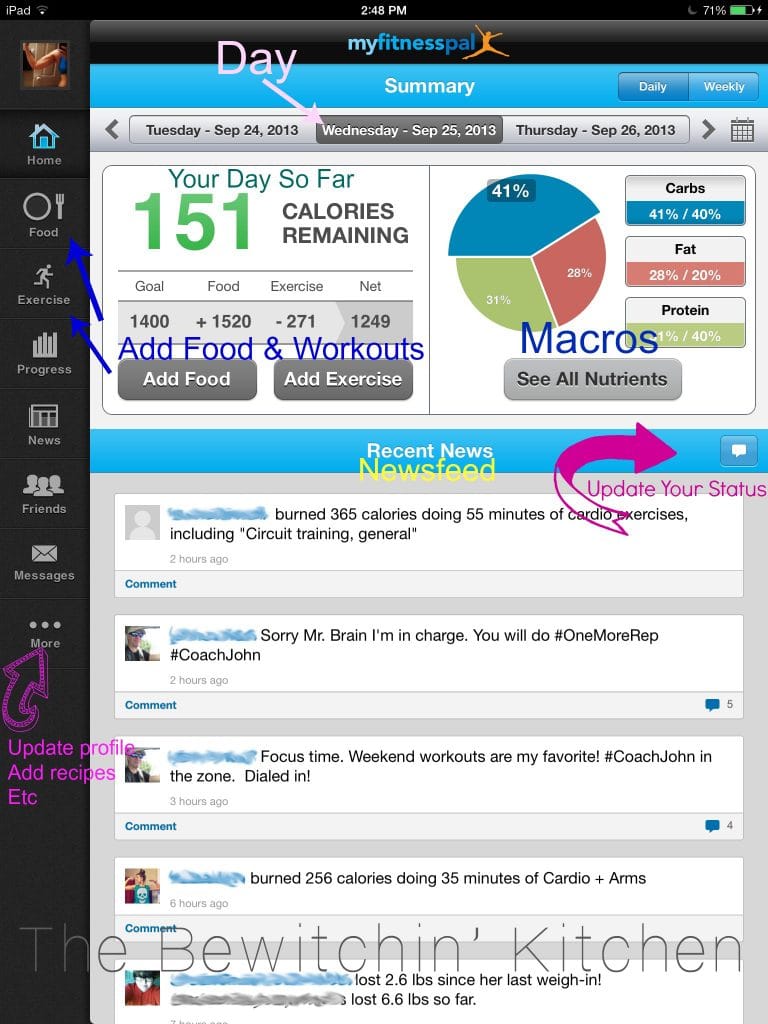 This is what the home screen on my iPad looks like. It looks a little different on my iPhone and on the computer, but this is my favorite view. I like it because it shows my macros right away (in the iPhone you have to hit daily and then the pie chart symbol). Other then that I don't pay much attention to my home screen, I glance at my news feed, but don't pay too much attention to it. Note: when you complete a workout or diary entry – MFP will automatically publish it to your newsfeed.
[ctt title="How to log your food and exercise to ensure weight loss success! " tweet="How to log your food and exercise to ensure weight loss success! http://ctt.ec/8GWU6+ #MFP #weightloss" coverup="8GWU6″]
Logging Your Food
Logging my food is the most important thing I can do to stay on track. I notice that on days where I don't log – I let myself go. I don't count at all if I don't use my app and I usually overindulge on those days and pay for it by feeling sluggish for the next couple. Now for those of you who are overwhelmed with the idea of counting calories here is the beauty thing about My Fitness Pal – IT DOES IT FOR YOU. Here is how you do it: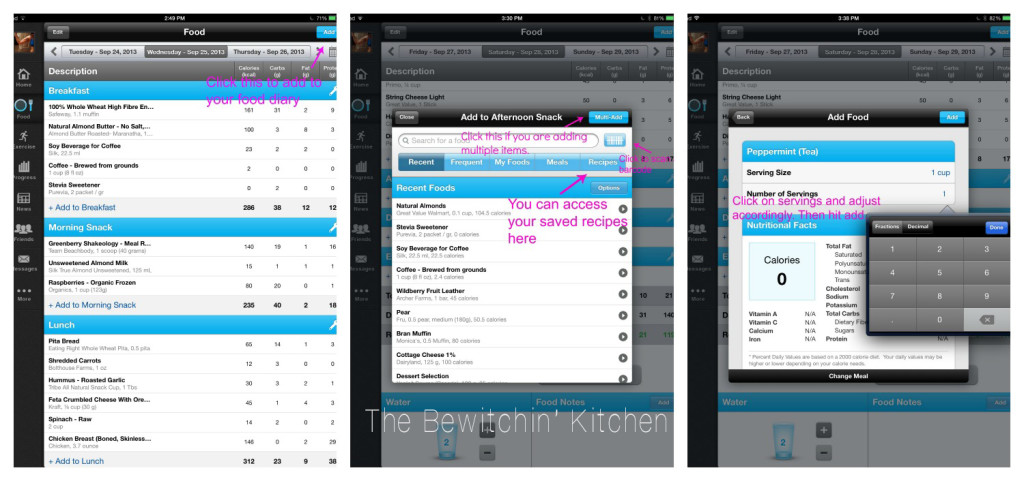 Click on your food tab. Then on the top right corner hit "Add" and then pick what meal (you can customize what your meals say in options) or you can click "+ Add To Meal" as a short cut. You will then be able to search for the food, or if you  have used it before it will show up on your "Recent Foods". If what you're about to eat/drink has a barcode you can click on the barcode scanner and input it that way. You will be then prompted to enter your servings. Click your serving size, select what you're about to eat (ie: one medium, large, small head , 1 cup, etc of cauliflower) and then the amount you had. Click add and you have added it to your food diary.
Logging Your Exercise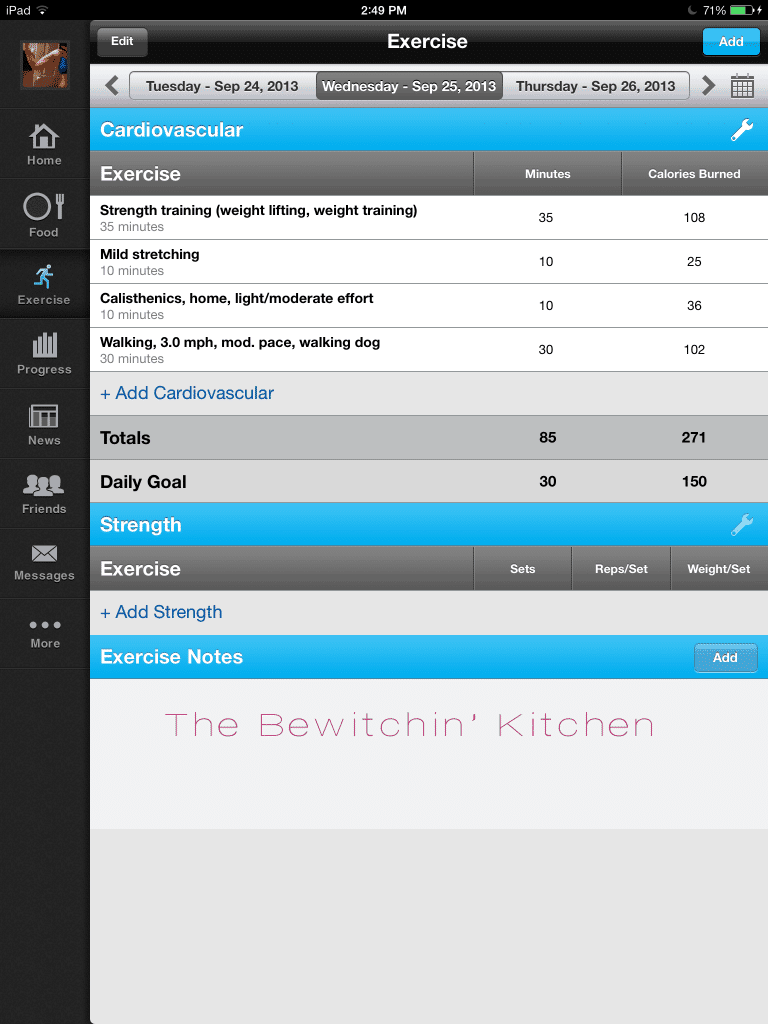 It's really similar to food. Just click " + Add Cardiovascular" and search for the exercise you just did. MFP then calculates your weight and height and gives you an idea on how much you burned. If you have a Fit Bit or a Heart Rate Monitor you can upload and input the exact amount of calories burned (I haven't tried this yet). Since strength training is hard to determine the caloric burn for everyone, no calories are put in when you log under the strength part. You can keep track of your reps, max weight, fails, etc.
Finishing Your Day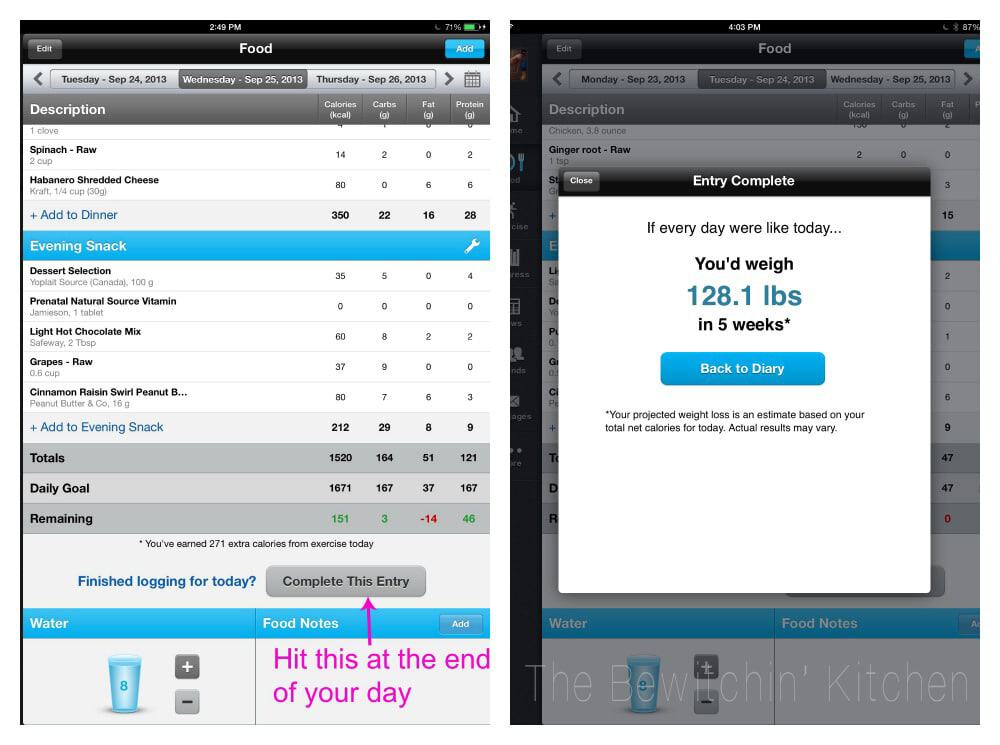 When your day is finished, just hit "Complete This Entry". You will then be directed to what you would weigh in 5 weeks time, if you were to continue what you did that day (for better or for worse).
How awesome is that?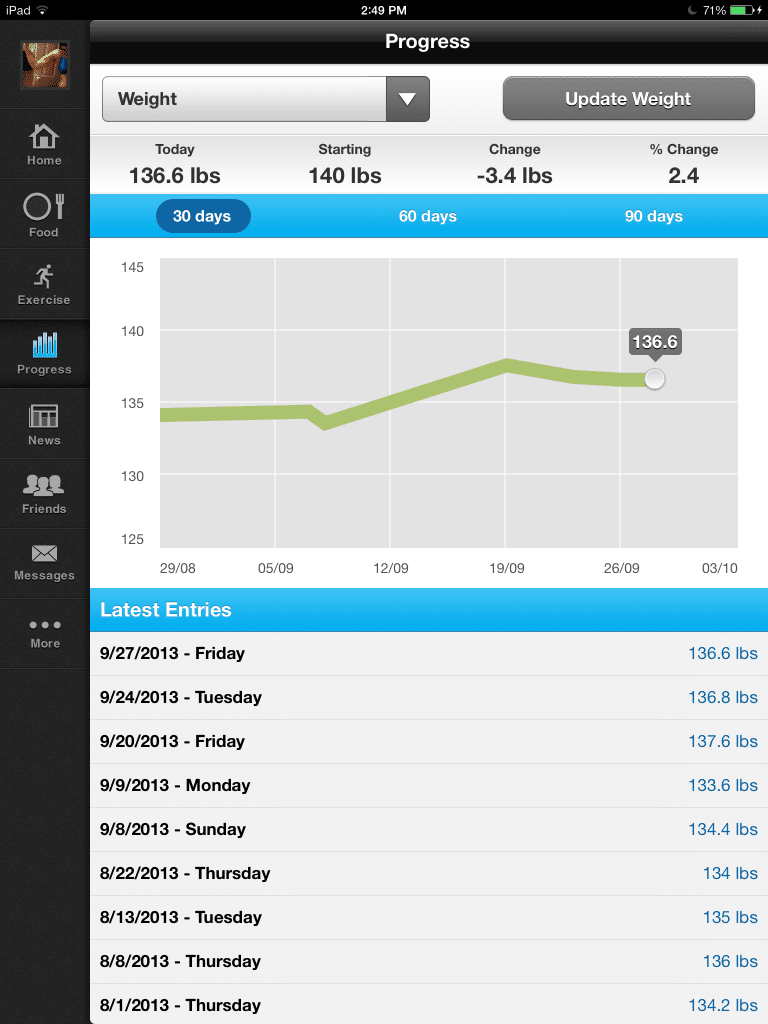 I also really like the progress tab. I'm really into graphs, charts and all sorts of nerdy statistics when it comes to my fitness. So this is perfect. I can chart and see my progress for the last 30, 60 and 90 days. I can also switch between my weight, body fat % and measurements. My weigh graph is going up, but my measurements are going down after doing Focus T25. I love seeing those numbers.
[ctt title="Share how to use MFP with your friends. Tweet this out." tweet="How to lose weight using MyFitness Pal: http://ctt.ec/ij69M+ #MFP #weightloss" coverup="ij69M"]
I don't participate in the forums much (that's a website thing only, you can't access them on the app) but I do access the recipe data base often. When I cook dinner for my family I'll add all the ingredients and the servings and MFP does it for me. I'll be doing a post on how to add a recipe later.
I hope this helped you learn the in's and outs of My Fitness Pal. Feel free to add me as a friend, my username is RandaDerkson.
Since the screenshots I used were from my iPad, I made a video on How To Use MyFitness Pal on An iPhone (see above).
Looking for more great ideas?
Click here to follow me on Pinterest
!
Visit Randa | The Bewitchin' Kitchen's profile on Pinterest.
FREE Recipe Binder
Are you constantly wondering what's for dinner?
When I don't meal plan I feel behind, and we usually end up ordering take out. This recipe binder will keep you organized and make life a little bit easier.