21 Day Fix Extreme Review & Results + Free Download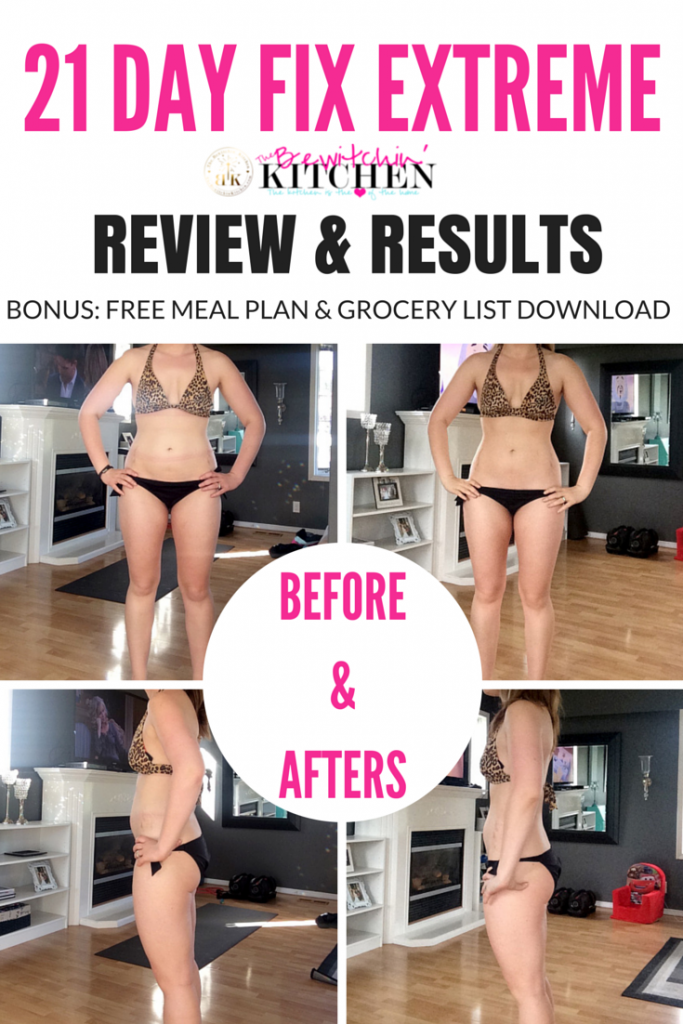 After the huge launch and continued success of the original 21 Day Fix (that's a link to my 21 Day Fix results), Autumn Calabrese released an Extreme version. The workouts are a higher intensity, the food plan is stricter and I think it's a lot more fun. Don't forget to check out the Ultimate 21 Day Fix Resource Guide. Here are my 21 Day Fix Extreme results.

21 Day Fix Extreme Workouts:

Each workout is around the 30 minute mark (except for the ab workout, that's 10). Make sure you read my post on how many calories burned doing the 21 Day Fix Extreme.
21 Day Fix Extreme Food:
It's based off the famous container program, it's like measuring cups that gives you proper portions (you can read about that here). To amp up the program, if you want to follow the Extreme eating guide there are no cheats. That means no chocolate and no wine for 21 days. You can follow the original fix plan (minus the treats) or you can do the Countdown to Competition, which is what I opted for. Two days of the competition plan (which is a carb depletion) and one day fix plan.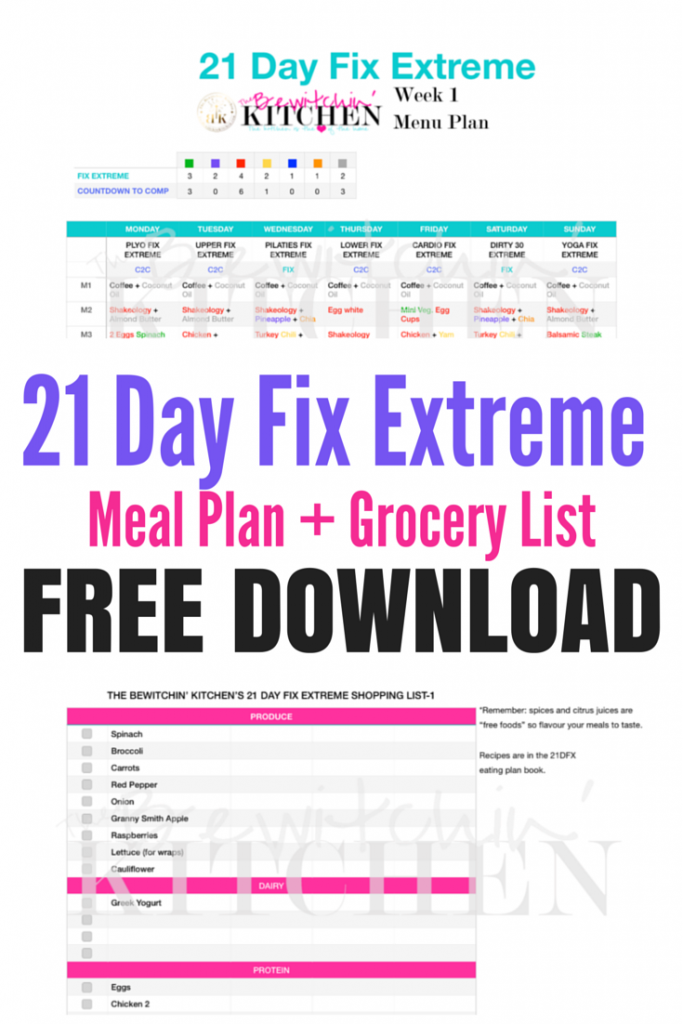 Sign up below for The Bewitchin' Kitchen's email updates and get a copy of my personal menu and shopping list I planned for the 21 Day Fix Extreme. This plan took me roughly two hours, so this saves you time and gets you the results you want! It's not perfect, but it's what I wanted to do. Feel free to change it up to work for you.
Your PDF download and .CSV copy will be emailed to you once you confirm your subscription. If it is not received, please send me an email.
21 Day Fix Extreme Review:
I much prefer the workouts during the 21 Day Fix Extreme over the 21 Day Fix because it's more weights, which is what I love to do. Yes there is cardio, but the cardio uses weights – which makes it a lot more fun for me. I love these workouts and I have improved a lot since week 1.
My first week on The Fix Extreme was amazing, I got down to a weight that I haven't seen in over a year. My food was on point, my cravings were nonexistent and I was killing my workouts.
I found that I was always eating during the Countdown to Competition plan (8 meals a day) and I was full, I always struggled to get my last meal in (which I planned to be a protein shake as I was sick of eating – yeah I actually said that). However, I noticed the days where I followed the regular fix eating schedule I ate more calories, fewer meals and my appetite was up. My thoughts are it's because I was eating more sugar (fructose from fruit) and less protein. Either way, I was thrown off and during week 2 I fell apart.
I'm not going to get into it but I made bad choices and gained a few pounds. I got back on track and then I got a massive shipment of chocolate (life of a blogger everyone), I succumbed to my stress one day and ate a lot. Since then I have been struggling with my food choices. I'm almost back on track now, but that's the thing with me – if I start eating poorly it takes over and it's all I crave. Surely I can't be the only one?
That's my truth.
Helpful supplies for 21 Day Fix:
I have included affiliate links for your convenience.
Related: how to be successful with The 21 Day Fix.
21 Day Fix Extreme Results: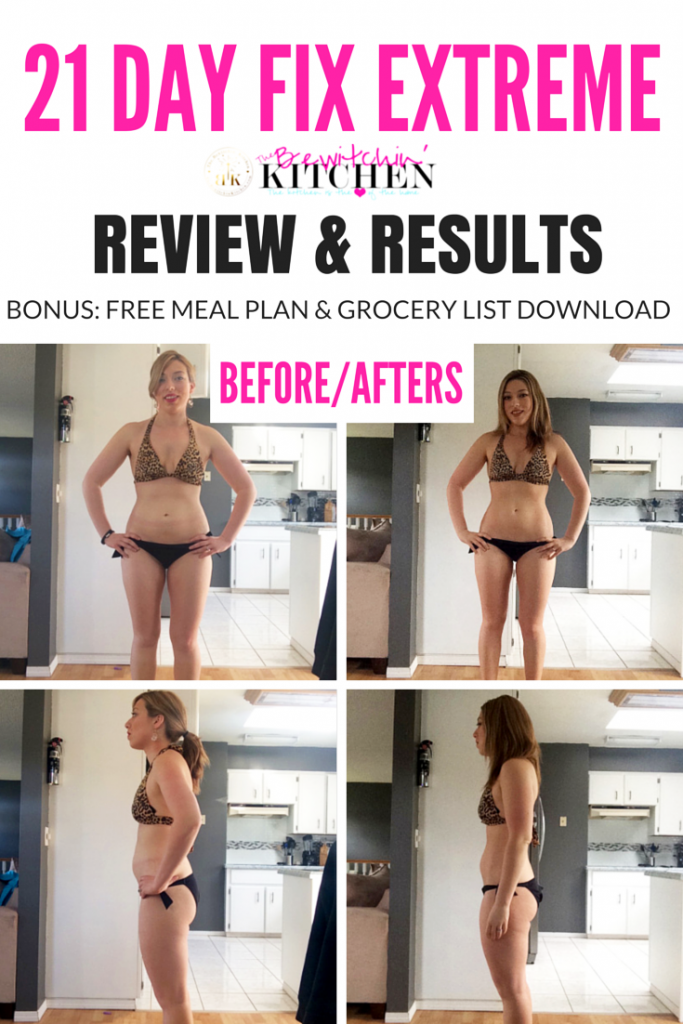 I took two sets of before and after photos in different lights (the top images and the ones above are different photos but taken minutes apart).
Weight Lost: Gained 2.2 pounds, but look at the photos – I clearly lost body fat and inches (plus my booty is a little rounder and higher). I am four pounds higher than my lowest weight on week 1 of this program when I followed the plan, so a part of my is curious on where I would be if I followed it strictly.
Inches lost: -3.25 inches
My waist and the area around my stomach are the smallest they have ever been at 26.75″ and 31″. It's so funny how I weigh 7 pounds more than my "fittest" yet I have broke personal bests. It just shows that the scale lies.
Would I do it again?
Yup, I'm continuing the workouts for maintenance and I'm generally following the original fix plan. I feel that following the workouts and living a life in moderation (I love chocolate and that will never change) could slowly still bring me the results I want, it just may take a little longer. With summer coming, I am not willing to give up the occasional BBQ treat and marshmallows over the fire – life is too short for that. However, I will still eat healthy for the most part and continue to be active.
Since I completed the program and submitted my photos – I'm now getting a free shirt 🙂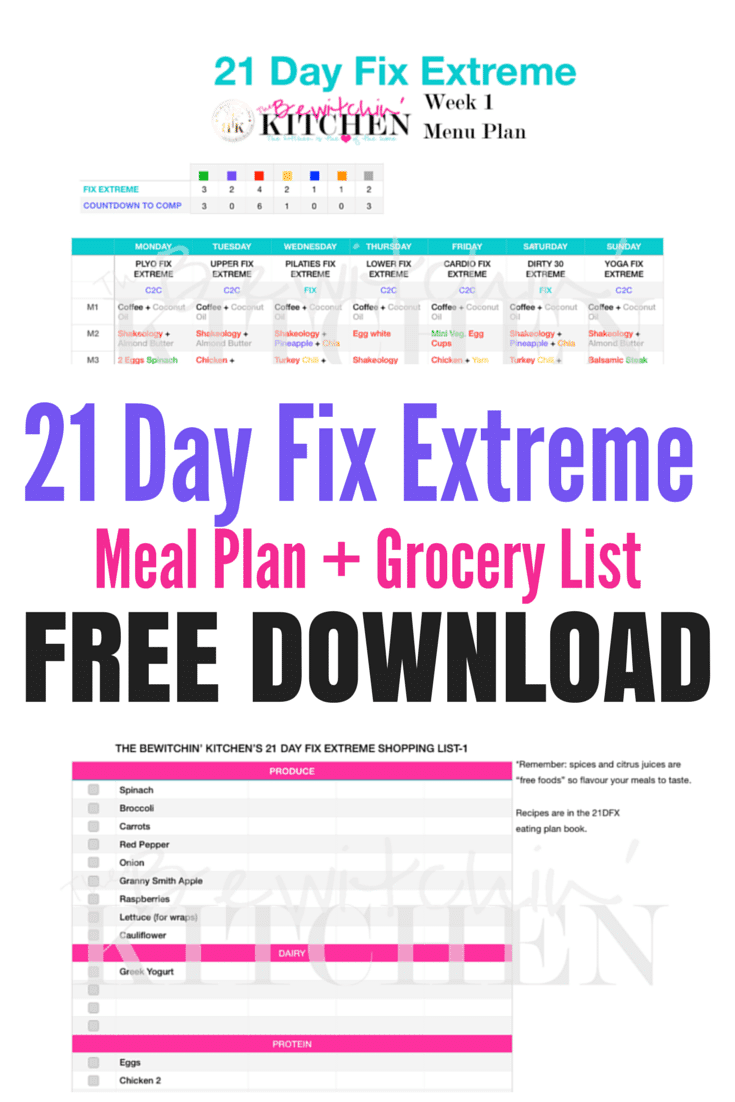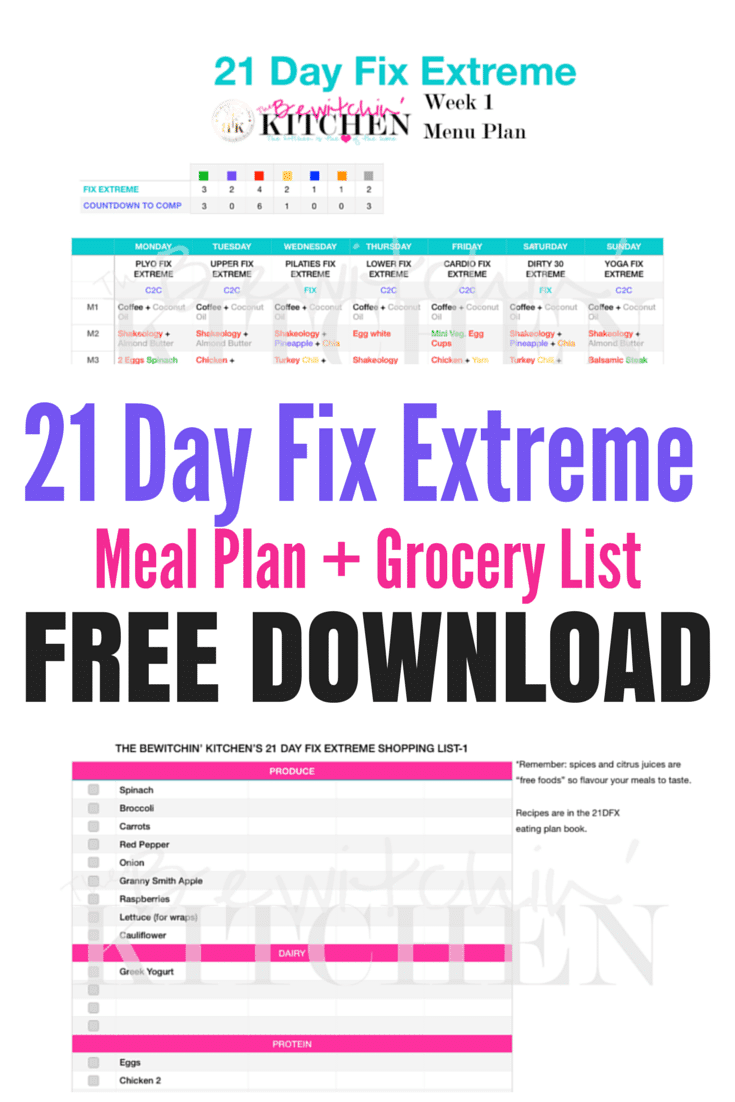 Buy The 21 Day Fix Extreme:
This post contains affiliate links.
Options for purchasing The 21 Day Fix Extreme:
Your first 30-day supply of Shakeology—the superfood protein shake that helps give you energy, reduce cravings, and accelerate your fitness results—delivered on Home Direct, the monthly autoship program.
The 21 Day Fix EXTREME program, including the 7 color-coded portion-control containers, and Shakeology shaker cup.
A FREE 30-day VIP trial membership to the Team Beachbody Club, now with Beachbody on Demand, where you can stream 21 Day Fix EXTREME whenever and wherever you want and find the support you'll need to complete your Challenge AND other proven Beachbody workouts as part of your 30-Day VIP trial!
Plus Super Discount shipping (and SAVE OVER $12) every month.