Kelowna Hotels: Manteo Resort Waterfront Hotel & Villas
I've stayed at a few Kelowna Resorts and hotels over the years but my favorite, by far, has been the Manteo Resort. I'm about to tell you why.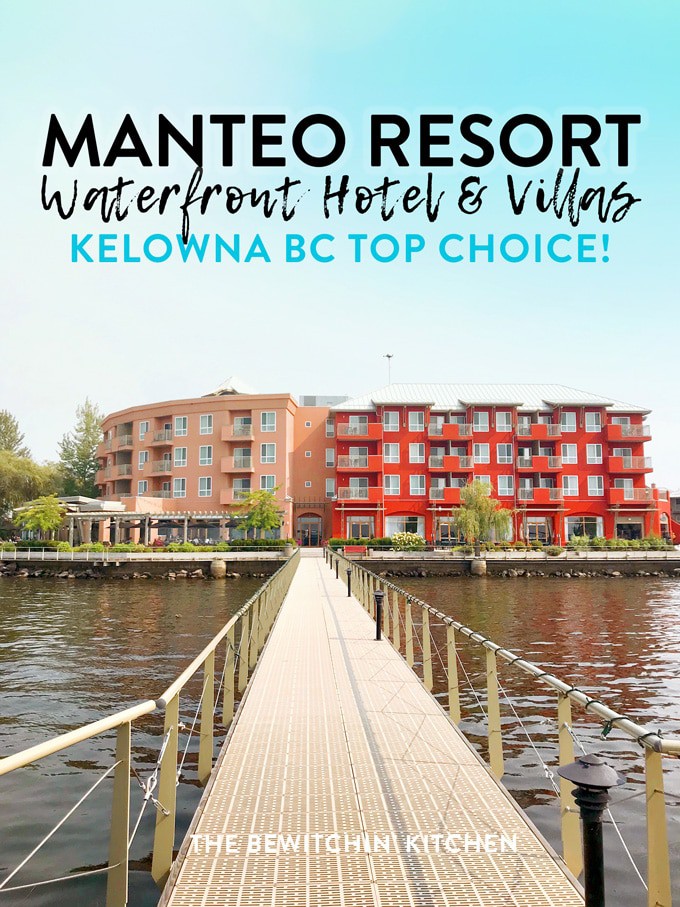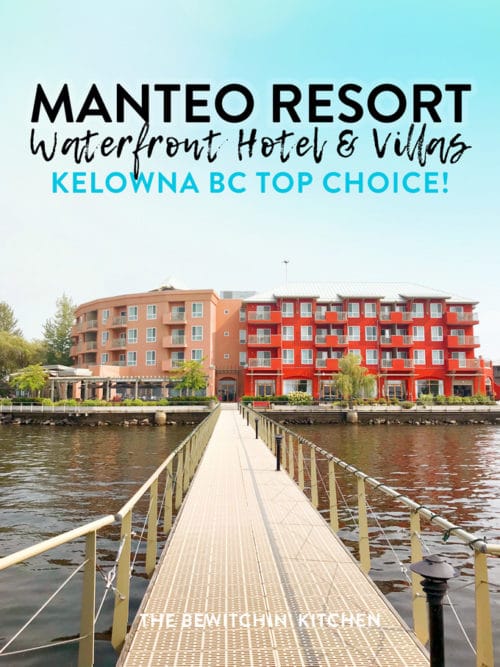 Manteo Resort Waterfront Hotel & Villas
Disclosure: This post has been sponsored by Tourism Kelowna. I was provided a complimentary stay at the Manteo Resort. All opinions are my own.
I visit Kelowna often, at least 1-2 times a year.
It's my favorite Canadian destination.
I have friends, family, and memories that keep me coming back to the Okanagan city.
Now I have the Manteo.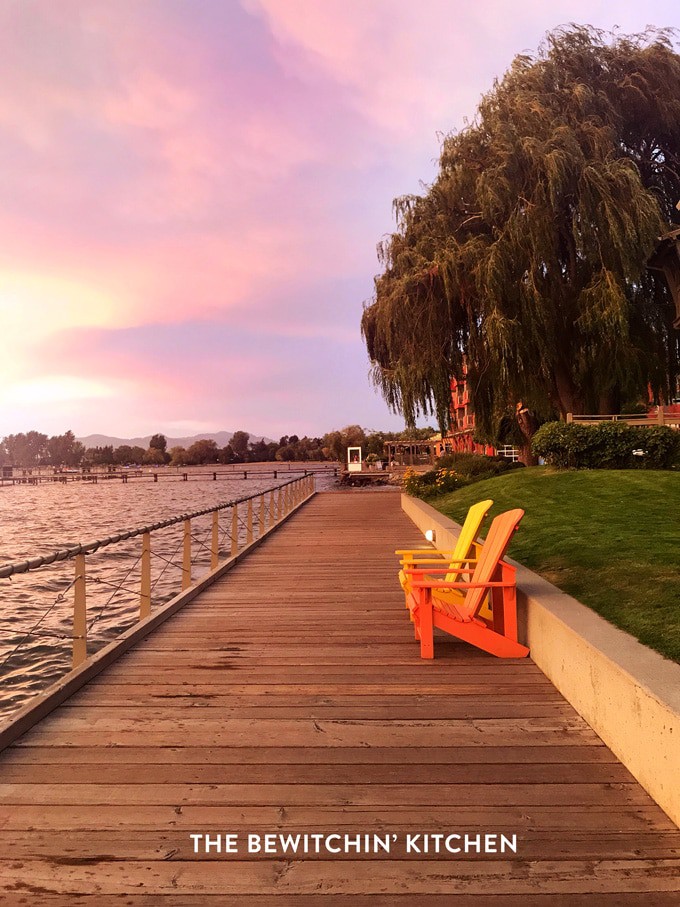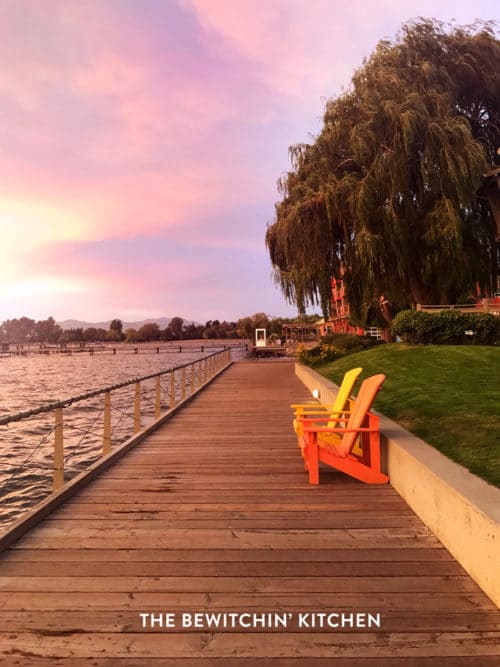 There was nothing better than walking along Okanagan Lake at sunset, after an amazing meal, watching the windsurfers.
It was just what I needed to wind down after a busy year of babies, product launches, and running two blogs.
The fact that this resort was heaven sent for a mom traveling with a newborn baby, really helped me relax too.
Where to Stay in Kelowna
I've stayed at hotels in both Kelowna and West Kelowna. However, the Manteo Resort is my favorite.
Located on Lakeshore Road, the Manteo resort is a short bike ride from downtown or a quick drive up to some of Kelowna's finest wineries.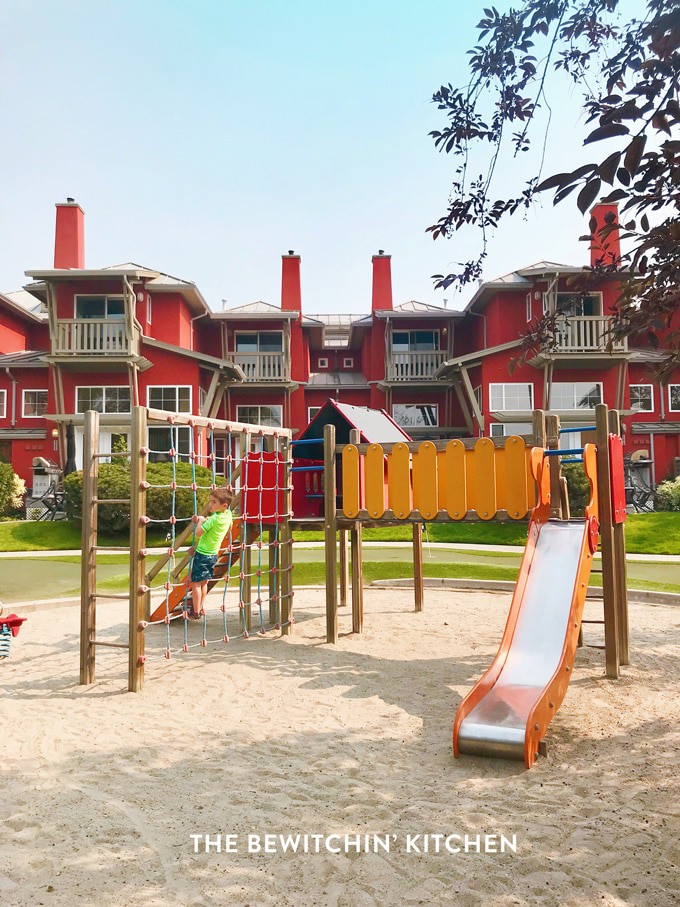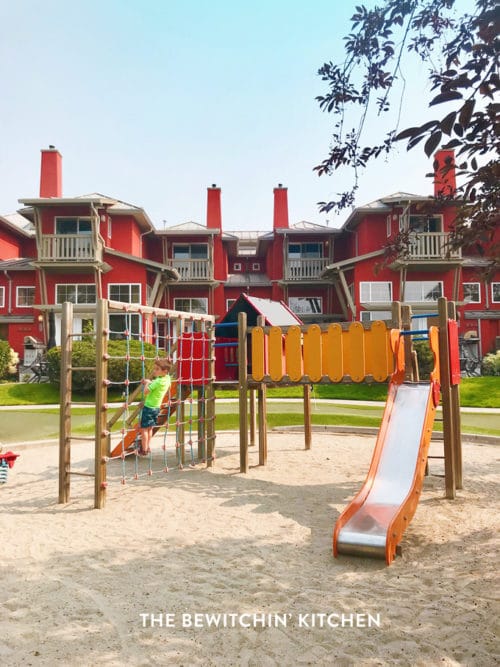 Best Family Resort in Kelowna
I really enjoyed the Manteo Resort for the family feel.
From non-motorized activities to the park to the incredible pools, this Kelowna resort had something for every age group.
The Pools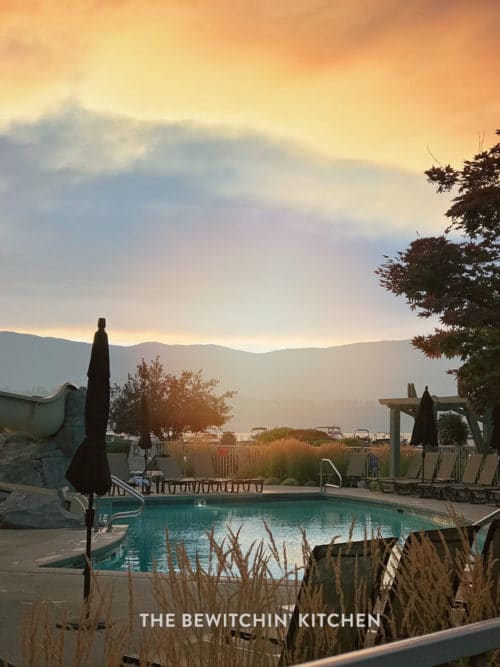 There were three pools:
Adult only
Outdoor (has a waterslide)
Indoor
In addition to the pools, there is also an outdoor splash park and a kiddie pool (gradual entry for the littles was greatly appreciated).
There was also a hot tub at each pool location and a sauna at the main pool house.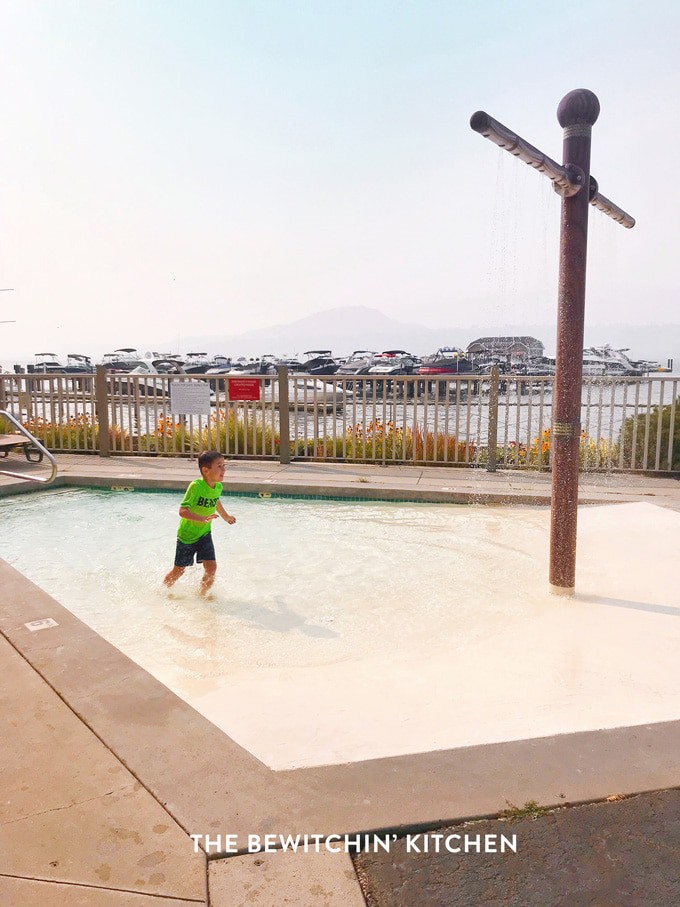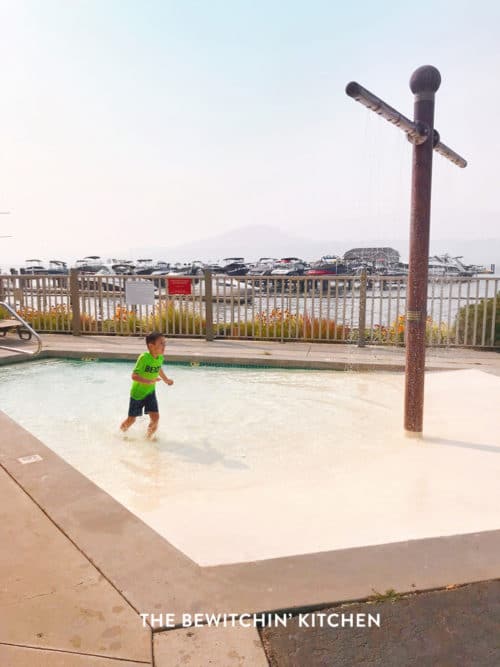 Game Room
There were also rooms that had table games such as:
Pool
Air hockey
Ping pong
Fooseball
Theater Room
The Manteo Resort even had a theater room to watch the movie of the night.
Outdoor Chess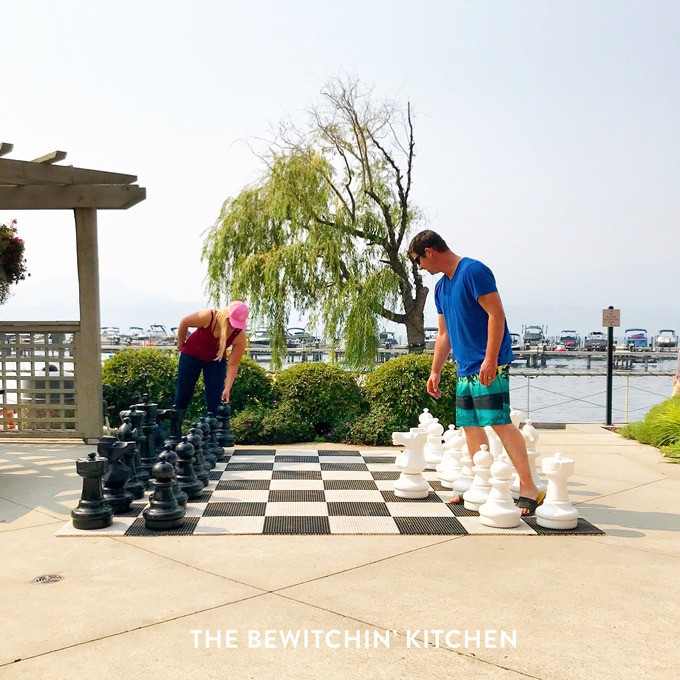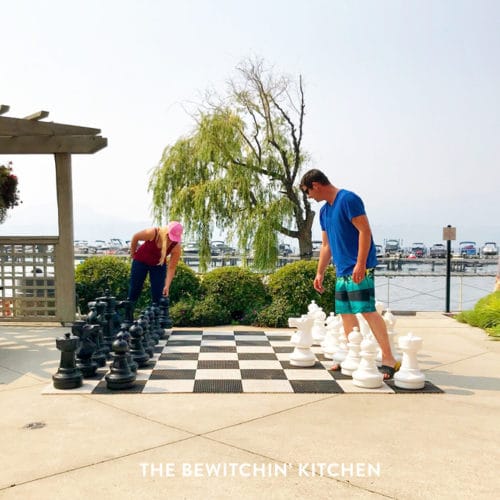 Our suite overlooked the outdoor chess play set and there were always families getting together and playing.
We even made an attempt (we have no idea what we're doing by the way).
Additional family amenities
Tennis and Pickleball court
Private beach
Nine-hole putting green
Boat moorage
Manteo Hotel Gym
The Manteo resort in Kelowna has a full stocked gym. It's not a huge gym, but I found it wasn't busy around 9 and was able to get in a few strength training workouts in using their free weights.
Manteo One Bedroom Suite
We stayed in the one bedroom suite at the resort. Our room was lakeside and it was perfect for traveling with a baby.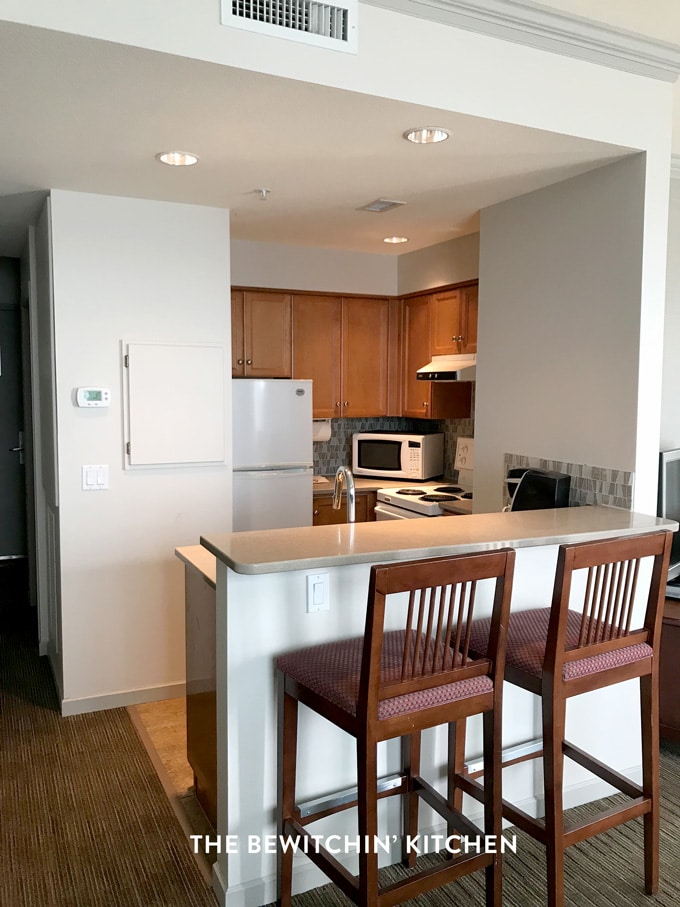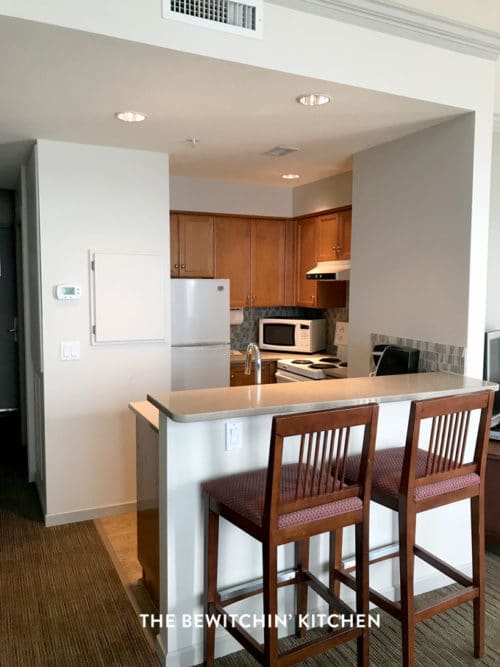 I appreciated the full kitchen for storing healthier options for snacks and breakfast, along with the dishwasher for washing bottles easily at the end of the day (I just packed my travel sterilizer and it was all good).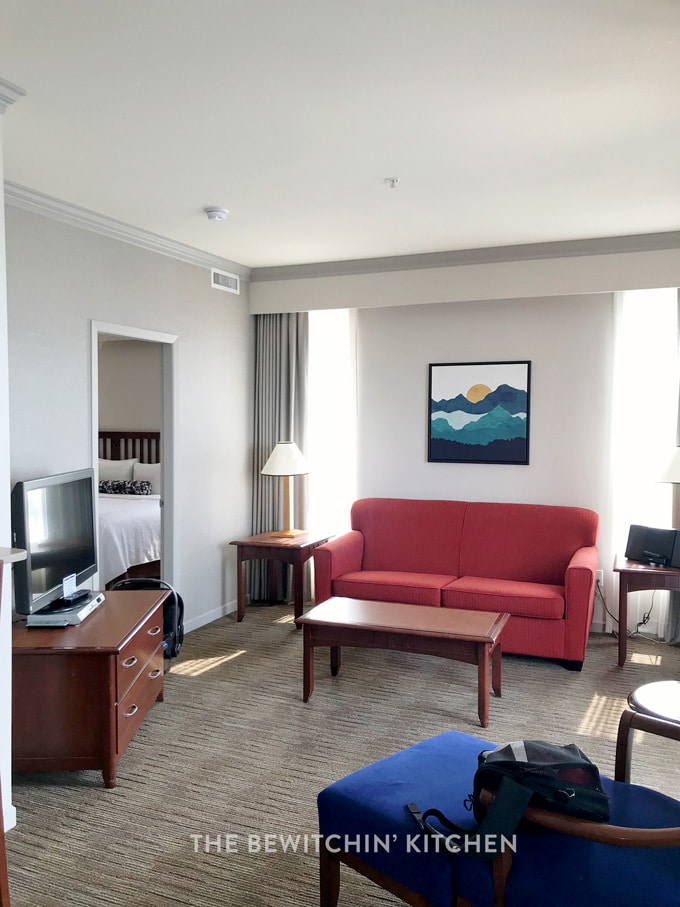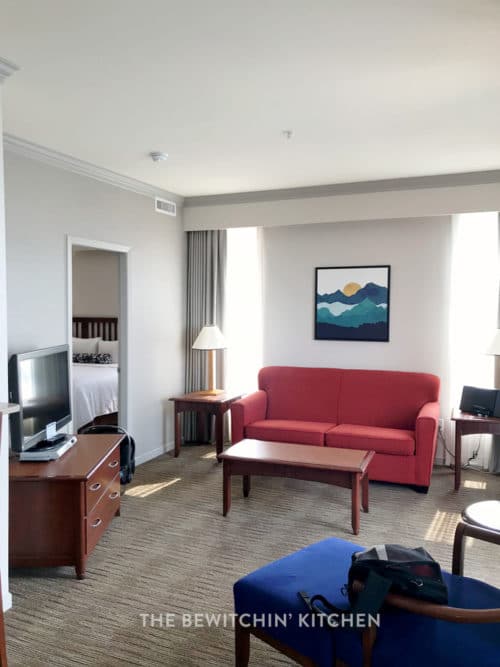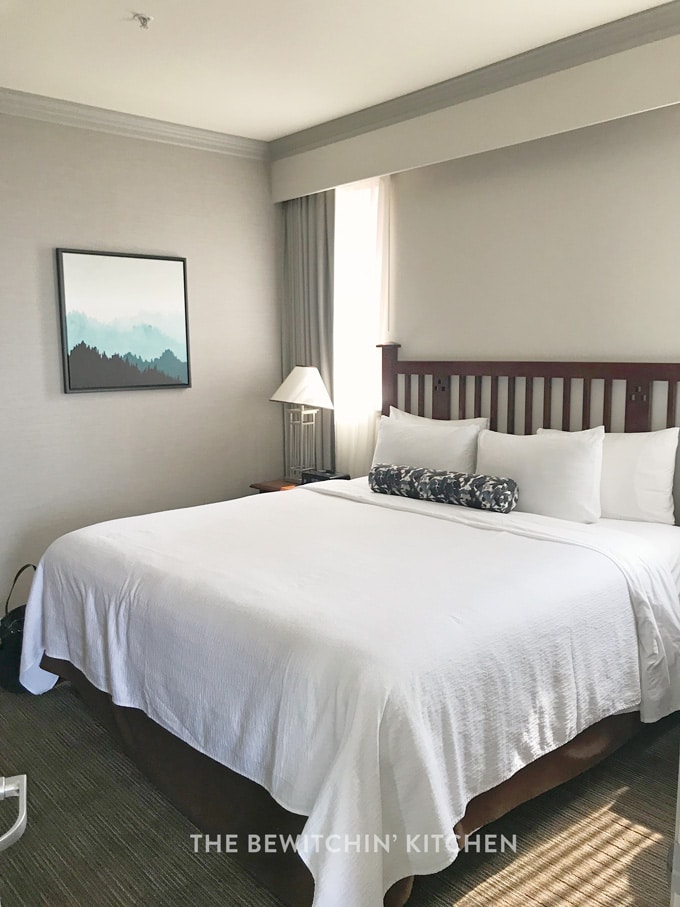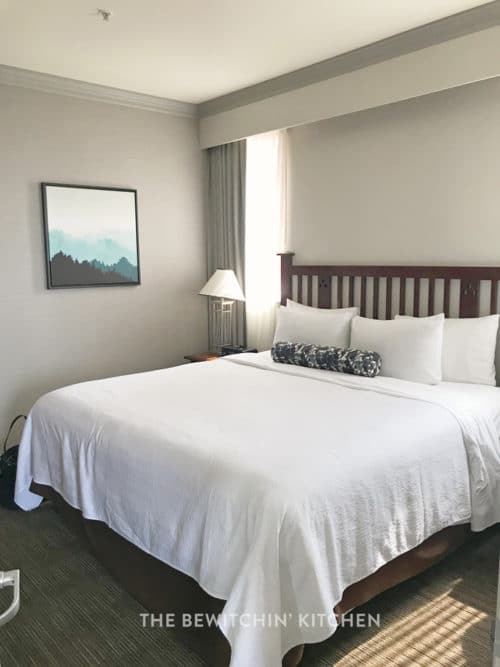 The suite had one bedroom with a king-sized bed with access to the shared bathroom, and a large living room with a pull out sofa.
My favorite part of the room?
The balcony. 
Our room had a large, private balcony that overlooked Okanagan Lake.
It was incredibly soul lifting to sit at night, with a tea, to watch the windsurfers in the evening.
Manteo Kelowna Restaurants
The Manteo Resort has two of the best restaurants in Kelowna:
SmackDab
Lakeside Dining at the Hotel Eldorado (technically another hotel, but you are able to charge to your room at Manteo).
I've dined at SmackDab twice now, and I love the atmosphere.
It's very relaxed, and I enjoy sitting on the patio, enjoying a glass of local wine and looking over Okanagan Lake.
The service is a bit slow, which is something I wouldn't have minded, sans children (goes with the relaxed state of mind), but when you have a table with 3 kids under 3, time is of the essence to get the orders in.
As I said before, I have stayed at many Okanagan Lake resorts and the Manteo has been my favorite.
Visiting Kelowna
If you're visiting Kelowna, check out the following restaurants and attractions that I highly recommend.