Thai Chicken Fettuccine
Thai Chicken Fettuccine is one of peanut butter recipes that have surprised me, it's really good! If you're a fan of savory peanut butter recipes, you're going to love this dish!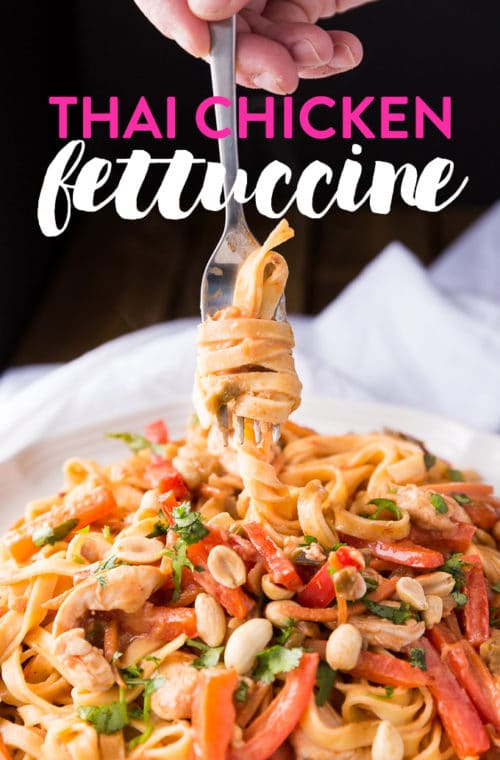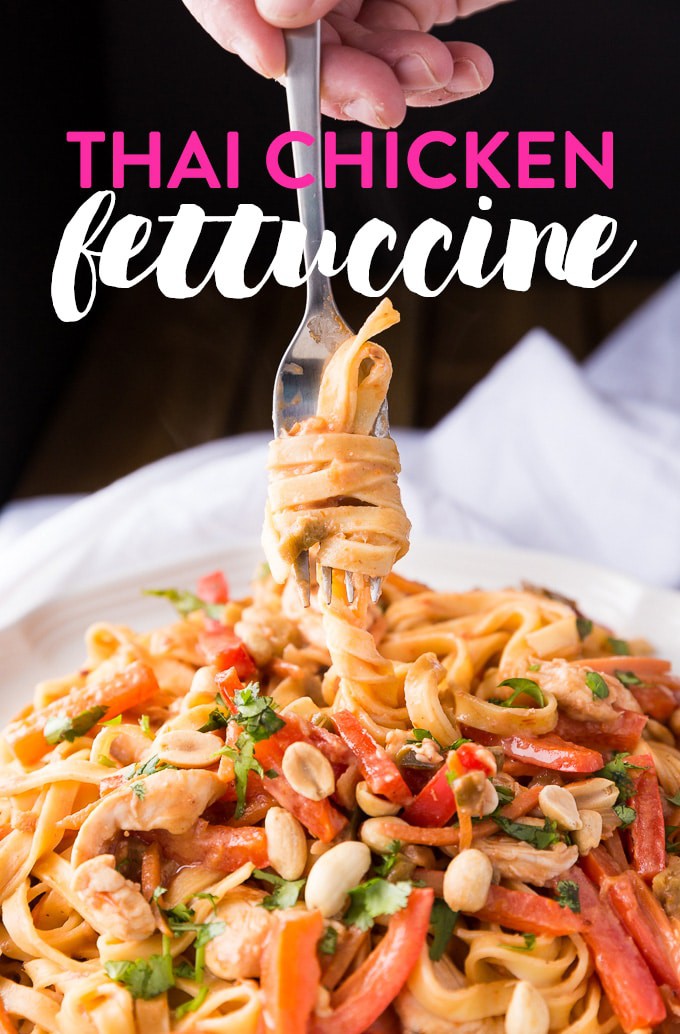 I made Thai Chicken Fettuccine last night for dinner. I'm going to be honest, the salsa and peanut butter combination made me feel a little uneasy but you know what? It worked.  I enjoyed this meal, along with my very picky husband.
Thai Chicken Fettuccine
Disclosure: This post contains affiliate links. What this means is that whenever you click a link and make a purchase, I get a small commission at no added cost to you.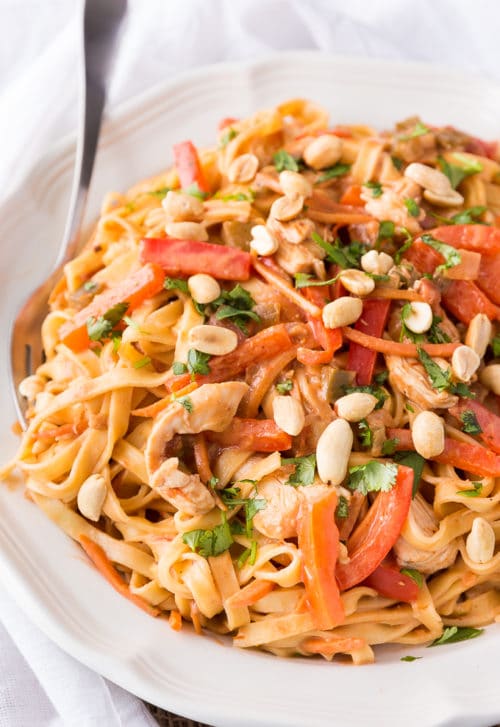 I'm a huge fan of peanut butter, whether it's in desserts, savory sauces, or straight out of the jar. So it shouldn't come as a surprise that I have loads of peanut butter recipes here on The Bewitchin' Kitchen.
More peanut butter and chicken combinations: 
Thai Chicken Noodles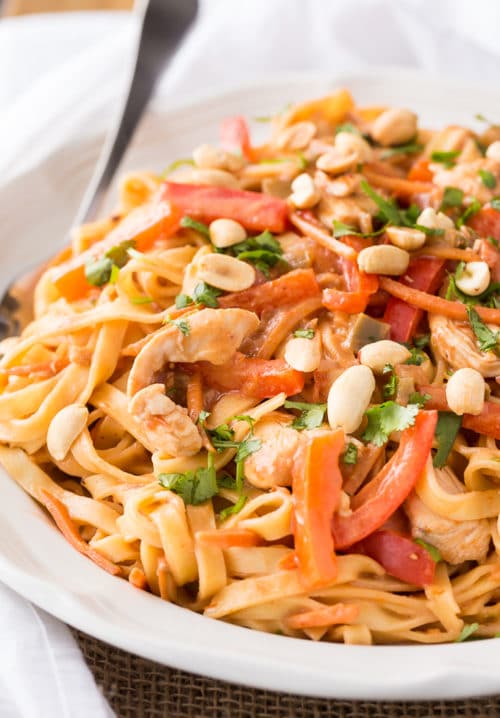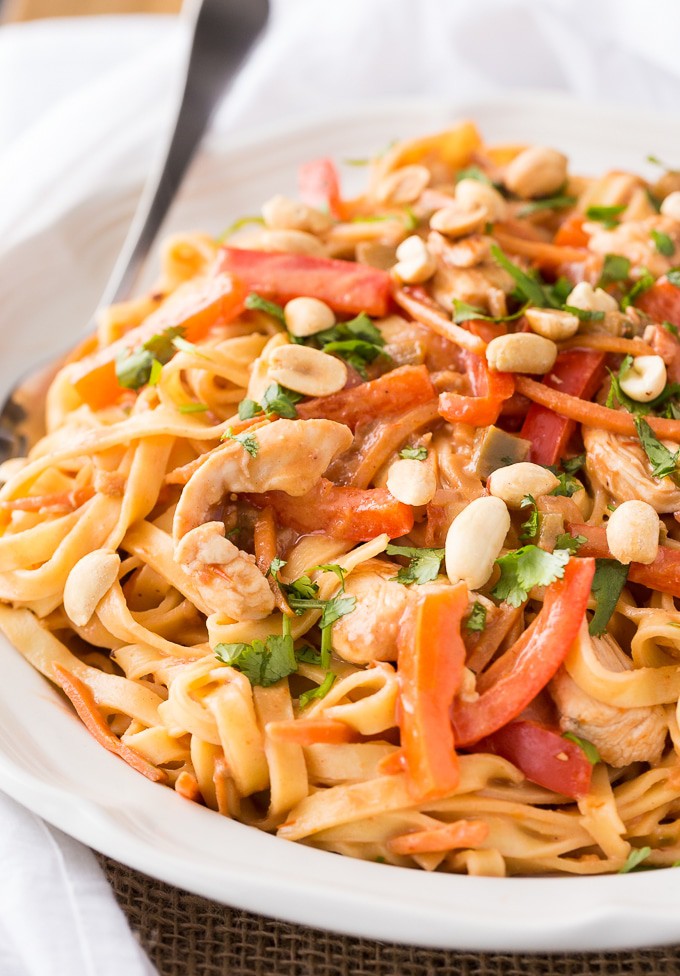 A delicious twist on a classic pasta favorite. You're going to love this Thai Chicken Fettuccine! I mean you can't go wrong with peanut butter and chicken right (okay, maybe it sounds a little weird). Dinner will never be the same.
Supplies I recommend to make this recipe
This dish takes no time at all. It's quick, easy and makes great leftovers for the next day's lunch. Enjoy and don't forget to pin it!
Note: when I calculated the nutritional information, I used a whole wheat linguine. Depending on what you use for pasta, it could change the nutritional and macro information.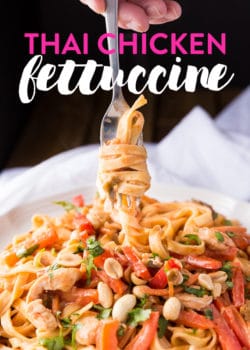 Thai Chicken Fettuccine
This twist on a classic pasta favorite uses peanut butter, chicken, and few other additions. Dinner won't be the same.
Ingredients:
1 cup salsa
1/4 cup creamy peanut butter
2 tablespoons lime juice
2 tablespoons honey
1 teaspoon soy sauce
8 ounces uncooked fettuccine
3/4 pound boneless skinless chicken breasts, cut into strips
1 tablespoon olive oil
1 medium sweet red pepper, julienne
1/2 cup matchstick carrots
1/4 cup minced fresh cilantro
1/4 cup peanuts
Directions:
Cook the sliced chicken with the olive oil over medium heat for 5-8 minutes, or until the chicken is no longer pink. Add the red pepper and carrots and saute until they're tender-crisp.
At this point, add the fettuccine to salted water and cook until al dente.
Combine the salsa, peanut butter, lime juice, honey, and soy sauce in a bowl and stir until smooth. Add to the chicken and pepper mix.
Add the fettuccine to the sauce and chicken, toss to coat. Garnish with cilantro and peanuts.
Nutrition Information
Yield: 5 servings, Serving Size: 1
Amount Per Serving:
Calories: 520 Calories
Total Fat: 23.6g
Saturated Fat: 4g
Cholesterol: 49.6mg
Sodium: 461.1mg
Carbohydrates: 52.8g
Fiber: 8g
Sugar: 13.6g
Protein: 30.5g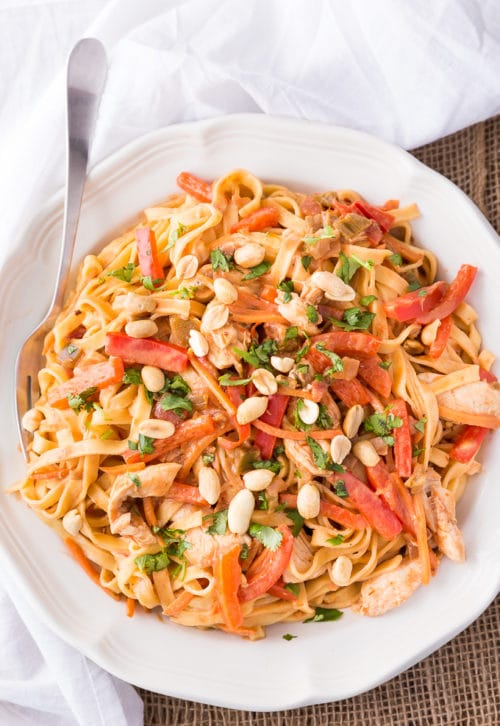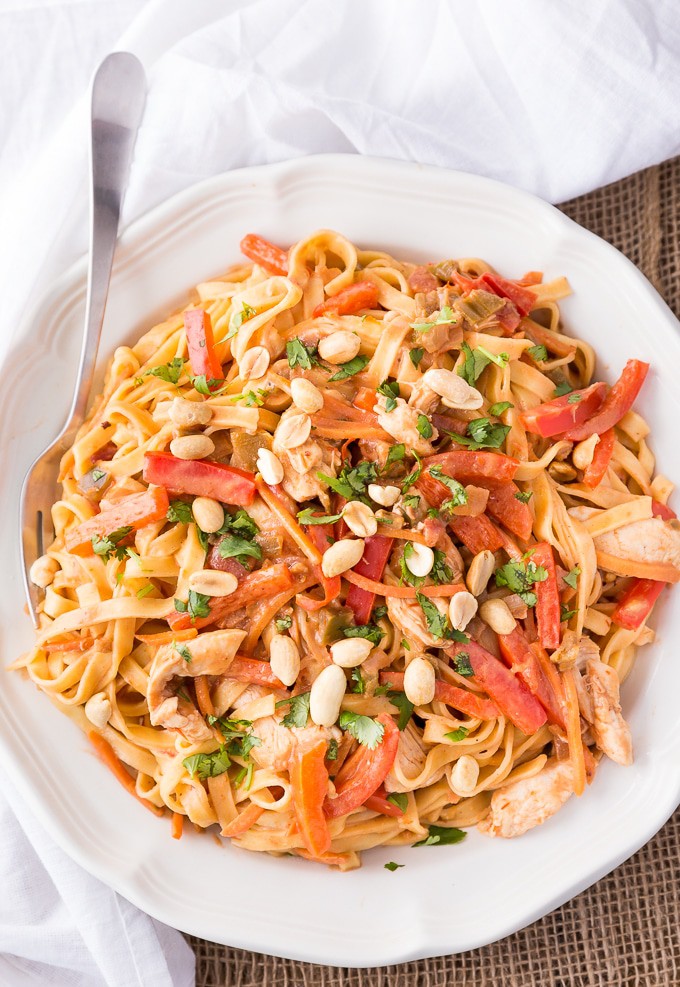 What's your favorite savory peanut butter recipe?
products I used to make this happen Shop This Post
(may include affiliate links)