Get Fit With Focus T25 – Join My Challenge Group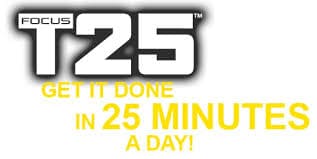 I have been waiting for this fitness program for months now, ever since Beachbody started posting "teasers" on Facebook and YouTube. Focus T25 is the newest program created by Shaun T (creator of Insanity, Hip Hop Abs, Rockin' Body, etc) it's unique because it's only 25 minutes a day, 5 days a week. I LOVE THAT! I'm used to Beachbody programs being in between 45 minutes to an hour and six days a week, as a busy mom and blogger – I don't always have the time. I'm sure many of you can relate! Focus T25 means we can get this done while dinner cooks or while our little ones nap (even those pesky short snoozes).
So what can you expect?
11 Workouts that are each exactly 25 minutes
10-Week Schedule for the Alpha and Beta Phases showing you which workout to do each day
Red resistance bands (they will be used in Beta Phase)
5-day Quick-start Guide including a workout schedule and menu plan (for fast results)
T25 'Get it Done' Nutrition Guide with recipes and meal plans
BONUS – order through me and you will receive the "Core Speed" bonus DVD.
Free "T25 – Nailed It!" T-shirt from Beachbody, once your complete the workout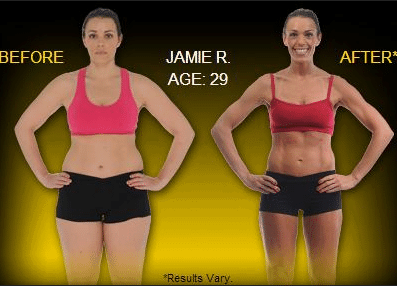 These results are incredibly motivating! Especially since it's from 25 minutes a day, from Monday to Friday. This particular picture has inspired be to do a CHALLENGE GROUP! Here's how it works:
Order Focus T25 through me and after the order has been confirmed, let me know and I will invite you to my T25 Challenge Group. In this group you can expect accountability, support and success! Everyday we will be chatting with each other, showing support and posting when we have completed out workout. We will keep each other on track.
There will be prizes! The group member with the highest % of weight loss will win a prize.
Box of P90X bars (if the group has five or more members)
Bag of Chocolate or Greenberry Shakeology (if the group reaches 10 members).
I will only be accepting 10 members of the challenge group, so secure your spot now!
So are you ready to reach your goal and make this summer THE SUMMER where you reach your health and fitness goals? Fill out the form below for more information or to let me know you have ordered T25 from me already:
Order T25 Here (available Monday, June 24)
My T25 Reviews
Fill out this contact form if you are interested (if you are leaving a comment, scroll to the bottom of the page).
[contact-form subject='[I want to join the T25 Challenge Group'][contact-field label='Name' type='name' required='1'/][contact-field label='Email' type='email' required='1'/][contact-field label='Website' type='url'/][contact-field label='Comment' type='textarea' required='1'/][/contact-form]