T25 Review: Week One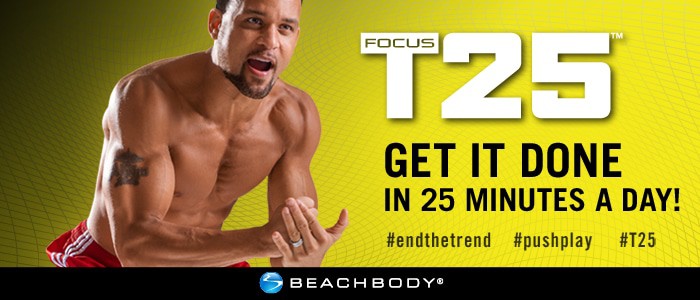 Follow me on Instragram to keep up with my progress and updates!
Two weeks ago I posted about how I was starting a Focus T25 challenge group and was looking for sign ups to take a step forward and get them that much closer to their health and fitness goals. The group is full now and we're almost done our first week. Wow, that was fast. Here's my T25 review and what I think of it so far.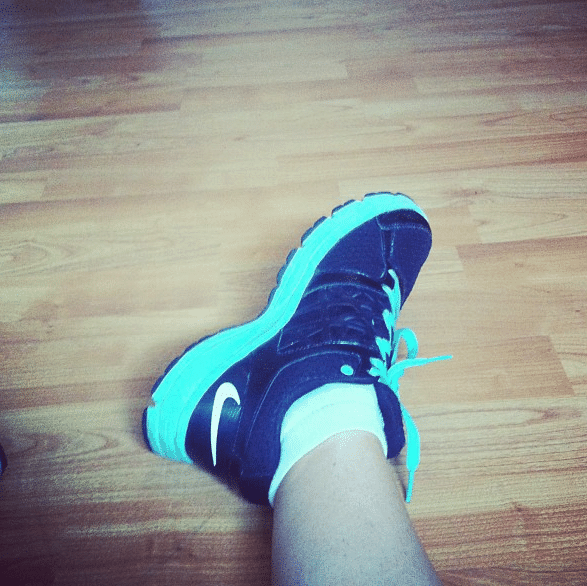 Day 1 – Alpha Cardio I was expecting a challenging workout and my expectations were exceeded. I was huffing and puffing towards the end. Who knew 25 minutes could do that to a person? I'm not a cardio queen by any means. I much prefer lifting weights and working on strength training, so naturally this was my least favorite workout – but man is it ever effective. I did have to turn to Tania (the "machine" from Insanity), the modifier, and follow her lead a time or two. I love how there is a modifier in this workout because a lot of us will need it! It just proves that ANYONE could start this workout. I'm following the 5 Day Fast Track for my first week and enjoyed some really delicious recipes that day.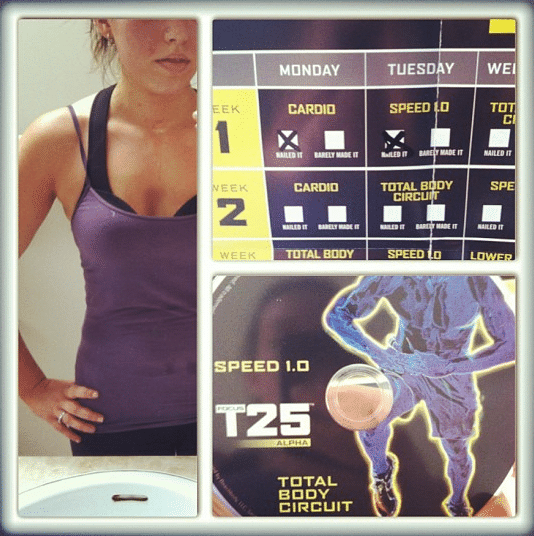 Day 2 – Alpha Speed 1.0 This was a little different then a Alpha Cardio. You go hard with your big cardio move (improving your speed and agility with each and every workout) but you get somewhat of a rest while working on your flexibility and stability. I really welcomed the stretched, my legs were gummy in the end and again, I had to modify. The picture about was me after Speed 1.0. The meal plan was delicious. I made some amazing chicken for dinner (with potatoes, onions and red peppers) but I learned a valuable lesson about reading labels. READ BEFORE YOU BUY. I bought Yves veggie chicken burgers for lunch, as I was eating them I was reading the ingredient label. I didn't see a single veggie in there. Just a bunch of oil, soy and fillers. It had very little protein and was not even a bit healthy. Yuck. Lesson learned.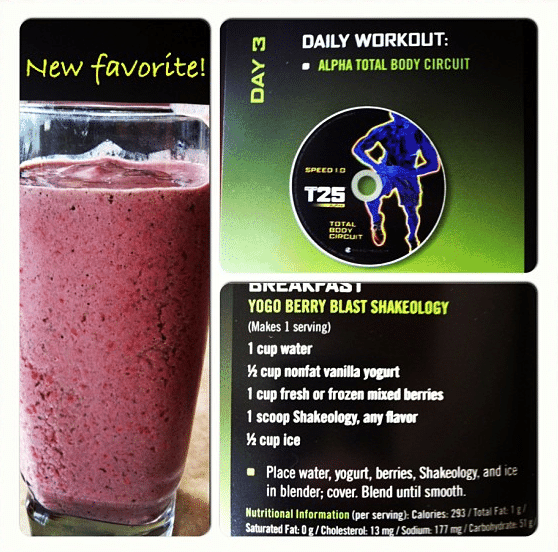 Day 3 – Alpha Total Body Circuit This workout humbled me. It really kicked my butt. I struggled and modified more then what I had expected (so did the rest of my challenge group). When Shaun T says it's total body – he means it. You can expect a variety of push ups, burpees, cardio and core work. I was relieved when the workout was done. 25 minutes felt more like 45 this day. The Fast Track meal plan that day was amazing. It started off with one of the best Shakeology recipes I have ever tried (water, 0% plain greek yogurt, frozen raspberries, Greenberry Shakeology and ice). I'm not a huge fan of fish so I replaced the Lemon-Dill Halibut with chicken. It was delicious. Sometimes you have to make little adjustments (I don't have couscous so I used quinoa, I replace fish with chicken, etc).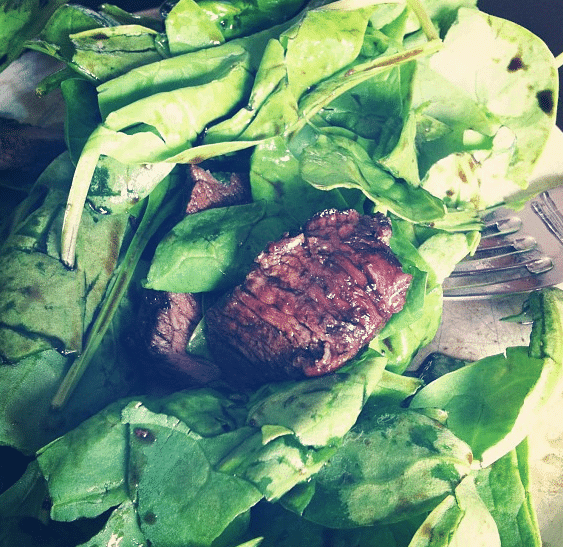 Day 4 – Alpha Ab Intervals Here is the workout I was the most excited for. I love working my abs, that and my arms/shoulders are the areas I'm hoping to see the most progress. In this workout you can expect a lot of core work. CORE as in you work your back as well (where I'm weak). After 3-4 core moves you do about 30 seconds of cardio. Shaun T calls it cardio recovery. Recovery? Ha! I LOVE this workout. My abs, legs, shoulders – everything was shaking. It definitively works you and this is a workout I know I'll be improving with each and every week for the duration of the Alpha phase. The food on the menu is nothing too exciting for this day. My highlight was a sirloin steak for lunch (salad with balsamic vinegar and olive oil). I cannot stand tomatoes, so I left those out.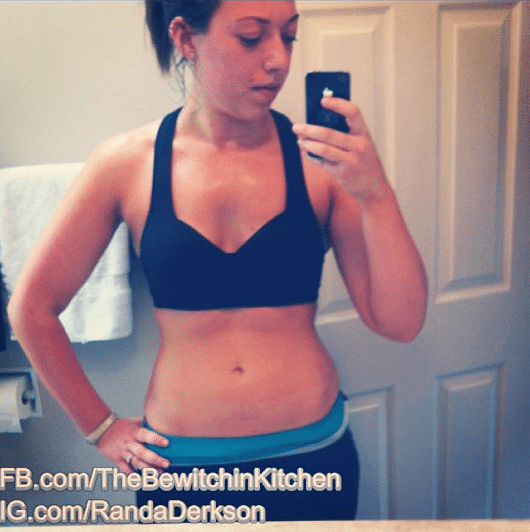 Day 5 – Alpha Lower Focus & Cardio Wait a minute Shaun T! I thought T25 was all about a 25 minute workout 5 days a week? Why are you throwing a double in there? The answer is the second workout is optional (you can also do it Saturday) for optimal results. OH MAMA! This workout kicked my booty! First off the lower focus was killer, my legs were screaming! I'm so happy with it though because I know this is going to give me the butt and legs I am looking for). I made a mistake though, in between workouts I took a 10 minute break (baby was fussing, etc). I did not want to jump back in. I'm so happy I did. I had to modify a lot because my legs were almost to the point of exhaustion but it's done! I was a super sweaty mess afterwards (see photo)! Awesome, AWESOME week. I love this workout. (PS – 509 calories burned.)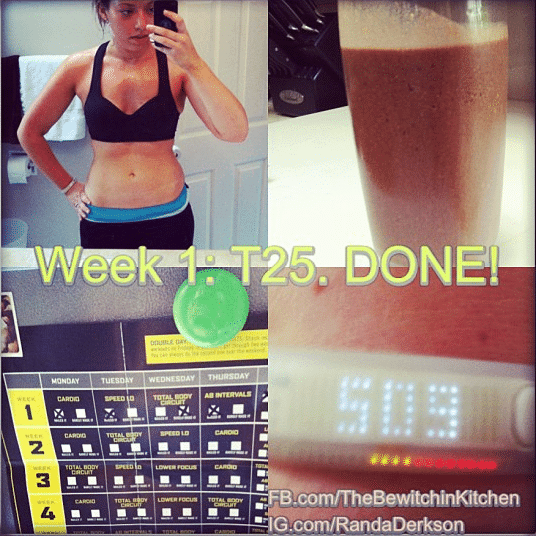 Want to know more about T25? Check out how you can Get Fit With Focus T25. You will find what comes with your order, before and after photos from the test group and a video. Don't hesitate to email me if you have any questions.
If you're interested in changing your body in only 25 minutes a day, you can purchase Focus T25 here. (Click Shop.) I will be here to support you as your free coach, anytime you need me.
If you would like to save 25% on your order, please email me for details.
If I have enough interest, I will open up another challenge group for accountability, motivation and support.
Read about my T25 Week 2 Review T25 Week 3 Review T25 Week 4 Review T25 Week 6 Review T25 Week 7 Review T25 Results