12 Different Ways To Use a Vitamix That You May Not Have Thought Of!
Who doesn't love kitchen gadgets? Better still, small appliances that can do way more than you thought they could when you got them. InstaPots are all the rage: pressure cooker, steamer, slow cookers… all in one. But my personal favorite? The Vitamix (Vitamix 7500 to be exact). I use this bad boy for everything and here are a few ways to use a Vitamix that you may not have thought of.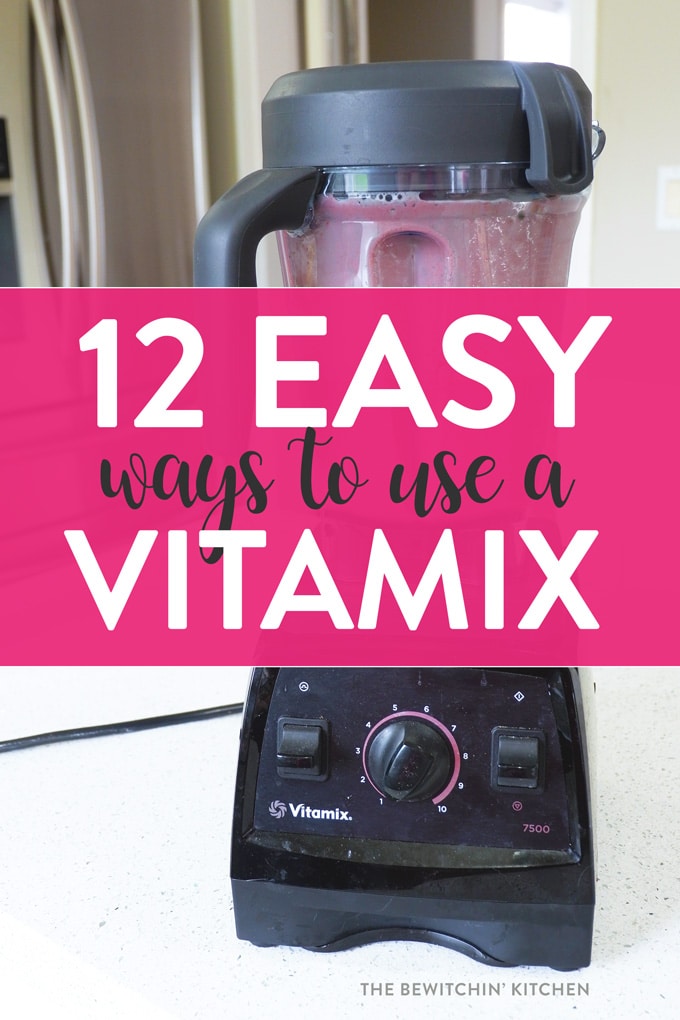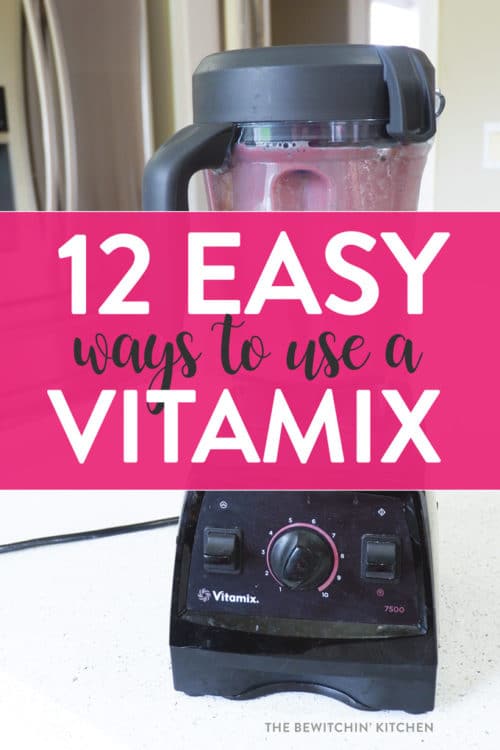 What's a Vitamix?
If you don't know what a Vitamix is, the short answer is: it's a blender. But it's not just any blender. Unlike your standard kitchen blender, this wonder of technology can blend absolutely anything. And that makes this girl so very happy.
…But It's So Expensive
Pricey?
Yes
. Worth it?
Absolutely
.
"But it's just a blender?", I hear you saying. No: it's so much more than JUST a blender.
The original Vitamix features a 2 HP (horsepower) engine. With that kind of kick, you never need to ask yourself whether it can do the job. Okay, okay, this isn't a sales pitch for Vitamix. I just really love mine and wanted to share the love!
Vitamix Recipes from The Bewitchin' Kitchen
What you can make with a Vitamix
So what can this thing do?
Make Homemade Butters
Homemade nut butters, seed butters, and other compound butters (where you add flavor to butter for a delectable addition to your cooking) are all easy to make with the Vitamix. You can blend anything that you need to create the smoothest spreads and dips you've ever had.
Fix Your Sweet Tooth
You can also whip cream, powder sugar, and mix pancake and waffle batter in the blink of an eye. Add a side of bacon and a mug of coffee and you have the fixings for a perfect Sunday brunch at home with the family in a short amount of time with very little effort.
DIY Milk, anyone?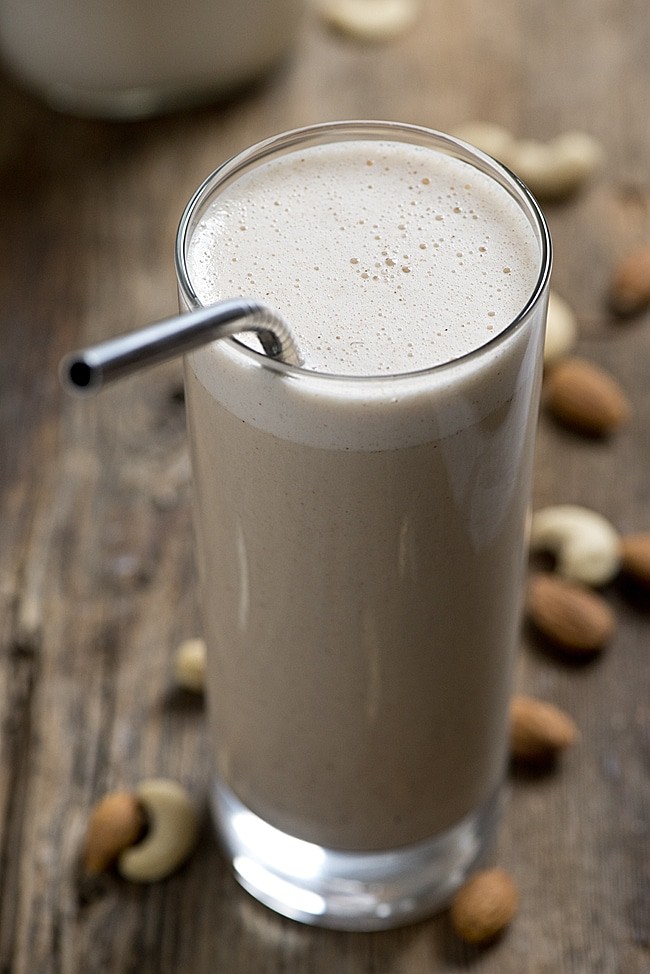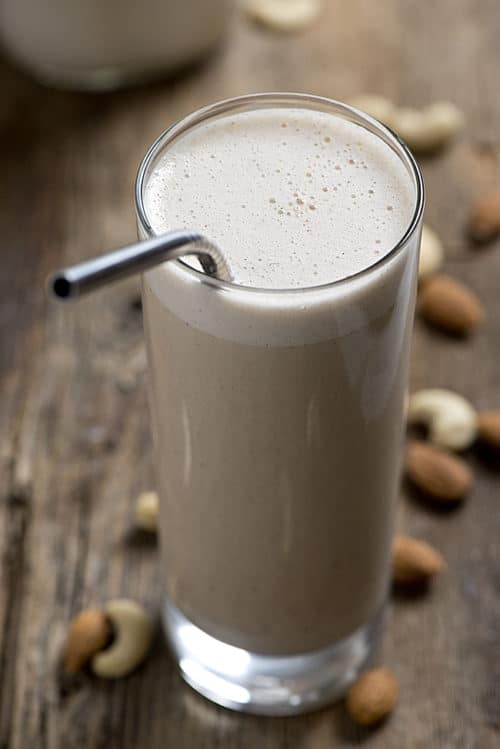 If you're a fan of non-dairy milk alternatives—or someone in your home has an allergy that makes these a necessity—you can make your own! Almond, cashew, walnut milk are all possible and at a fraction of the price of store-bought.
See how to make almond cashew milk!
Make Homemade Juice
If you're on a juice diet or thinking about it, you can juice and strain any kind of raw fruit or vegetable with the Vitamix, saving you the need to go out and buy a separate juicer, or endless trips to the juice store.
Pulled meat sandwiches in a flash
Pulled BBQ pork sandwiches are on a lot of lists when it comes to fun food that everyone likes but it's tedious getting the meat ready by hand. Put the forks away because the Vitamix can shred your pork quickly and easily. Next step? Eat! I recommend this recipe for pulled pork quesadillas. 
Emulsify Homemade Salad Dressings and Vinaigrettes
Many of the dressings I whipped up for Delish Dressings and Vinaigrettes were thrown together in the Vitamix. The cool thing is I found that the oil stayed mixed with the vinegar longer with the vinaigrettes and recipes like the Avocado Ranch Dressings were creamy and delicious in no time.
Replace your mixer with a Vitamix
Did you know you can mix dough in your Vitamix? Cake batter, pie filling and the crust too. Save yourself some counter space by keeping your Vitamix handy and putting away everything else! You can even process your own flour, so need to buy cake flour anymore! And if you're a fan of alternative flours, like almond or coconut, you can whip up your own and skip the pricey packages in the specialty aisle.
Shred and chop veggies with ease
Put your food processor away and let the Vitamix do all your shredding and chopping prep work. Your family will think you've hired a sous-chef to do all that work… Don't tell them!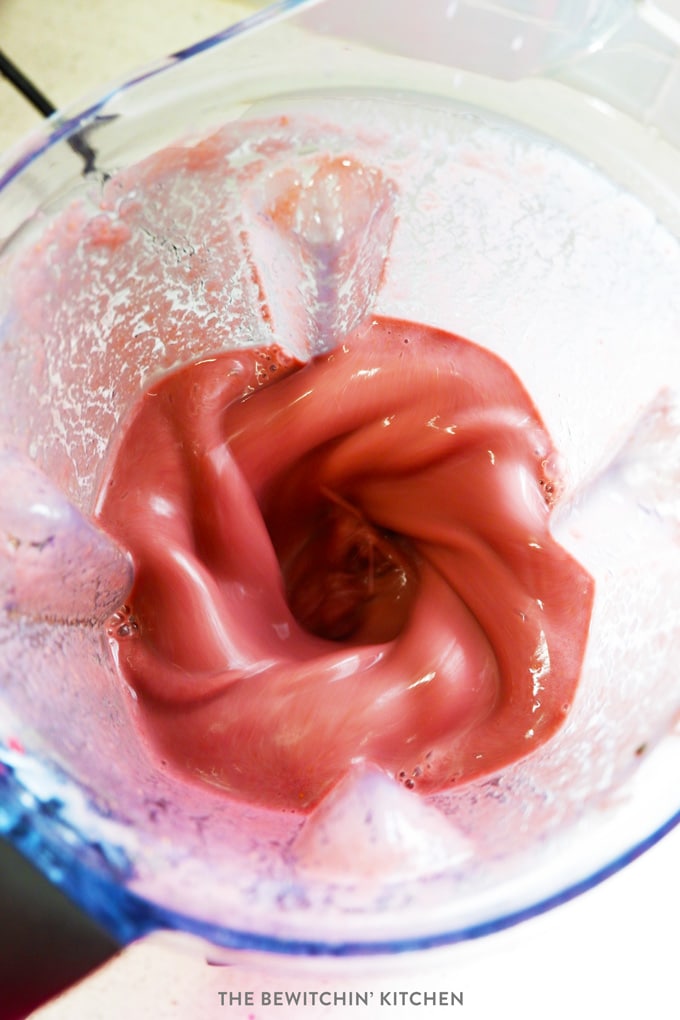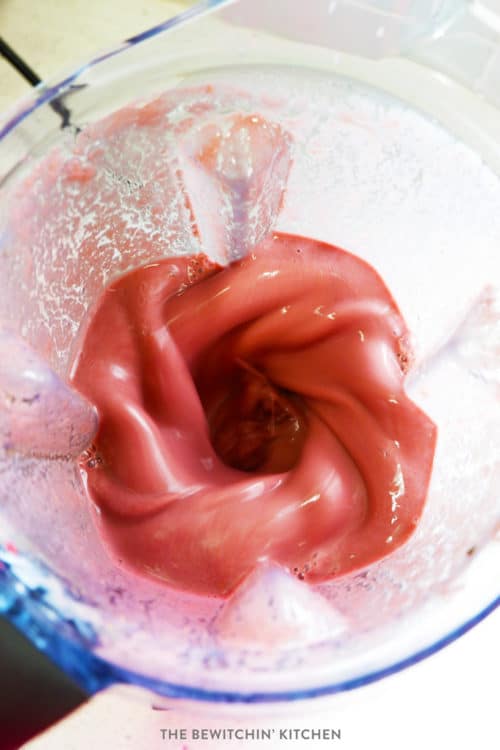 Vitamix Soups and smoothies with no lumps
Depending on the pickiness of your kids, lumps in soup might be an issue. Not anymore. Lumpless soups and smoothies are well within reach, without any fuss or muss.
As an added bonus, freshly made soup will heat up while you're blending. If you love butternut squash soup, just pop in your ingredients and by the time the Vitamix is done blending your veggies to a velvety smooth texture, it will also be hot! That's the benefit of the super powerful engine.
Homemade Sauces
And how about making your own condiments like mayonnaise, ketchup and BBQ sauce? You can cut the sugar and preservative content from the store bought varieties and still have a tasty addition to your sandwiches and burgers.
It's 5 o'clock somewhere
Put out the Vitamix on Friday night—or even Tuesday if that's how you roll—for delectable frozen or blended drinks that will make your summer party giving powers a boost in the right direction. With or without the alcohol, the drinks you can blend will be smooth and creamy, with no ice chunks to get in the way of everyone's enjoyment.
Make your own spices
You can pulverize whole dried chilies into fresh chili powder in a flash. Same for peppercorns and other spices. This way, you're guaranteed fresh ingredients when you cook, since you only need to prepare a small amount at a time.
This is a very powerful kitchen tool that any type of cook will enjoy using because it's so easy and quick! It's an investment, for sure, but one that will pay for itself in about the time it will take you to make the hummus for your next book club meeting!
Sold? Treat yo self, pick up a Vitamix and make your life a little easier in the kitchen.
Do you have any ways of using a Vitamix that we haven't mentioned here? Share them with us!
Disclosure: this post contains affiliate links.
Save